In one of his latest presentations, "Remade in America", investor and former hedge fund manager, Paul Mampilly, teases a 3D printing stock behind what he calls another industrial revolution. He also talks about a potential "55,000% upside" for investors who get in early and mentions a "tiny Durham-based company at the forefront of this technology". 
The claim is bold to say the least and the author says that he will reveal the name and ticker symbol of this company in his investment newsletter. Keep reading to find out what we were able to uncover for you, for free.
The Teaser:
Mampilly has talked about the revolutionary 3D printing technology before, so this is not the first time he profiles a company in this sector as a potentially a good source of income for his readers. In this particular letter, "Remade in America", the author mentions a potential American rebirth due to a new technology that has the potential create 63 million jobs and restore the former glory of the American manufacturing economy. 

According to his claims, thanks to advances in 3D printing technology, thousands of companies that have previously outsourced their manufacturing to Asia and elsewhere may be willing to return to US soil, and specifically to a city in North Carolina – Durham.
Paul Mampilly started his career on Wall Street in 1991 as an assistant portfolio manager at Bankers Trust. He later jumped ship and held key-positions at ING and Deutsche Bank, managing multimillion-dollar accounts. At just 42 years old, Paul Mampilly retired from Wall Street and is now the author behind several investment consulting services, including 100X Club, Profits Unlimited, Rapid Profit Trader, and Rebound Profit Trader. We have covered a few of Mr. Mampilly's teasers here in the past, including: The Race to Mars and Secret Portfolio Summit.
During the past few years, Durham has been revived by the opening of various 3D-printing factories and other technology startups and is now called a smaller-scale Silicon Valley, attracting thousands of new jobs and developing a new technological hub in the South-Eastern part of the country. In Mampilly's words, "here in Durham, they're employing hundreds of new workers. They pay a livable wage" enough to live a comfortable life, which, he reckons, "symbolizes the new American Dream."
He continues his pitch by saying "this technology will expand the middle class to more people than ever and launch a new golden age of capitalism", similar to, if not indeed bigger than the first Industrial Revolution. Mampilly is no stranger to 3D printing stocks, as he has teased them in the past. In his America 2.0 teaser he teased 3D Systems, Inc. Which is a Rock Hill, South Carolina company that engineers, manufactures and sells 3D printers, 3D printing materials, and 3D scanners.
The profit claims in the present report are ginormous – "I'm now using my skill set to show hard-working Main Street Americans how to build wealth… massive amounts of wealth… and, as you've seen, my insights have helped turn as little as a $500 starting stake into $200,000 in only four short years", claiming that the opportunity of investing in this 3D printing stock now might even bring higher profits to some early investors.
The Sales Pitch
Mampilly's newsletter pitches a special report named "Remade in America" and is part of the investment newsletter: Profits Unlimited.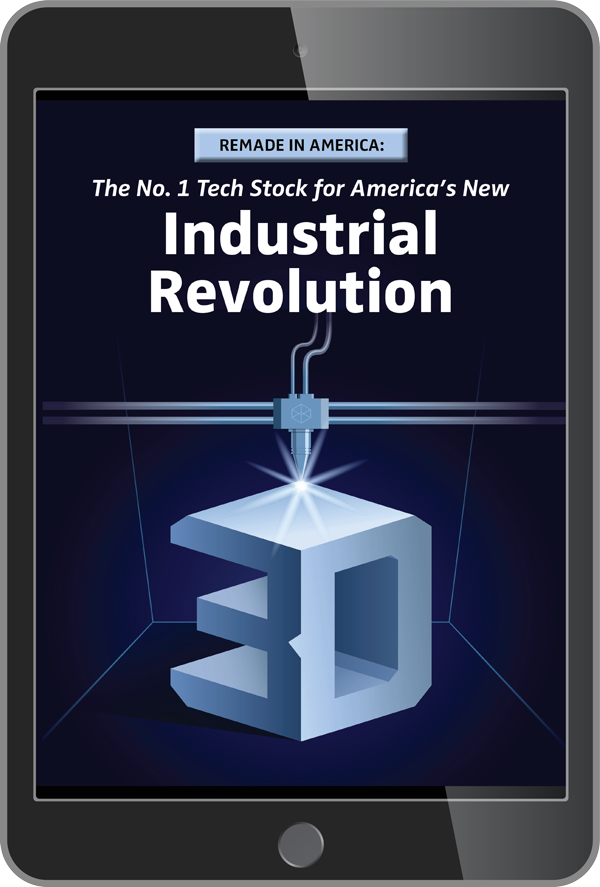 For $79 per year, you can get 12 monthly issues of the newsletter, both digital and printed, three bonus reports, 24/7 website access, weekly updates, and access to his model portfolio. If you would rather pocket the money, but you still want to know the name and ticker symbol of the company Mampilly mentions, keep on reading.
What Does "Remade in America" Actually Mean?
A great part of the author's pitch focuses on the former glory days of America's industrial past, where middle-class people could afford to live a decent life and support a family of 2 or more kids from just one job, which back then were primarily in manufacturing.
Just as the new industrial revolution supported the development of the car industry and turned Ford into one of the biggest automobile producers in the world, Mampilly believes that the new 3D printing technology will have a similar effect and create millions of new middle-class jobs for the American population.  According to his claims, 3D printing technology is launching three cutting-edge innovations at the center of America's new golden age, including:
America's new space age

Regenerative medicine

Electric self-driving vehicles
This is what the former hedge fund manager names as 3D mass printing. "A 3D printer makes a part step by step, directly from a computer blueprint, out of plastic, metal, and other materials" and uses one thin layer on top of another, glued together by laser, until it creates a 3D object. The technique is called additive manufacturing and, what's most important is that it is all done on-site, without requiring a long supply chain.
In other words, using just one machine, 3D mass printing technology could disrupt the global distribution chain and turn many of the formerly outsourced jobs obsolete. On the other hand, it creates massive opportunities for the United States to reopen hundreds of manufacturing factories nationwide and potentially hire back millions of people.  Some have even referred to this new 3D printing tech as "the Fourth Industrial Revolution" or "The Factory of the Future".
As opposed to former printers that were bulky, extremely expensive, and could only print in plastic, the new generation of 3D printers has no boundaries when it comes to what it can print, which is why Mampilly believes companies in this field will become extremely profitable. 
Today's 3D printers can print anything from food, nuclear reactors, buildings, boats, bridges, shoes, jet engines, and even medicines or medical devices, which means this technology can play an integral part in the three industries we previously pointed out. Mampilly thinks that everyone will uniformly prosper from this technology and that America will return to its formal glory.
What Is The "Remade in America" Stock
Throughout the pitch, Paul Mampilly talks about a 3D printing stock that has the potential of becoming huge, dropping several hints along the way. Here are some of these hints:
The first mention of the company is that it is "a tiny Durham-based company at the forefront of this technology" and he goes on to say that "I'm convinced it's going to be the next trillion-dollar tech giant". 
Mampilly stated that Forbes had said this company was "building the factory of the future".

Another hint he drops is that "its clients number over 48,000" and include big names like NASA, Xerox, Siemens, Ford, PepsiCo…including manufacturing drones for Lockheed Martin

Later, he refers to it by saying that "its market cap is only $3 million. But it's the recognized leader of a revolution that's surging from $65 billion … to $100 trillion" and that "it tests, prints, and rolls out custom products within 24 hours".
A final hint is that "they're printing 3D FDA-approved precision meds" and that they have already successfully printed drones, satellite parts, and prosthetics.
Based on these, we think the company Mampilly is referring to here is: 3D Hubs, headquartered in the Netherlands, with offices in the United States, running a large 3D printing facility in Durham, North Carolina.
We know that 3D Hub's current parent company Proto Labs built embarked on building an ambitious "factory of the future".
The company counted NASA and others mentioned by Mampilly as clients, with NASA and several air force bases commonly using 3D printed surrogate parts from 3D Hubs on their production floors.
We also know that Proto Labs does indeed manufacture drones for Lockheed Martin.
3D Hubs'

factory located in Durham has also helped manufacturing parts for satellites, prosthetics, and precision medicine on demand, checking off another box.
As you might already be able to tell, 3D Hubs was officially acquired by Proto Labs (NYSE: PRLB) in January 2021, for $280 million, "with a possible $50 million to follow later". Out of the $280 million, $130 million was in cash, and the rest in stock. According to their official statement, the Dutch company will continue to work as a separate subsidiary under Protolabs. Although you won't be able to buy the 3D Hubs stock per se, you could still invest in-directly via Protolabs stock.
 Even though 3D Hubs/Proto Labs is a close match to what Mampilly describes and aligns well with the hints dropped by the author, many 3D printing companies have decided to move their operations to Durham, which made our research process more difficult. Therefore, we can't guarantee 3D Hubs is the stock Mampilly mentions, although it is a very close fit.
A 55,000% Opportunity?
No matter how promising the sector might sound, no one can guarantee profits of over 50,000% on a single stock, which is why Mampilly's claim is idealistic to say at minimum. However, Proto Labs is one of the biggest 3D printing companies in the world, with a current market cap north of $5 billion.
It is also one of the more expensive stocks we have come across, with a current price/earnings ratio of over 100x. Given this completely outrageous valuation, it would take not years, but decades to realize a return on an investment in Proto Labs, even with the most optimistic of growth projections. The company and 3D printing technology is indeed very promising and is very likely to disrupt a lot of industries, but a better entry point in this stock and/or other opportunities no doubt will arise.
Quick Recap & Conclusion
In one of his latest newsletter, retired investor and hedge fund director, Paul Mampilly, talks about a new revolutionary technology that could potentially help America return to its former years of high economic growth during the last industrial revolution.

According to Mampilly, the

3D mass printing technology

can launch and grow three cutting-edge innovations, including regenerative energy, electric self-driving vehicles, and the new space age.  He also believes the technology can create over 60 million new jobs and at the core of this, there is one "tiny Durham-based company".

Based on the hints provided by Mampilly and our own research, we most likely think the company teased is

3D Hubs, which  was

recently acquired by

Proto Labs (NYSE: PRLB)

. 

While 3D printing is no doubt a world changing technology, Proto Labs stock is currently overvalued by even the most generous of growth expectations.
What do you think about Mampilly's claims? Is 3D printing technology the next trillion dollar industry? Let us know what you think in the comments section below.