Ian King is a former Wall Street investor who made enough money to retire relatively worry-free before the age of 40. In an informative recent newsletter, he claims to have developed an investment strategy that he calls the "20-Minute Retirement Solution" which will not only preserve your hard earned capital, but also help you to reach your retirement goals faster and more efficiently all at the same time.
Let's take a closer look at King's claims to see what this is all about.
The Teaser:
According to King, his method can offer substantial profits "with gains of up to 10 times… 13 times… even 42 times better than the benchmark index". Quite the claim nowadays considering the roaring stock market juiced by the Fed and corporate share buybacks. Allegedly, the strategy only takes about 20 minutes PER YEAR to implement and "won't require any drastic changes" on your part. 
In his words, "it's a complete 'set it and forget' approach to retirement". King claims he created "a strategy inspired by Wall Street but created for Main Street".
To make things more appealing, the author starts his pitch by saying that many Americans missed out on the longest bull market in modern history that ran between 2009 and 2020, before the market finally dipped and that the average investor only made 1.9% per year, while the market was soaring. As a former manager of trust funds himself, having worked on Wall Street for years, King mentions that most brokers and investment funds don't seek performance for their clients. 
He attributes the tiny aforementioned 1.9% gain to investing in mutual funds and in passive index funds, which would take, on average over 35 years just to double your initial investment and this is without taking into account inflation (which is increasing) and other economic factors. 
The solution that he proposes to this problem, dubbed the "20-minute retirement solution" is supposed to focus on specific stocks and divest the average investor of underperforming stocks, often part of most mutual and passive index funds. Is King's claim worth your time and money?
The Sales Pitch:
Although retired since the age of 35, Ian King continues to be an "investment director for an independent financial research firm in Palm Beach" that promotes his investment newsletter, Automatic Fortunes, costing $49-$129 per year, depending on the package you opt for.
Included in this price is 12 monthly issues of the investment letter, access to the Automatic Fortunes model portfolio, weekly alerts and updates, 24/7 secure access to a private website, and one additional bonus report titled "How to Buy Your First Bitcoin", as well as access to all of King's previous reports.
He also describes his retirement strategy in detail in a special report that is also part of this subscription, "The 20-Minute Retirement Solution – 5 Stocks for a Wealthy Retirement". Inside the report, he reveals the names and ticker symbols of five companies whose stocks will allegedly help you your retirement funds soar within five years and finally offer you the carefree retirement you deserve, after a lifetime of hard work.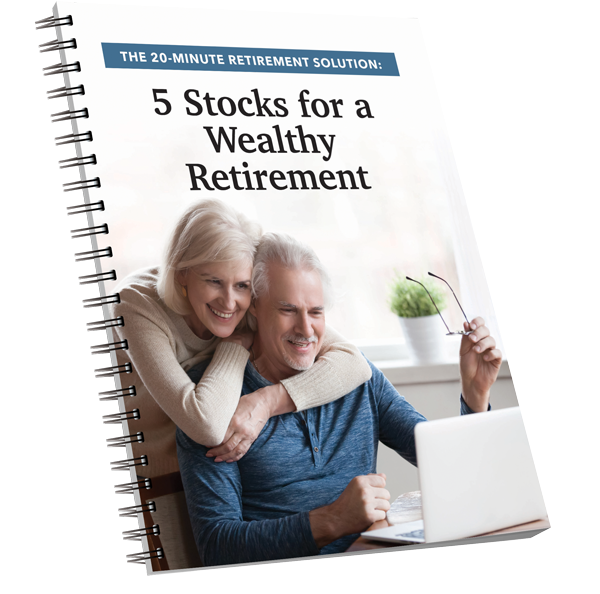 So, What Is the 20-Minute Retirement Solution?
If you've gotten this far, you may be expect us to reveal a magic way you can potentially increase your portfolio by 42x in just a few years, following an easy method that only takes 20 minutes per year, as teased by one Ian King. 
As amazing as this may sound, every investment comes with a risk, so there is no guarantee how well the stocks picked by King and his team of analysts will perform over time. And, if you're wondering how he came to the conclusion of only five stocks and not ten or twenty instead, here is what we were able to find out about his approach:
As previously mentioned, King says that investing your money in mutual funds and passive index funds is the biggest mistake people who lack specialized investment knowledge make, because most of the time, the stocks in these funds underperform or have an annual average return of just 1.9%.  When referring to passive index funds, he mentions that they "are not good investments for anybody, especially if you're saving for retirement" because "many of the biggest stocks this year were NOT in the S&P 500". 
And, for those who don't know what King is talking about, passive index funds represent all the stocks composing a particular index, like the S&P 500. In other words, spreading your money across all 500 of these companies and expecting above average annual returns hasn't been a good investment strategy in decades.
The primary reason is that the S&P 500 index is more than somewhat conservative and lists some of the biggest companies in the world that have long passed their maturity phase, meaning most of their growth is now behind them. Companies like Zoom and Moderna, which have soared in 2020, are not included in the S&P 500 index, which means you missed out on a combined profit opportunity of over 1,200%, in little under a year. 
To support his claims, King mentions a research report from 2017 which states that "82% of stocks that are removed from the S&P 500 index go on to outperform the stock that replaced them". Therefore, he suggests people should create their "own, personal retirement index's".
Revealing These "20-Minute Retirement Solution" Companies
Although King doesn't offer any clues or hints regarding any of these companies, he talks about the science behind finding these stocks and the reason why you should trust his method to help you boost your retirement fund by 10-13x times in just five years. 
He starts by saying that "if you are close to retirement, you only need five stocks in your personal retirement index to help you reach your goals" and that "the right five stocks can beat the 500 biggest stocks by huge margins."
He claims to have picked up this strategy from some of the world's best investors like Warren Buffett and Seth Klarman – "I simply used this strategy… watched what they were doing… and not what they were saying… to create a small, private retirement index of only five stocks". Based on his observations, the world's largest investors have huge investment portfolios, but their five largest stock holdings bring in up to 80% of their total profits. So, how can you also identify five stocks to buy? The author bases his method on what he calls "Five Profit Factors":
World-changing trends

Price Acceleration

Timing

Market Cap

The "X-Factor"
According to his theory, an investor should always pay attention to the paradigm shifts in the financial world and pick up on the world-changing trends in terms of stocks and investment opportunities. For instance, the Coronavirus pandemic has pushed tech companies ahead by a few decades, forcing them to adapt to a new world, which has meant accelerated advances in fields like biotech, 5G, semiconductors, self-driving cars, robotics, and medicine. Fields in which we have covered teasers in before: Ian King's Master Technology Stock and 5G Volta Company.
Understanding the trends according to King, is knowing which sectors can potentially bring you the biggest profits, and identifying the right stocks inside these markets. 
However, the trickiest factor King mentions is timing, which is knowing exactly when to buy a stock and also when to sell it to make the most money. A detailed analysis of King's method is found inside the report "The 20-Minute Retirement Solution – 5 Stocks for a Wealthy Retirement".
A 42X Opportunity?
King's claims about his retirement solution can be, well just a tad bit exaggerated, so you should take them with a bushel of salt. Without having any information about the companies he refers to, we cannot suggest you blindly invest in these five stocks.
Moreover, the 2020 context was probably a one-of-a-lifetime opportunity, so people who saw the potential in companies like Zoom and Moderna before the beginning of the pandemic, mostly lucked out rather than displaying any kind of stock Nostradamus ability.
In other words, the best piece of advice King tries to gives to every newbie investor: Namely to pay close attention to changing market trends and trust that tech and many adjacent fields have the highest potential to soar in the next few years is mostly rubbish. Chasing trends and trying to time the market is a fool's errand, with many a fortune being lost at these altars. If you really want to get ahead over the long-term, find companies who provide a product or service you understand and maybe even use yourself and try to buy into it at a reasonable or better yet, a cheap price.
Quick Recap & Conclusion
In a recent newsletter,

retired Wall Street investor

, Ian King talks about a "20-minute retirement solution" that can turbo charge your investments and help you retire. 

The report is part of the investment newsletter

Automatic Fortunes

, sold for $49-$129 per year, which also includes 12 monthly issues of the letter, access to a model portfolio, weekly updates and alerts, and a series of private bonus reports. 

His solution is based on unique market analysis and a deep understanding of how the market works, as well as how the world's wealthiest investors make their money. He proposes an alternative to the underperforming mutual funds and passive index funds, which he describes in a report named "

The 20-Minute Retirement Solution – 5 Stocks for a Wealthy Retirement"

.

Those who subscribe to King's program will get the names and ticker symbols of five companies to buy for your personal retirement index, which allegedly can bring you profits of up to 42x in just a few years.

Trying to time the market or chase market trends will bring much frustration, instead look for reasonably priced stocks which you understand and you will likely fair much better over the long-term.
What do you think about King's pitch? Are you already invested in some popular, in-favor stocks? Let us know below if you have the inside track on any of the five stocks teased in Ian King's special report