The 5G industry is developing rapidly and could lead to up to 2 million more millionaires in the following years if you know the right stocks to invest in. This is one of the first promises that starts Casey Research tech analyst John Pangere's latest marketing pitch, "Your Last Chance to Become a 5G Millionaire" and we are going to try and save you some major dough by attempting to reveal both the stocks here for free!
He wants to tell us about an urgent 5G development that happened in the midst of the lockdown when a little publicized "Secure 5G and Beyond Act of 2020" was signed into law. Apparently the last time something like this happened was all the way back in 1991 when the government passed the High Performance Computing Act of 1991, which effectively helped launch the internet and in the years that followed the stock market surged. He believes that he has identified a similar type of situation today with his "5G Switch-On And 5G Booster Stocks" which are apparently set to soar.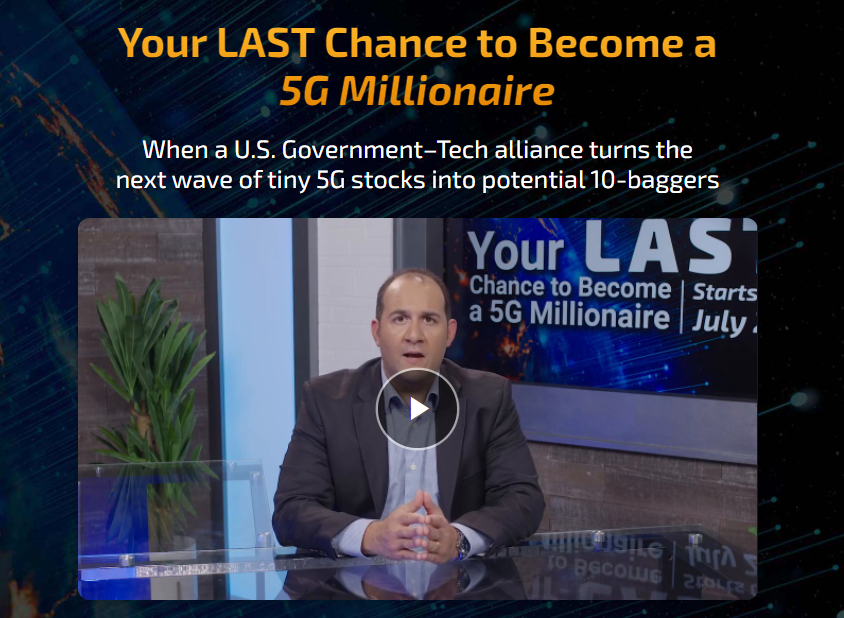 Jon says that his brief is going to tell us everything we need to know about this new development, including: 
What a little-known government-tech coalition is up to

When they'll set their plan in motion

Why this could be your final chance to make life-changing gains on 5G
The "coalition" he is referring to is the Open RAN Policy Coalition, which unites 31 tech companies to lobby the U.S. Government on 5G policy with their stated objective being to open cell tower radio access networks (RANs) so that multiple vendors (the tech companies making up the coalition) can use them interchangeably. 
Casey Research's senior tech analyst, John Pangere, who has been following this urgent situation is introduced and he proclaims that "the government's new 5G plan could mint even more millionaires than the roll out of the internet".
John thinks that this new legislation is a major victory for 5G, as it will democratize networks and lower the barrier to entry for a new breed of tiny, unknown 5G stocks to "create unparalleled wealth for early investors".
If you guessed that all this is just a set up to get you to subscribe to one of their investment newsletters – Strategic Trader in this instance…then you would be spot on. They tell us we can get the Strategic Trader for just $2,000 (50% off) if we sign up now and that if we take the savings and "put it into their top two 5G stocks teased here…it could easily turn into $20,000".
Who is John Pangere?
John Pangere is a former investment banker who has raised tens of millions of dollars for companies like Bloom Energy and Twitter before they went public. 
According to his website, Pangere "has successfully traded currencies, futures, options, and invested in stocks and real estate for years". The author has an engineering degree from Purdue University and was already successful in the real estate industry before turning to finance. He is currently a writer for two subscription-based newsletters, Strategic Investor and the one pitched here – Strategic Trader.
The 5G Opportunity 
As we have stated before in other 5G stock exposes – Louis Navellier's Netflix of 5G and Stephen Leeb's 5G fix, investing in this sector could prove a smart move but only if you don't let yourself get fooled by promises of 10,000% overnight returns, as some authors brazenly claim.
With over 1,000 micro and small-cap companies active in the field, combined with heavyweights like Huawei, AT&T, Verizon, and American Towers that already control part of the infrastructure and together count for thousands of patents, the 5G sector is indeed developing rapidly. However, finding stocks that can potentially make you a millionaire or at least fuel your retirement fund is a tough process, if not close to impossible.
Several authors claim they have found the "one tiny tech stock" that will change the world but you should take these promises with a grain of salt. The truth is that it might still take a couple of years for the 5G market to fully come to fruition and become a staple investment for many. 
If you're looking for an easy and fast method to get rich overnight or in a few months, you can always bet your money on a 5G stock marketed as "revolutionary" or "game-changing", as long as you are aware of the downside risk involved in such trades, but not many are willing to openly disclose the latter part about the risk.
Authors like Louis Navellier and Tim Bohen will try to lure you in with potential gains of 7,000% – 10,000% by showing you how well other stocks did in the early 90's or 2000's – we are all aware of the huge success of Apple, Amazon, Intel, Qualcomm, or Microsoft. But lightning seldom strikes twice and usually not in the same way.
The Companies Being Teased
Pangere teases two 5G "micro-companies" that will potentially become bigger than Qualcomm and Cisco in the next few months or next couple of years. He urges you to subscribe to his newsletter program to find the name of these two companies and their ticker symbols so that you can invest in "these 2 penny stocks that are set to mint the FINAL round of 5G millionaires". So, let's take a closer look at the information provided in the teaser. 
The first company that is mentioned can become the "5G switch-on". He mentions the new frequency for 5G that the government is now allowing access to and that one company can "switch on" this new 5G frequency. 
According to Pangere, "smartphone makers like Apple and Samsung… telemedicine clinics… and hospitals… They've waited patiently for the solution". All these companies have "turned to a tiny company – with over 200 patents – for help". 
A new clue that is given is that the engineers from this company "built a miraculous new device that can spread the new 5G frequency inside almost any building with just the flip of a switch". 
Another clue is that "this tiny company is doubling production to feed the market's demand…" and, "in short, this company 'is about to flip the switch to light-up America's 5G network'". 
As with any marketing newsletter, the author urges you to take action as soon as possible – "Getting in early on tech launches can make you a lot of money, fast". 
He continues by mentioning that "this company is less than 1/200th the size of Verizon or AT&T… and insiders are going CRAZY over this stock". Moreover, he is so confident in the legitimacy of this stock that he exclaims: "buy it today, and I will stake my professional reputation on the fact that this company has the potential to be a multi-bagger over time". 
As you can see, not many specific clues are given, so we just couldn't pinpoint and identify the exact company the financial analyst is teasing here. There are hundreds of companies currently active in the 5G sector and some even with as many patents as the company being teased is purported to hold.
The second company teased "is a tiny government and network contractor with an absurdly large number of patents", mainly related to 5G tech. 
Another clue offered is that "this tiny company owns the technology that beams the new 5G frequency across 24 states to date…" and that "investors who take an early stake in this 2nd company could potentially reap a windfall in a matter of months". 
Moreover, "the 5G booster's CEO revealed a top U.S. mobile carrier is using its tech to increase 5G capabilities and bandwidth" and that "top players like Verizon, U.S. Cellular, and even Digicel Pacific already use this firm's technology". 
Finally, according to the Casey Research pitch, "at last count, 370 mobile networks contracted this tiny company". 
Again, despite our detective work, we weren't able to uncover what company the author is referring to without better clues, as there are literally dozens of tiny government and network contractors that are all starting to do some work in the area of building out 5G infrastructure.
Is This Really Your Last Chance To Become A 5G Millionaire?
In a single word, No. Since we're not sure about the two companies teased in this ad, we cannot analyze each individual opportunity and render our unbiased verdict. However, at a certain point in the pitch, John Pangere mentions that both these stocks are selling for under a few dollars, which may seem like an opportunity, especially for those who cannot afford to spend too much money. But we would warn that nano and micro-caps carry an additional layer of risk and should be reserved for more experienced investors who understand this inherent risk. Plus, there are many small companies like this around, with even more on the way.
Investing in 5G stocks comes with ups and downs if we're to consider the market volatility and the number of new technologies constantly being developed. Although 5G stocks may seem like an exciting, new investment opportunity in the short-term, in truth it poses the same risks as any other investment opportunity and most likely won't bring you the advertised returns of 7,000% or more, at least not over the short-term.
It took over two decades for giants like Microsoft, Qualcomm, Intel, Apple, and Amazon to establish themselves in the tech industry. The same is likely to be the case with 5G stocks – some of them might take up to a decade or more to mature and bring you the desired profits, as one report points out. While others may not soar as much as you expected, and could even become portfolio liabilities. 
Quick Recap & Conclusion
The author of this marketing ad, John Pangere, has many years of experience in the finance world and has made a fortune by investing in the next best tech stocks. He pitches one of his newsletter subscription programs,

Strategic Trader

, that sells for $2,000 per year. 

The special report entitled

"The Final Wave of 5G Millionaires" My Top Picks for 2020"

claims to give you the name and ticker symbols of two micro 5G companies that can potentially turn you into a millionaire. Unfortunately, there wasn't enough specific information on any of these two stocks to reveal them to you, for free. 

Investing in 5G stocks could prove very profitable over the long-term, but it also comes with a high dose of risk and shouldn't be seen as a quick chance to make a killing.
What do you think about Pangere's marketing ad? Do you have any insights on what stocks were teased? Are you currently invested in any 5G stocks? Let us know in the comments below.