Whitney Tilson admits now might not seem like the right time to talk about a new investment opportunity…even if it's bigger than the internet.
But here's the thing. If we wait 18 months or two years until the recession is over, the biggest gains from this investment opportunity might be behind us. So Whitney is going to show us how two separate breakthroughs he calls "SWaB" and "Gold 2.0" are about to deliver a knockout punch to a $3.4 trillion industry and completely disrupt $100 trillion in global assets.
The Teaser
These trends could create one of the biggest wealth-building opportunities since the start of the internet and dozens of companies could double, triple, or even soar 10x in value.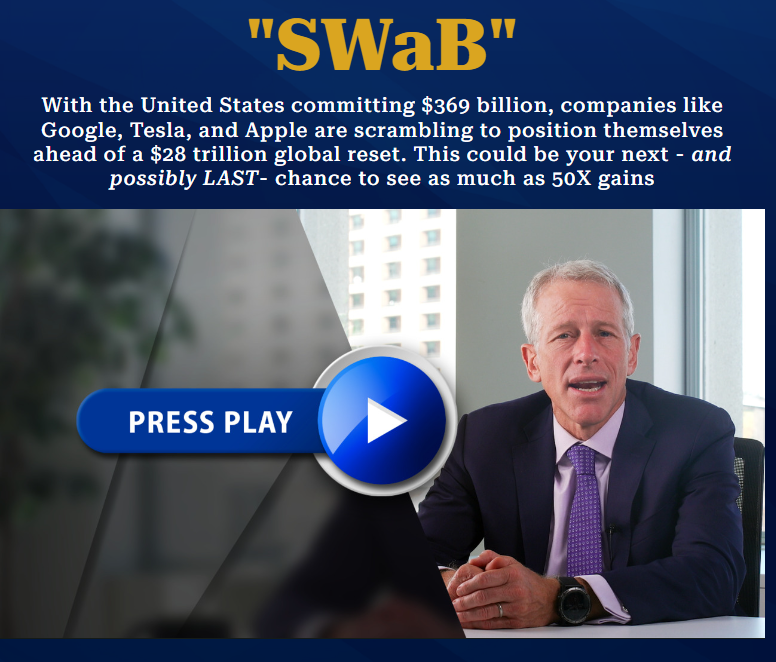 Whitney Tilson is well-known in financial circles and he's well-known to us here at Green Bull too. We've reviewed his investment advice and specific presentations too, such as the Best Stock for 2022.
One thing that is obvious, it feels like we are at an inflection point right now. With the economy, the stock market, and modern technology. But big change breeds opportunity and this could be one of those times.
According to Whitney, this disruption has already started, right here in America. But by the end of this presentation, he promises we'll have a clear picture of what the future could look like.
A Bigger Coup Than The Internet
The takeover that's going to be revealed today will decentralize one of the most powerful industries in the world and put an end to years of arm-twisting by a powerful syndicate.
This all sounds a bit…odd and obscure. But at the end of the day, this is about technology and a "set of technologies combining to form the breakthrough that's about to be revealed." Whitney exclaims that we'll be shocked at how these technologies, which though not disruptive individually, could become the core of our future when clubbed together.
The best part is, this monumental disruption falls squarely into one of Wall Street's hottest sectors, that's estimated to have total assets worth $30 trillion by the end of this decade. Business Insider says: "There is a mega-trend taking Wall Street by storm, with everyone from Amazon's Jeff Bezos to BlackRock taking notice."
So, what is this big breakthrough? Turns out, it's all about Elon Musk's Master Plan Part III. In an interview with the Financial Times in April, Musk revealed the third stage of his "Master Plan" would involve three technologies. Together, these three technologies form a unique system that Whitney calls S.W.a.B or "SWaB" for short.
SWaB stands for Solar, Wind, and Battery and unlike solar energy and wind energy, SWaB promises 24-hour energy.
The Pitch
Last year, when there was a short supply of a critical mineral required for the B in SWaB – batteries. Musk promised a "giant contract for a long period of time" to any company able to mine it in an efficient and environmentally sustainable manner.
Whitney has all the details on this company, including its ticker symbol and what price to buy at, in a special report titled "Gold 2.0: Tap Into the Most Lucrative Vein of the SWaB Revolution."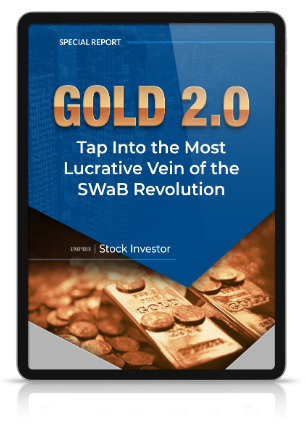 We can claim our "free copy", all Whitney asks is that we take a risk-free trial of his monthly investment research advisory, Empire Stock Investor. If we elect to take the plunge, we'll get a second special report called " Five Ways to 10X Your Money from the 3D Internet," and a third one titled "The $4 Inflation Stock That Can Change Your Life." All for just $49 for the next full year.
What in the World is Gold 2.0?
Despite what it sounds like, SWaB is not just solar, wind, and batteries.
Whitney says he cannot stress this enough. It's a whole new system and unlike batteries on their own, which are an expensive way to store energy, SWaB brings costs crashing down.
Right now, some Americans pay as much as 33 cents per kilowatt hour (kWh) for their electricity needs. With SWaB, the price could be as low as 3 cents/kWh.
Imagine slashing your energy bills by more than 90%.
Well, it's already happening in some areas. Back in 2017, South Australia (one of the four largest states in Australia) was reeling from a series of power outages. Long story short, Tesla signed an agreement in September 2017 with an Australian energy company, and some sixty days later, the largest battery pack in the world was ready at a total cost of $172 million.
When the next outage happened, the SWaB system kicked into action in less than a quarter of a second. What's more, it took just over two years for the system to recover the entire cost of construction and installation.
Since that time, SWaB systems have cropped up in Lithuania, Spain, Belgium, Ireland, the UK, and Germany. In the U.S., PG&E, the largest utility company in America, partnered with Tesla to create the biggest SWaB system in the world south of San Francisco to power more than 130,000 homes.
The Best Way To Take Advantage Of Tesla's SWaB Business
So, what does all this have to do with "Gold 2.0" you may be asking?
Just as computers need chips and chips need silicon, SWaB relies on one key mineral.
The average wind turbine in the U.S. which generates around 3 megawatts of energy, requires 4.7 tons of this mineral. To generate the same 3 megawatts of energy, solar panels require 15.5 tons of the mineral.
Altogether, electricity generated with SWaB requires 6 times more of this key mineral than our current means of electricity generation. This mineral also plays a critical role in other rapidly growing technologies, like EVs, 5G, and the Internet of Things.
According to Yahoo Finance, this mineral is as good as gold for investors. We're talking about Copper and there's one little-known Canadian company that has been quietly buying up strategic land on different continents. Perfectly positioning itself to take advantage of future demand.
Revealing Whitney's Gold 2.0 Supplier
We're fed quite a few hints about who this company could be:
They are on track to increase output by 102% by 2023
They have one of the industry's lowest costs to produce copper
The company is a market leader
Based on this info, the company is almost assuredly Teck Resources Limited (NYSE: TECK). Here's what gave it away:
Teck announced that it has positioned itself to increase its copper output by 102% by 2023
Teck's four operating copper mines in Canada and South America contain proven and probable reserves of 33 million tonnes
The Wealth-Creating Platform of the Next Two Decades?
Simply put, the transition to renewable energy will require commodities like copper. Lots of them.
As per the Visual Capitalist, copper has four key properties that make it ideal for renewable energy:
The investment case all boils down to how fast we believe renewable energy will be adopted. Will we be much further along the path of being "100% renewable" by 2030 or is 2050 or even further out, more realistic? If you ask me, it's the latter.
Quick Recap & Conclusion:
Whitney Tilson is back and he's talking about a new investment opportunity that could be even bigger than the internet.
We learn that Whitney's big revelation is SWaB – Solar, Wind, Battery, and the "Gold 2.0" mineral that makes the collective possible.
All the details on a little-known "Gold 2.0" supplier are in a special report titled "Gold 2.0: Tap Into the Most Lucrative Vein of the SWaB Revolution." It can be ours with a subscription to the investment research advisory, Empire Stock Investor for just $49.
Save time and money, as we were able to reveal the pick for free as Teck Resources Limited (NYSE: TECK).
Gold 2.0 – Copper, will be a critical resource to the proliferation of renewable energy and the applications it spawns. It's just that this proliferation may come later than many expect.
What are some of your renewable energy predictions? Leave them in the comment section below.