What if you could get your hands on key financial information faster than 99% of the public?
The first thing you would probably ask is: Is it legal? And if so, what do I have to do? Turns out, there's a powerful new "Quick Cash" system created by a former $1.7 billion hedge manager, which will be revealed in this presentation.
The Teaser
For the past 3 years, Empire Financial's Enrique Abeyta has been using a fiber-optic wire strung across America to book an 87% success rate in the stock market.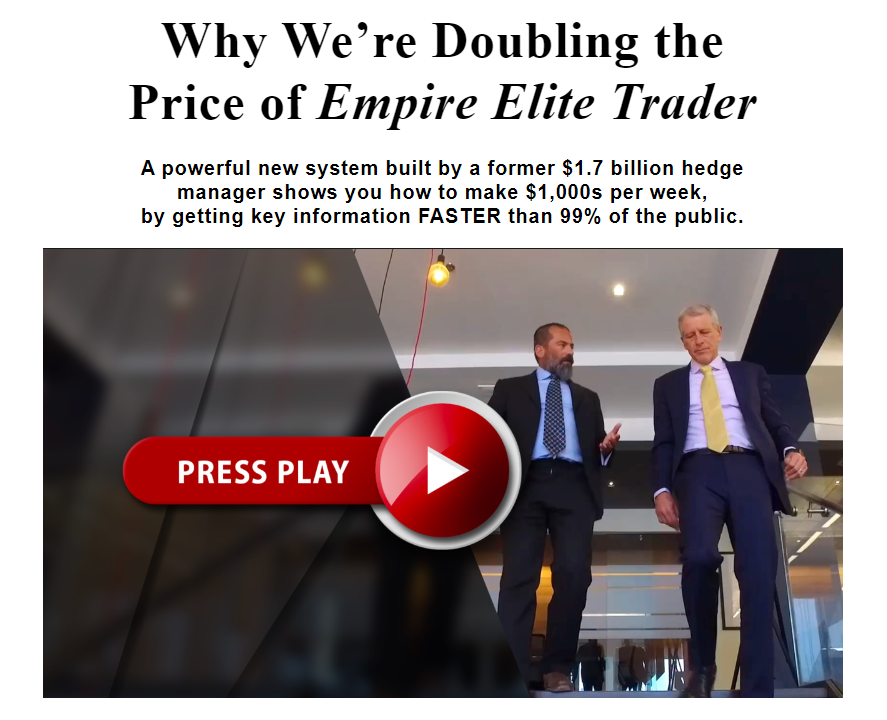 Enrique Abeyta is a reformed Wall Street trader, the owner of several digital media properties, and editor of the Empire Elite Growth and Empire Elite Trader newsletters. We have reviewed Empire Financial Research to see if it's worth the hype and also previously covered Enrique's #1 EV Stock Pick, here at Green Bull if you want to do a deeper dive.
The system Enrique has been putting into practice, he assures us, is perfectly legal.
With this bit out of the way, I can also tell you that it has nothing to do with long-term buy-and-hold investing. Instead, it's based on a system, which gives us the chance to "withdraw" hundreds to thousands of dollars from the stock market, in just days by getting key information faster than the public.
It works by simply using a lightning-fast computer transaction Enrique never imagined he'd ever be sharing outside his former $1.7 billion hedge fund. We're told no options, cryptocurrencies, or any other complex investment instruments are involved.
Fair to say, that this system is all about "edge." And exploiting that edge for all it's worth.
An "unfair" advantage
This can come in many forms…
It can be speed, as in one case, a couple of traders laid a fiber-optic wire across the entire length of America to receive data from the New York Stock Exchange 4 milliseconds faster than everyone else. Or it can be information-based, as in this case.
Enrique insists all we need is a regular internet connection, a brokerage account, and about $10,000 to play with. All of the examples he's going to show are based on that, but you can start with even less if you want. So, how does this system work, and how is it able to generate an 87% success rate?
The Pitch
We can learn exactly how this strategy works in a new research report called The Quick Cash Secret: How to Make Money 87% of the Time in the Stock Market.
This report can be ours with a subscription to the "one-of-a-kind" research service Empire Elite Trader. It costs "just $2,000" and includes a 100% Satisfaction Guarantee, regular trading recommendations, a trading master class with Enrique, and more.
Making $1,400 in 12 days with the Quick Cash System
There are a number of reasons why a stock might go up. A good earnings release, a new acquisition, a new product release, and so on.
The "quick cash" system doesn't care about any of those things. All it cares about is the answer to one question: Will the stock actually go up?
To determine the likelihood of this, it uses a very calculated set of odds to stack movements in the stock market in our favor. Here's an example:
Every time a buy signal flashed for Microsoft, the stock went up 83% of the time. On average, it went up 10% in 90 days. Of course, there is no intention of recommending we hold the stock for the long run. Instead, the "quick cash" system was applied to the trade.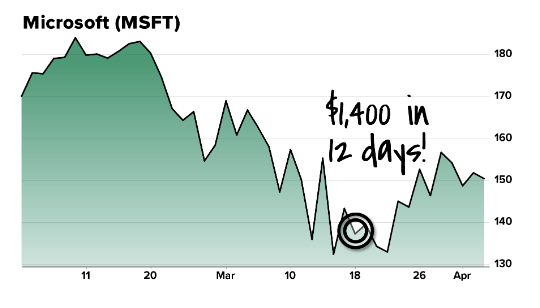 Sure enough, if we'd followed the instructions, we could have made $1,400 in just 12 days, and walked away.
Get in, Get Paid, And Get Out
There are countless examples like the one just shown.
The "quick cash" system breakthrough was built by a disgruntled engineer back in 1978 who was so fed up with the government's handling of our monetary system that he renounced his U.S. residency and left the country.
But before he vanished, he supposedly left behind an indicator that has since fallen into the hands of computer programmers who have turned it into one of the most reliable money-makers on Wall Street.
Here is the indicator on your screen, in plain sight: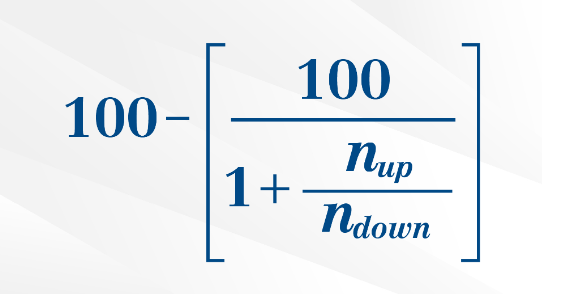 The good news is, we don't need to understand this thing at all for the chance to create an income stream using slivers of the stock market and a simple computer transaction.
We only need an ordinary brokerage account to make money off of short-term market moves.
Enrique insists we could have more than tripled the market's average annualized return since 1971 by using the recommendations his system creates. What kind of recommendations are we talking about?
Revealing the Quick Cash Recommendations
Since Enrique's "quick cash" system is fluid, the recommendations change on a weekly and even daily basis.
For this reason, none are named in his presentation. So, I will instead look at the indicator behind the trading strategy and how successful it has been up to this point.
What in the World is RSI?
The Relative Strength Index (RSI) was created by the disgruntled mechanical engineer Enrique cites earlier in his presentation, John Welles Wilder Jr.
First developed in 1978, RSI is a popular and widely used momentum oscillator. It measures the speed and rate of change in price movements within the market, from 0 to 100. When the RSI of a stock is above 70, it is considered overbought, vice versa it is deemed oversold when it is less than 30.
This is what Enrique means when he says "huge price swings can be predicated, without knowing a single thing about the business."
On its own, the RSI shouldn't be the be-all, end-all of your trading strategy. Enrique even admits that it's simply the first thing his proprietary system looks at. Another trader compared RSI to another momentum indicator and arrived at the same conclusion.
The "quick cash" system purports to take RSI readings to the next level. Pairing them with real-time action in the stock market, updating every single minute through a fiber-optic wire that gets the latest data from the New York Stock Exchange.
Unfortunately, without knowing the other technical indicators that make up the "quick cash" trading system. There is no way to independently analyze the likelihood of its success, which may be the idea.
Quick Recap & Conclusion
Enrique Abeyta teases a powerful new "Quick Cash" trading system that can make us $1,400 in just 12 days.
The "Quick Cash" system uses the widely popular Relative Strength Index (RSI) as its primary indicator and combines it with other technical indicators to create a proprietary system with a reputed 87% success rate.
Trading recommendations and the inner workings of the "Quick Cash" system are revealed in a special report called: The Quick Cash Secret: How to Make Money 87% of the Time in the Stock Market. The report can be ours with a subscription to the Empire Elite Trader research service, at a cost of "just $2,000"
RSI is an often-used, although imperfect trading indicator. It should be paired with others, but without more disclosure and backtest results, I can't be sure that should be Enrique's "quick cash" system.
Besides RSI, what is another way to gain a short-term edge in the market? Let us know in the comment section below.