Whitney Tilson says he's found "America's Next Big Monopoly". He calls getting in early on a future monopoly "the key" to compounding gains.
To be sure, we aren't talking about an actual monopoly barred by the U.S. government here, but rather companies that dominate their respective industries. The million-dollar question is: What is the next big monopoly? Let's find out together.
The Teaser
Tilson believes he's found it, in fact he's even willing to "bet anything we've never heard of it" and he predicts folks who get into this investment now could be setting themselves up for long-term gains of well over 1,000% in the years to come.
Whitney Tilson is an American investor, former hedge fund manager, newsletter publisher, and author. He launched Empire Financial Research in 2019, where he serves as CEO to provide advice, commentary, and in-depth research and analysis to help people around the world become better investors. Green Bull has published reviews of similar opportunities, including Jeff Siegel's Helix-Scaling Stock and Adam O'Dell's #1 DNA Stock.
While rightly acknowledging that there are no guarantees in the investment world (he would know, given his former hedge fund Kase Capital's performance). He also knows from firsthand experience that it's possible to find companies that dominate their industries, long before the mainstream press and the average investor catches on and when you can this, the long-term gains can be simply extraordinary.
Before shutting down Kase Capital due to poor sustained performance, Whitney did grow his hedge fund firm from $1 million under management to more than $200 million by investing in the likes of Netflix when it was just $7.78 a share (today it's worth 4,200% more) and Apple at a split-adjusted $0.35 (up more than 20,000% since that time).
The thing to note is that he invested in these stocks while they were still in their early growth stages and now, he's going to show us how to do the exact same thing. The business being teased here, we're told is similar in many ways to Netflix and Apple, in that it's developed a breakthrough technology that will be used by hundreds of other businesses for many, many years to come.
The investor is NOT talking about 5G, robotics, artificial intelligence, virtual reality, blockchain technology, or anything like that. He says "this is much bigger, totally different, and as we'll see, much more important". This technology is far superior to the one used by Google, Facebook, Microsoft, and every other software company in the world. What we are talking about here is much more advanced code which Whitney refers to as the "Quaternary Code".
The Pitch
We all knew this was coming – the presentation pitches a new report by the Empire Stock Investor called: America's Next Big Monopoly, which reveals the company behind a breakthrough as big as the internet.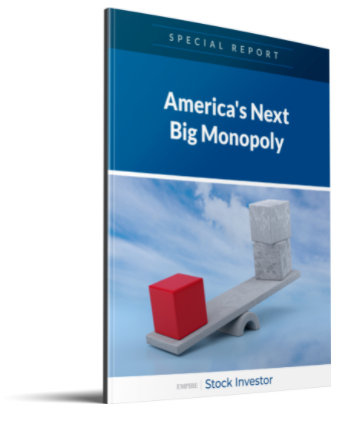 The first things you will receive upon starting a no-risk trial subscription to the Empire Stock Investor for just $49, are two free research reports – the highlighted in this presentation and a second report titled California's Longest-Running Monopoly – How to Potentially 5X Your Money, 12 months of the newsletter, Whitney Tilson's daily market updates via email, and more.
What in the World is Quaternary Code?
What do you think is the most powerful piece of technology in this picture?
If you guessed the iPhone, laptop, camera, digital pen, or the iPad, you'd be wrong. The correct answer is the plant in the top right corner.
Why? You may ask. Consider the following:
It's self-propagating, meaning it makes copies of itself.
It's self-repairing. (Wouldn't it be nice if our iPhones could be the same)
And it's self-assembling. It starts with a seed and makes roots, stems, leaves, and fruit.
In short, its all the things we want from a technology right there in a plant. All the gadgets in the photo above use binary coding (0's and 1's), but the plant uses a much more advanced code that uses four symbols – A, T, C, and G, which Whitney refers to as "Quaternary Code".
Without getting too technical, A, T, C, and G are four different chemical molecules. These molecules combine in different ways to form protein molecules. Thus, in a nutshell "Quaternary Code" is DNA Code. This is the ominous part of the presentation where we learn that scientists have finally figured out how to program DNA code.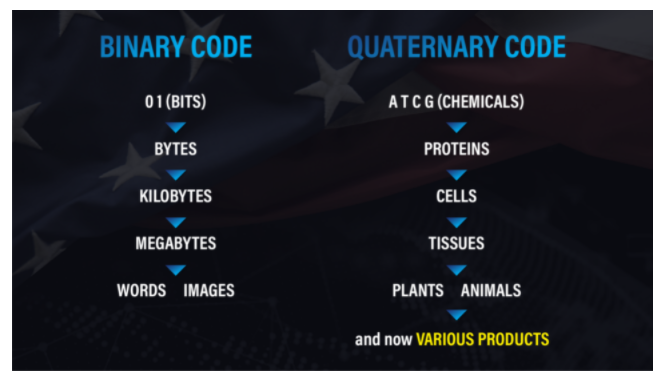 DNA code is giving rise to a rapidly developing industry called "synthetic biology". Something which the late Steve Jobs once called "one of the biggest innovations of the 21st century". Others have called it "bigger than the economic impact of the internet". Regardless of what label it is brandished with, it will have a significant impact on our lives and almost every big industry from manufacturing to data storage to Agriculture will be disrupted by it.
The business model of one of Whitney's favorite synthetic biology stocks is to synthesize the code (raw material) that goes into various products and then license it to other companies, which make the actual products. This is the company he has dubbed "America's next big monopoly".
Revealing "America's Next Big Monopoly"
Let's look at some of the clues Whitney left behind for us to comb:
Instead of supplying custom software solutions like Amazon Web Services or applications like Apple, they supply custom genomes in the form of code.
The company has already lined up contracts and partnerships with many of the biggest and most successful companies in America and around the globe, including Roche, IARPA, Cargill, and others.
It produces its unique genomes inside a massive 219,000-square-footlaboratory in a regular-looking office building in Boston.
This company has the largest library of DNA codes in the world, which they call codebase. The code base has over 3.4 billion codes and it keeps adding more every day.
This sure sounds like Ginkgo Bioworks Holdings Inc. (NYSE: DNA) to us. Here is how the clues line up:
Does Ginkgo have what it takes to be America's next big monopoly?
The Next Big Thing or Bust?
Synthetic biology or the design and construction of new biological entities such as enzymes, genetic circuits, and cells or the redesign of existing biological systems hold out the promise of reimaging the possibilities of living things, from bacteria that can fight cancer to restoring entire ecosystems, and more.
However, there is also a dark side. The emerging tools and tech of synthetic biology can create pathogenic bioweapons and contaminate native gene pools among other things. If we are looking at a company like Ginkgo Bioworks or CRISPR Therapeutics AG (Nasdaq: CRSP), which Tilson also mentions in his presentation, strictly from an investment perspective. Then either company would fit the bill of a classic growth stock and could be purchased as part of a broader portfolio for this exact purpose. As far as a monopoly goes, that may be aiming a bit high.
Quick Recap & Conclusion
Whitney Tilson says he's found "America's Next Big Monopoly" and its NOT talking about 5G, robotics, artificial intelligence, virtual reality or blockchain technology, but something much bigger and totally different.
What he is talking about here is a powerful new technology dubbed "Quaternary Code", which is really just a made up name for DNA Code and one company is going to emerge from the synthetic biology sector that is going to be "America's next big monopoly".
To find out the name of this company, we will need to purchase a subscription to the Empire Stock Investor for a limited-time price of only $49 for the first year. Among other things, a subscription will include the special report: America's Next Big Monopoly, containing the name and ticker symbol of the stock being teased.
To save you some time and a bit of money, we revealed the company right here as Ginkgo Bioworks Holdings Inc. (NYSE: DNA).
Despite its $6.5 billion market cap, Ginkgo is still in the early stages of its growth. The "platform for designer organisms" can fit into any portfolio lacking a growth stock.
What other synthetic biology stocks should we keep a close eye on? Let us know in the comment section below.