What is the one market that is most likely to create the world's first trillionaire?
If you said Artificial Intelligence, you'd be right. AI is being called the most powerful technology in the world and Whitney Tilson's analysis has uncovered a few AI Companies to get into before the buying frenzy begins.
The Teaser
Unlike the majority of teasers that we review here, this one isn't so much about a theory or future prediction, but rather about something that is already unfolding as I write this.
The thing I'm talking about is the biggest event in tech and perhaps human history. No exaggeration. I'm talking about Artificial Intelligence, which stands to impact every aspect of our lives from the way we work, play, and shop to the way we do business, make money, and invest.
Whitney Tilson is a well-known name in the investing community, having previously run a value-oriented hedge fund that made some good and not-so-good calls during its 18-year history. Today, he operates an independent financial research firm called Empire Financial Research, which produces reports such as the "#1 Whisper Trade" and "EoD" Stocks, that we here at Green Bull get to the bottom of.
An $87 Trillion Opportunity?
Whitney calls AI an "$87 trillion opportunity". He doesn't specify a timeframe, but even the most optimistic projections I've been able to find peg the opportunity at $6 trillion.
This is still significant and a considerable jump from today's estimated $380 billion market but in truth, this is all pretty new and no one really knows how big the technology could really get.
Judging by the rapid adoption of ChatGPT – the fastest growing consumer application ever. I'd say AI is already changing the world.
Since we're still very much in the infancy of the AI development and adoption curve, saying that the technology will create some of the biggest investment gains in the world over the next decade isn't far-fetched.
Whiney is convinced that AI is about to hit a critical inflection point and he's identified a few select companies that we should be investing in.
The Pitch
Two separate reports – How to Profit From the $87 Trillion AI Wave and Buy the Platforms: Your Best Shot at a 500% Winner reveal the names of all four of Whitney's picks.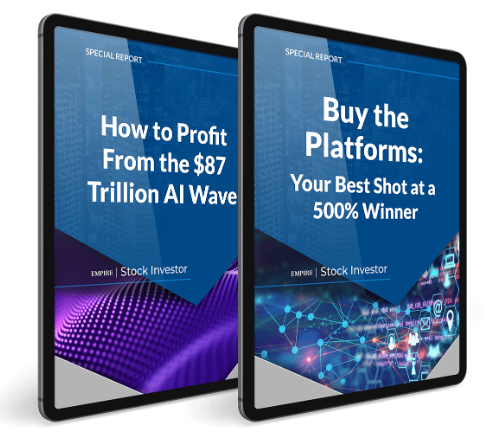 The only way to get our hands on them is with a no-risk trial subscription to the Empire Stock Investor investment research advisory service. The regular retail rate for Empire Stock Investor is $199 per year, but for a limited time, Whitney is making it available for only $49.
This offer comes with a 30-day money-back guarantee, a third bonus report called The 20X AI Moonshot, access to proprietary research, and a model portfolio.
Entering Uncharted Territory
Selecting the right stock(s) can make you rich.
But historic paradigm shifts like the one we are seeing now can create wealth.
Whitney says we're coming upon a new phase known as "Society 5.0."
As you can see, each previous phase fundamentally changed society and the way most people lived. It also made those who took advantage of this change extremely wealthy.
From Jakob Fugger getting into the burgeoning textile trade during the shift from phase 1.0 to 2.0 to John D. Rockefeller becoming the world's first actual billionaire by creating Standard Oil during the industrial revolution and today's Internet age mega-billionaires like Jeff Bezos.
These are all extreme examples, but just by knowing that we're now on the verge of another paradigm shift, we can get our slice of the savory wealth pie too.
An Inflection Point
While AI can be traced all the way back to the invention of the first programmable digital computer, it only recently hit a critical inflection point.
This inflection point is AI becoming a consumer application, which just happened earlier this year with OpenAI's ChatGPT.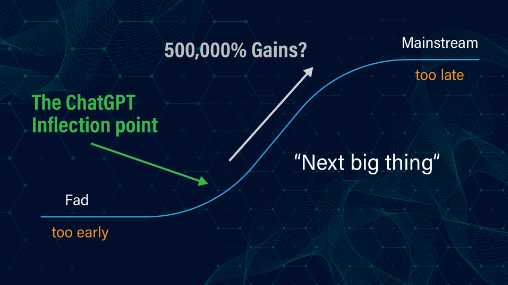 Since AI hit the mainstream we've seen numerous other AI applications pop up, from Google Bard to Midjourney and countless others.
AI has also begun to disrupt healthcare, media, retail, and this is just the start.
Some early gains have already been booked, like with CrowdStrike, which is an AI-based security company. Its shares have gone up by as much as 42%. C3.ai is another example that uses AI applications to optimize the process of digital transformation. Shares of the company shot up as much as 154% in one month.
But these gains will be dwarfed by what we're about to witness in the years ahead. Whitney has a few stocks that could help make such gains a reality.
Revealing Whitney Tilson's AI Companies
We have several picks to get through, so let's jump right into the clues.
AI Company #1
This company has already instituted AI tools that analyze customer behavior and create targeted marketing campaigns.
4.5 million websites already use this company to market and sell their products in 175 countries around the world.
In the first couple of years, this company was in operation, it had 28 million customers. This year, it's expected to have 700 million.
This was an easy one, it is Shopify Inc. (NYSE: SHOP). The company has begun to implement AI tools into its store subscription plans and it is predicted that Shopify merchants will have over 700 million customers in 2023.
AI Company #2
The next three picks are what Whitney calls "platform companies" and the first of these is the dominant player in this space, as it provides AI platforms to 100,000 clients.
One of these clients is entertainment titan Disney, which is using this company's AI to build tools that let it tag nearly a century's worth of content.
This company has just made seven huge acquisitions in the AI space.
Surprisingly, Whitney is talking about Amazon Inc. (Nasdaq: AMZN) here. The pick was made due to the growth of its AWS platform which boasts more than 100,000 customers of which Disney is one.
AI Company #3
The second platform company has perhaps the most advanced AI platforms in the world right now.
It has already developed platforms to accelerate the process of deep learning and generate visualizations for scientific experiments among other things.
Can't be sure about this one, but it sounds like Microsoft Corp. (Nasdaq: MSFT). After making a $10 billion investment in ChatGPT parent OpenAI, Microsoft has majorly bolstered its AI capabilities and released a variety of AI tools, including one to accelerate the training of deep neural networks among others.
AI Company #4
Its AI chips are lightyears ahead of the competition. Its newest system has been described as an "AI supercomputer in a box." And it has built the most powerful chip system ever created.
Just as millions of companies seek out Amazon's AWS to power their websites. Millions of companies could come knocking on this company's door as they strive to power their own AI efforts.
Not much to go on, but NVIDIA Corp. (Nasdaq: NVDA) fits the description. DGX-1 is NVIDIA's so-called "supercomputer in a box," a server specifically designed for machine learning work.
Multibaggers with AI?
A bull market in AI is on the horizon.
After following the money, I found hundreds of billions have flowed into AI over the last few years between angel investors, institutional investors like VCs, and government bodies, with the appetite for such investments being described as "insatiable."
Like with every industry, there will be winners and losers along the way, which is why Whitney is playing it safe for now and investing in established businesses with AI divisions. But some names will undoubtedly emerge that are not yet known to us, which will be the biggest winners of all.
Quick Recap & Conclusion
Whitney Tilson is teasing a set of companies in what he calls the one industry that will create the world's first trillionaire – Artificial Intelligence.
AI is shaping up to be an even bigger paradigm shift than the Internet and it recently reached a huge inflection point, consumer adoption. However, this is just the beginning and the biggest gains are yet to come.
Whiney has broken down each of his four AI picks across two special reports – How to Profit From the $87 Trillion AI Wave and Buy the Platforms: Your Best Shot at a 500% Winner.
We were able to reveal each of these picks right here for free. They are Shopify Inc. (NYSE: SHOP), Amazon Inc. (Nasdaq: AMZN), Microsoft Corp. (Nasdaq: MSFT), and NVIDIA Corp. (Nasdaq: NVDA).
These picks are fine, small risk, small reward. But the biggest gains by far will come from smaller, pure-play AI companies that aren't on anyone's radar yet. Keep your eyes on this space.
Are you already invested in AI? Let us know in the comment section.