Empire Financial founder Whitney Tilson is back with his boldest and most mysterious call to date.
It's based on what he calls "Whisper Trades", which he assures are 100% legal to use, but that this could change overnight and lock us out of this secret forever.
The Teaser
Whitney recently heard "whispers" from banking insiders that the crisis wasn't as bad as the mainstream media was making it out to be and used this info to make 50% in just over a week, without using any leverage.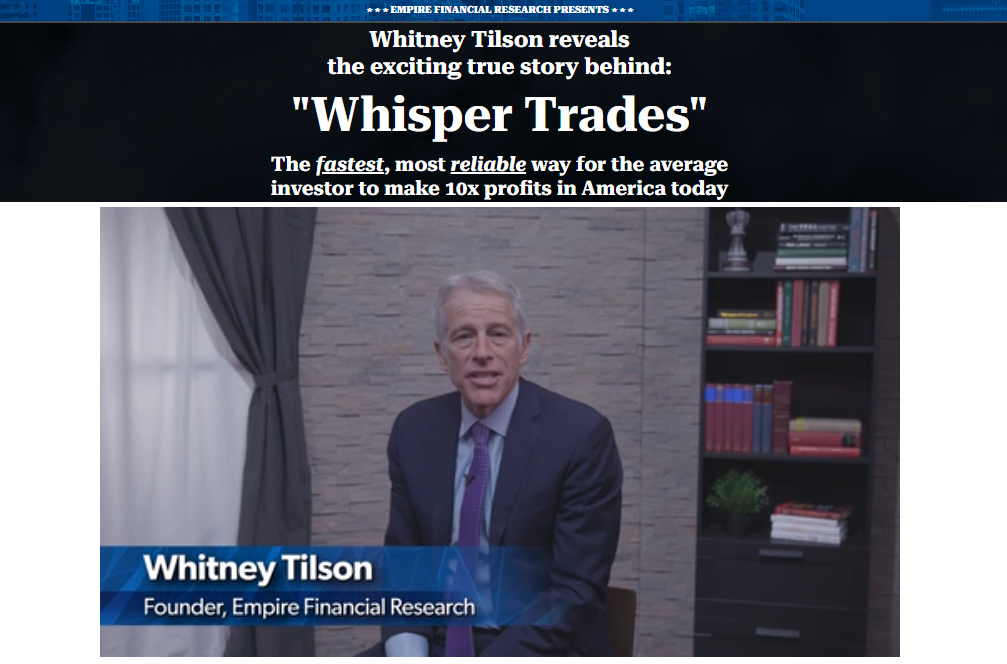 Whitney Tilson has had a 20-year investing career, during which he says he's turned completely legal "whispers" from insiders into some of his biggest payouts. We've exposed some of his recent stock picks and also asked and answered the question some of you may be wondering right now – Is Whitney Tilson Legit?
To me "Whispers" sound like what members of Congress use to make market-beating trades.
After all, this is one of the fastest, most reliable ways to make quick and easy stock market profits in America right now.
Still, Whitney remains adamant that everything he's telling us here is completely above board and
Doesn't require us to have any insider connections
Use any leverage, or confusing options, to make potential profits
Or break any laws
He also says these types of legal "insider whispers" are available all the time, if we just know where to look.
So, where should we be looking?
Apparently inside of our own wallets for starters.
When you look in your wallet, what type of credit cards do you hold? Visa? Mastercard? American Express? Your local bank?
No one probably said CPI Card Group. An obscure company with a stock that has gone nowhere for years. But in 2020, there were "whispers" from company insiders that something big was shaping up behind closed doors…
Insiders thought the stock was about to soar.
1,700% in 12 Months
Anyone who was in the know could have made huge profits after hearing these "whispers."
Shares of CPI Card Group swiftly went on to soar more than 1,700%
Just like with CPI, Whitney has uncovered some "whispers" about a stock that he believes could make us 10x our money in the next 12 months.
The Pitch
Whiney has compiled everything we need to know to get into this trade in a special report titled, My #1 "Whisper Trade" for 2023.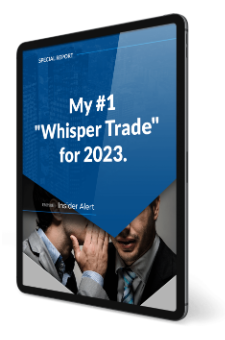 All we need to do to get our hands on it is agree to try out the new trading advisory service, Empire Insider Alert. This new service closely tracks the "whispers" of the top insiders on Wall Street and costs $1,495 for the first year with a 30-day money-back guarantee.
It also comes with a bunch of bonuses, such as two additional special reports, a full year's worth of free, beta-tester access to the breakthrough Empire Elite Data, and a free virtual ticket to the first-ever Empire Investing Congress (to be held in November 2023).
The 1-page Document that is key to Whisper Trades
Some of the most lucrative "whispers" like what upcoming earnings will look like and whether a merger or acquisition is in the works are kept under tight wraps thanks to the Securities and Exchange Commission (SEC).
However, one important disclosure is not.
See, every time an insider like a director or a significant shareholder buys company stock, the SEC requires those insiders to file a simple 1-page form that reveals this info.
Officially, it's called a "Form-4 Statement of Changes of Beneficial Ownership of Securities" and very simply it shows us who's buying what and when.
Legendary fund manager Peter Lynch recognized the value that could be gleaned from this regulatory filing:
Whitney says there are a few proven ways to cash in on this info.
Identify the Best Trades in a Hot Business Model
Basically, find an industry that has been on a tear like the energy industry over the past year and a half.
Then go about scouring Form-4 filings to uncover the companies insiders are buying up.
This is by no means foolproof, but it can help confirm whether management's interests are aligned with that of shareholders.
Identify Big Moves before they Happen
As an example, Coca-Cola is a $300 billion dollar business and all the easy money in the stock has already long been made.
But a beverage industry insider named Hal K., who spent 30 years employed by Coke, including roles in general and revenue management, strategy, operations, marketing, and sales, has now joined a small beverage company as a director.
On March 30th he bought $39,000 of his new company's stock and it proceeded to soar by a whopping 1,588%. All we had to do to piggyback these same gains is locate the 1-page form-4 filed by Hal with the U.S. government months before this big move happened.
Easier said than done, but not impossible either.
Whitney's #1 "Whisper" trade for 2023 is a company that no fewer than nine big-time insiders have already gotten into over the past 2 months. Let's try and find out what it is.
Revealing Whitney Tilson's Top "Whisper" Trade
Not very many clues are provided on this one, but here is what we do know:
It's a small resource royalty company based in Houston.
The Chairman, CEO, President, Chief Financial Officer, Vice President, and several key members of the board of directors, have all been buying up shares per their Form-4 filings.
Based on Whitney's estimate, we could have only 60 days to get into these shares before the chance is gone.
He also shows us a blurred-out Form-4 filing that looks like this: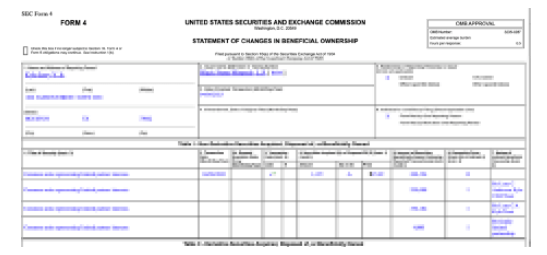 Based on this info and image, our guess is Black Stone Minerals L.P. (NYSE: BSM). Here is what led to this conclusion:
Black Stone is an oil and gas royalty trust based in Houston, Texas.
Through the magic of modern technology, the un-blurred Form-4 belongs to one Jerry V. Kyle Jr., who is an independent director of Black Stone Minerals.
Now that we know this, the other clue falls into place. As Black Stone's CFO and several other directors also filed Form-4's the same day as Jerry Kyle Jr. on April 6th.
Turn $5,000 into $50,000 in just a few Months?
It should be noted that over the long term, stocks with high levels of insider ownership tend to perform better than their counterparts.
However, not all ownership is created equal. As some management teams are simply granted stock options and warrants as part of their overall compensation packages.
This is the case with Black Stone, with management being granted options that they exercised into shares. Nevertheless, Black Stone Minerals is a large trust, with mineral and royalty interests in 41 states across the continental United States.
It does have some debt outstanding, but this is minimal, with the ratio of total debt at year-end 2022 to Adjusted EBITDA being only 0.02x.
Apart from this, the trust managed to organically increase royalty production in fiscal year 2022 and new drilling activity on its East Texas Austin Chalk acreage promises to increase cash distributions even more in the near future.
From this point forward, I see the price of crude oil continuing to increase and trusts like BSM will benefit the most, with the least amount of downside.
Quick Recap & Conclusion
Whiney Tilson is back teasing something he calls "Whisper Trades", which he says are the most reliable way for average investors to 10x their money today.
We come to learn that "Whisper Trades" are actually stock purchases made by company insiders, which are revealed via a Form-4 Statement of Changes of Beneficial Ownership of Securities. Whitney has uncovered a stock with heavy insider buying that could produce huge gains in the months ahead.
Everything we need to know to get into this stock is in a special report titled, My #1 "Whisper Trade" for 2023. It's ours with a trial subscription to the new trading advisory service, Empire Insider Alert, which costs $1,495 for the first year.
Thankfully, you don't have to spend this money as we were able to reveal Whitney's #1 "Whisper Trade" for free as Black Stone Minerals L.P. (NYSE: BSM).
BSM is a diversified oil and gas royalty trust with minimal debt, a high annual payout of 12.3%, and good prospects.
Do you personally look at insider buying when considering a stock investment? Let us know in the comment section below.