Whitney Tilson is about to reveal one of the biggest new tech breakthroughs…
The famous investor says something called "EoD" will be the best place for investors to turn small amounts of money into substantial gains over the next few years.
The Teaser
Despite mainstream media outlets touting artificial intelligence, virtual reality, and the blockchain as massive technological breakthroughs, most of us are completely missing out on the big picture.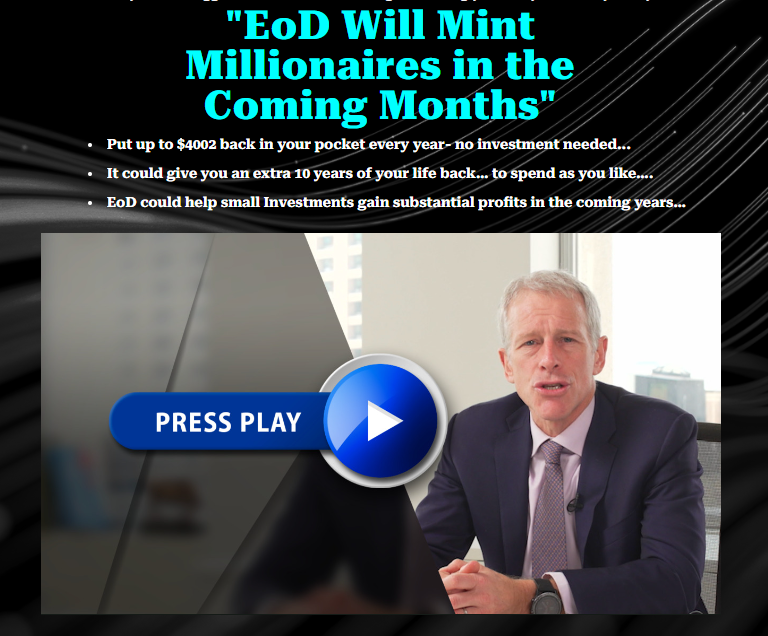 Whitney Tilson has over 20 years of Wall Street experience…some of it making money, some of it losing it. Since creating Empire Financial Research, I have reviewed more than a few of his picks, some of them interesting, like "The $4 Inflation Stock" to Make 100x Your Money, and some predictable, like his "Reversal" Cannabis Stock Recommendation.
Tilson has been a long-time proponent of electric vehicles. To his credit, he was pounding the table about a massive rollout of EVs back in 2019. A time when few mainstream analysts were talking up the industry.
Of course, we all know what has transpired since then. Tesla stock shot up by as much as 1,200% at one point and shares of BYD, the world's largest EV manufacturer, have similarly skyrocketed by more than 815%.
Now, the same EV technology Whitney accurately touted more than three years ago is converging with brand–new technologies to unleash what could turn out to be the biggest reset of our lives.
He calls this technological fusion "EoD" and says that it's becoming one of the most sought-after breakthroughs for some of the biggest companies in the world.
America's Next Big Game Changer?
All of the Fortune 10 companies, from Google to Apple to Microsoft, Amazon, Walmart, and even the biggest restaurant chains, like McDonald's, are all trying to win the "EoD" race.
You probably already know what this means, some of the largest money management firms and bandwagon riders, like T. Rowe Price and SoftBank, have placed their bets accordingly. Investing their money into the rising EoD trend.
To put the icing on the fusion cake or the tech stack so to speak, Whitney personally tested this EoD breakthrough a few weeks ago. After seeing it with his own eyes, he was instantly convinced about the power this breakthrough holds.
So, what exactly is EoD and why is everyone seemingly clamoring over it?
The Pitch
Whitney divulges this info and how to make serious money in the EoD space in his brand new special report called: The EoD Speculation – How to Quadruple Your Money in the Next Few Years.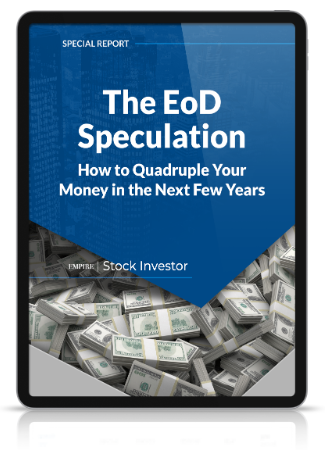 The only way to get a copy is through a trial subscription to the Empire Stock Investor investment research advisory service. The cost of this advisory service? $199 per year. But for new subscribers, it's just $49 with a 100% money-back guarantee.
Besides this, subscribers will receive two additional special reports related to EoD, Whitney's daily email on the markets, and full access to all of the Empire Investor's archived research reports and recommendations.
What in the World is "EoD"?
The really big disruptions, the ones that make people rich and change their lives, are almost never the result of a single invention.
Instead, it's the convergence of several new technologies coming together, which leads to brand new business models being created. Personal computers, the internet, and smartphones all fit this description. And so does "EoD".
"EoD" stands for Everything on Demand.
Whitney says Everything on Demand, is "the future of getting everything and anything we want, at any time, delivered straight to our doorstep on demand and often in less than an hour".
He's not wrong about this. According to TechCrunch, a recent survey showed that fast and reliable delivery was the single most important online shopping attribute among more than 8,500 customers.
This is the exact problem that "Everything on Demand" promises to solve. It allows us to get everything we want almost instantly.
The Convergence Of 3 New Technologies Are Changing The World
In and of itself, almost instant delivery is nothing new.
Amazon now has Prime two-day shipping for nearly all addresses in the contiguous US and same-day delivery to select metro areas. What is new, is harnessing e-commerce and combining it with artificial intelligence and autonomous delivery bots to not only anticipate what people want to buy next but get it to them almost instantly. These are the three technologies converging to change the world as we speak.
I'll stick to using Amazon as an example, as a few years back the e-commerce juggernaut was awarded a patent for a technology called "Anticipatory Shipping." This patent allows Amazon to ship a product even before an order is placed. How is this possible?
Their system crawls all the data from your prior Amazon activity, including time spent on site, duration of views, links clicked, shopping cart activity, and wish lists. All this data is then analyzed to ship the product to a nearby warehouse before you buy it.
The final technology of this conflagration is what makes the growth in EoD even more explosive. Its autonomous vehicles in the form of bots, cars, vans, buggies, and drones ready to deliver around the clock at a moment's notice.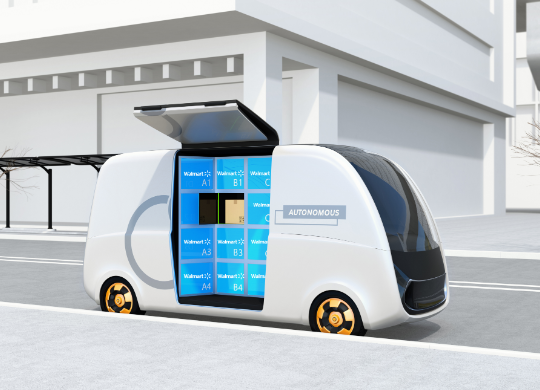 Some startups, like Starship Technologies, the world's leading provider of autonomous delivery robots, has already raised more than $200 million since it was founded for this purpose.
The EoD rollout is now underway and the impact is expected to be massive. So, what should we be investing in?
Revealing Whitney Tilson's EoD Stocks
To position ourselves properly, Whitney strongly suggests we immediately make four investments:
Investment #1 Amazon
The first pick may be an obvious one, as for the past couple of years Amazon (Nasdaq: AMZN) has been making moves to own "Everything on Demand."
More than 520,000 warehouse robots working 24 hours, seven days a week, stopping only to recharge their batteries.
A fleet of FAA-approved drones that are trained to avoid obstacles.
An entire robot-taxi fleet that can be used for delivery on high-volume days like Prime Day.
Some think Amazon's massive growth phase is over, but this indicates that it could still have a long runway of growth ahead of it.
Investment #2 "The Next Amazon"
Here is what we know about this company:
Despite being one-tenth the size of Amazon, its annual revenue has compounded by 82% a year. Soaring from $24 million in 2012 to nearly $4.61 billion in 2021.
Last year it acquired one of the world's largest fulfillment centers, which ships over one million orders every month in the US alone.
The company Whitney teases here as "the next Amazon" is none other than Shopify Inc. (NYSE: SHOP).
Investment #3 And #4
Whitney says there are two companies responsible for the most critical components of automated delivery vehicles and bots.
The first company provides the technology that helps driverless delivery vehicles process large volumes of sensor data and make real-time driving decisions.
Its technology has already helped a truck company deliver produce grown in Arizona to a wholesaler in Oklahoma, a distance of over 900 miles. In less than 14 hours.
Since the technology was introduced in vehicles for the first time, the company's stock has been a 50-bagger.
This is TuSimple Holdings Inc. (Nasdaq: TSP). In 2021, one of its autonomous vehicles picked up a load of fresh watermelons in Nogales, Arizona, and drove it across four states to an AWG distribution center in Oklahoma City. Its stock popped after this happened, but is way down since.
As for the other key technology…
It is a company completely devoted to all things driverless.
The business is a spin-off from a company that "recently tied up with a leading automotive producer" to create a brand new tech company.
Not much to go on here, but at first glance, this may be Aptiv Plc (APTV). The deep autonomous systems and software supplier spun out from a former subsidiary of General Motors and its stock is on the rise to start the year.
Bonus Investment: The Small Speculation
This pick may not be in the same league as the ones above, but if EOD lives up to its full potential, this $27 billion company will be a major player.
The company provides the tech that makes the booming automated micro fulfillment center trend possible.
It makes "SCARL Technology" that ensures any fulfillment center, however big or small, can have a product picked from its shelf, packed for shipping, and placed in a delivery vehicle or bot any time of the day or night, without any human intervention.
Again, we're not given much info to go on. So I'm not sure this is Whitney's pick, but Ahold Delhaize N.V. (Amsterdam: AD.AS) closely matches the description. The multinational retailer's current market is precisely $27 billion dollars and it is rapidly expanding its automated micro fulfillment center capabilities.
An Inevitable Trend?
Sometimes, the best thing we can do as investors is position ourselves in front of a massive, inevitable trend, place our bets accordingly, and then just sit back and enjoy the ride.
This may be one of those times.
The union of E-commerce, Artificial Intelligence, and Autonomous Delivery sounds like a match made in Silicon Valley heaven. But the mix of this futuristic trio may prove to be worth the hype…for once. We should just make sure expectations aren't cranked too high and not pay an overly exorbitant price for expected future results.
Quick Recap & Conclusion
Whitney Tilson is teasing the technological breakthrough of the century. It's something he calls "EoD" and those who get in on it early will make gobs of money.
We come to learn that "EoD" stands for Everything on Demand and it's made possible by a convergence of several technologies like e-commerce, AI, and autonomous delivery.
Whitney has several ways we can profit from this emerging trend and he reveals all in a brand new special report called: The EoD Speculation – How to Quadruple Your Money in the Next Few Years.
The recommendation is to make four investments and one bonus speculation. We were able to reveal these and they are as follows: Amazon (Nasdaq: AMZN), Shopify Inc. (NYSE: SHOP), TuSimple Holdings Inc. (Nasdaq: TSP), Aptiv Plc (APTV), and Ahold Delhaize N.V. (Amsterdam: AD.AS).
All five picks are substantial businesses that could become even more valuable as a result of the Everything on Demand or Automation of Everything trend.
Are there any other "EoD" businesses that we should know about? Let us know in the comment section below.