InvestorPlace's Eric Fry has uncovered a time-sensitive opportunity that could make 2022 one of your best years ever!
He has a #1 way to play this volatile market, which he says is the "Trade of the Decade" and has the best risk-reward profiles of any trade he's seen in years. Let's find out what it is.
The Teaser
Lauren Sivan is our host for this presentation that is being marketed as unscripted, urgent, and a quickly moving opportunity to capture maximum gains that could be very brief.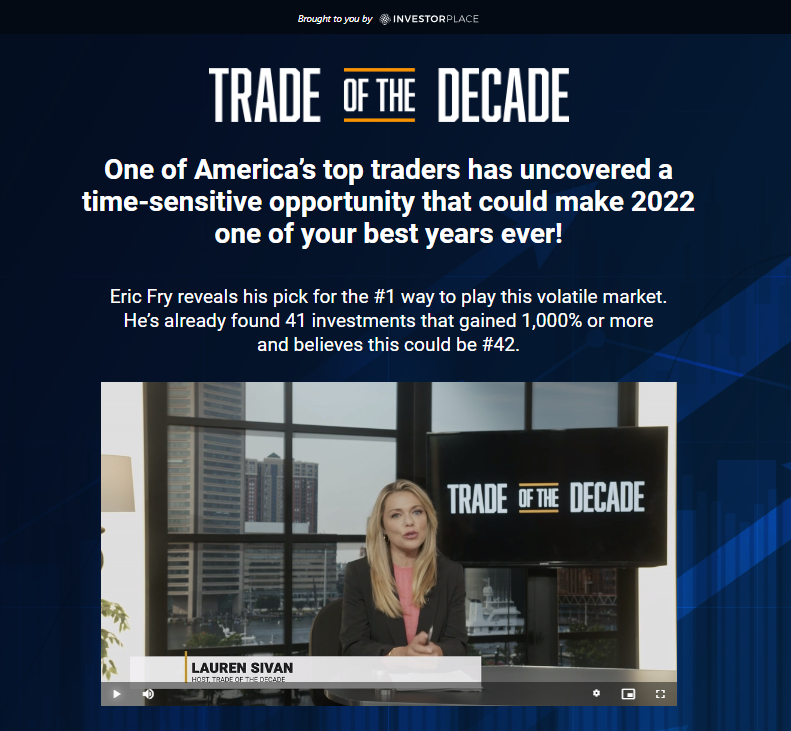 For those unfamiliar with the name, Eric Fry was previously a professional portfolio manager for more than 10 years, specializing in international investment strategies and short-selling. He amassed a solid long-term track record, which includes numerous "10-bagger" calls, like buying Asian stocks during the depths of its late-90s currency crisis, buying commodities in the early 2000s, and has parlayed this into a burgeoning publishing career. We have covered some of Eric's work here in the past, like his Technochasm Stocks and his current publisher InvestorPlace as well, with Luke Lango's "4 Tech Stocks That Could Change Society Forever", among others.
Eric has made plenty of recommendations in exciting areas like battery metals, 5G and artificial intelligence, but the natural resources sector is where he sees the biggest potential gains right now. What he's referring to here is raw materials like copper, nickel, lumber, wheat, sugar, natural gas, and crude oil.
Commodities aren't at all like stocks, they're not long-term investments, they don't trend higher over time like a good company does. Instead, Eric correctly says that they boom in spectacular fashion and then flame out in the same way. These manic up and down cycles are called commodity super cycles and they can produce some pretty amazing gains on the upswing, which is where we are right now.
However, what Eric is hawking here isn't a direct investment in commodities. Instead, its resource stocks because they are a leveraged play on the underlying commodities they produce. Their profits can grow exponentially on relatively small commodities price gains. As an example of this, British Columbia's Copper Mountain Mining (TSX: CMMC) earnings have exploded over the last two years, just as the copper price has more than doubled. The company's stock, as a direct resulted has rocketed more than 1,000% from its March 2020 low.
But which commodity is behind the so-called "Trade of the Decade"? Turns out, its Oil and Eric has 5 core investment recommendations for us in this space.
The Pitch
In order to find out what these recommendations are, we will have to sign up to receive a brand-new research report called The Trade of the Decade Portfolio. It's complimentary when you join his "elite" investment research service, The Speculator.
The entire package, consisting of the special report, regular monthly issues of The Speculator, another special report called Five Urgent Tech Stock Opportunities for Triple Digit Gains, and more goes for $1,999.
Oil's Supply-Demand Imbalance
Eric says there's only one data point that really matters, that tells us almost everything we need to know about the oil market and where oil prices are headed and he's going to show us right here.
The global oil supply is this dark line here, the green line is demand. And what we're seeing over here is that the green line, demand, has been exceeding supply for almost two years. 19 straight months, global demand for oil has exceeded global supply.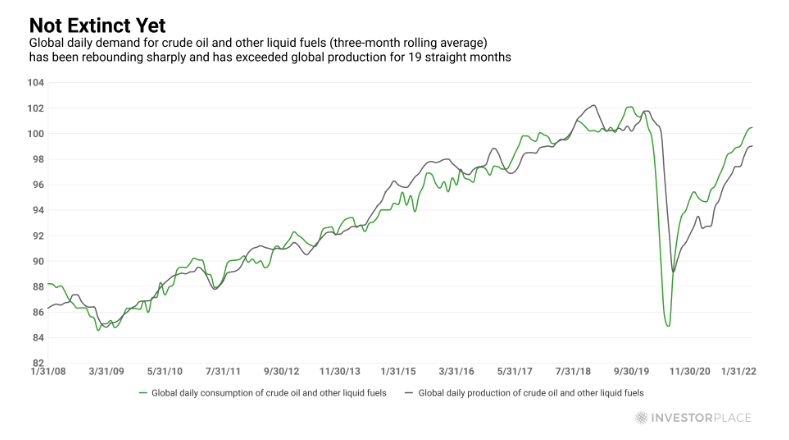 The thinking is, that this will continue. As most investors are still underestimating the power of this bull market in oil and haven't come to terms with the potential of oil to spike to prices around $150 a barrel or even $200 a barrel. So stocks throughout the oil sector are still trading at four to six times estimated earnings for this year, which is cheap on an absolute basis.
If we use the median valuation of 5x earnings, that's less than one quarter the valuation of the S&P 500. Eric thinks there's no way oil stocks will be selling at such discounted valuations if investors expected $100 Oil to become the new normal.
Some will read this and immediately think, well what about electric cars and the emerging "green" economy of wind and solar, so isn't oil demand going to go down, not up?
To this charge, Eric answers that EVs and green energy are the real deal, there's no question about it. But the present moment still belongs more to oil stocks than EV stocks. See, even though EVs will capture a growing share of the global auto market, the overall auto market, the total pie is going to continue to grow larger, which means that the number of gas-powered automobiles on the road will continue to increase for several more years.
Even the U.S. Energy Information Administration says the total number of internal combustion vehicles on the world's roads will not peak until sometime around 2038. We also have on our side the fact that both OECD (freight) and aviation fuel demand still remains below pre-COVID levels. If both of these demand sources merely returned to pre-2020 levels, global crude demand would jump up by more than four million barrels per day to about 105 million barrels per day.
This is why Eric has a list of five oil and oil-related plays that he believes "have higher potential than any other investment opportunity right now".
Revealing the 5 Core Oil & Gas Opportunities
Eric keeps it short and sweet when talking about his recommendations, but he does drop some breadcrumb-sized clues:
The first recommendation is an oil and gas company that mostly supplies the European market. So as European countries increasingly turn their backs on Russian energy supplies, this company is perfectly positioned to benefit.
The second stock is a deeply discounted one. Even though this company is a cash flow machine with huge earnings potential, the stocks valuation is much lower than its peers. You could even say that this undervalued stock is hiding in plain sight.
The third recommendation is a fast-growing small cap play. The company is a tech leader in the sensor industry and the company is applying its technology to oil field services. So, its solutions enable oil companies to monitor and optimize their fracking operations in real time.
and 5. As the last two stocks are both Canada-based oil and gas producers that operate in prime oil bases of both Canada and the U.S.
The first and second don't give us much of anything to go on, the third one, led us to some companies that are still privately-held like Belmont Scientific and OSIsoft. As for the last two, the Canadian oil and gas industry is vast and Eric could be talking about any two of a number of companies out of hundreds.
Legit Opportunity to Make 1,000% or More?
Even without revealing any of Eric's stock recommendations, the real story and basis of his picks is the oil supply and demand mismatch that is baked in the cake no matter what happens in Ukraine.
Based on this info, which is a valid assessment of where we are at present. A leveraged trade into oil and gas producers isn't necessary and a straight up investment into the commodity referred to as "liquid gold" would suffice or something like the ProShares Ultra Crude Oil ETF (NYSE: UCO) that is up nearly 78% year-to-date.
Quick Recap & Conclusion
Eric Fry has found a way to play this volatile market, which he calls the "Trade of the Decade".
The "Trade of the Decade" is based in the natural resources sector and oil in particular, where Eric sees the biggest potential gains right now.
To learn more about this time-sensitive opportunity and get 5 core investment recommendations in this space, we will need to join Eric's "elite" investment research service, The Speculator. This will cost us $1,999 and get us a brand-new research report called The Trade of the Decade Portfolio, which contains this info.
A real dearth of clues led to us shooting blanks when it comes to Fry's 5 oil and gas recommendations, but given that the basis of his picks is the current oil supply and demand mismatch. A direct investment into crude oil itself or an ETF like ProShares Ultra Crude Oil ETF (NYSE: UCO) that offers in-direct exposure would work just as well.
Does oil still have a major run up left in it before demand eventually starts waning? Let us know what you think in the comment section down below.