In a recently launched marketing pitch, investor Andrew Keene talks about the possibility of making "400% or more in a matter of days or weeks" with the help of an investment technique he has developed and perfected over the years. 
Keene along with the help of Tom Gentile (America's #1 pattern trader) is pitching us a brand new investment newsletter, Super Options, which guarantees "you'll have everything you need to help you set yourself up to make some serious cash". With the help of a so-called Super Options Tracker that "spots a move in a company with fewer than 25 million shares in the float, which is an indicator that its options can go ballistic" and you stand to make impressive returns such as "251% in 33 days" or "1,900% in 1 day". The newsletter costs a healthy $995 per year and includes a series of benefits such as a Watch List every Sunday, trade targets three times a week, and five-minute trade instructions three nights per week. If you're curious about the offer, we're going to give you all the details you need to know here for free.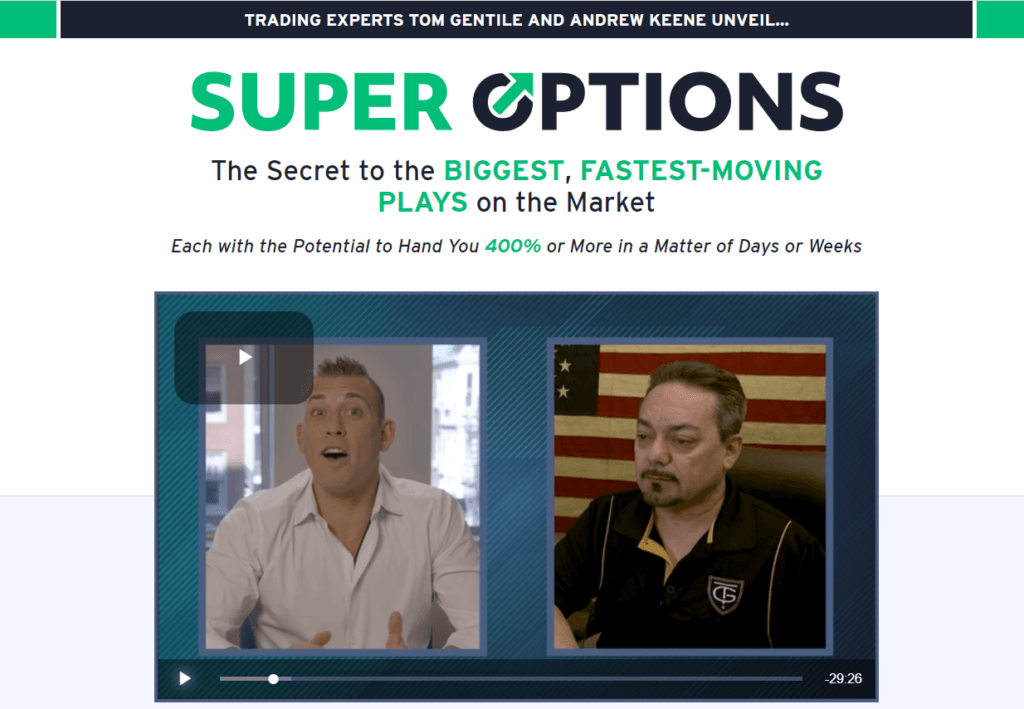 Andrew Keene is a known trader and stock option expert. He provides traders the opportunity to profit from trading options daily and educates his students about the same strategies that allegedly helped him make over $5 million in just two years time.
He is a John Wiley & Sons author and the CEO and President of BZB Enterprises Inc. An investment education firm. Keene has a also participated in numerous financial and investment shows for the better part of 15 years. The first trading service he ever created, The 1450 Club, is still around while his new Super Options service was created to deliver investment recommendations in what he calls, "super options".
The Super Options Opportunity
In his marketing pitch, Keene talks about buying options or "super options" as he refers to them, which are supposed to bring faster and easier profits than investing in regular common stocks. He claims that he has used his new investment technique, that is based on shadowing the moves that insiders make to deliver astonishing results like a "1,300% increase on Urban Outfitters in just two days, 100% on Pfizer in 4 hours, and even 250% on MagnaChip in a few hours". 
He also claims to have came up with an improvement to this already highly profitable system, "a way to uncover even bigger opportunities – and give yourself the chance to pocket massive windfalls of 500%, 1,000%, or even more in a matter of weeks".
However, he doesn't go into too many details when it comes to his underlying options strategy (ambiguity is an investment newsletter trademark) and we should know having covered plenty of them here, such as: Elliot Wave Trader Review and more recently Buffett's #1 Private Investment. Most of his pitch focuses on the opportunity of investing in these "super options". With your subscription to his newsletter, Keene promises to deliver "as many as 156 potential 'Double Your Money' Super Options trade recommendations over the next 12 years", each with a potential profit of over 400%.  This means that you'll be able to theoretically trade as many as three recommendations each week that you could never find on your own.
Keene also suggests that by joining the Super Options newsletter, clients will have access to over 130 different company stocks per year, which seems a bit much, even for those with diverse portfolios. Keeping in mind that the more stocks you own, the less you will know about each one and the more the underlying risk goes up.
The companies' he highlights are as diverse as you can find – from microcaps to large-cap drug companies, aeronautics companies, and even food companies like Noodles & Co., an American fast-casual restaurant that offers international and American noodle dishes and pasta, in addition to soups and salads. The company's shares saw an increase of 2,400% in just two days in the past and early investors who subscribed to Keene's newsletters were able to greatly profit.
What Exactly Is Being Teased Here?
Unfortunately, Keene doesn't tease any actual options investment opportunity, but rather promotes a subscription to his own newsletter that will allegedly give you all the background research and "inside" information to profitably speculate in super options that otherwise would be almost impossible to find without something he calls S.C.A.N. technology, which we mentioned in our review of his Project 303 subscription service.
He calls his S.C.A.N. program "one of the most powerful money-making tools on the planet",  that is supposed to "filter through the 6+ billion transactions that occur on Wall Street each day – and find the trades that indicate possible insider moves."
He goes on to say that "when you execute a Super Option on a company like this, you then control the limited supply of options that exist".

Another detail about the strategy is that it was recently extended to also hunt for stocks that are in strong demand and seeing lots of trading volume. 

 
S.C.A.N. technology is Andrew Keene's proprietary trading algorithm. It scans millions upon millions of trades and is able to identify which ones are connected. He is said to have used this system to turn $100,000 in an account into $5 million in less than two years. Quite the claim, he is now setting out to bring S.C.A.N. to a brand new audience with his Super Options newsletter and set up each trade for you to "Automatically go live if and when every condition is met, Automatically cash out when the time is right, and Automatically deposit any winnings into your account".
This makes it sound as though you will never have to lift another finger to grow your net worth. The trade tutorials, live training sessions, and set ups all help. However, it should be noted here that the results are far from guaranteed and even Keene admits that this type of investment brings risks and the potential of capital loss, which would be an understatement. 
We wonder if he is willing to provide the same guarantee or refund policy that he offers subscribers of his 1450 Club, which is that "if you haven't hit the halfway mark, meaning you haven't been able to make 25X on your money, call Andrew's team, and you'll receive a 100% refund".
As we previously stated, there is no one company or trade being teased by Keene here and the teaser is for his new newsletter subscription program that, based on the S.C.A.N. trading algorithm, he says can help you find options to trade that will net quick profits in just a matter of days or weeks.
Are Options A Good Investment Opportunity?
While options may seem like a good opportunity for short-term oriented speculators…if you can predict the future price of the stock on which you are purchasing an option. Therein lies the crux, as the direction of stock prices are inherently volatile and unknowable (especially so in an artificially propped up stock market such as today's).
Moreover, we haven't been able to find or see a single back test to prove the legitimacy of the option investment technique being pitched here and thus cannot tell you with any reliability exactly how good or bad it is. Given the algorithm study that claims to analyze over 6 billion trades daily, Keene's program may be able to uncover some diamonds in all that rough, but only time will tell. 
Call us old-fashioned, but we would rather do thorough research and due diligence and place bets on solid companies with good underlying businesses, than speculate with financial derivatives.
Quick Recap & Conclusion
Global investor Andrew Keene pitches his latest marketing newsletter program,

Super Options, for the not-so low price of $995 per year. Included, you will receive trade targets three times a week, and five-minute trade instructions to get you started with "super options". 

He doesn't tease a specific company or options trade, but rather talks generally about an investment technique that analyzes thousands of "

inside movements

" to find out the best companies with a limited number of shares and outstanding options, that can provide big short-term profits. 
What are your thoughts on stock options? Have you or do you actively trade stock options? Let us know your experience in the comments below.