Louis Navellier is grinning ear-to-ear like a Cheshire cat while showing us a fat check for $122,471.
He says this is how much money he made last week with a secret income blueprint used by many of the richest people in America. It starts with something called "A Phase" Stocks and he has five high-conviction picks.
The Teaser
How would you like to never worry about bear markets, recessions, or inflation ever again and instead, welcome them?
Louis Navellier is an off-Wall Street money manager and the author of The Little Book That Makes You Rich. His picks tend to be mid-large cap growth stocks aimed at conservative investors, some of which we have covered here, like his Solid State Battery Stocks and "Big Bet" 5G Picks.
Evidently, the way to not worry anymore is by buying "A Phase" stocks, which according to Louis produce absurd amounts of income.
He goes on to say that in his experience, "no other investment vehicle is better for drawing low-risk and consistent income streams from the stock market. Better than dividends, better than bonds, options, or anything else I've come across in my 40-plus years."
At this point, I'm inclined to think Louis is talking about royalty trusts, but can't be sure yet.
A Predictable Gambling House?
You may be familiar with the term "the house always wins."
In gambling, the house edge is the mathematical odds advantage in its favor. It equates to a nearly 90% winning percentage.
When it comes to the stock market, the odds are only slightly better, with only 20% of active fund managers beating the market in any given year.
So when Louis says that stocks move in regular life cycles that can be timed with regularity, I am skeptical, to say the least.
Nonetheless, Louis teases that once we understand how it all works, we may never look at the stock market the same way again.
The Pitch
Louis details his system and five high-conviction "A Phase" Stocks to buy in a special report titled 5 A-Phase Stocks to Buy Now.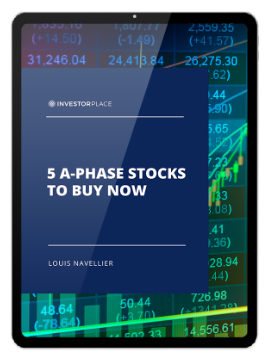 The report details everything we need to know including names, ticker symbols, and other details. It's ours if we subscribe to Louis' Growth Investor newsletter for "the absurdly low rate" of $49 per year. The offer comes with a full money-back guarantee during the first year, which we applaud, 12 monthly issues of the newsletter with new buy recommendations each month, access to a portfolio grader, and more.
The Secret Income Blueprint
Louis says every stock goes through four stages – Baseline, Acceleration, Ceiling, and Decline:
As you can see, the "A Phase" simply refers to when things begin to get interesting.
This is when large money managers learn about the company, its growth, its huge future potential, and they begin buying shares, often by the millions.
All this buying generates an "acceleration" and this is where the biggest gains are made.
This cycle repeats itself over and over, like Bill Murray in the movie Groundhog Day. In fact, many gains come from simply moving in and out of the predictable cycles of the same stocks.
Apple (Nasdaq: AAPL) is one example of this.
The stock has cycled through four major periods of Baseline, Acceleration, Ceiling, and Decline over the past two decades.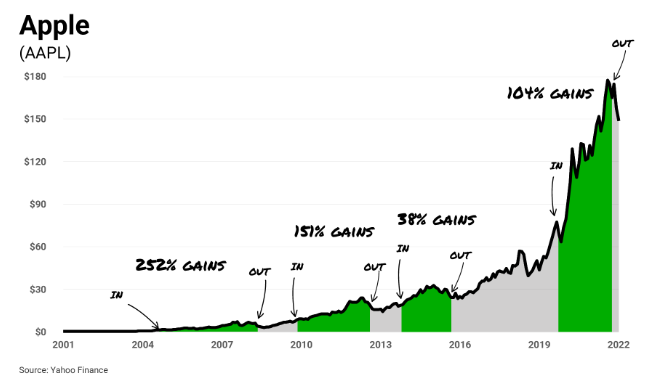 Other examples abound, like Starbucks, which has gone through seven cycles since 2000, and Nvidia with two cycles in the past ten years.
A Personal Cash-Generating Machine
There's nothing like compounding your wealth in super high-quality businesses over the long term.
However, if you just don't have that kind of time. Restricting your buying only to stocks entering the A Phase will quote "turn the stock market into your own personal cash-generating machine." If it's not in the Acceleration Phase, forget about it. What evidence exists to back up this bold claim?
Well, we're directed to Big 5 Sporting Goods (Nasdaq: BGFV) stock, whose price broke through and entered A Phase territory in December 2020. From there, Big 5 went on a tear and shot up over 341% in 11 months.
In November of 2021, Big 5 entered the next phase, the Ceiling Phase, and began to sink like a Jim Cramer stock tip. So the question now is, how do we pinpoint the exact moment these huge breakouts occur?
The secret sauce is a hidden formula Louis uncovered more than 40 years ago.
He doesn't reveal what it is but says that virtually every stock in the A Phase of its life cycle exhibits the same nine key characteristics. He goes on to say that four of the nine indicators are related to earnings and one of the nine heavily weighted in his system is institutional buying pressure.
Earnings (or the anticipation of them) are the major driver of a stock's value. The more a company grows its earnings, the more its shares will be worth.
This is the fuel that powers the A Phase and the system has signaled that 5 stocks just crossed into the Acceleration phase.
Revealing Louis Navellier's A Phase Stocks
Apart from saying that the A Phase signal is best applied to "very small stocks" and giving us some more past case studies, Louis doesn't drop a single clue for us to even try and guess his five picks.
He must be wary about the Green Bull being hot on his trail and decided to play it super safe. I don't blame him.
The only thing to do in such a case is to look at the historical returns of Louis' A Phase system and compare them against the alternatives.
A Phase Stocks vs. The Market
When we factor in all of the A Phase stocks Louis' system has uncovered over the past 20 years and compare them to the S&P, Nasdaq, and Russell 3000, the results on the surface at least are quite favorable. See for yourself: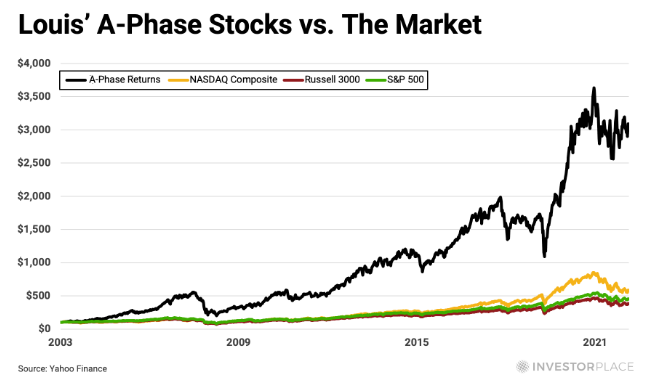 It also apparently stacks up well against some alternative investments like gold, as $1,000 invested in gold 10 years ago, would be worth only $1,550 today.
The only thing Louis' chart doesn't factor in…is the cost of constantly trading in and out of stocks.
Between brokerage fees, which are consistently higher for smaller accounts, and taxes on short-term capital gains, which are treated like regular income. The total cost can easily add up to anywhere from 10% to nearly 40% of what you make.
Compare this to long-term capital gains, on which the tax rate is 0% to 20% on most assets held longer than a year and a single brokerage fee when buying your initial stake, and it's easy to see why buy and hold investing beats active trading in every empirical study.
It's no different with Louis' A Phase stock trading strategy.
Quick Recap & Conclusion
Louis Navellier is teasing something called "A Phase" Stocks, which he says will make us money throughout any stock market cycle.
Louis says every stock goes through four stages – Baseline, Acceleration, Ceiling, and Decline. The "A Phase" is the "acceleration" stage and this is where the biggest gains are made.
Everything, including Louis' A Phase system and five high-conviction stock picks are revealed in a special report titled 5 A-Phase Stocks to Buy Now. We can get it by subscribing to Investor Place's Growth Investor newsletter for the price of $49 per year.
No clues are furnished for us to even try and guess Louis' five picks, but we did break down how the A Phase trading strategy measures up against the market overall.
At first glance, the returns are favorable but as is the case with any short-term trading strategy, the time and cost compared to good ol' buy-and-hold investing is far more expensive in the end.
Have you given Louis' A Phase trading strategy a try? Let us know your experience in the comment section below.