Self-described income-investing expert Bryan Perry says his #1 Income Play is about to go ex-dividend.
The "Energy Giant" has an incredible 25% annual yield and the only way to find out its name is by reading this review.
The Teaser
Bryan's presentation is time sensitive in nature, as he says "If we delay today, then we'll have to wait until the next dividend payout several months down the road."

For over a decade, Bryan has been pitching high-yield investments to his readers, and for the last few years, we have been reviewing these pitches. This includes his various advisory services and a close in-depth look at his Cash Machine investment newsletter, which he promotes in this presentation.
A 25% dividend yield sounds a bit too good to be true, so what's the catch?
Bryan is quick to say – perhaps too quick, that this has got to be one of the greatest (and most overlooked) income plays of all time.
His reasoning for being so confident owes to the fact that this is where Wall Street's most profitable hedge funds, mutual funds, and investment banks invest their cash to boost their total returns. This isn't much of a reason, but at least we now know it's not some fly-by-night operation.
The share price has been no slouch either, delivering a robust 100% gain since early 2020.

This has all the trappings of a classic income investment – a business that we never have to sell and one that will continue producing a steady stream of income. I can get on board with this.
Think of it like getting a quarterly paycheck from a job you don't have to show up to.
But there are still a few things we have to consider before jumping head-first into a pile of money like Scrooge McDuck. Namely, how inflation/recession-resistant the business is, how stable is its dividend yield, and what the alternatives are.
But it all starts with the most important thing of all – the stock's name.
The Pitch
This is revealed in a free special report called: Extreme Income: Get a Massive Yield from This Global Energy Titan.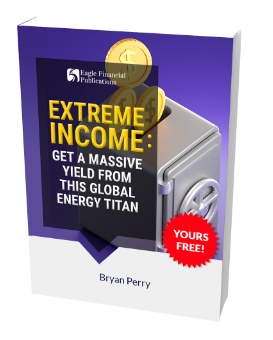 The special report is 'free' to subscribers of Bryan's Cash Machine newsletter, which has been discounted to $49.95 for the first year, instead of the regular $249. It comes with a 30-day money-back guarantee, a second special report titled Double-Digit Monthly Payers for 2023, regular monthly income investment recommendations, and a whole lot more.
What Makes Bryan's Energy Giant So Special?
The company is in the natural resource business, which is good for two reasons.
First, there will always be a demand floor for its goods, as natural resources have a lot of industrial and consumer applications, from the steel industry, which accounts for over 90% of all metals used in the world, to rubber, and jewelry, among others.
Second, resource-based businesses tend to be overlooked by the market. Can you remember the last time you saw a flashy headline about iron ore, corn, or silver?
This is because they're not glitzy or glamorous like electric cars, crypto, or AI. They kind of just exist and make money…lots and lots of money. We wouldn't want it any other way, as this allows us to buy into such stocks at favorable valuations more often than not.
As evidence of this, Bryan says his stock pick closed out last year with a bargain-priced P/E (Profits to Earnings Ratio) of only 2x.
Historically, recessions have lowered demand for crude oil and other natural resources, but a low absolute price can make up for this.
Steady, Stable 25% Yield
Digging a bit deeper into the pitch, which is actually quite brief – Bryan really wants those subscription dollars. I was able to find an interesting revelation.
This resource sector company recently completed a record $88 billion debt paydown.
That's not a typo and may be some kind of a record.
It also tells us that this is a mega-cap company that produces plenty of free cash flow. A great sign in terms of overall dividend stability.
Tangible Alternatives
Things are definitely looking up for income investors.
It was just a year ago that 2-year Certificates of Deposit (CDs) were yielding little more than 1%. Now, they're up to 4-5%.
Not great, but slowly and surely higher rates are taking hold.
Similarly, 1-year U.S. treasuries and high-grade corporate bonds are currently yielding between 4.7-5.4%, respectively.
Our mystery company's annual yield is still more than 5x this amount and as we already know, it's not going anywhere, anytime soon. Let's find out its name.
Revealing Bryan Perry's #1 Income Play
Here is everything we know about this so-called cash machine:
They're a $68 billion company that has expanded across different energy segments including exploration, production, refining, and transportation.
The company pays out more than 70% of its profits to shareholders in the form of huge quarterly dividends.
It is investing an aggressive $64.74 billion in exploration and development to keep its income and dividend growing.
This stock boasts a huge 25%+ annual dividend yield.
Without further ado, drumroll, please…Bryan's pick here is none other than Petróleo Brasileiro S.A. – Petrobras (NYSE: PBR). Here is how the clues all line up:
Petrobras is now a $78 billion dollar diversified oil and gas producer, but its market cap was hovering around the $64 billion mark as recently as 2021.
In its five-year strategic plan for 2023-2027, Petrobras committed to paying out at least 60% of all free cash flow as dividends.
In the same report, Petrobras management pledged to invest exactly $64 billion back into exploration and production over the next five years.
Petrobras' dividend yield is now up to a monster 46% based on last year's trailing earnings.
The Easiest Money We'll Ever Make?
At first glance, Petrobras looks like an amazing income play. Who wouldn't like a 46% annual dividend yield?
But upon closer inspection, it has two major things going against it.
First, Petrobras is a Brazilian state-owned enterprise. The federal government owns 54% of the company's common shares and the Brazilian Development Bank and sovereign wealth fund also each own a 5% stake, giving the government a 64% stake. This means the current left-leaning administration of Lula da Silva could effectively nationalize the oil giant on a whim.
It wouldn't be the first time a Latin American country has nationalized its domestic oil and gas producer either, with Argentina and Venezuela both doing it over the last decade.
Second, South America's largest oil and gas producer carries a burdensome debt load of $55 billion dollars, which equates to a debt/equity ratio of 67. Yikes!
To Petrobras' credit, they have been paying their debt pile down over the past couple of years, and 54% of currently outstanding debt doesn't come due until after 2027. But with interest rates rising, more cash flow will have to be dedicated to interest expense, which could negatively affect the dividend.
These things make me wary about dipping my capital into Petrobras' murky waters and should give you some pause too.
Quick Recap & Conclusion
Bryan Perry teases an "Energy Giant" as his #1 Income Play of 2023.
The natural resource producer boasts a huge 25% annual dividend yield by his account, putting it firmly among the highest dividend payers and management is steering the company in the right direction.
Its name and ticker symbol is revealed in a free special report called: Extreme Income: Get a Massive Yield from This Global Energy Titan. The report is included in a subscription to Bryan's Cash Machine newsletter, which is available for a limited time for only $49.95 for the first year.
Fortunately, you can skip this extra step, as we were able to reveal the #1 Income Play as none other than Petróleo Brasileiro S.A. – Petrobras (NYSE: PBR).
Petrobras does have a 46% annual dividend yield and one of the lowest P/E ratios we have ever seen at only 2x trailing earnings. But it is also a Brazilian state-owned enterprise and has an equally large debt load of $55 billion dollars, which are factors that may weigh heavier than its dividend.
Would you invest in Petrobras given what you now know about it? Let us know in the comments.