In this exclusive interview with Rossi Morreale, Louis Navellier reveals his #1 EV breakthrough of 2022.
This EV "gamechanger" is all about a component currently in every single EV on the market becoming obsolete and ushering in a new age of Solid State Battery Stocks.
The Teaser
Louis believes that lithium-ion batteries are about to be replaced by a new battery technology. One so powerful that Popular Mechanics is praising it as the "holy grail" of EV's.
Investment manager, editor, icon among growth investors…at least according to the New York Times. Over his 35 year career, Louis has worn a lot of hats and now he's out to help all investors significantly beat the market. We have reviewed a couple of his presentations here in the past, such as his "New Oil Age" and "Big Bet" 5G Picks, among others.
This "holy grail" is new battery tech and it's going to flip the EV market on its head.
If you asked anyone on the street even slightly familiar with electric vehicles, they would likely tell you that lithium-ion batteries are the future. But the reality is, lithium-ion batteries just have too many issues to be utilized in a full-scale EV rollout.
Admittedly, I have heard whispers about customers complaining about lithium-ion batteries. After all, laptops, tablets, smartphones, all of them run on lithium-ion batteries, so there are bound to be some hiccups. Well, it turns out that the EV industry is no different.
Over the last 10 years, lithium-ion batteries have gotten 88% cheaper, which has reduced the price of electric cars.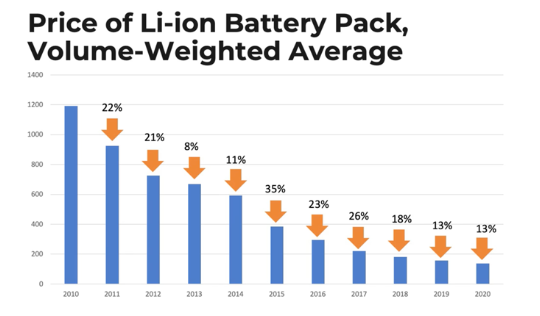 It has gotten to the point where you can walk into a dealership and buy a $30,000 electric car, the lowest price in history.
But lithium-ion batteries are becoming antiquated in our quickly moving world. This is why even the inventor of lithium-ion batteries himself – John Goodenough, has said that this technology has reached its limit. In fact, he's already started working on the new battery technology that we're going to learn more about today, along with the names of a few companies ahead of the curve on this breakthrough tech.
The Pitch
Over the past month, Louis has been devoting all of his focus to the coming solid-state battery boom and he's packaged most of this research into a tidy report called "3 Plays for the Age of Solid-State Batteries."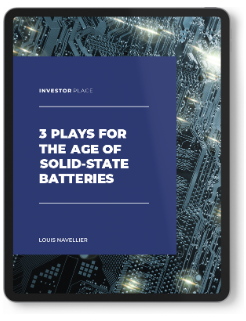 It's ours when we opt for a subscription to the Growth Investor monthly research advisory for just $49. Completely free alongside the above report is a second one titled "3 Stocks for the $150 Trillion AI Revolution", up to the minute market updates, 12 monthly investment research issues, a model portfolio, and more.
The New Battery Technology Replacing Lithium-Ion
Louis states that there are there four key issues with lithium-ion batteries:
Lithium-ion batteries are flammable. No news here as there are headlines of this all over the place.
Range. Electric cars have an average total range of 193 miles, which is an issue when we're talking about mainstream adoption. Early research on this new breakthrough battery tech shows that it can extend a car's range by as much as 80%.
Charge Time. So-called experts believe that this new tech will make it possible to charge an electric vehicle up to an 80% capacity in only two minutes. Compared to the current 8 hours to charge from empty-to-full with a 7kW charging point.
Expensive. We've already hit 87% of a lithium-ion's battery density, which means that we really can't make lithium-ion batteries any smaller or cheaper than they already are. But, with this new battery technology, Bloomberg reports that its production cost is 40% of current lithium-ion batteries.
The breakthrough battery technology being talked about here is called a solid-state battery.
Here is your standard lithium-ion battery, your anode on the left, your cathode on your right, and the electrolyte separator in the middle.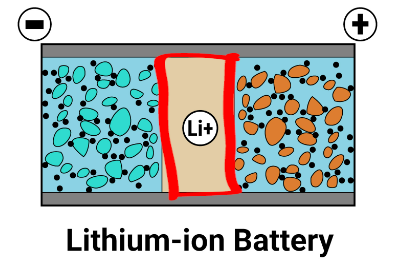 A solid-state battery is made up of basically the same components, the cathode, anode, and the electrolyte separator.
Except that with the solid-state battery, the separator is composed of a solid electrolyte and that solid electrolyte is the key.
This is the main problem for lithium-ion batteries. The separator is composed of liquid electrolyte, which has its share of issues. It can swell if the battery freezes, leaks, and of course, it is flammable. That liquid electrolyte separator is the reason that lithium-ion batteries explode.
The solid electrolyte separator that these new batteries are named after offers a much higher energy density. This affects everything from range, cost, charging time, durability, safety…so pretty much everything. Now that we know solid-state batteries fix every major problem that lithium-ion batteries have, let's find out about the companies working with this new battery technology.
Revealing The Solid State Battery Stocks
Navellier is going to do us a solid by revealing the name of a company that is not only working with solid-state battery technology, but is also being backed by Bill Gates and Volkswagen, and trades for less than $25 dollars a share.
This company is QuantumScape Corp. (NYSE: QS), which Louis insists has some of the best solid-state battery technology on the market today. But this is far from a one-stock market, some estimates pit the solid-state battery market going to $87 billion. So what are some other promising stocks?
One tiny clue that we're given is that one of these other companies he's teasing is China's most promising EV play and they are likely going to be "one of the first companies in China with a solid-state battery." Louis could be referencing Nio Inc. (NYSE: NIO) here, as last year it announced the launch of a new 150 kWh solid-state battery pack, that is coming at the end of 2022 and it is a Shanghai-based EV maker.
As for the last company in question, not a single word is said about it in the presentation, so Louis is keeping it extra close to the vest.
Legit Opportunity to Make 10,000%?
According to some industry insiders, the widespread use of solid-state batteries in EVs will only become a reality in 2025 or later due to both technological and cost issues.
It is also the consensus view that batteries using solid electrodes and electrolytes have relatively better electrochemical stability than liquid batteries. Put these two things together and the logical conclusion must be that the right solid-state battery picks could very well net impressive returns…over the long-term.
This explains why stocks like QuantumScape have had huge run-ups over the past several years, only to come crashing back down to earth. As the market realized that they were way too early to the party. With the market in the doldrums this year and once high-flying young companies like the ones mentioned here making new 52-week lows, now may be a good time to stake your claim in some of them as long-term growth plays.
Quick Recap & Conclusion
InvestorPlace's Louis Navellier is here with the #1 EV breakthrough of 2022 and it's all about a component that's currently in every single EV on the market becoming obsolete.
The component that's on the precipice of becoming obsolete is the lithium-ion battery and its purported replacement is the solid-state battery. Louis likes 3 stocks in particular for this new era that this technology is ushering in.
To find out what these are, we'll need to get our hands on a special report called: "3 Plays for the Age of Solid-State Batteries." The only way to get it is with a subscription to the Growth Investor monthly research advisory for $49 for the first year.
Louis was generous enough to reveal one of his picks during the presentation as QuantumScape Corp. (NYSE: QS). We have good reason to believe his second pick is Nio Inc. (NYSE: NIO) and the third, we are completely in the dark about as no clues of any kind were offered up.
Solid-state batteries may not begin to be implemented into most EVs until 2025 or later, so we have plenty of time to do our research and find the best names, while still getting in early.
Are solid-state batteries the answer to making electric vehicles more widely accessible? Let us know your thoughts in the comment section down below.