If you think the market has been turbulent this year, then you better get ready for what's coming next.
It's not often that "two Wall Street legends are making the same big prediction". But this is exactly what has happened, with Whitney Tilson and Louis Navellier both saying that a historic unveiling on August 29 in downtown Houston, Texas could set in motion the biggest investment opportunity in three generations. Let's find out what they're talking about.
The Teaser
Lauren Sivan gives a flattering intro to Tilson and Navellier who both concur that the nightmare of March 23, 2020 is about to repeat. In a bizarre new way that could create a wave of millionaires on just a single investment, if you're willing to take advantage of the panic this year.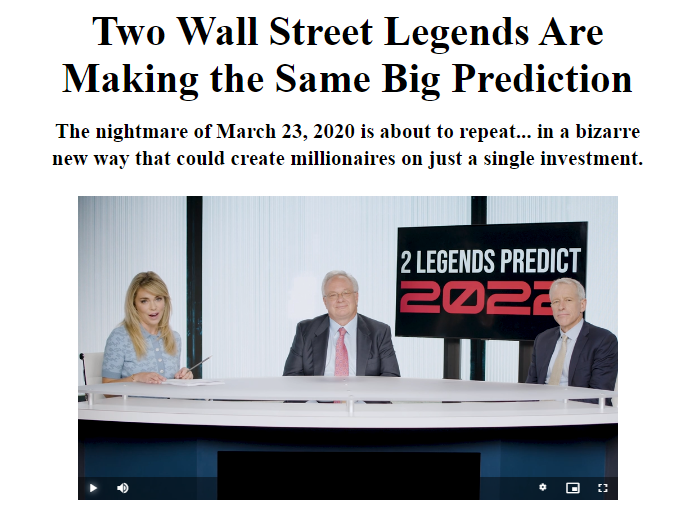 Both men have money manager backgrounds and have made some big (correct) calls in the past, like Tilson with Apple when it was a $0.35 cent stock and Navellier who has recommended 18 different stocks for gains of 10,000% or more. We have combed some of their previous pitches here in the past, including Whitney Tilson's $4 Inflation Stock and Louis Navellier's Plays for a "New Oil Age".
These decades of experience are proving their worth, because in the midst of the huge shake-up we've seen in the market this year, the very thing that made stocks like Microsoft, Apple, and Intel such winners is about to take a major turn on August 29. They say it's set to open a universe of stocks for 2022 and beyond, whose names are still unknown to the broad public, at prices you may never see again.
The fact is, times may change and while bad news comes and goes, technology always moves forward. This is the case once again today, with some of the biggest and craziest moves we've seen in the market in recent years. From the astronomical rise of Bitcoin and Tesla, to the ridiculous prices people have paid for NFTs, being driven by new technology.
Except this time around the change is being driven by some things we've probably never heard of before, like "Hyperscalability", "Digital Twin" technology, and "Ambient Computing" with 10 stocks being the ultimate winners.
The Pitch
If we don't want to miss the huge turning point happening on August 29th, Whitney and Louis being the generous folks that they are, have put together an offer which gets us access to all of these opportunities. The offer is for one full year of both Louis' Breakthrough Stocks and Whitney's Empire Investment Report newsletter for "just $2,500".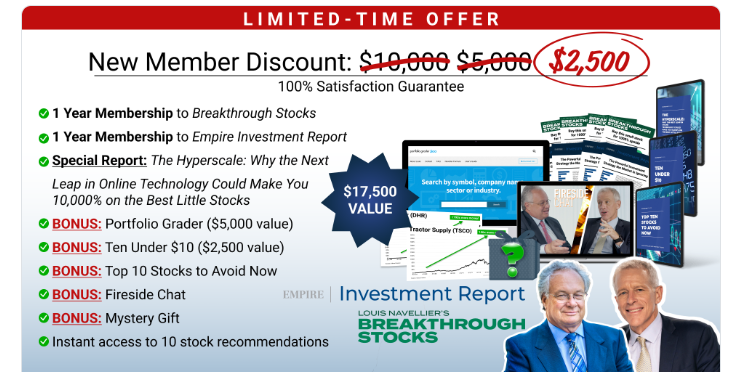 It includes the full model portfolio of the top 10 stocks to buy now in their new research report: The Hyperscale: Why the Next Leap in Online Technology Could Make You 10,000% on the Best Little Stocks, a portfolio grader system, and too many bonuses to detail here.
The Biggest Wealth Transfer in U.S. History?
For those that don't know, March 23, 2020 is the day the market bottomed during the coronavirus crash.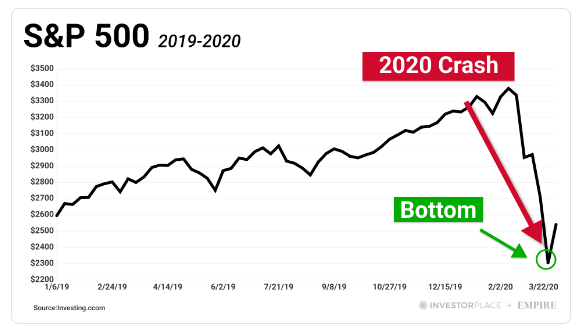 What followed was the shortest bear market ever, followed by an absolute mania. This market as we used to know it is over.
Many folks are already seeing the weakness in tech stocks and thinking they should never touch them again. They're thinking innovation will just dry up and stop for a decade. Whitney and Louis say that these people are dead wrong. Electric vehicles, new payment systems, new forms of social media. It seems like everyone is trying to come up with the next big thing that'll change the world and create huge wealth.
This is all well and good, but the truth is that most people have their money in the wrong place right now. A historic product demonstration in downtown Houston, Texas on August 29th – perhaps at the Industrial IMMERSIVE Conference happening on that date, could expose this in such a way as to make people understand what's really happening in America right now – in one particular niche of the market. What is this niche?
It all has to do with Hyperscalability, which is the ability of a business to massively grow revenues while minimally growing costs, in any kind of economy. Some companies can do this well, and some can't, even if they're popular.
Think about it like this, suppose you run a homebuilding business. A business like that simply isn't very scalable. If you want to double in size, you have to build twice as many houses as you're building now, hire twice as many contractors, and so forth. Then when inflation is high, your costs double as well. Due to this, your profits suffer.
On the other side of the spectrum, you have an e-commerce firm like Shopify (NYSE: SHOP). It took a lot of work in the early days to create the technology that powers Shopify today. But once the platform was created, Shopify can now add a new user with literally just the click of a button and increase their revenues much, much faster than their costs.
So more so than any particular industry or niche, its about the underlying economics and technology of a particular business.
The Hyperscalable Portfolio
Tilson and Navellier's big prediction is that March 23, 2020 is about to repeat and that there will be big winners and equally big losers.
Unfortunately, our resident experts fail to mention any of their top 10 hyperscale stocks to buy immediately. Not a single clue, hint, or indication as to what these could be. Just examples of their past winners. In such a case, we can instead look at how to find potential 10,000% winners based on some of the criteria outlined in this presentation.
UPDATE: A fellow reader of ours has commented below that these stock picks are KOS-MTDR-TWI-RCMT-CLFD-DAVA-MRVL-UMG-SYNA-LNTH. We have not been able to verify these, however.
Legit Way to Find the Next Apple?
We know that looking at traditional metrics like enterprise value, price/earnings, and price/book won't help us identify the next "it" company.
But can a "hyperscale" business that massively grows revenues while minimally growing costs in any economy help us? The answer is yes and no.
On one hand if you can find a business that can scale to a huge size in an extremely short time frame like some of these: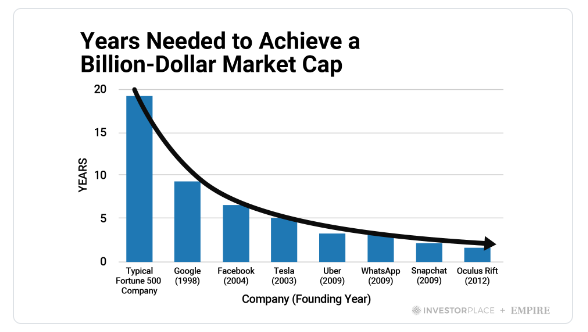 There's no question that you can do very well…depending of course on the price you pay.
Locating a business with a high annual revenue turnover and a low employee headcount early enough is the ideal. But short of this, paying a reasonable price for future growth is paramount. In this respect, anything below 40x current earnings or double the current market average is reasonable. This is important not only as a way to protect your downside in a bear market, like the one we are in today, but also as a means to potentially recoup your investment in as short a timeframe as possible.
Quick Recap & Conclusion
Whitney Tilson and Louis Navellier come together for a first-of-its-kind presentation about the biggest investment opportunity in three generations.
This is all about "Hyperscalability" or the ability of a business to massively grow revenues while minimally growing costs, in any kind of economy. There are 10 companies fitting this description which could make us 10,000% or more over the long-term.
To find out what these are, we will need to get our hands on a new research report called: The Hyperscale: Why the Next Leap in Online Technology Could Make You 10,000% on the Best Little Stocks. It is complimentary for subscribers to Louis' Breakthrough Stocks and Whitney's Empire Investment Report newsletter, which together cost "just $2,500".
Whitney and Louis do an astounding job of not revealing any details about the names in their model "hyperscale" portfolio, so no reveals this time around.
"Hyperscalability" as an identifying metric is interesting and it should be given serious consideration by any growth investor.
What are some "hyperscalable" companies that you know of? Tell us in the comment section below.