InvestorPlace's resident investing expert Louis Navellier asks if we're really ready for $200 oil?
Given today's per barrel price and the pain it is delivering at the pump, a $200 per barrel price would doubtless have cascading effects through the entire economy. This is why Louis has just named his #1 oil stock for a "New Oil Age" – ticker symbol and all.
The Teaser
According to Navellier's research, we're now in the very early stages of a major and unprecedented move higher in the commodity…one that could turn many oil companies into incredible cash machines.
Louis Navellier is a renowned name in growth investing, with a career that spans more than 35 years and a popular Growth Investor advisory service that has beaten the S&P 500 by a margin of 3-to-1 over the past 17 years. We have reviewed several of his picks here in the past, including his "Big Bet" 5G Picks and an in-depth look at his storied track record.
But its not just Louis predicting a boom in "liquid gold". Many Wall Street analysts and energy experts are anticipating this scenario as well. One of the world's leading oil research firms –Rystad Energy projects that oil could hit $200 a barrel. Goldman Sachs believes the same, stating that Brent oil could make a move to $200 a barrel!
First lets look at some facts. No matter how hard lawmakers in D.C. push the "green energy" revolution. Oil is still king today and Louis is going to show us why it's going to remain king for at least the next two decades. What Louis and other professionals understand is that like everything else, oil runs in cycles and today we're right at the start of a new, inevitable oil bull market.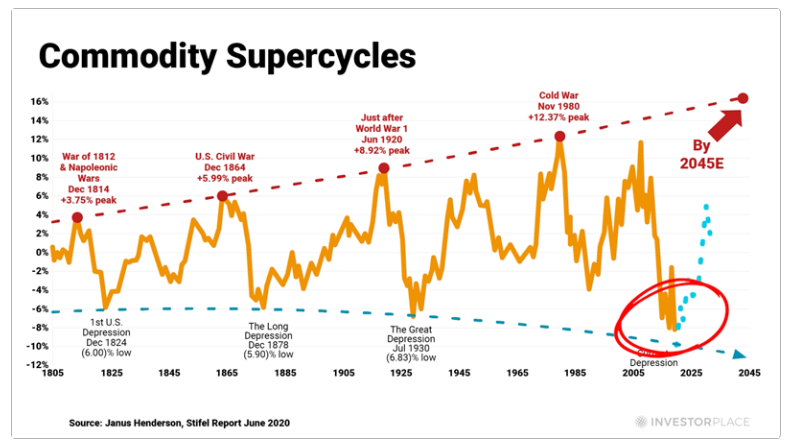 So the consensus, at least among institutions is that oil is about to go to new heights its never seen before. Why do they think this when other signs fly in the face of this and say we're hurtling toward a green future, one reliant on solar, wind, and most of all, battery-powered electric cars?
This is what we're going to find out today, along with the catalysts behind the next big run-up in oil, which Navellier thinks is going to be the biggest one to date.
The Pitch
Since we may never see conditions quite like this again, Louis has put together a comprehensive report that breaks down this opportunity and 5 stocks that he believes everyone should own today to take advantage of it. He calls it "5 Stocks for the New Oil Age".
And its complimentary if you sign up for a risk-free trial of Growth Investor, the premier InvestorPlace research service. A full year subscription is normally $299, but for a limited time its just $49 for the first year. This includes a total of four special reports, including the one highlighted here, unlimited access to their entire archive of reports, weekly updates, and more.
The Catalysts Behind The New Oil Age
In a nutshell, three things are lighting the way for the upcoming oil boom:
The ESG Delusion
ESG stands for Environmental, Social, Governance and its become a darling for dis-incentivizing new oil production and so far its been pretty effective, with more than half of the companies in the Fortune 500 spearheading major ESG initiatives.
This is all well and good, but the fact of the matter and what some elected officials fail to understand, is that oil is still the most important commodity in the world. In fact, up to 50% of electric vehicles are made of plastic – a byproduct of oil. But, every penny major oil producers spend on the switch to solar, wind, and other renewables, is money not spent securing the #1 energy source in America today – Oil. This has led to a major supply shortage – the first key catalyst in an oil price spike.
2. America is Finally "Getting Out of Jail"
This refers to the fact that over the past two years a lot of money wasn't spent, due to restaurants, sporting events, and travel being essentially off the table. However, now that Americans are rushing to get out of their homes and resume their normal lives, its sending the price of oil through the roof because nearly everything people want to do right now requires oil.
From air travel to road trips and clothes, cell phones, and laptops, all of these things require oil.
3. The New American Oil Age
Louis says that once this event plays out, America will once again become the world's dominant energy exporter.
He's talking about the Russia/Ukraine conflict and the fact that today more than 60% of the oil used in the United States comes from foreign countries. Over in Europe, the situation is even worse, as the continent imports 80% of all their crude oil from foreign powers such as Russia.
Now, thanks in good part to Putin, many Western countries have finally started investing in domestic oil production again. U.S. oil companies have plans to boost oil production in 2022 and 2023 and formerly beaten down oil companies are about to be hit by a wave of new investment.
All this is helping kickstart the new oil age and there are several ways to play it…
Louis' 5 Stocks for The New Oil Age
The #1 way to profit in an oil bull market is to buy oil stocks that are leveraged to the price of oil. At least this is what Navellier believes, as in his own words "oil companies are leveraged, so they can see 2x, 3x, even 5x or 10x gains from a small change in the price of oil."
Thus as oil prices continue to climb, the right stocks could see their cash flow double or even triple and their share prices do even better. Louis' first pick in this respect is Devon Energy Corp. (NYSE: DVN). Its an all-American company, is currently selling for just under 11x current earnings, and it also pays a 6% annual dividend.
As for some of his other picks, the only one we were able to pinpoint for certain was Oasis Petroleum Inc. (Nasdaq: OAS). As it is the company paying a $15 special dividend that is linked to their announced merger with Whiting Petroleum.
Beyond this, no other clues are provided other than that every single one of his stock picks has domestic operations on American soil.
Legit Opportunity to Make 20x Your Money?
There is no question that another commodity super cycle is now upon us, with commodities among the top three best-performing sectors so far this year. But are oil companies the best way to profit?
Buying (almost) any company that is profitable and not in an industry that is immediately going to nosedive over the short-term for a cheap enough price usually produces good results. If you don't believe me, just ask Warren Buffett, as these are what he used to build up his track record in the early days prior to Berkshire Hathaway.
On this note, something like a Devon Energy Corp. deserves consideration, as it seems to fit this description to a tee. We don't know about 20x your money, but a portfolio of decent businesses purchased at low P/E multiples can do better than the market average over the long-term.
Quick Recap & Conclusion
Louis Navellier declares that a "New Oil Age" is now upon us and he is going to name his #1 way to play the new oil boom.
There are several catalysts behind this, including the ESG delusion, pent-up demand, and a boost in both investment and production among domestic U.S. oil producers.
Louis put together a comprehensive report that breaks down this opportunity and not just one, but 5 stocks that he believes everyone should own today to take advantage of it. He calls it "5 Stocks for the New Oil Age" and its ours with a risk-free trial subscription to the Growth Investor research service for $49.
Louis revealed his #1 stock pick for the "new oil age" as Devon Energy Corp. (NYSE: DVN) and we were able to reveal the only other pick he hinted at, as Oasis Petroleum Inc. (Nasdaq: OAS).
A diversified portfolio of oil producers purchased at low multiples is sensible and could do quite well over the long-term. Although perhaps not to the extent that Navellier hypes in his presentation.
Is oil dead? Or will we still be dependent on it a decade (or several) from now? Let us know what you think in the comment section below.