The world's next tech boom is (almost) here.
Andy Snyder believes we're on the cusp of the biggest tech revolution since the dawn of the internet and there's ONE "XRI" Metaverse stock behind it that could hand us life-changing profits.
The Teaser
Blockchain, crypto, 5G, artificial intelligence…all have taken an absolute beating this year. But this is MUCH bigger than any of these. Andy calls it "XRI."
Andy Synder is the founder of financial publisher Manward Press. Whose stated aim is to provide honest, understandable financial information with a contrarian bent. You can see for yourself if they have lived up to this, with our reviews of past Manward presentations – "No. 1 EV Stock" and "6G Superstar Stock."
Coming back to the present, Andy says this technology could not only become bigger and more influential than the internet, but it's also moving much, much faster.
Andy is talking about the hypothetical third iteration of the internet and the world's top companies are racing to get a piece of it before it goes mainstream. Amazon is on a hiring binge for its XRI division, Apple has budgeted nearly $25 billion annually for XRI R&D, and investors are piling into the space too.
Renowned early-stage venture capitalists like Tim Draper and Marc Andreessen, who have made a career out of getting into new tech trends early are investing in XRI technology, with the latter betting $600 million on the emerging tech.
When we hear things like this and are encouraged to "get in quick", its easy to get excited and just take a leap of faith. But before we do, we should always get all the facts first. Thankfully, there is more than enough time to do this. As Andy believes that in January 2023, one MAJOR event will occur that he predicts will send this technology into the mainstream and he's found his #1 stock to profit from it.
The Pitch
Unsurprisingly, Andy has compiled a report with all the information we need to get into the stock today. Its called "The Next 100X Stock: The Tech Company Powering the XRI Revolution."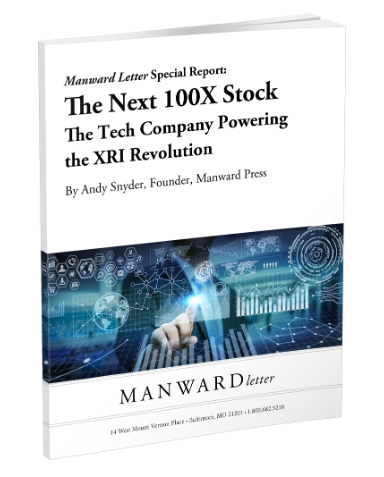 Inside the report we'll get the ticker symbol as well as a more in-depth breakdown of the company. Its ours when we opt into a 'risk-free' trial subscription to Andy's monthly research service – The Manward Letter.
The service costs $49 for the first year and includes a bunch of bonuses, like three additional special reports on Metaverse opportunities, a training video on how to find the hottest technology stocks of tomorrow, weekly alerts with position updates, and last but not least, a free copy of Andy's new book: Nothing But Net.
What in the World is XRI?
Put simply, XRI stands for Extended Reality Internet. This is the virtual and augmented reality technology behind the Metaverse.
Its aptly called the third iteration of the internet, because since the World Wide Web was invented in 1993, it has gone through two major phases. The first phase was the start of the commercial internet in the 1990s.
In 1992, there were just 10 websites. But by 1997, there were over 1.1 million websites. That's more than 11,000,000% growth in just five years! This was the time of business software stocks like Oracle, Cisco, and Dell. The second phase began in the 2000s, when the internet became an active part of our daily lives.
Amazon released Prime, where anything you needed was just one click away and smartphones like Apple's iPhone took the internet and put it in our pockets. Anyone who got in early could've made a fortune on these stocks. But this phase is ending and we're now entering the THIRD phase of the internet.
While the first phase was passive and the second phase was active. The third phase will become immersive. This may sound obscure, but when it comes down to it, the metaverse is actually very simple. It's essentially a 3D version of the internet.
When most of us think of the Metaverse today, we think virtual reality and imagine wearing some weird headset while playing video games. But virtual reality is just a tiny sliver of what the Metaverse will become, as its business and industrial applications are myriad.
Some will say that the internet grew on connections, which would be right on the money. Connections to information, to entertainment, and people. Now we're taking this connection to the next level with the Metaverse. Like the internet in 1995, the Metaverse is breaking into mainstream society and it's doing it at lightning-fast speed.
Andy notes that the #1 thing he looks for as an investor is companies that are dominant in their respective markets and the one he's teasing today dominates the Metaverse.
Revealing the #1 Metaverse Stock
This is what we know about the stock pick:
The company has a nearly monopoly in its market, with 75% of all virtual reality being made with its software.
It's created a platform that makes it easier for developers to create real-time virtual reality content.
The business already has 1,052 clients and counting and over the last six quarters, sales have gone from $772 million to over $1 billion.
A full 90% of Microsoft's HoloLens projects have been created using Andy's #1 Metaverse company's software.
Based on the simple fact that the software development kit for the Microsoft HoloLens is Unity-based, Andy's stock pick is: Unity Software Inc. (NYSE: U). Here is how the rest of the clues lineup:
I wasn't able to confirm the 75% virtual reality market share figure, but Fortune has reported that Unity does dominate the virtual reality business.
Unity describes itself as "the world's leading platform for creating and operating interactive, real-time 3D (RT3D) content."
A quick look at Unity's financials shows a rise in revenue from $772 million in fiscal year 2020 to $1.1 billion for fiscal 2021.
The Next 100x Stock?
As it turns out, Unity may not be a listed company for much longer.
The company recently announced that it has set an October 7th special meeting date, where shareholders will be able to vote on the proposed merger between it and IronSource Ltd. (NYSE: IS). Should the vote go as expected and shareholders vote in favor, then Unity would merge into IronSource sometime during Q4 of this year.
I remember looking at IronSource earlier this year, which focuses on developing technologies for app monetization and distribution. I thought to myself, if they can add an app maker or software provider with which apps are made, they can become more vertically integrated and hence a more valuable company.
Quick Recap & Conclusion
Andy Snyder says the biggest tech revolution since the dawn of the internet is brewing and there's one "XRI" Metaverse company that will lead this revolution.
The "XRI" stands for Extended Reality Internet. This is the virtual and augmented reality technology behind the Metaverse and it is ushering in the third phase of the internet.
Andy has put together a report with all the information on this opportunity and his #1 stock today. Its called "The Next 100X Stock: The Tech Company Powering the XRI Revolution." We can get our hands on it with a subscription to his monthly research service – The Manward Letter, which costs $49.
Fortunately, you can put your credit card away as Andy's stock pick is: Unity Software Inc. (NYSE: U).
Unity's time as a standalone business and publicly listed company may be coming to an end, as the virtual reality software maker has reached an agreement to merge with IronSource Ltd. (NYSE: IS).
Does this by default make IronSource the best Metaverse/Web 3.0 stock play? Let us know in the comment section below.