What if there was a car and a company behind it that could disrupt the entire automotive industry and become the next Tesla?
The founder of Manward Press, Andy Snyder has found an 1,080-horsepower engine, all electric vehicle that goes from zero-to-60 mph in 2.5 seconds and its his new "No. 1 EV Stock".
The Teaser
As we write this, few Americans have ever heard about this revolutionary car, despite it being an engineering marvel. But this could soon change as it is planning to begin shipping out 1 million vehicles per year.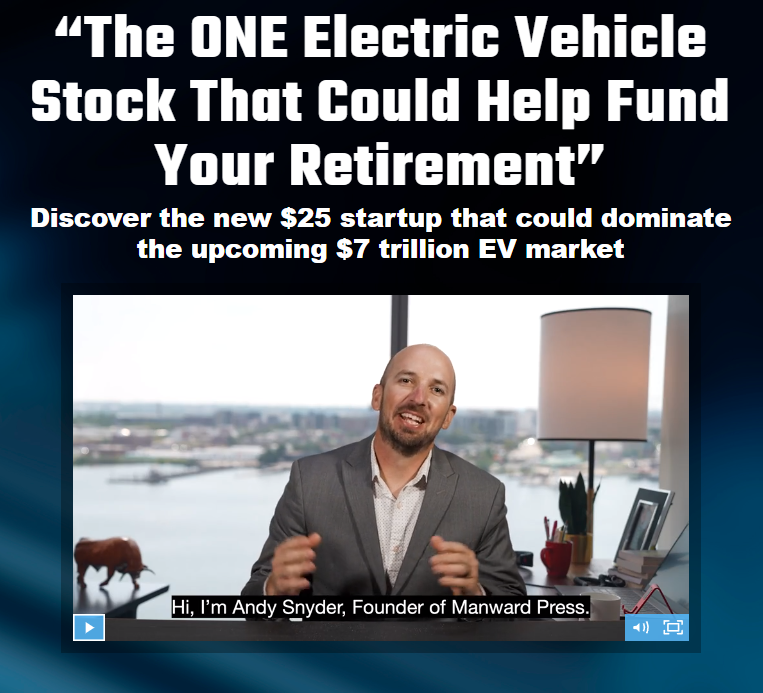 Andy Snyder is an American investor, serial entrepreneur, and author, who cut his teeth and paid his dues in asset management before founding Manward Press in 2016. Today, Manward has been called "the nation's premier source of unfiltered, unorthodox views on money and what it means for a free society". There has been no shortage of electric vehicle presentations as of late and we have covered some of them here, including Luke Lango's #1 Electric Vehicle Stock of The Decade and Ian King's Electric Vehicle (Neodymium) Company.
As an ode to his contrarian streak, Andy says that not only could this be the next blockbuster EV company, but that this company also holds "the potential to be bigger AND grow faster than Tesla". Quite a statement to make about a company that only recently went public.
When we really think about it though, how bold is this statement really? I mean we have already witnessed Tesla (Nasdaq: TSLA) rise from just $5 per share in 2012 to more than $750 today and many so-called 'experts' said this would never happen either or even if they did, that it would take much, much longer than it has.
Are there any parallels between the two EV makers? 
Most people had never heard of a Tesla car prior to 2012 either
This company's CEO is a visionary, in the same vein as Elon Musk. In fact, he was the mastermind behind the Tesla Model S itself
An ultra-cheap stock price, having only recently listed its stock publicly
But wait…there's more. Andy is going to share with us today something most investors will never hear about. That there is a unique, potentially much more lucrative way to own this company – one with far more upside than simply buying the stock itself.
The Pitch
To get the ticker symbol, an in-depth breakdown of the company, plus a specific way to play it that could maximize your upside, while limiting your downside risk. A subscription to the Manward Letter monthly research service is needed.
This will cost just $49, instead of the regular $249 price and will include a whole plethora of bonuses and features. Among these are a total of four special reports, including the one highlighted above, 12 monthly newsletters of Manward Letter with in-depth research and commentary on stocks, options and the cryptocurrency market, access to a model portfolio, and more.
A New Golden Age of American Automotive Manufacturing?
This is a reference to the 1950's and 60's era of iconic cars such as the Mustang convertible, Corvette, customized 'Hot Rods', and the car culture that grew around them. 
While the golden age of muscle cars included drive-through restaurants, drive-in theaters, and the development of the interstate highway system. Something similar is happening today with electric cars and the eco-system springing up all around them, leading some observers to conclude that EVs could actually lead to the next Golden Age of muscle cars.
We are already know that 'smart roads' with sensors lining highways and traffic lights that monitor traffic flow and weight load are already proliferating. This is one of the first steps towards the mass adoption of EVs and the company Andy is talking about today is taking another step by leading the revival in American automotive manufacturing.
It quietly built up one of the world's largest automotive factories in rural Arizona that is set to produce 50,000 all-American made cars each year starting in 2023, before ramping up to 360,000 cars per year.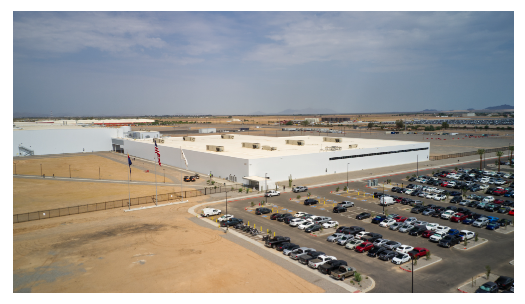 The company has some credibility to back this up as well, as it didn't just spring up out of nowhere to start manufacturing automobile in the desert. It initially started out making only high-end electric motor batteries for the world's fastest electric race cars, designing, developing, and manufacturing the high-density batteries for all the Formula E racing teams.
Its using this expertise to address the No. 1 concern people have about electric cars – how far can an EV go on a single charge. 
The median range for an EV right now is around 250 miles. Well, our American EV manufacturer is blowing that number out of the water, as its vehicles range is supposedly 520 miles on a single charge!
This also more than the most popular car the U.S., the Honda Accord, whose range is 488 miles on a single tank of gas.
It is also addressing the second concern that is top of everyone's mind, which is charging. The renowned Kelley Blue Book just ranked it the fastest-charging electric vehicle in the world, with a record charging rate of 20 miles per minute. Let's find out the name of this company that's blowing its EV competitors out of the water.
Revealing The No. 1 EV Stock
Despite doing his best to try and conceal his pick, Andy dropped some notable clues for us to follow up on:
Right now, the company has 10,000 pre-orders on its very first production vehicles. These are expected to ship out in the next few weeks and once these hit the road, the company could go into overdrive.
Already, this company has 370 partnerships within the automotive sector alone, including with the likes of Tesla, Mercedes, Audi, Toyota, Hyundai, and Volvo.
The CEO of this company was key to Tesla's early engineering and success, building its flagship Model S prototype.
It's the very first car to feature Dolby Atmos, the same audio technology found in high-end recording studios, which is really cool.
Based on the above info, the company being teased here by Andy is Lucid Group Inc. (Nasdaq: LCID). Here is how we know this to be so:
Can Lucid compete with and beat out other EV manufacturers?
The ONE Company That Could Take On Tesla?
There is one major difference between the two EV makers and that is Lucid Motors' branding as a luxury electric car maker per its own website.
The price point for its 'introductory model' the Lucid Air starts at $77,400, which is well above the median price of a Tesla Model 3, which is around $40,000. This suggests that while there will be some inevitable overlap between the two auto makers, they are catering to slightly different demographics and should be able to easily co-exist in similar fashion to how Mercedes and BMW do today.
Despite some serious momentum, with US News & World Report recognizing the Lucid Air as the "best luxury electric car" in the first quarter of this year. The company's stock is down some 50% since the start of the year. It will be interesting to follow its road map going forward and hence when we look back a few years from now, this could prove to be a good entry point into its stock.
Quick Recap & Conclusion
Manward Press' Andy Snyder teases a "No. 1 EV Stock" pick, which is not Tesla.
He goes on to say that this "one electric vehicle stock could help fund our retirement" and that there is more than one way to play it, apart from simple buying its common stock.
To get name of this company and all the ways to play it in order to maximize our upside, a subscription to the Manward Letter research service is needed. This costs just $49, instead of the regular $249 price and includes the special report: "This Single EV Stock Could Help Fund Your Retirement", containing the info we are after.
Its ok if you decide to skip the subscription, as we were able to identify the "No. 1 EV Stock" here for free as Lucid Group Inc. (Nasdaq: LCID).
Lucid Motors is a legit mid-to-upper end luxury electric car maker which will make some noise in the rapidly expanding EV industry.
Is Lucid Motors "the next big" auto maker? Let us know your thoughts in the comment section below.