Alex Koyfman insists that he has found what "may be the most remarkable substance ever discovered."
And this graphene company is about to radically transform several markets worth a combined $4.59 trillion.
The Teaser
Investors who understand what this black graphene powder is, stand to multiply their money many times over in the months to come according to Alex.
Alex Koyfman gave up a promising legal career to turn to trading and investing full time. This risky decision proved fruitful as he is now the founder and managing editor of the Microcap Insider investment advisory – a newsletter which profiles the best and most prospective technology and resource companies trading today. We have taken an in-depth look at the Microcap Insider and also reviewed some of his past stock picks, like this EV Flight Company for a 20,000% Gain.
He promises to share with us exactly what this material is and why it is going to affect countless industries.
As huge as this powder's potential in all kinds of industries is, there's one specific application that's going to have a major geopolitical impact. We're talking about a "resource war" that's unfolding right now.
Thanks to this black powder, the U.S. is expected to come out as the winner in this conflict. Its NOT lithium nor is this about nickel, cobalt, or copper either. These elements have been known for centuries. The black powder Alex is talking about here is brand-new in comparison.
This "resource war" Alex alludes to, is actually the "global battery arms race."
Thanks to the rise of electric vehicles (EVs), which Forbes reports will need 2,700 GWh worth of batteries a year by 2030 and the push toward renewable energy. The global power storage capacity is set for a 100-fold increase over the next 20 years.
Of course, the demand for the raw materials to make these batteries will skyrocket as well and as you may know, lithium is the main critical mineral for battery cells. This over-reliance on lithium is a HUGE problem.
However, not a single media piece addresses the role of this "miracle material" in the resource war and no outlet has mentioned the sub-$5 stock that could set us up for quadruple-digit returns.
The Pitch
But Alex is and all the information we need to move on this opportunity can be found in a recently published investment report called "Graphene: An Exclusive Guide to the Next Millionaire-Maker."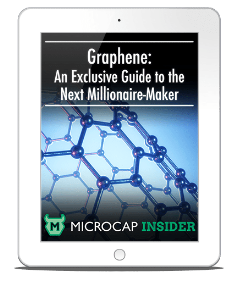 The name and ticker symbol of the "revolutionary" company is inside and its ours with a full year subscription to the Microcap Insider for "only" $1,999. For this price we will receive weekly issues of the newsletter, two bonus reports, specific entry, exit, and target prices, as well as full access to a VIP service, with phone support.
The "Miracle Material" Behind Retirement Riches
This substance is the thinnest material in the known universe and at the same time the strongest material ever measured.
It's also up to 300x stronger than steel and harder than diamond and on top of all this, it's so light that a roll of it can easily sit on a delicate flower. Ladies and gentlemen, the famous "black powder" is Graphene.
Up until recently, a single pound of this material cost as much as $43,500, which is almost twice as expensive as gold. Thus it isn't surprising in the least that a lot of attempts have been made to mass-produce graphene in pure form.
As American Scientist, explains, "It may be easy to isolate little flakes of this one-atom-thick carbon material, but it's surprisingly difficult to produce large sheets for commercial use."
However, one little-known company has found a way that's considered to be superior to all the other methods. They use a patented production process that works with so-called plasma technology.
It sounds a bit complicated, but the idea is simple. You apply highly concentrated heat to natural gas, the heat breaks the gas down into its components and one of these components is a single layer of carbon atoms that forms pure graphene.
Its being hailed as the death blow to China's lithium-ion battery dominance as this company has figured out a way to make batteries that contain NO lithium whatsoever. Its also around 60–70 times faster than lithium batteries, meaning an iPhone could be charged in mere seconds and it's a lot more powerful. Your phone battery would last for three days instead of barely one.
Let's find out the name of the company that Alex thinks could 100 times our investment in the next two to three years.
Revealing the Winner of the Battery Arms Race
This is one of those times that we have more than enough info on hand to reveal the pick:
We know this is a small company, which currently has a market cap of around $165 million and trades for about $5 a share.
The company's CEO has over 20 years of experience in the energy sector working for Shell and their chief technology officer has over 35 years of experience in industrializing hydrocarbon reactions.
It's rolling out its own patented graphene batteries in cooperation with the University of Queensland as we speak.
The company behind the black powder is none other than Graphene Manufacturing Group Ltd. (OTC: GMGMF). How can I be so sure?
The current market cap of the company is just over $190 million, while shares trade for under $2.50…due to warrant and options dilution.
The founder and CEO, Craig Nicol has over 20 years of experience managing sales and marketing teams across Asia Pacific for Shell International.
Graphene Manufacturing is indeed developing a graphene aluminum-ion battery technology with the University of Queensland and has entered into a licensing agreement.
The Biggest Battery Play of the Last 20 Years?
As we've seen, the demand for batteries is exploding right now.
Although lithium-ion is the crucial ingredient in most batteries today, there are competing alternatives emerging as we speak. One of these alternatives is aluminum graphite batteries.
The key ingredient of course is graphene, which GMG claims it has developed and proved its own proprietary production process to manufacture from readily available low-cost feedstock. Proved may be a stretch, as laboratory testing and experiments have shown its energy storage tech to give longer battery life (up to 3 times) and charge much faster (up to 70 times) than leading lithium-ion battery technology.
However, nothing has been mentioned about actual application and as we know, theory and reality can widely diverge.
Thus, buying into GMG at this stage is placing a bet on unproven technology. If the risk or volatility of investing in a newly public company turns your stomach, you may want to pass on this.
Quick Recap & Conclusion
Alex Koyfman believes he has found "the most remarkable substance ever discovered."
It turns out that this substance is actually Graphene and there's one tiny company that has figured out a way to make batteries that are longer lasting and faster charging than anything on the market today.
The name and ticker symbol of the "revolutionary" company can be found inside a recently published investment report called "Graphene: An Exclusive Guide to the Next Millionaire-Maker." We can get our hands on it with a full year subscription to the Microcap Insider for "only" $1,999.
Fortunately, you can put your checkbook away, as we were able to reveal the company for free as Graphene Manufacturing Group Ltd. (OTC: GMGMF).
GMG's pioneering graphene-based battery tech has not been commercially proven, making the company more of an early-stage speculation than a tangible investment.
What alternative is most likely to dethrone the lithium-ion battery? Join the debate in the comment section below.