While we constantly get bombarded with 'news' about inflation, war, and the economy by financial media. One of the most profitable stock market events goes repeatedly ignored.
It happens every month, on the 5th of the month and it's all tied to an obscure government program known as "The 510K Program" that's behind some of the biggest and most valuable medical advances in history.
The Teaser
In this presentation hosted by Chris Hurt, tech expert Jeff Brown is going to reveal how the little-known 510K Program could soon unleash a $136 billion fortune on a tiny, newly public small-cap.
You may be at least somewhat familiar with Jeff's work if you are a regular reader, as we have covered some of Jeff's presentations here in the past, including his "CTX" Biotech Company and Fintech Play for the Digital Dollar Revolution. Besides being the founder and chief investment analyst of Brownstone Research, Jeff previously spent 25 years as a high-technology executive and now uses his expertise to help everyday investors discover companies on the verge of exponential growth.
Getting back to our presentation, government programs are generally notorious for their waste of tax-payer dollars and decided lack of tangible net benefits, so its interesting to hear the word 'riches' associated with one, but let's hear the man out.
Like every government program, The 510K Program has a specific series of steps that participants must follow, think of it as a blueprint. If a company that's part of the program follows this blueprint, gains of up to 14,333% are not only possible, but are practically "a foregone conclusion".
In this instance, the obscure government program that's purportedly been behind some of the biggest and most valuable medical advances in history, has done it again. As after after 30 years of trial and error, the backing of 5 billionaires, oh, and a team of MIT scientists that actually made the historic technological breakthrough possible. A tiny company that's part of 510K is on the cusp of what Jeff is calling it "the biggest windfall of our life".
It's a discovery could be worth an estimated $136 billion dollars a year and there's only way one to discover the name and ticker symbol for it.
The Pitch
The 510K Blueprint special report includes the name and ticker of this company that's 'barely' a small-cap and its ours with a subscription to Jeff Brown's investment advisory service – Exponential Tech Investor.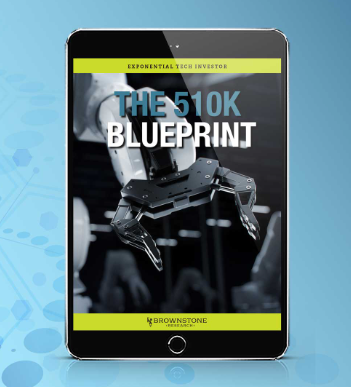 Ordinarily the retail price of Exponential Tech Investor is $4,000, but readers of this presentation get 50% off and get to 'only' pay $2,000 for a one-year subscription. This gets us the 510K Blueprint special report, a second free bonus report Biotech Resurgence to take advantage of the historic opportunity in biotech right now, and of course all the benefits the newsletter, like a proprietary portfolio and more.
What in the World is The 510K Program?
The point is hammered home that the golden ticket here is the 510K Program! So what exactly is it?
Well, the 510K Program is offered by the Food and Drug Administration (FDA), which is the government agency that approves all drugs and medical devices for public use. The 510K Program specifically is one of the many ways a biotechnology company can go about getting the FDA's stamp of approval.
Essentially, the 510K Program is a special process to get FDA approval. This is what makes it so lucrative, as FDA approval can be worth hundreds of billions of dollars to a biotech company and if you find and invest in one of these companies early, the wealth could be enormous.
Historically, rigorous testing, clinical trials, and of course safety investigations would all be part of the process. This process can take years, sometimes decades, it costs a fortune, and it's what makes biotechnology companies such a risky bet.
This 510K Program is the only way the FDA lets companies skip safety testing and clinical trials. With the only caveat being that this only applies to improvements in existing products, not brand new ones. Here's an example of one program 'graduate'.
Diagnostic test equipment has been around for decades. But a company called Quidel Corp. (Nasdaq: QDEL) made a better device. We won't get into all the details here, but in essence, it performs blood tests, saliva tests, and things of that nature quicker. It finished the 510K Program and its stock rocketed by 232%. However, had we caught it closer to when it first started the program, our gains could have been as high as 1,469%.
This is why Jeff is pounding the table on his pick, because this small-cap has already started the pre-submission process. So the clock is ticking and once they formally start the 510K Program, he predicts it won't be long until they get FDA approval. Let's see if we can find out the name of it.
Revealing The 510K Program Company
What's the small-cap with massive profit potential? Here are some clues:
It makes a surgical robot that's so small and operates 100% inside the human body, that it can get to all the nooks and crannies human surgeons and bigger robots simply can't get to.
The FDA has recognized the enormous potential of this robot with a very rare and lucrative award called a Breakthrough Designation. Marking the first time the FDA has ever awarded a breakthrough designation for a surgical robot.
Before a company can enter the 510K Program they have to claim what's called "substantial equivalent" to another product that's already FDA approved. That's how they can skip clinical trials and safety testing. This small-cap has it and is claiming "substantial equivalent" to another product that's already FDA approved.
The company was founded by a team of MIT scientists, it has a Harvard doctor who was named "TIME Man of the Year" in 1996 on its board, and it's backed by 5 legendary billionaires.
Based on this candid account, the 510K Program company in question here is Vicarious Surgical Inc. (NYSE: RBOT). Here is how the clues line up:
Vicarious makes a single-incision surgical robot that virtually transports surgeons inside the patient to perform minimally invasive surgery. This lines up with the first point above pretty well.
Details about the "substantial equivalent" claim are more difficult to come by, but TIME's 1996 Man of the Year, David Ho is a Vicarious board member.
Is this the medical "holy grail"?
Legit Opportunity to Make 1,469% or More?
It should be noted that surgical robots have been around for decades, with the first being developed as far back as 1967. But it took nearly 30 years to complete the first fully functional multipurpose surgical robot.
Now we are here, with surgical robots, like Vicarious' that enable surgeons to perform minimally invasive surgery with 3D visualization and accurate control. A solution that gives almost any patient direct access to the most advanced quality care, at a lower cost, with the best possible results is definitely solving a large addressable need.
Vicarious is still a relatively small company at a current market cap of just under $500 million, is already displaying tangible earnings, and has a long runway for growth ahead of it in the multi-billion dollar surgical robotics market that is growing at a compound annual growth rate of 20%.
Quick Recap & Conclusion
Jeff Brown is here to reveal the details about a little known government program called "The 510K Program", which could help one tiny, newly public small-cap company create a fortune.
The 510K Program is offered by the Food and Drug Administration (FDA) and it helps biotech companies fast-track their innovations without having to go through the usual approval carousel. As you may have already guessed, the company being teased is a distinguished member of this program.
In order to find out the name and ticker of this company, we will need a subscription to Jeff Brown's investment advisory service – Exponential Tech Investor at a cost of $2,000 for one year. This will get us the 510K Blueprint special report containing the info we are after.
Fortunately you can keep some of that hard-earned cash, as we were able to reveal the company right here for free as Vicarious Surgical Inc. (NYSE: RBOT).
Vicarious is a promising business, that is already profitable, and addressing a large need that should continue to grow over time. Its the rare stock worth looking into.
Is robotic minimally invasive surgery the disruptive innovation in the surgical market or is there something else even better out there? Tell us in the comment section down below.