Brownstone Research purportedly called both the dot-com crash and the housing crisis back in the day and now they're back with another "buying opportunity of a lifetime".
This is going to come from a small subsector of tech that will soon ignite a revolution and one "CTX" Biotech Company is at the center of it all.
The Teaser
Five months into the year and stocks are off to their worst start in history. This has left many investors searching for answers. In this presentation, angel investor and Brownstone Research founder Jeff Brown is going to give us some.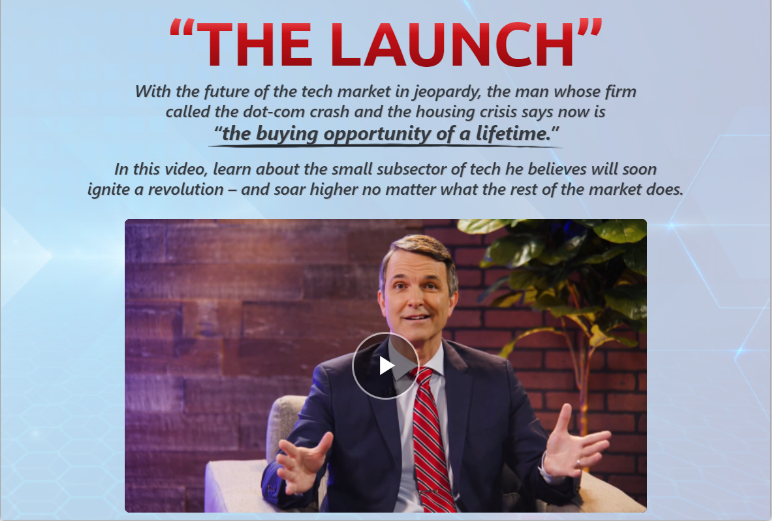 Jeff Brown spent nearly 30 years as a high technology executive for some of the world's biggest companies, such as Qualcomm and Juniper Networks and witnessing firsthand the wealth creation potential of disruptive technology. He is now an active angel investor and publisher using his expertise to help everyday investors pinpoint companies on the verge of exponential growth. Many of Jeff's past publications have been reviewed right here on GB, including his Fintech Play for The Digital Dollar Revolution and his NFT Moment.
Despite this extremely shaky start, Jeff claims, now is NOT the time to panic, in fact it's time to act. He says the madness in the tech market has opened up, quote, "the buying opportunity of a lifetime".
He goes on to explain that history is repeating itself and that we already know what's likely to happen this time around, because we've actually seen it all before. Some of the same signs seen as the market began to fall in 2000 during the dot-com crash are beginning to emerge. Every time we've seen volatility and pullbacks like this, people who were proactive and made the right moves had little to worry about.
Back then, the right move was buying "a very unique kind of tech stock". Had you purchased Gilead Sciences stock a few years before the dot-com crash, you would have made a 56,000% gain by the time the dust settled. If you bought shares of Amgen you would have made an even more staggering 300,000%. What do these two stocks have in common?
They are both biotech companies, which is the tech subsector that the "CTX" company being hinted at is a part of. It should also be noted that there are actually two versions of this presentation currently floating around, with the exact same conclusion, just slightly different headlines.
The Pitch
Irrespective of which presentation you watch, Jeff has placed the "CTX" Biotech Company's name and stock symbol in a report titled The Biotech Revolution. In order to get our hands on this report, we will need a subscription to Brownstone Research's monthly research service, The Near Future Report.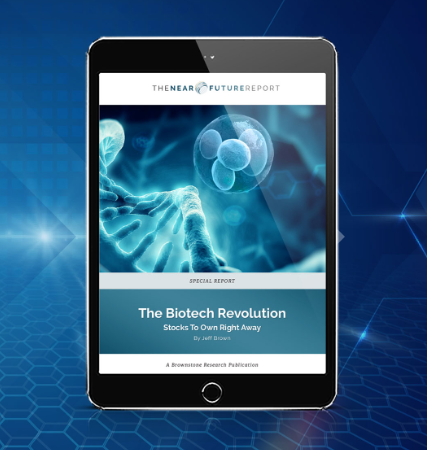 The Near Future Report costs just $49 for the first year…for a limited time and includes the special report mentioned above, a bonus special report titled How to Invest in Tesla's Secret Supplier, yet another special report called Your 101 Guide to Striking it Rich in the NFT Gold Rush, as well as one brand new investment recommendation every month.
What in the World is "CTX" And Why is it Revolutionary?
Something big is going on in the background, something very few investors know about and it all starts with a "launch" of sorts.
Jeff reveals that we are about to witness the launch of something called "CTX, 001." Or "CTX #1." The first of a medical treatment, unlike anything the world has ever seen before. Just like with Gilead Sciences and Amgen in the past, this story is playing out on its own, separate from the tech sector at large. If we miss this launch, Jeff says it will not be coming back again anytime soon.
The Stanford School of Medicine calls the technology behind "CTX", "revolutionary" and Bloomberg writes, that it will "change the world". What is it exactly? The medical technology unlike anything we've experienced before is Crispr and Jeff thinks it could spell "the beginning of the end of disease as we know it".
The tech behind Crispr is a "wildcard" of sorts, in that it can be applied to virtually anything. But it does have over 6,000 diseases in its sights, among them, some of the most common ones on earth, such as heart disease, chronic pain, and scores of other conditions. No pills, no surgeries, no hospital stays, this is the chance Crispr is giving us.
Gene editing technology like Crispr and the biotech revolution it is igniting, could siphon off the equivalent of over $3 billion from Big Pharma, every single day. Over the course of our lifetimes, this could equate to over $30 trillion.
As is usually the case, smaller, lesser-known companies are the ones leading the charge and Jeff has discovered not just one or two or even three, but four companies that are on the ground floor of this monumental biotech movement.
Revealing the CTX Companies
In typical Jeff Brown fashion, only one-off clues are provided for each of the four stocks:
The first is a small biotech firm that's produced the most important scanner since the X-ray was invented in the 1800s.
The second is a company using Crispr as a base for what could be the world's most groundbreaking cancer cure.
The third is a company whose team has secured six FDA-approved treatments in the past. They are now entering the world of Crispr.
The fourth is the company behind "CTX #1" and no further details are provided.
As you can tell, there just isn't enough here to attempt to reveal nearly any of the companies in question. However, after some more detective work on "CTX, 001", it appears that Jeff may be teasing CRISPR Therapeutics AG (Nasdaq: CRSP) as the fourth company described above. Here are a pair of reasons why:
CRSP and its partner Vertex Pharmaceuticals (Nasdaq: VRTX) are collaborating on a new gene therapy dubbed CTX001, which is currently undergoing clinical trials.
The Swiss/American biotech company is focused on treating rare blood disorders among other maladies with gene editing tech, which definitely fits the mold of a "first of its kind medical treatment".
Legit Opportunity of a Lifetime?
The global biotechnology market was valued at over $1 trillion for the first time ever in 2021 and it's been estimated that a single cure can make $20 billion each year or more.
Take the #1-selling drug in the world today, Humira. This is about how much it makes in a single calendar year – $20 billion. Crispr has long been touted as a possible replacement to pills and surgery on a massive scale, so in this respect, the market opportunity is very real. What's the drawback?
Despite the FDA and European Medicines agency granting CRSP an Orphan Drug designation thus far, gene editing is still far from 100% accurate and "off-target" edits, may have severe, irreversible consequences. This is what is really holding gene editing platforms back more so than any red tape.
In addition to this, there are major ethical and moral concerns when it comes to editing the genomes of gametes (eggs and sperm) and early embryos, called germline editing. This not only affects the individual, but also his or her offspring and has far-ranging implications for humanity as a whole.
From a purely financial standpoint, major Crispr stocks such as CRISPR Therapeutics AG (Nasdaq: CRSP) have performed quite well, gaining about 30% per year and are definitely worth keeping an eye on as the space continues to develop.
Quick Recap & Conclusion
Brownstone Research founder Jeff Brown believes a small subsector of the tech market that will soon ignite a revolution and there's a "CTX" technology behind it all.
What Jeff dubbed "CTX" is actually Crispr technology and he's uncovered not just one or two or even three, but four companies that are on the ground floor of perhaps the biggest development in biotech ever.
To learn the names and tickers of each of these, we will need to get our hands on a report titled The Biotech Revolution. It is our with a subscription to Brownstone Research's The Near Future Report, which costs just $49 for the first year.
Jeff dropped single-sentence "clues", if you can even call them that for each of the four companies, which wasn't nearly enough info to try and reveal each.
Instead, we looked at the Crispr gene editing technology behind all of Jeff's picks and found that while the hype is real in terms of its long-term potential. Some major barriers still remain before the tech can become fully commercialized and produce the kind of returns Jeff hints at.
Is Crispr the greatest biotech development in history? Tell us why or why not in the comment section below.