Angel investor and author Jeff Brown has issued an alert declaring "The End of the Dollar".
He says America's elite are secretly rolling out the biggest financial overhaul since 1971 and we must act before May 20th to profit from the upcoming "digital dollar revolution".
The Teaser
As we get distracted by the mainstream media with a constant bombardment of headlines about plagues, famines, and war, behind the scenes, a sinister plan is unfolding away from prying eyes.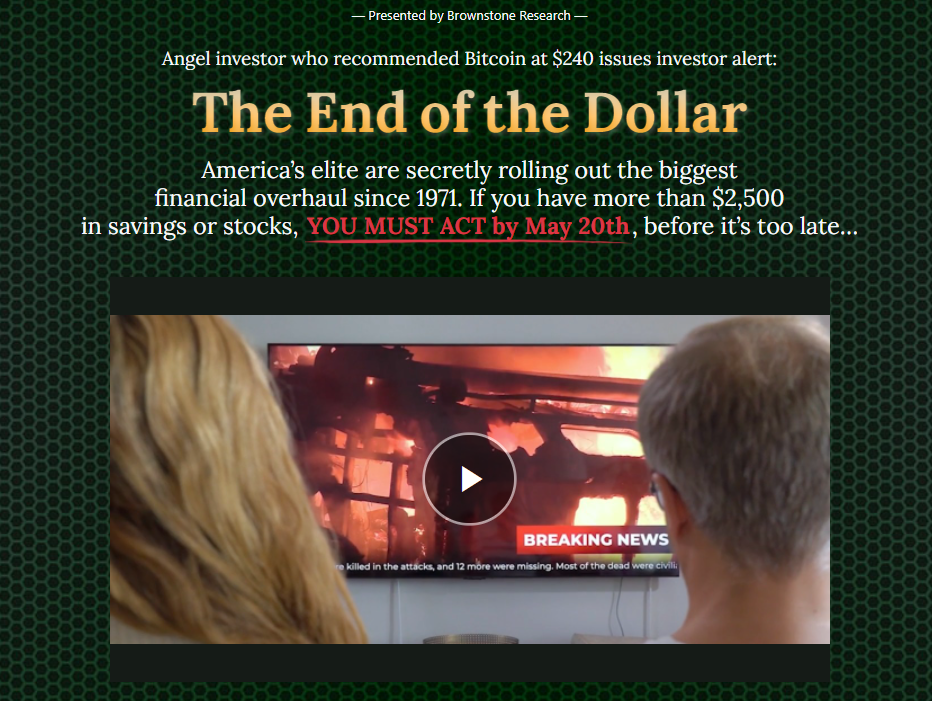 Jeff Brown is the founder and chief investment analyst of Brownstone Research. Before founding Brownstone Research, Jeff spent 25 years as a technology executive, holding down executive positions at some of the world's most renowned technology companies, like Qualcomm, NXP Semiconductors, and Juniper Networks. Brown has been prolific presenter and we have covered many of his works here in the past, including his "EUV" & Chip Shortage Stocks and "NFT Moment", most recently.
At the core of this plan is a multi-trillion dollar scheme that we got a glimpse of in an early draft of the Take Responsibility for Workers and Families Act. A bill submitted by California Congresswoman Nancy Pelosi in response to the pandemic.
Before it was quickly redacted and scrubbed from existence, in Section 101: Direct Stimulus Payments for Families, on page 314 of the thousand-plus page draft, we get our answer:
Note the sections circled in red. Right there in plain black and white, the bill calls for the creation of a new "digital dollar" along with a "digital dollar wallet".
It's right out of the same playbook used by the founders of the Federal Reserve system at their Jekyll Island conference and FDR, as once again the elites are planning a huge change to the foundation of our financial system, under the cover of a global crisis. In the bill, the "digital dollar" is presented as a useful way for Americans to receive future stimulus payments, but in the final version of the bill, there is no "digital dollar" language to be found anywhere.
However, this is far from where the story ends. As a brand new Senate bill, almost identical in nature surfaced… The Very Next Day. This new bill is being reviewed by the highest-levels of Congress right now and if Jeff's research is correct, it could pass and become law in the next few months.
If we are to emerge from this upheaval to the financial system with our nest eggs intact, Jeff says we'll need to consider buying an asset we can use to become your own bankers. Jeff has just the play for the "digital dollar revolution", that is positioned to take advantage of the upcoming currency shift.
The Pitch
Jeff has put together a detailed report, outlining all of this info called The #1 Tech Play for the Digital Dollar Revolution. To get our hands on it, we will need a subscription to The Near Future Report for just $49.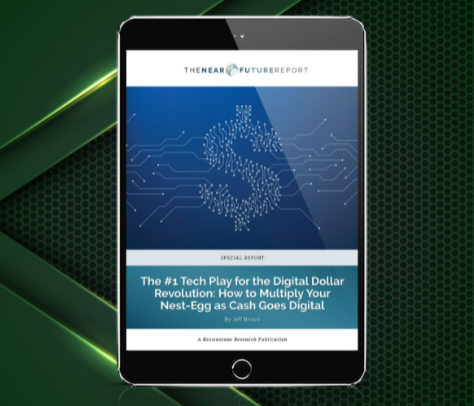 Membership also includes 12 monthly issues, not one or two, but three special reports, and a 60 day money-back guarantee on it all.
The Tech Behind the Digital Dollar Revolution
With each passing week, the dominoes are falling into place for a digital dollar faster and faster. Here is how they are all lining up:
Domino number one: Pelosi's Digital Cash 'cover-up' and a new Digital Cash bill are rippling through Congress as we speak.
Domino number two: Digital currency patents from multinational companies such as Microsoft and Visa, along with Bill Gates' Better Than Cash Alliance show us that the government has the full support of America's largest businesses.
And domino number three: Everything is tied together by ID2020, a scheme to attach everyone's money and identity to so-called "electronic 'passports".
Taking all this into account, it's hard not to come to an inescapable conclusion, that the cash in our pockets today will soon be replaced by an all-digital currency – a digital dollar.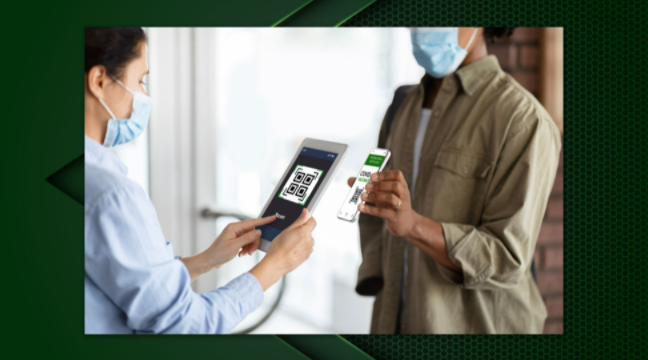 If this wasn't enough, Congressman Don Beyer's, recent HR 4741 bill to "regulate cryptocurrencies" is the smoking gun. According to this new bill, section 11 of the Federal Reserve Act is set to be amended, handing the Federal Reserve the power to "issue digital versions of Federal Reserve notes". How exactly is this overhaul going to be pulled off? 
Unlike the last time the financial system was turned on its head, this time around it won't be done through the big banks, but instead through financial technology or Fintech for short. Essentially, what is happening is that the banking infrastructure is being rebuilt from the ground up and very few Americans see it coming. Put simply, financial technology is revolutionizing the $23 trillion dollar old-guard banking industry.
Jeff says he'd be surprised if FinTech isn't the biggest bull market of the next five years, but he recommends getting in right now, as this situation is happening in the shadows at a breakneck pace, as we've already come to learn. Fortunately, he firmly believes that he has found the one firm that is in prime position to profit from this trend.
Revealing the #1 Fintech Play for the Digital Dollar Revolution
Jeff offers up a pair of tangible clues as to what this mystery company is and does:
This company already serves 95 of the top 100 financial institutions, which will allow them to roll out this new architecture to nearly every financial institution in America.
The company is also ALREADY being used to distribute stimulus funds to millions of Americans.
Given the limited set of clues, we can't be 100% certain, but to us it sure sounds like Jeff is talking about Deluxe Corp. (NYSE: DLX).
The century-old firm offers a broad range of services to a list of clients that includes the Federal Reserve, more than 4,000 financial institutions, and 5 million small business customers.
While details remain virtually non-existent online about the federal government's coronavirus relief disbursement agents, Deluxe is one of the few companies with the capabilities to handle payments on this scale.
A Once-in-a-Generation Opportunity?
While it may not be a household name, Deluxe is paramount to the functioning of the financial system. As it helps businesses pay and get paid and processes more than $2.8 trillion in annual payment volume. An amount equal to roughly 14% of the total U.S. GDP.
The 107-year old company is credited with creating the first checkbook and for the better part of its existence it has been a check printing company. But as current CEO Barry McCarthy stated when he took the helm in 2018 "he saw a collection of unparalleled assets with unparalleled reach in the marketplace and an opportunity to bring those assets together to drive growth and transformation".
Today, Deluxe has a new partnership in place with Salesforce.com focused on small business services and is focused on completing fewer, larger and more impactful acquisitions than in the past. The company currently has a price to earnings of 23x and provides some decent value to prospective investors…however, this isn't exactly once-in-a-generation type of stuff. To properly position ourselves for the digital dollar revolution it will take a lot more than this and it will need to be a lot less correlated to the stock market.
Quick Recap & Conclusion
Jeff Brown is back with a bold declaration: "The End of the Dollar" and he has one stock pick to profit from the "digital dollar revolution".
We learn that financial technology or Fintech for short is what is going to be propelling the "digital dollar revolution" forward, as the current banking infrastructure is rebuilt from the ground up.
To find out what Jeff's pick is, we will need a subscription to The Near Future Report for just $49 per year. This will get us a detailed report, outlining all of the info called The #1 Tech Play for the Digital Dollar Revolution.
Since the set of clues Brown leaves behind were limited this time around, we aren't 100% certain about the pick, but an educated guess tells us that it could be Deluxe Corp. (NYSE: DLX).
While a decent investment from a value prospective, Deluxe isn't going to protect us or our money from the massive change that this presentation proposes. For safety of principal, we will need to look beyond the stock market.
Is a central bank-issued digital dollar the next domino to drop? Tell us your thoughts in the comment section below.