In one of his latest video teasers, former investment banker Teeka Tiwari talks about how the U.S. Office of the Comptroller of the Currency (OCC) recently announced a new banking rule which might endanger every citizens' retirement savings.
What is being teased here, is a new type of account that can "help you make a fortune in the coming weeks and months". Since this is something which could potentially affect up to 234 million Americans, let's take a closer look at these bold claims to uncover what is behind them.
The Teaser
Tiwari claims that "this major new change to our banking system will help mint new millionaires in America while having catastrophic implications for those who don't prepare". According to him, "more than $40 trillion of retirement savings is at risk" because of the new Biden presidency.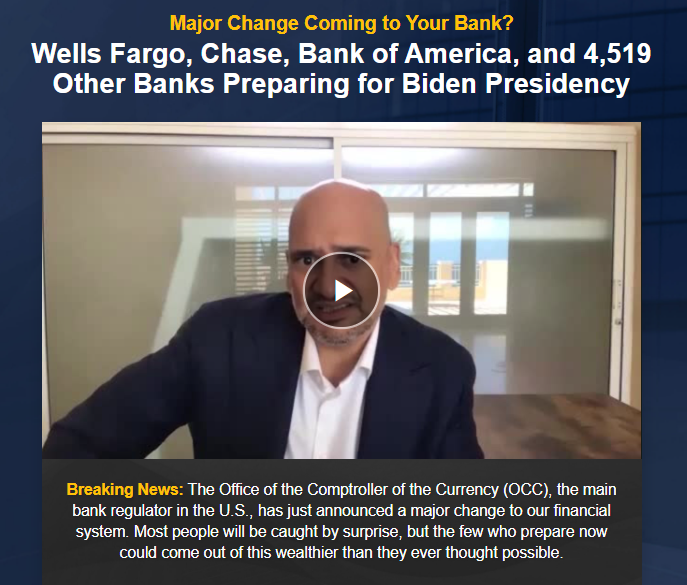 Growing up in the foster system in the United Kingdom, Teeka Tiwari came to America at the tender age of 16 and by the time he was 18, he had already become the youngest employee ever at Lehman Brothers. He has gone on to be a frequent contributor to the FOX Business Network Channel, CNBC, and ABC, among others and he is is the editor of the Palm Beach Research Group's flagship service – The Palm Beach Letter. Teeka is certainly no stranger to the crypto market, as we have covered here in the past, see his "Tech Royalty" Crypto Picks, as an example.
The former Wall Street banker says that "the OCC has just allowed ALL US banks to offer a new type of account that can help you make a fortune over the short-term". He mentions that "he's 100% confident this will be the absolute best way to protect and grow your wealth in the coming days" and claims he already "took out hundreds of thousands of dollars from my personal bank account" to invest in this new opportunity.
Tiwari adds that "investing in this would provide not only a reasonable hedge against inflation, but also holds the prospect of earning a higher return than other investments".
The Sales Pitch
Those anxious to find out what Teeka Tiwari is teasing are welcomed to subscribe to his newsletter service, the Palm Beach Letter. The subscription costs only $49 per year and included, you will get a special report on crypto entitled "Blockchain Millionaire: How to Turn $675 into $1 Million With My Top 3 Small Crypto for 2021", another special report on how to invest in gold, 12 issues of the report itself, full support, as well as two other bonus reports and a 60-day money-back guarantee to top it all off.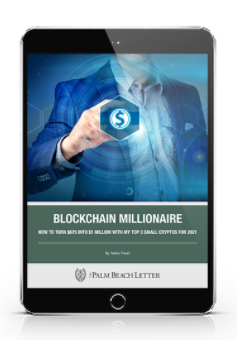 Although Tiwari's service is far more affordable than other similar newsletter subscriptions, for those who prefer to keep some extra money in their pocket, here is what we were able to uncover for you, for free.
What Is The "New Banking Rule"?
The author starts his presentation by talking about an Interpretive Letter #1170 from July 2020 released by the OCC that says "a national bank may provide cryptocurrency custody services on behalf of customers", which opens the door to banks beginning to offer crypto banking services to their clients insofar as their investment and retirement accounts are concerned.
Tiwari claims to have already "turned just $1K into as much as $1.6 million" simply by smartly investing in cryptocurrencies. Accordion to him, "the price is mathematically guaranteed to go higher" since cryptos are not regulated by any central bank and therefore, their price is 100% dictated by the economic law of supply and demand.
Based solely on his own projections, he claims the price of Bitcoin could go up to as much as $1 million – "we're talking about the potential to make almost 10x your money by next year" which would be an absolutely ridiculous claim if we were not talking about the cryptocurrency market.
To put things more into perspective, Teeka Tiwari recommends a three-step program to start seeing profits immediately:
"Buy Bitcoin TODAY… do not wait a single day longer" is the author's claim, as he is positive the value of this signature coin will continue growing. And, if we were to judge solely based on the first four months of 2021, he wasn't wrong. In April 2021,

Bitcoin

reached its all-time highest value of around $60,000, which was seen as a turning point in the cryptocurrency market. Unfortunately, shortly after, its value dropped to $36,000 in less than a few days after a series of unsettling tweets sent by none other than Tesla's CEO, Elon Musk.
"Buy my top small crypto coin picks for 2021". The author mentions you can find valuable information about his best crypto picks for this year inside a special report named "

Blockchain Millionaire: How to Turn $675 into $1 Million With My Top 3 Small Cryptos for 2021"

.

"Invest in the technology that's making all of this possible", which means blockchain. According to the World Economic Forum (WEF), it is "set to explode 295,762% by 2027" who itself has had a rather ominous history of "predictions" coming true.
At the end of the day, Teeka thinks only one thing is certain: "Bitcoin and digital currencies are here to stay."
Revealing these Small Crypto Picks
Unfortunately, Tiwari is scarce with the details when it comes to naming any specific altcoins, so there isn't much we can reveal in this respect. In fact, he doesn't mention any clues about the coins he or the tech behind them, which makes it impossible to know what he's talking about since there are a total of over 4,000 crypto coins as of early 2021.
We previously covered Teeka's "1170 accounts" teaser, which was similar in many ways as it started off by claiming that a new type of account (instead of banking rule) could bring you an interest rate of up to 8.6% annually and provide you 172x more in retirement, instead of 10x your money over the short-term.
Opportunity to Make 10x Your Money?
Tiwari is more confident than ever that the crypto market will continue to grow and coins like BTC, ETH, XRP, ADA, and LTC will prosper as a result. From a purely mathematical and statistical point of view, based on models and predictions, what goes up must also come down. Since a rising tide has lifted almost all boats (coins) over the past few years, the latter may not be too far away.
Theoretically speaking, it is easy to extrapolate a current trend to infinity and many analysts do just this. Practically however, the value of a unit of exchange, which is what all money and crypto coins are, is influenced by a series of internal and external factors which are almost impossible to predict, hence the volatile nature of this market.
Quick Recap & Conclusion
Teeka Tiwari is one of the most prolific pitchmen in the investment newsletter market, with his number of subscribers numbering in the thousands.

In one of his latest videos, he talks about an opportunity to invest in certain altcoins and the blockchain technology behind them, for a chance to earn at least 10x your money.

If we wish to find more about what the author is talking about, we should be ready to pay $49 per year to subscribe to his Palm Beach Letter.
We are given three clear instructional points: "Buy Bitcoin TODAY and not wait a single day longer", buy into his "top small crypto coin picks for 2021", and lastly, "invest in the technology that's making all of this possible".
Unfortunately, there are no specific details or hints provided to us to about what specific "small crypto coins" to pick up or any direct way to invest in blockchain technology either.
Whether you evaluate crypto coins as a medium of exchange (money), a store of value/inflation hedge (like precious metals) or anything else, strap yourself in for a wild ride, as the altcoin market is one of the most volatile in the entire world.
Are you currently invested in any smaller crypto coins? What about Blockchain technology, will it proliferate to other industries or remain relegated to the crypto market? Let us know what your crystal ball tells you in the comment section below.