Famous investment advisor Teeka Tiwari talks about a new type of account that he calls the "1170" account in his latest marketing newsletter. The letter teases a new technology in conjunction with this new type of account that he says could bring you an interest rate of up to 8.6% annually and provide you 172x more in retirement.
To gain access to the name and the ticker symbol of the company that uses this technology and learn how to open an 1170 account, you need to join Tiwari's investment newsletter program, The Palm Beach Letter, for $49 per year. Included, you will get five bonus reports, a locked-in discounted renewal, past and future reports, members-only model portfolio access, 12 monthly issues of the newsletter, as well as a 60-day money-back guarantee. For those who would rather pocket that cash, here is what we were able to uncover for free.

It seems that there are two variations of the same teaser, likely for ad testing purposes so we decided to also include both images here.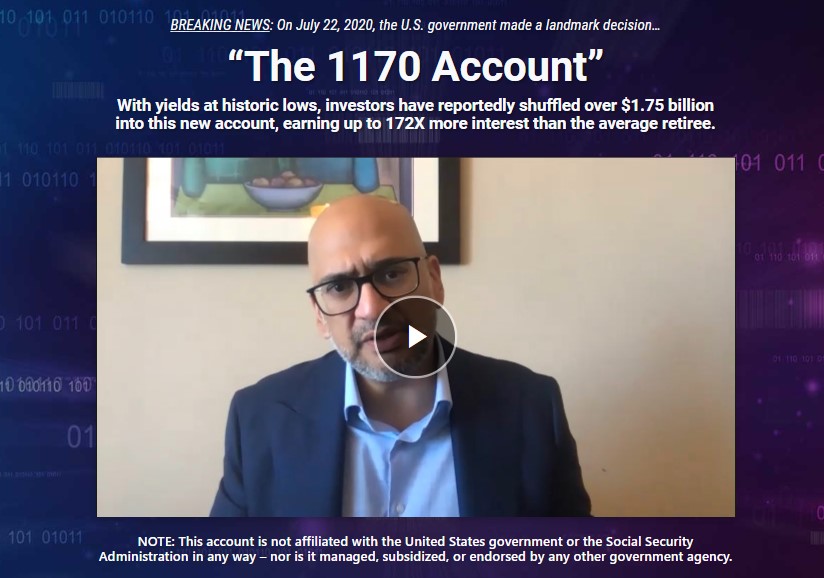 Teeka Tiwari is the editor of Palm Beach Research Group's flagship investment newsletter The Palm Beach Letter, and a reputed investor. He is a former hedge fund manager and Wall Street executive with over 25 years of high finance experience.
At the age of 18, after a rocky childhood in the UK, he became the youngest employee at the Lehman Brothers Bank. Throughout his career as an investment analyst, Tiwari has predicted the rise of dozens of profitable stocks, including a new tech era with Apple. For the past four years, Tiwari has been recommending blockchain stocks with claimed average returns of 2,189%, 5,092%, and even 151,323%.  He says that since he has been in charge of the Palm Beach Letter, the annual average return of his recommended stocks has been 166%, as opposed to only 13.8% for the S&P 500.
The 1170 Opportunity
What Tiwari teases in his latest newsletter is a new kind of blockchain technology that can bring returns of up to 172X times in just a few years. The main pitch is the opportunity to invest in an "1170" account. He claims that everyone could earn more money all thanks to this kind of account, which "American banks have just been authorized to offer by the United States government."
To make things more interesting, the author states that the new era of investment comes from a letter from the Office of the Comptroller (OCC), "a little-known branch of the Department of Treasury". The OOC is in charge of regulating and supervising all national banks, which counts for almost 1,200 institutions "that hold $12.9 trillion in total assets". Tiwari mentions that this new type of account offers up to 8.6% in interest per year, as opposed to the mere 0.05% you would currently get from the average savings account or 0.20% interest from a money market account. Here is a visual illustration of the potential difference:
So, essentially the OCC has issued a directive document called "Interpretive Letter #1170" that allows national banks to open this new type of high-yield account and we also learn a little later in the letter that "this will be the first full-fledged investment account based on blockchain technology".
What Exactly Is Being Teased Here? 
In his latest teaser Tiwari mentions "one small upstart company…which is already backed by several billionaires and that already has a two-year head start" on a new type of blockchain technology. We here have grown accustomed to such bold claims being made by Teeka, as per some of his previous teasers which we have covered, such as: Set for Life Summit and Tech Royalty Retirement Plan.
The author starts by mentioning that this technology enables a new type of account "that is already available to residents in most countries worldwide and 49 states", and if you choose to, you can even have this account's interest paid to you in gold, which is the true novelty. According to Tiwari, many billionaires have already chosen to invest their money into the company whose technology makes such accounts possible, and they include the famous PayPal co-founder, Peter Thiel, as well as former executives from Microsoft, Deutsche Bank, Bank of America, American Express, and the list goes on.
Thanks to its increasing popularity amongst the wealthy and Wall Street types, Tiwari is positive that the 1170 account "has passed the fidelity test". Moreover, he even goes as far as saying that this new type of blockchain account is an important part of the third American revolution in terms of retirement benefits. 
He credits the first revolution to be the introduction of a "pension" being offered, at first only to police officers and then extending to up to half of the total workers in the private sector until 1960. The second revolution is considered the introduction of the 401(k) back in 1978, which around 58 million Americans now have. However, as opposed to the first two, this new type of account is not affiliated or subsidized by the US government "and it has to do with the single-most promising technology of today", which is blockchain technology.
Blockchain technology is at the very core of the 1170 Account, which could grow by over 295,000% by 2027, according to some estimates. This makes Tiwari inclined to think that this is a once-in-a-lifetime opportunity for people, regardless of their financial status. As he puts it, "you don't need to understand how blockchain works to get rich from it".
As far as the specific company behind this blockchain technology, the author doesn't give us too many clues:
In his words, the blockchain technology "provides security… reliability… transparency… speed… it reduces costs, and more".
He says that "it's one of a scant few companies cleared by the Securities and Exchange Commission to trade blockchain investments", which means that "this company could be in the position to potentially make a cut on every single one of those transactions". 

Unfortunately, these are the only clues Tiwari provides, alongside the fact that 'it's got a huge competitive advantage – a

moat

, as one Warren Buffett would aptly put it." But alas, we cannot tell for sure which company the author is referring to here or if it is even a publicly traded entity.
But in the end it doesn't really matter, as what is ultimately being teaser here is the 1170 account itself and the financial institution(s) that open this type of account. We did some solid Internet sleuthing and what we were able to find is that according to the OCC, it has authorized national banks to provide cryptocurrency custody services to their customers. But making it permissible for banks to provide such banking services to "any lawful business they choose, including cryptocurrency businesses, so long as they effectively manage the risks and comply with applicable law". However, this isn't exactly the same things as banks voluntarily taking the next step and actually providing such services, which we were not able to find any evidence of as of this writing.
Is A 1170 Account A Good Opportunity?
Tiwari has been an avid supporter of cryptocurrencies and the blockchain ever since 2016, mentioning various up and coming crypto coins that could eventually prove profitable investments.
As for his latest blockchain discovery, we cannot tell how profitable it could turn. However, it is important to mention that opening a so-called 1170 account won't guarantee you any profits over the short or long-term, as this blockchain company isn't backed by the American government. In other words, as much as Tiwari would like to consider it a more profitable retirement alternative than a 401(k), you might end up losing your retirement funds instead of increasing them by the promised 295,000% by 2027.
Despite this reality, Tiwari is confident enough in his new discovery that he has already put $250,000 of his own money into the company. What regular Americans must take into account is that Tiwari is already a self-made millionaire and lives a comfortable life, which means that a bad investment won't affect him as much, as he already profits from a large investment portfolio. 
For those who don't have Tiwari's large portfolio or inside information and knowledge in the investment field, which was cultivated over decades. The thought of making a large one-time investment is a risky and even dangerous move that most advisors wouldn't recommend. If you wish to open the 1170 account, you first must understand the risks of a "retirement" account that isn't backed by the US government and assess the potential loss of a portion of your retirement funds against the potential benefits.
Given that the average 401(k) balance is under $100,000, placing half or even 25% of your entire retirement fund in an unsecured account seems hazardous if you are a "know nothing" passive investor…that is if you can even find a bank that is willing to open such an account for you in the first place.
Quick Recap & Conclusion
Millionaire Wall Street investor-turned investment advisor, Teeka Tiwari, pitches his newsletter investment program, The Palm Beach Letter, for a special price of $49 per year. Included in this price you will find five bonus reports, including the one entitled "The 1170 Account: How to Earn Up to 172x More in Retirement", and "The 295,000% Revolution: The #1 Blockchain Stock to Own Today". Tiwari also throws in 12 monthly issues of the newsletter, model portfolio access, and a 60-day money-back guarantee.
Tiwari teases a new type of account, "the 1170 account", which he says is set to bring 8.6% annual interest, as opposed to the lowly 0.05% you would get with a normal savings account. 

Behind the 1170 account, is blockchain technology, an investment type that is no stranger to Tiwari – as he has been constantly talking about the investment potential of blockchain ever since 2016.

He mentions that the company that will be opening these accounts is already backed by several billionaires and former executives from PayPal, Microsoft, and Bank of America, amongst others. 

Although it is marketed by Tiwari as a new company providing an alternative to the 401(k) retirement account, the 1170 account is simply a new type of cryptocurrency custody services account which national banks are now authorized to open by the Office of the Comptroller of the Currency (OCC)…at each bank's sole discretion.
If you could, would you open a 1170 account? Are you already invested in blockchain or cryptocurrencies? Happy to hear your thoughts in the comments section below.