Financial author Ted Bauman is out with a brand new video presentation which talks about an executive Order 14008, that was recently signed by Biden and intends to move the U.S. to clean energy by 2035.
Another thing it does, is tease a "solar on-demand" company that has "made more money than all 7 oil majors combined", but whose stock is currently trading at less than 1% of what theirs is. With all the disruption taking place in the energy sector and the cost of solar energy drastically dropping over the past decade, this one should be interesting. 
The Teaser
Ted starts us off by calling this "a once-in-a-generation wealth creating event" that has both "stunned the energy industry" and fast-tracked a $16 trillion investment opportunity. This is a gargantuan figure, considering the fact that the entire U.S. energy sector is estimated to be worth around $500 billion at present time (second largest in the world).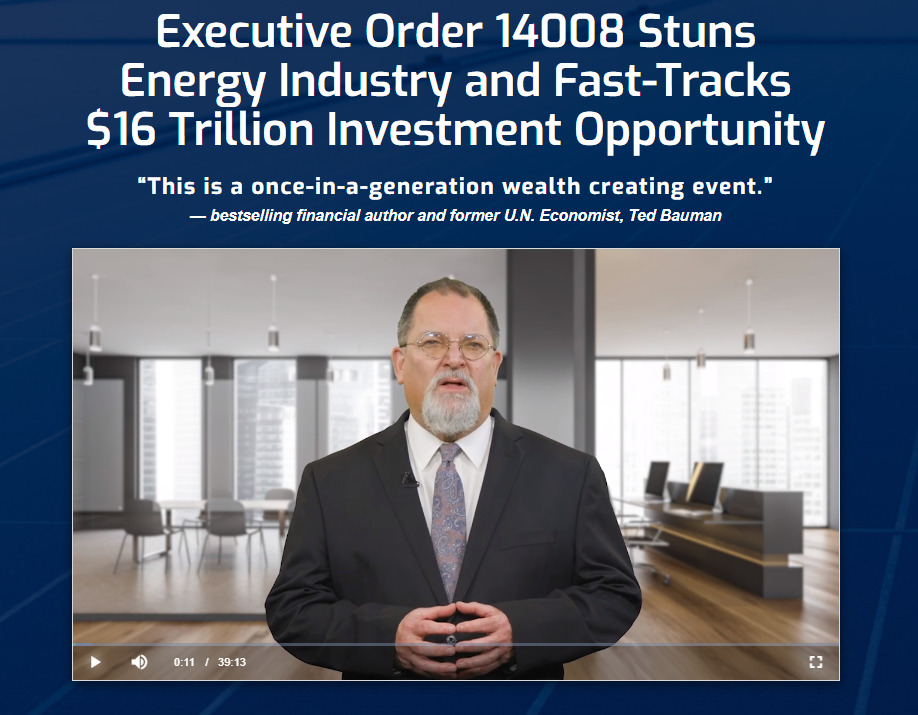 Ted Bauman previously had a 25 year career in the non-profit sector, primarily as a fund manager for low-cost housing projects and also working as a consultant, researching and writing extensively on finance, housing and urban planning issues. Ted joined Banyan Hill Publishing in 2013 and is editor of The Bauman Letter, Bauman Daily and Profit Switch investment newsletters. We have covered a couple of Bauman's "opportunities" here in the past, including his Endless Income Book and "Secret to 10x Wealth."
The key to this once-in-a-lifetime wealth creation event apparently lies inside this: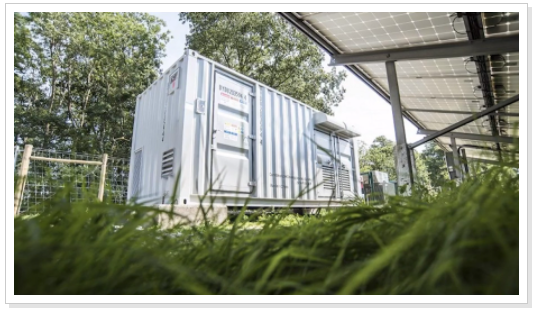 Yes, this ordinary looking storage crate is "the key to unlocking a $16 trillion energy revolution". Or so we are told. Ted says that "inside those dull, grey walls is a device that could soon pump out clean energy 24 hours a day, 7 days a week, in rain or shine, if the wind blows or not."
Forbes also calls it "the biggest disruption in energy since the First Industrial Revolution." For this and another reasons, which we will document, the world's billionaires are scrambling to get in on it. With the list of investors in this technology reading like the world's billionaire list, as everyone from Bill Gates to Amazon's Jeff Bezos, Alibaba's Jack Ma, SoftBank's Masayoshi Son, Virgin's Richard Branson and Bridgewater Associates' Ray Dalio, is on board.
The best part, is that the company being teased makes a device like the one inside the aforementioned storage crate and it has is yet to make major headlines, meaning you can still get in on the ground floor.
The Pitch
Of course to find out who this company is, you need to be directly subscribed to Banyan Hill's The Bauman Letter.  This would normally set you back $199 for the year, but if you "join now" you can get it for just $47 for the first year.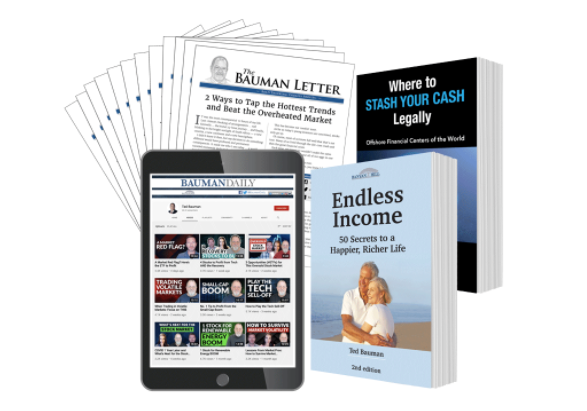 For this one-time price, you will get full access to the monthly newsletter, a full model portfolio, weekly videos, updates and webinars, a daily investment email, access to a members-only private website…and three special reports.
What in the World is Solar On-Demand?
In 2020, a so-called "perfect storm" converged. Pressure on old-line energy companies, which had been building up for years finally came to a head as the cost of clean energy dropped precipitously. Then on October 13 for the first time ever, solar energy became cheaper than fossil fuel.
As you can see above, solar's price has plunged 89% over the last 10 years. And according to Bauman it's not done yet. This in itself, is creating an investment opportunity, as solar prices are expected to drop even further.
The technology being teased here aims to solve solar's fatal flaw – its inability to be a reliable energy source when the sun isn't shining. Ted thinks "this technology —in that crate — changes that." In short, the technology is an independent solar power station that can operate independently of any other station. So this way if one station goes down, it doesn't take the entire grid with it.
While fossil fuels clearly are not going anywhere anytime soon, some think the shift to cleaner forms of energy is still in its early stages and thus the momentum of new "clean energy majors" is picking up steam. And to think, just seven years ago, ExxonMobil was the biggest company in the country.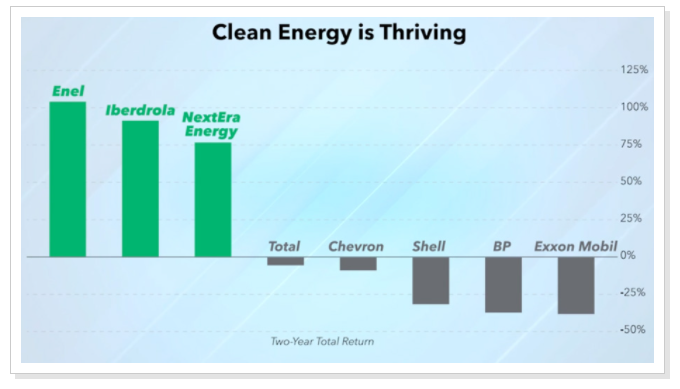 The "secret sauce" behind this solar on-demand tech is really a combination of four technologies merged into one. These are:
High-efficiency solar panels
High-capacity batteries
Next generation inverters to digitize and balance the flow of power
Cloud-based analytics to optimize the whole operation
Pull all these together and they create what Ted calls "solar-on-demand." Solar power that's not only cheaper than traditional energy, but that also works "on demand" around the clock.
So what is this company that Ted believes will become the new energy revolution's Standard Oil?
Solar On-Demand's Standard Oil?
For those that aren't familiar with the reference, The Standard Oil company is what made John D. Rockefeller the richest American in history, even to this day. It was the equivalent in size of Chevron, ExxonMobil, BP, and Marathon Oil combined, which are its successor entities today. At its height, it controlled about 90% of the American oil industry.
This is relevant because Bauman thinks that the North American company he's been telling us about is "working straight from Standard Oil's playbook." This is because it controls everything in its solar-on-demand process … from making the components, to building out the infrastructure, and managing the software. Just like Standard drilled for oil, set up its own refineries, pipelines, before the turn of the 20th century.
What is this solar on-demand company?
We know that this past November, it created the biggest solar infrastructure fund in Japan — valued at some $475 million. In which it retains a 15% equity stake.
In January of this year, it broke ground on one of the largest solar-on-demand plants in the country. A 2,400-acre site in Kings County, California.
The company's stock is still currently worth less than 1% of the traditional energy majors.
Based on these clues we were able to sleuth around and pinpoint the company behind these projects as Canadian Solar Inc. (Nasdaq: CSIQ). Here is why:
Will this company lead the "$16 trillion energy revolution?"
The Next Standard Oil?
After investments from Goldman Sachs, JPMorgan, Citadel, and others, should you be next?
While it holds true that today's federal government has committed to powering America on 100% clean energy by 2035, of which solar will play a big role. However, there are many players (both established and emerging) in the clean energy and it looks ripe for consolidation, possibly even by some of the old guard of the energy industry, who are actual remnants of the Standard Oil behemoth of yesteryear.
Until that comes about, our Value Spreadsheet Premium subscription paints a mixed picture of Canadian Solar: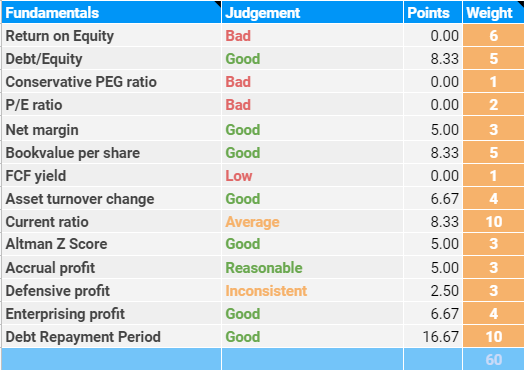 The valuation (considering where the market is at) is decent, but the underlying economics could be better. It definitely deserves a deeper dive and analysis than we have space for here, if you are a long-term energy investor whose hold time runs in years instead of days and months.
Quick Recap & Conclusion
Ted Bauman teases a "solar on-demand" company that has the potential to "make more money than all 7 oil majors combined."
The launching pad of this is executive Order 14008, which was recently signed by Biden and intends to

move the U.S. to clean energy by 2035.

Of course, in order to find out the name company and stake your claim in the "$16 trillion energy revolution" you need to subscribe to The Bauman Letter. For a one-time cost of $47 for the first year.
Fortunately, for those that read until the end, you can keep this money in your pocket. As we were able to identify the so-called "solar on-demand Standard Oil" as Canadian Solar Inc. (Nasdaq: CSIQ).
After a quick peek, it definitely holds some promise and is worth looking further into to determine whether it fits into your individual portfolio.
What do you think about the move to clean energy by 2035? Will this be a long-term net benefit to average people or more of the same, with major corporations being the biggest beneficiaries? Let us know your thoughts in the comment section below, as we always love hearing them.