Michael Robinson is back with a teaser that ominously starts with dramatic music playing in the background, while the narrator tells us that off the coast of Vietnam, on a tiny remote island "hides the biggest story of the decade".
While this "dream island" may look like a vacation resort, for the past several years engineers have trekked to this sleepy paradise to work on ambitious tech projects, which have sparked a "global technology war". For the past odd year such developments have flown under the radar of national media, but such transformative technology and a single blockchain stock which will supposedly "change the way we do business" cannot remain under wraps for much longer and we are about to get a sneak peek.
The Teaser
Michael believes that just like how the Internet was deemed a passing fad by many when first made introduced to consumers, but ended up being a staple of our everyday lives, "this technology can do the same."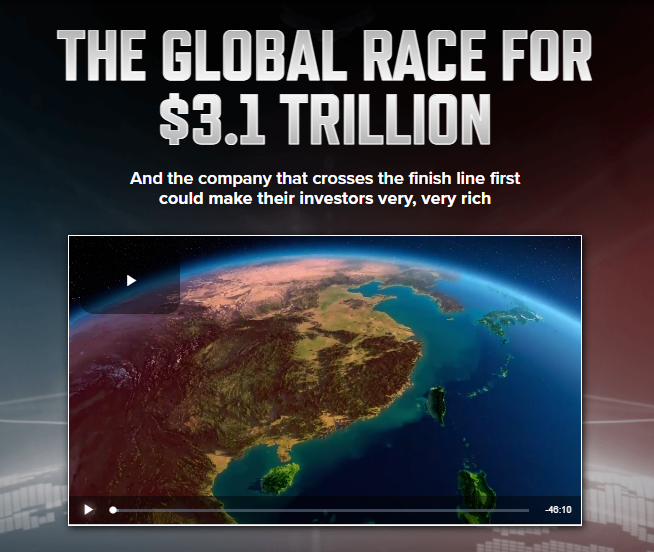 Michael Robinson is a 40-year veteran of Silicon Valley, having worked as a consultant, senior adviser, and board member for some of the valley's venture capital firms. As a writer and analyst he covers major tech innovations for his monthly newsletter Nova-X Report as well as Nexus-9 Network, where he covers "truly radical technologies". We have reviewed several of these teasers right here in the past: Michael Robinson's "5G Aftershock Market" and "The Biggest Tech Rollout in History."
One problem however, is that the West's biggest competitor, China, currently controls research on this remote island and it has built up a network of "over 175 companies that are currently working on this technology and even more to help implement it." We are told that this so-called "red chain initiative" is part of "China's master plan to dominate the global economy" and that it brings them closer to achieving this lofty goal than anything they have tried before.
Bottom line: whoever or whatever develops this technology and commercializes it, will create "$3.1 trillion in new wealth" for themselves, hence "the global race for $3.1 trillion" headline. This is predicated to kick off a new decade of prosperity by some "experts" the likes of which has not been seen since the advent of the commercial railroad in the 16th century. So what is this new magical tech? Blockchain.
The Sales Pitch
Michael says there is one private sector company working to accelerate the development of Blockchain technology, but for the name of this mysterious firm you will have to subscribe to the Nova-X Report for a modest $39 per year with a 60-day money back guarantee.
In addition to the regular twelve monthly issues, you will also receive access to a members-only website (Nova-X HQ), portfolio alerts, and a special report, How to Make 2021 Your Most Profitable Year Yet. About five industries that will dominate the market for the rest of the year.
The $3.1 Trillion Technology
We already know that Blockchain technology is what is being teased. But apart from both the U.S. and China warring over which country will dominate the space, the private sector is also getting in on the action. With investors like Paul Tudor Jones, Tim Draper, and even 5 companies pouring hundreds of millions into the development of blockchain-like protocol and "working feverishly to win the race."
At this point investigative journalist Megan Gunning joins us in a host capacity to "interview" Michael and get his thoughts on the future of Blockchain technology. He obliges by confirming that this new tech is expected to create "$3.1 trillion in new wealth across the globe" and is the key to potentially lifting China out of its year-long economic downturn, which is very much a fact.
While the tech may be best known for making cryptocurrencies possible in the first place, its capabilities go far beyond just cryptocurrencies. Michael goes so far as to say that "it will one day power virtually everything that we do" and will end up having a similar impact on society as the Internet.
For once, I can say that the claims being made are entirely believable. From the standpoint of China digitizing its economy and building an entire man-made island as a blockchain "pilot zone" to countries around the world talking about digital dollars and wallets, blockchain technology is the linchpin for it all.
This is all possible because of the decentralized, distributed, and oftentimes public, digital ledger of Blockchain technology, which makes transactions un-alterable and un-hackable. It's no surprise more and more companies are racing to put this technology to work on their own behalf.
The Top Company Exploiting Blockchain Technology
While scant few details are provided, as is customary of Michael Robinson teasers, we do know that blockchain adoption is growing by leaps and bounds across the U.S. and the world.
With the federal government putting its (our) large pockets of cash behind the technology and private contractors developing it, its largesse will create winners and losers in this space. There is one such winner and "blockchain leader" which Michael believes will see its stock price possibly triple over the next few years.
This company, he remunerates is no stranger to government contracts, as it has "worked with the federal government on every major technological project."
It provided the technology used in the Mars Lander in 2008
Received contracts to modernize air traffic control for the Federal Aviation Administration (FAA)
Several NASA contracts, including to build computer parts for a moon mission
Its computer devices were used by the government during World War 2
Apart from these federal ties, it has invested over $200 million of its own capital into blockchain technology starting in 2016, which has already paid off in a major way and it also holds a market leading position in Artificial Intelligence (AI). A market which is expected to grow by more than 2,500% over the next five years.
This cloud computing, artificial intelligence, blockchain firm all rolled into one is none other than International Business Machines Corp. (NYSE: IBM) Here are some of the giveaway:
So is this investment a surefire winner or simply overhyped?
Triple Your Money with this Blockchain Technology Company?
The Blockchain technology market, which is already worth some $4 billion as of press time, is also growing by 70% per year on average., far above the growth rate of the median industry.
This is definitely a big positive for an industry incumbent, especially for a $129 billion market cap lumbering behemoth like IBM. While its current Price-to-Earnings ratio of some 24x is in line with the market median and its 4.5% annual dividend yield is attractive in this low yield environment, our Value Spreadsheet Premium intrinsic value estimates tell us a different story: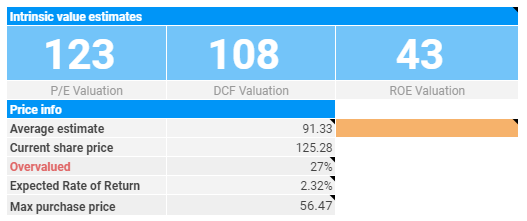 Quick Recap & Conclusion
Michael Robinson is back teasing us "the biggest story of the decade."
This is about a technology that has the potential to create as much as "$3.1 trillion in new wealth"
The "$3.1 trillion technology" is Blockchain and it is about to power a whole lot more than just cryptocurrencies.
We are told that there is one "blockchain leader" which is proliferating this new technology far and wide, but alas we must subscribe to Robinson's Nova-X Report investment newsletter for $39 per year with a 60-day money back guarantee, if we are to find out the name of this company.
Luckily for you, you get to keep your money in your pocket, as we were able to uncover the name of the stock for free as none other than International Business Machines Corp. (NYSE: IBM)
This mega-cap may be close to fairly priced at today's prevailing market valuation, but it is definitely not a good price to pay for shares.
Do you already own shares in this company or others involved with Blockchain technology apart from crypto coins? Where do you see the future of Blockchain technology heading, better for governments or better for humanity? Tell us in the comment section below.