Growth of any kind is definitely at a premium as we write this. Be it economic, stock appreciation or yield, it is scarce. So when Stephen McBride's latest marketing ad, "Hypergrowth America", teases not just growth, but hypergrowth, our ears perked up. He starts his interview by saying that he thinks this stock will be "the fastest 10-bagger in history", naming it as "an entirely new type of American stock" that he believes can "hand you a 1,000% gain within months…starting today". 
Before we get into detail about the market he's referring to and the particular stock being teased, we get a glimpse of the real product Stephen McBride is pitching – the "Disruption Trader" newsletter program, together with partner Justin Spitter. The newsletter is marketed at a whopping $1,995 per year and, for the money, you'll get 12 issues of the newsletter, three special reports, including "Hypergrowth America's Top Five Stocks to Own Now", and two quarterly "Member Letters".  Unlike many other similar financial authors, McBride and Spitter are willing to let their audience know the name and the ticker symbol of the main stock they're teasing, free of charge. So, let's take a closer look at their pitch and see if the stock is worthy of your investment.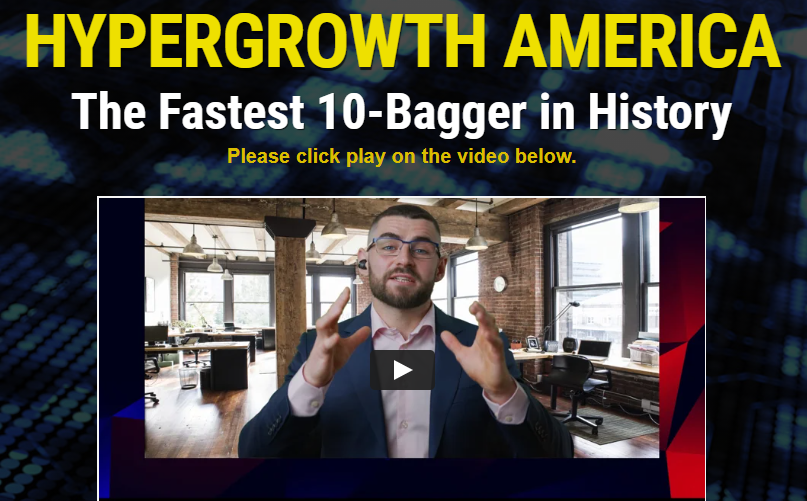 McBride is the current Chief Analyst at RiskHedge and a professional fund manager. Although born in Dublin, Ireland, he has worked on Wall Street and has lived on four continents. McBride is also a regular contributor at Forbes, writing about microcaps and so-called "under-the-radar disruptive companies that are changing the world and making investors rich in the process". 
Justin Spitter is a senior analyst at the same company, RiskHedge. He is a specialist in initial public offerings (IPOs) and has developed "a unique, proprietary system that identifies IPOs that can double or triple within just a few months".  With almost a decade of professional investment, Spitter has analyzed a series of asset classes, from commodities and real estate to stocks, IPOs, and cryptocurrencies. He considers himself a "digital nomad", taking his work with him everywhere he travels.
Legitimate Opportunity or Hyperbull?
What we are being presented with here is a stock from a completely new sector or market that hasn't been largely covered by other financial authors or investors. What McBride is talking about in his marketing teaser is synthetic biology, which is supposed to be the #1 hypergrowth area of our economy. "In short, it's a brand-new sector where breakthrough technology allows scientists to 'program living things'".  We have covered teasers in the biotech space before, namely: Senolytic Biotech Company and Jeff Brown's #1 Biotech Stock, but nothing quite like this.
As strange and dystopian as it may sound, what the author is referring to is a company that "makes DNA in a lab" or uses ground-breaking technologies to create and fully synthesize living DNA. The technology is similar to the one used to create "fake meat" by companies such as Beyond Meat (NASDAQ: BYND) and Impossible Foods. The first company's stock has soared over 900%, showing the potential there is in the space. 
However, synthetic biology is still in its early stages and developing it requires a big initial capital outlay and enough investors willing back a project with big money. This is the main reason why you won't see too many synthetic bio companies on the market just yet – the barrier to entry is still quite large.
The second reason why we're uncertain about the immediate future of synthetic biology companies is that they not only take money to provide results, but also valuable human resources and time. Scientists may spend years in the process of developing systems, which is why it will take any company in this space years and not mere months to justify sky-high valuations and produce real, tangible results for investors.
The Hypergrowth Stock Being Teased
The "Hypergrowth America" conference and interview was one of the rare occasions where you actually got something out of listening to people talking for about two hours, about an opaque investment opportunity, throwing around big numbers and "potential" gains that could materialize in just a few months. 
The first hint we get about the stock being teased is that "it's a Nasdaq-listed company that's at the forefront of a game-changing industry right now". "One that Bill Gates and Paypal founder, Peter Thiel, have quietly poured over $100 million into", which leads us back to our previous point about the importance of having enough capital to start and

grow a synthetic biology company

. 

McBride goes on to talk about other companies that have benefitted from similar market growth in a short time. Marijuana stocks and cryptocurrencies also skyrocketed in the past couple of years, bringing profits of up to 10,000% within months. 

In order to reap such gains, financial analyst Spitter mentions that "you have to find the first and only stock in a new industry so that hypergrowth is almost assured". To back up his claim, he suggests that the company teased "is rapidly creating a new industry 10 to 20 times more lucrative than telehealth, edge computing, and fake meat combined". 
The last clue we are given is when Spitter mentions that "most hypergrowth stocks are NOT recent IPOs", meaning they have been on the market for a while. This may well be true, as historically speaking investing in IPO's doesn't outperform the general market.
After all this, we arrive at the stock being teased by the authors, which is: Twist Bioscience (NASDAQ: TWST), a synthetic biology company involved in genetic research and their unique technology is already used "to make plants that fertilize themselves". It originally became listed in 2018 with its stock price doubling since then and it is the only synthetic bio company to develop a DNA synthesis platform to industrialize the engineering of biology.
Good Opportunity to Make 10,000% In a Few Months?
According to the same Justin Spitter, Twist Bioscience is using the same technology to design "DNA cells that sense and kill cancer" and, moreover, to even help make a COVID-19 vaccine. 
Twist Bioscience is already valued at over $4 billion, but could head towards $20 billion due to its innovative technologies. The company is backed by hundreds of millions of dollars from public market investors to support its ongoing research and development of its DNA synthesis platform, so it checks the box as far as being well capitalized. Its executive team is stacked with at least three phD's by our count, including several that have previously been awarded multi-million dollar DARPA grants, are published researchers in the synthetic bio field, and been a part of teams that successfully lead discoveries before.
Twist is definitely capable of delivering on its hype, the main things we worry about when it comes to companies in this sector is one, the lack of a mature market that adds to the volatility and two, the high level of specialized expertise that it requires to really understand something in this space. If you happen to be able to stomach the first point and possess the second, then Twist is definitely worth looking further into and drawing your own informed conclusions about.
Quick Recap & Conclusion
The "Hypergrowth America" stock that is being teased in this marketing ad is a company that belongs to the synthetic biology sector, an innovative field that benefitted from impressive funding over the past few years, including from billionaire Bill Gates. 

We are teased a company that is "Nasdaq-listed and at the forefront of a game-changing industry right now".

Authors Stephen McBride and Justin Spitter also pitch their

Disruption Trader

newsletter program for a peppery $1,995 per year. For the money, you will get 12 issues of the report, as well as three special reports that identify other top "hypegrowth" stocks that can potentially bring you 1,000% returns or more in just a few months. 

We learned that the company being teased is:

Twist Bioscience (NASDAQ: TWST) which "makes

DNA in a lab", with hundreds of potential uses in pharmaceutics and the medical industry. 
What do you think about synthetic biology? Is it among the most promising sectors to invest in at this time? Do you think that Twist Bioscience can continue to go up from here? Tell us in the comments below.