Technology investor Jeff Brown leads off his latest "Tech Melt Stock" video teaser by telling listeners that "tech stocks are about to experience the biggest shock since the 2000 Dotcom bust". A "Second Wave" meltdown.
He believes Biotech will easily be one of — if not the — biggest bull market over the next decade and he has a new #1 Biotech stock that is set to jump.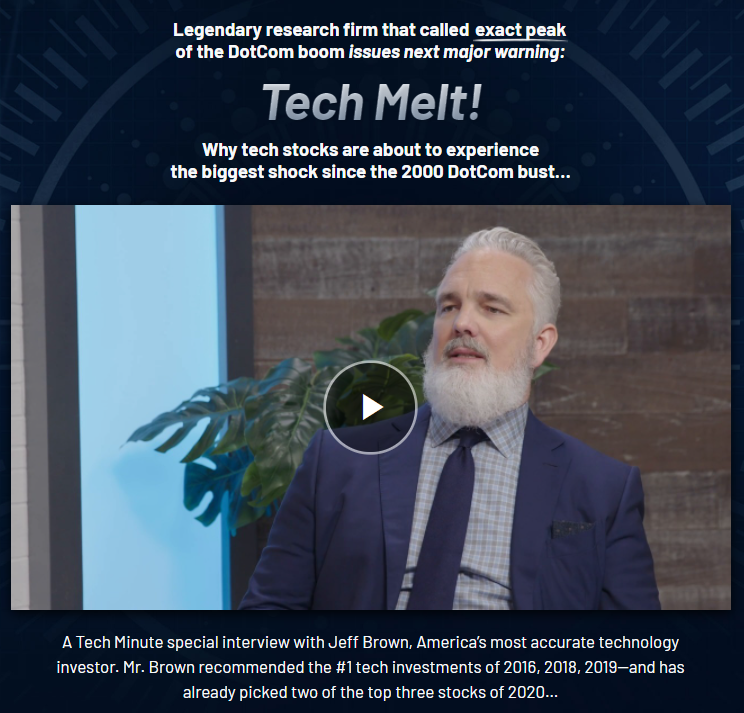 Chris Hunt is our host and says that we're fortunate to be sitting down with "the one man who can probably help guide us better than anyone else"…yup you guessed it, that one man is Jeff Brown. We are already very familiar with Jeff's work, having previously covered his 6G Stocks Exposed and AI Accelerator Stocks teasers. 
Jeff is given the star treatment in Chris' intro by stating that his firm – Brownstone Research called the exact peak of the first dotcom boom in early March 2000, that he predicted the housing bubble in 2004, as well as the top in crypto currencies back in December of 2017. That is quite the run for Jeff and his firm. When Chris asks Jeff how he does it? Jeff kinda skirts the question and gives us a generic answer that "it's been a great run for sure". How this isn't work for him. It's his passion. And he enjoys every minute of it.
Apparently, Jeff is peering into his crystal ball once again and is ready to call that "a big pullback in tech is coming". He is on the money by saying that most stocks have gotten ahead of themselves, almost melting up on stimulus news and direct Fed intervention.
He goes on to say that the "smart money" already knows this and that "Billionaires are already moving hundreds of millions of dollars ahead of this tech "shock". So if it's beginning to look a lot like 1999 again and the top 5 biggest tech companies now make up a greater share of the total market than at any other time in history, what does Jeff and his crystal ball recommend we do?
Well, since the COVID-19 pandemic has led to major changes in the way the world works that usually takes years, sometimes decades to occur, he believes one sector is "a powder keg of opportunity today". That one sector is….Biotech.
His primary reasoning is that not only is it the industry currently getting the most attention, but also the most investment…from government funding to venture capital, with almost $12 billion in VC funding in the first half of 2020 alone going into biotech companies. Billionaires are also apparently getting in on the action, with everyone's favorite billionaire that they like to mention in investment teasers nowadays – Jeff Bezos, reportedly already investing over $130 million into the sector.
Jeff says he's been able to pinpoint an American public company which anyone with a brokerage account can buy and whose growth potential he believes to be "staggering".  In fact the FDA just fast-tracked this "King of Genetic Sequencing" as he refers to it and you should take a position today.
So just what is Jeff's #1 biotech stock pick for the tech melt up? For this special privilege we are going to have to pony up $50 ($150 off the retail price) for Jeff's #1 newsletter, The Near Future Report. But don't worry, we are going to reveal the name and ticker later in this article for you for free. 
But first let's take a deeper dive into the opportunity to see if it is even worthwhile.
The Best Biotech Stock of 2020?
While still relatively unknown today, Jeff thinks this company will be "A name everyone will recognize five years from now".
Perhaps his confidence stems from the fact that allegedly Morgan Stanley, Blackrock, Vanguard have "all written monster checks to the company". The Rockefeller family's venture capital firm Venrock, we're told, is also among the first to fund the company.
We're given additional clues from Jeff who says that his top biotech play "is probably the top genome sequencing company in its field" but that it's "on almost nobody's radar".
Apart from playing a role in the ongoing research going into COVID-19 right now, the FDA's recently issued Emergency Use Authorization fast track means that this company will be the first… "the absolute first to use genome sequencing to diagnose Covid-19".
The next exchange is a rather cautionary tale. Chris states that "Obviously, if this company helps treat the COVID-19, they're going to be worth a ton of money". To which Jeff replies "Naturally". Don't fall for the hype, as there are going to be tons of COVID-19 "plays" that leave investors with nothing but empty wallets when all the smoke clears.
Even if it doesn't, Jeff is still all in on the company "regardless of what happens with the coronavirus, they're going to make a boatload of money".
We have maintained – see our Jeff Siegel Anti-Aging Stock "Day Zero" review That biotech stocks are by and large pure speculation due to the long time horizon it takes to complete the journey of a new medicine from initial discovery to reaching the marketplace – ten plus years on average by some estimates. 
Given this, unless an investor has special medical training and/or direct experience to be able to decipher the prospects of a new medicine while still at the clinical trial phase, there is simply no way to know what drug will ultimately make it to market.
Now with that said, each of us has a unique genome, it's the DNA sequence that makes us all who we are. So our unknown biotech company is working on solving a very worthwhile problem, but is it going to be the one to make the rapid, incredible advances needed in order to break out from the pack?
The Name of Jeff Brown's #1 Biotech Stock
Let's have a look at some of the clues Jeff left for us:
Top genome sequencing company…"by a landslide".

Dr. Scott Gottlieb, the FDA's former Commissioner, just joined this company's Board of Directors.

This biotech company has "a new genome sequencer… slated to come out in the fourth quarter!".
Based on all the facts gathered, we were able to identify Illumina Inc. (NASDAQ: ILMN) as Jeff's #1 Biotech pick. Here is what lead us to this conclusion:
Illumina is the largest genome sequencing and array-based solutions provider for genomic analysis in the world.

Dr. Scott Gottlieb, joined Illumina's board of directors back in February.

Illumina

just announced

the NovaSeq 6000 kit to make whole genome sequencing more accessible.
Overall, Illumina has achieved some positive results in the past when introducing genome analyzers, such as its first all the way back in 2007. Can it continue this streak and is it critical you "take a position now" as Jeff suggests?
Is It a Good Buy?
Unlike many stocks usually teased in investment newsletters, Illumina is already a large-cap company and has been a publicly traded entity since 2000. We are kind of surprised to see it promoted by Brownstone Research, as it is already a mature company with lots of things going for it.
First, the company actually has positive earnings…almost a first with stocks teased in investment newsletters and its genome sequencing devices are used in research centers, academic institutions, government laboratories, and hospitals among other clients.
Second, given its size it is owned by many large institutional investors such as Morgan Stanley, Blackrock, and index funds such as Vanguard's. This provides much support to the company's stock price.
Third, Illumina has been on a steady upward growth curve and its underlying financials have been improving as its genome sequencing systems have gained greater traction over time.
With a solid management team known for its capital allocation prowess, profitability, and promising future prospects with its new NovaSeq system, everything about Illumina is looking up. Except its stock price which is already in the stratosphere with a current P/E ratio over 70.
Recap & Conclusion
Jeff Brown teased us his #1 biotech stock and newsletter The Near Future Report, which you have to subscribe to for $50 to find out the name and ticker symbol of his best pick.

Jeff hyped his pick up by saying

"you and your family may look back to the decision you made today to buy this stock with profound gratitude".

Based on all the information provided we were able to reveal the name of the company right here for free as Illumina (NASDAQ: ILMN).

Unlike many stocks teased, Illumina has a strong track record of producing results and its sky high stock price reflects this.
Can Illumina keep growing? Is genome sequencing the future of medicine? Tell us your thoughts in the comments below.