The next financial disaster may be worse than 1929! This is the rather melancholy note on which Stansberry Research's latest presentation begins.
Bubbles and busts have come and gone, but the current one may be historical in scale and there's one simple step we can take to prepare now…with the "best oil business on earth?"
The Teaser
Daniela Cambone is our host for this urgent market briefing, with Dan Ferris walking us through the scenario of a dangerously overheated market headed toward certain disaster.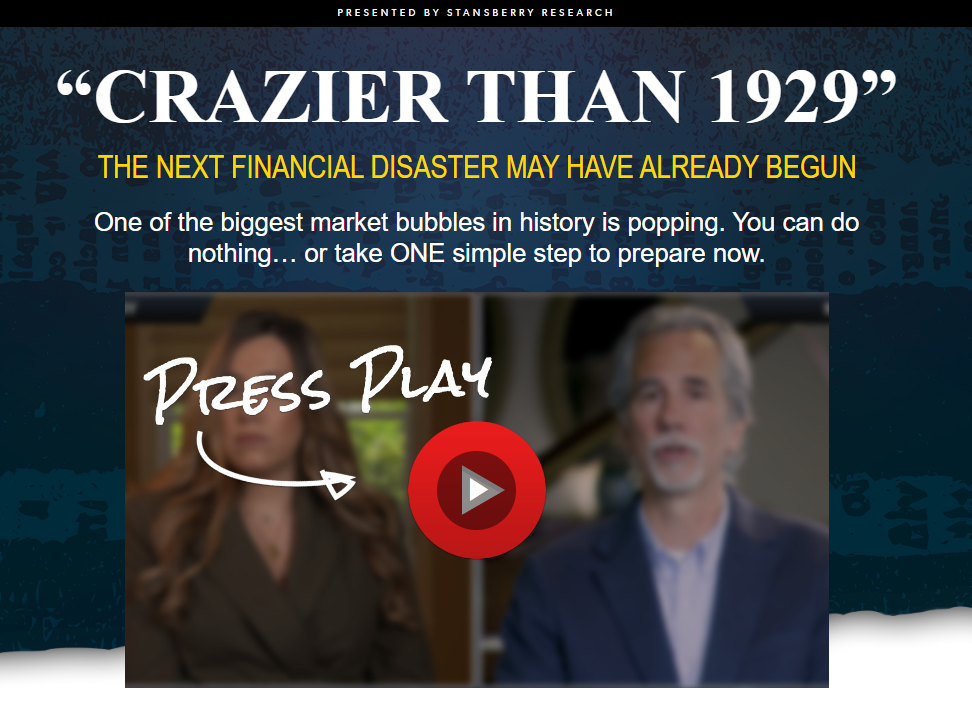 Dan Ferris is the editor of Stansberry Research's Extreme Value monthly investment advisory, which as per its name aims to identify great businesses trading at steep discounts. He has held this title since 2002 and was one of the few analysts and writers to alert readers about the breadth and depth of the coming financial crisis in April 2008. Stansberry Research has produced some interesting content over the years along the same lines, some of which we have reviewed here – 10x Your Money with a Self-Driving Car Company and their Ugly Truth Behind America's Economy.
Dan's mantra is "prepare, don't predict", which I can get behind. In this respect, he's going to detail a dead-simple, one-step investment approach using only regular stocks, nothing unusual or complicated. That will not just beat inflation, but actually benefit from it.
But before we get to that we must get a good grasp of what we're dealing with and preparing for. Dan is confident that what we are seeing today is exactly what a big, long-term TOP in the markets looks and feels like. As examples, he points out the huge multiples that many stocks are trading at today. Like MercadoLibre (Nasdaq: MELI) at over 180x earnings and Workday (Nasdaq: WDAY), a $35 billion company trading at over 2,000x earnings.
The same thing applies to digital assets like NFTs, which until recently people have been desperate to get into, pouring in their savings and using leverage as well. This meets the classic textbook definition of a bubble: A period when prices rise rapidly, outpacing the true worth or intrinsic value of an asset or entire industry.
A personal favorite indicator of mine has been to compare the total market cap of the market using the Wilshire 5000 index to the GDP of the entire country. The historical average is around 80%. But today it sits at around 157% – higher than the run up to the dot-com bubble and housing crash of 2008.
So what are we to do in a market downturn of 50% to 80%?
The Pitch
Don't fret or fear because Dan has put together a dedicated portfolio of stock ideas to protect your downside anchored by what he calls "the Best Oil Business on Earth" or The No. 1 Stock on Earth to Beat Inflation.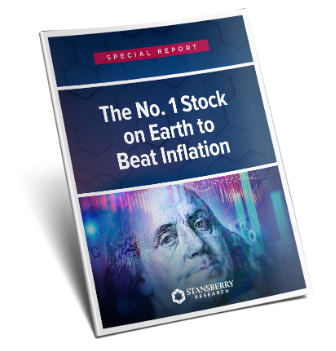 Source: stansberryresearch.comIts a subscriber-only report that's included when you sign up to Stansberry's Investment Advisory. It usually costs $199 per year, but today we can get started for as little as $49. This includes the The No. 1 Stock on Earth to Beat Inflation and the full details of Ferris' 5-Stock Inflation Protection Portfolio, along with other perks like the Stansberry Digest, a model portfolio, and more.
One of the Best Opportunities of the Next Five Years
Dan claims that if we just got into this one stock and forgot everything else he talks about today, we'd be 100x better off. We're not going to do that, but the level of conviction is high, to say the least.
The biggest reason for this is due to something we already know is happening – inflation.
It hit a 40 year high in June and the average U.S. household is out an extra $5,200 that they didn't budget for. Safe to say, it's not "transitory" as some had repeatedly insisted. The key takeaway here is that if inflation over the next decade plays out the way it is now and keeps accelerating, it's a financial disaster even without a crash.
It's going to eat the value of our cash and it's going to eat away at some of the value of every business on the planet. Thus, a good case can be made that no matter what happens next, the time to prepare is now. Not when it's glaringly obvious that we're in a crisis and maybe 50% of your holdings have already evaporated. So what's the solution?
Buy some gold. Consider a commodities ETF. Own some land or equities that are backed by a tangible asset like land, and buy great businesses with pricing power. All of the above will help you do better than 95% of the population and…the No. 1 Inflation Protection stock in the world according to Dan may help you do better than the rest. Let's find out what it is.
Revealing the "Best Oil Business On Earth"
The info disclosed about this potential 10-bagger isn't much, but it will have to make due.
For starters, Dan says this isn't a driller or a pipeline company, but a royalty company.
It's around one-fifth the size of the Mesabi Trust (NYSE: MSB), which is similar in that all it does is collect production royalties.
This royalty trust offers a fat dividend of more than 6% at current prices.
As I said, the clues are very limited. But based on what we had to work with, the closest royalty trust that matches this description is the Marine Petroleum Trust (Nasdaq: MARPS). This is how I arrived at this conclusion:
MARPS is an oil and natural gas royalty trust and it's currently about one-fifth the size of Mesabi.
It offers a 6.5% dividend as of this writing.
A Legit Way to Beat Inflation?
In full disclosure, I am partial to royalty trusts. Not just oil royalty trusts either, but all kinds. From energy to music royalties and more.
It's a superior model, in that trusts make money without the massive capital investments that most businesses have. Of course they also deplete over time, as funds received are not reinvested, but instead distributed to unit holders. However, the dividends received over the course of their lifespans, which can number in decades, is more than enough to make up for this.
MARPS is no different, in that it owns a royalty interest in some 55 oil and natural gas leases in the Gulf of Mexico covering approximately 199,868 acres. As oil and energy prices are sure to remain elevated, the trust with a 40/60 oil to natural gas royalty ratio will stay steady, with an appreciating dividend payout. MARPS looks like a solid addition to a diversified portfolio containing a variety of tangible assets.
Quick Recap & Conclusion
Stansberry Research's Dan Ferris is here to warn that the next financial downturn could be of epic proportions and there's one simple step we can take to prepare now.
The biggest reason for this downturn is due to something we already know is happening – inflation. And according to Dan there's one oil royalty company we should be buying to beat it.
Saying it's "too valuable" to disclose, Dan has put together a dedicated report on what he calls "the Best Oil Business on Earth" . This is the The No. 1 Stock on Earth to Beat Inflation and it's ours when we subscribe to the Stansberry Investment Advisory, at a cost of $199 per year.
Despite the very limited set of details that Dan discloses about this stock, we were able to track one down that fits the exact description. Its Marine Petroleum Trust (Nasdaq: MARPS).
MARPS is a long-established oil and natural gas royalty trust with a 6.5% annual distribution for the time being. It would make a welcome addition to a defensive portfolio in both good times and bad.
Are you currently invested in any royalty trusts as a hedge against inflation? Let us know in the comment section below.