Luke Burgess from Angel Publishing is here to tell us about a critical resource that is more important than lithium, cobalt, manganese, or copper.
Most importantly, its far more lucrative than any of those materials as the very future of electric vehicles depends on it. We're talking about Phosphate and there's one supplier of this resource that is set to explode.
The Teaser
According to Luke, this resource is quickly becoming the standard to include within every electric vehicle…just as the world's supply of it is shriveling up as we speak.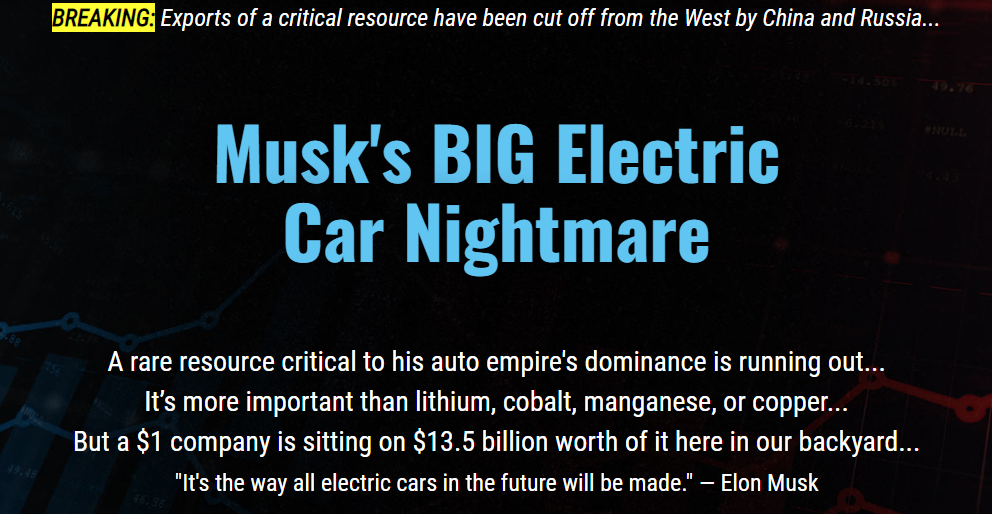 Luke Burgess is one of Angel Publishing's original writers, having been with the financial publisher since its inception in 2000. He specializes in covering opportunities in the resource sector, some of which we have reviewed right here. Including his "Miracle Mineral" Company and #1 Gold Stock of the Decade.
This is because the vast majority of this resource is mined and produced in politically unstable countries, like China and Russia. Both of which have cut off exports of this raw material to the West.
To say that this is a huge problem would be an understatement. Every major automaker in the world is now producing electric vehicles (EVs) and if they're going to become affordable enough for nearly every American to drive, they need this one critical resource. If a large and stable supply of it is not discovered, it could destroy the entire EV industry.
Luke believes his found the answer – a tiny company whose shares are currently trading for less than $1 already owns 100% of the rights to mine the largest reserve of this resource in the Western Hemisphere. This massive deposit is about to turn this company into a premier global supplier. One which could come to be relied upon by every EV maker for their supply.
That means no more having to rely on Russia or China and no more dealing with supply disruptions or restrictions on exports from unfriendly countries. Tesla and every automaker will need to turn to this one phosphate supplier for their battery materials.
The Pitch
This is why Luke wrote a full report on this explosive phosphate opportunity. He calls it "The Phosphate Payload: How to Get in on the Biggest Resource Squeeze of the Century."
Inside we'll get the full details on this phosphate play, including the name, ticker symbol, and full profile. All we have to do is sign up for a 90 day risk-free trial to the Junior Mining Trader investment newsletter for $1,999. This offer is accompanied by a free subscription to the Outsider Club, regular portfolio updates, and member's only website access.
Why EVs Need This ONE Rare Resource
Tesla founder is on the record saying: "One of the things that troubles me the most is that we don't yet have a truly affordable car, and that is something that we will make. But in order to do that, we've got to get the cost of batteries down."
The battery is the single most expensive part of every electric vehicle and as more and more car companies have started to produce EVs, the metals needed to make batteries have gotten extremely expensive. We're not just talking about lithium here, whose price has skyrocketed 569% in recent years, but also cobalt, which has shot up 119% and nickel, whose price has jumped 55% – an 11-year high!
So not only do these battery metals keep getting more expensive, but supply is becoming ever more scarce and vulnerable to disruptions and export restrictions – a double whammy. What automakers are discovering is that they must develop a battery that's less expensive, less problematic, and also performs better than the one they have now.
This is where this guy comes in: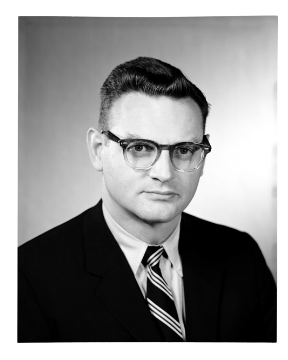 Dr. John Goodenough a scientist from Texas who developed the first lithium-ion battery. Not long after this, Dr. Goodenough discovered that by simply replacing the cobalt and nickel used in the lithium-ion battery with Phosphate, that it made the battery superior in almost every single way. From more cost-efficient to having a longer battery life while also being much safer.
However, this battery technology wasn't quite ready for EVs yet, so it was shelved in favor of lithium batteries packed with cobalt and nickel. But with these metals getting more and more scarce, manufacturers such as Tesla are turning to alternatives.
Elon Musk has already declared that he's making a permanent shift to Phosphate-based battery material and others are following suit, with both Volkswagen and Ford having announced that they will be using this new battery in their upcoming EV models.
This is just the beginning, as Phosphate is an essential ingredient in the fertilizer that grows our food, it's a critical component in thousands of medications, and i's a key piece in making semiconductors that power millions of computers worldwide.
Luke believes he's found a tiny company that has discovered a massive, rich reserve capable of feeding the huge phosphate demand. Let's find out what it is.
Revealing The Phosphate Payload Stock
Luke shares several key details about this stock with us:
The massive reserve that this company has discovered is not in China or Russia (the two countries with the largest Phosphate reserves). But under a lake in Northern Canada.
This reserve is not only one of the largest in the world, but also extremely rare. As only 5% of the world's phosphate deposits share its unique geology.
Its one of the very few deposits in the world that can be mined without producing toxic and radioactive waste. Making it the only environmentally clean source of phosphate in all of North America.
Its stock is trading for around $1 per share as of publication time.
Based on this info, its rather clear that the company Luke is talking about here is none other than Arianne Phosphate Inc. (TSX-V: DAN). Here is how the data lines up:
Arianne's primary asset is the Lac à Paul phosphate rock project located in the Saguenay-Lac St-Jean area, Quebec. So the geography matches up.
Lac à Paul is one of the largest phosphate projects in the world and it has a rare igneous deposit.
Lac à Paul successfully remained carbon-neutral throughout its exploration phase and is fully permitted and shovel ready.
The stock is currently trading for below $1 per share.
Legit Opportunity to Make 16,165%?
Arianne's Lac à Paul is one of the largest undeveloped phosphate projects not owned by a major fertilizer producer, so there is already value here. But are there better, cheaper supplies of phosphate rock out there?
With China limiting its exports since 2021 and the Middle East and North Africa stepping in to fill its void in the market, this leaves Russia as the only producer of high-purity (39%) phosphate rock. Right now there is a need for an additional 3-4M tonnes per year, with new supply projected to be required within the next few years .
This along with growing demand from industry creates an opportunity for Arianne and its 472 million tonnes of phosphate reserves, with an estimated mine life of 26 years. Offtake and marketing agreements are already in place, so Arianne will be a more valuable company a few years from now.
The concern is the large capital expenditures required to mine the open pit project, but a steady or appreciating phosphate price would alleviate this pressure. This is a legit long-term play.
Quick Recap & Conclusion
Luke Burgess from Angel Publishing expands on a material that the very future of electric vehicles and other industries depends on. He's talking about Phosphate and says there's one supplier of this resource in particular that is ready to breakout.
Phosphate-based lithium batteries as compared to cobalt and nickel-based ones are more cost-efficient, having a longer battery life, and are also a much safer product.
Luke spills all the details on this white hot phosphate opportunity in a report he calls "The Phosphate Payload: How to Get in on the Biggest Resource Squeeze of the Century." It includes the name, ticker symbol, and full profile of the company in question and is included in a subscription to the Junior Mining Trader investment newsletter for $1,999.
Fortunately, we were able to reveal the company right here for free. Its Arianne Phosphate Inc. (TSX-V: DAN).
Arianne has 472 million tonnes of phosphate reserves at its 100% owned Lac à Paul project. Offtake and marketing agreements are already in place, which indicates that more people will be hearing its name soon.
Is Phosphate the answer to more affordable lithium-ion batteries and in turn electric vehicles? Let us know your thoughts in the comment section down below.