Through both good times and bad, dividend stocks have historically been the single greatest money makers in the market…by a huge margin.
Now, Robert Rapier has uncovered a list of 5 "Power Payer" stocks that he says are the most generous dividend stocks he's ever uncovered.
The Teaser
These "Power Payers" are cranking out some of the biggest, fastest-growing, and most reliable payouts in the market today.

Robert Rapier is a chemical engineer by training that now specializes in finding timely utility and income investments. We haven't reviewed any of Robert's presentations here on Green Bull in the past, which has me excited to deliver the first today. But we have reviewed plenty of dividend presentations, like Tim Plaehn's Daily Dividends and Louis Navellier's $50K Cash Comeback, so we can see how this one stacks up in the end.
At this point in time, with more going on in the market than in Times Square on New Year's Eve. I'll take "boring" old dividend stocks over daily chaos.
Dividends are definitely the bedrock of the market, a report from BlackRock, the world's largest asset manager, confirmed this by revealing that over the last century, dividends and dividend growth accounted for an astonishing 90% of stock market returns.
The State of the Dividend Market
Right now, the average dividend stock in the S&P 500 is yielding just 1.2%. Not very powerful to say the least.
This means most investors are pocketing a measly $121 dollars a year for every $10,000 they invest.
But the so-called "Power Payers" on Robert's list are yielding up to 9.1%, more than seven times what the median dividend stock is paying out. This means the best-yielding "Power Payers" are earning up to $910 per $10,000 invested. Much better.
What is behind these much larger payouts?
Robert says it's all thanks to their unique business model, which gives these businesses the ability to pay out a much larger portion of their profits – up to 80%, directly to their shareholders.
The best part? Not one of these "Power Payers" has missed a single payout…ever. This is why Robert firmly believes in these 5 cash-generating stocks and we should too. So what are they?
The Pitch
Robert has compiled the names and ticker symbols of all 5 stocks inside a special report called: Power Payers: 5 Stocks for Incredible Income.
The report is ours if we take a 100% risk-free trial of the Utility Forecaster, Robert's premium monthly investment advisory. We can lock in a year's subscription for only $39 or 74% off the regular price of $149 for a limited time. For this grand bargain, we would get 12 monthly issues of the Utility Forecaster, members-only income alerts, weekly updates to stay on top of your income portfolio, and more.
What in the World are "Power Payers"?
Robert calls above-average dividend-paying stocks "power payers" for two reasons:
These stocks are 7x more likely to reward investors with massive, consistent payouts
These five companies all operate in a $1.5 trillion sector of the market that literally powers modern life as we know it.
As you may be able to guess, Robert's five "power payers" are all Utility Stocks.
This isn't surprising considering the advantages utilities have over regular dividend-paying stocks.
Constant Demand from Customers
When you think about the first bill you pay every month, it's typically either the mortgage or the light bill. Ideally both.
Water, electricity, and gas are services that are essential for modern life. This creates a constant, predictable stream of income for these businesses.
Legal Monopolies
Utilities are known as "natural monopolies."
In simple terms, due to the expensive infrastructure utilities need to build out and maintain in order to serve their customers, the government allows them to legally monopolize their local markets.
As a result of this lack of competition, well-run utilities have surpluses of cash that they don't need to reinvest to grow their business and they can return this capital to shareholders instead – that's us.
In fact, if we had invested $10,000 dollars in each one of Robert's five "power payer" companies when they first began paying out dividends, today we would have collected a total of $224,857 in income.
These dividends can also be "supercharged" to increase our income further.
By simply reinvesting the money we get from dividends into buying more shares, we can more than double our income.
For example, if we invested $10,000 into "power payer" #1 at the time of its IPO in 2001 and didn't reinvest the dividends, we would be sitting on $39,714 today. But if we did reinvest all of our dividends, that cash pile would have grown to $151,048.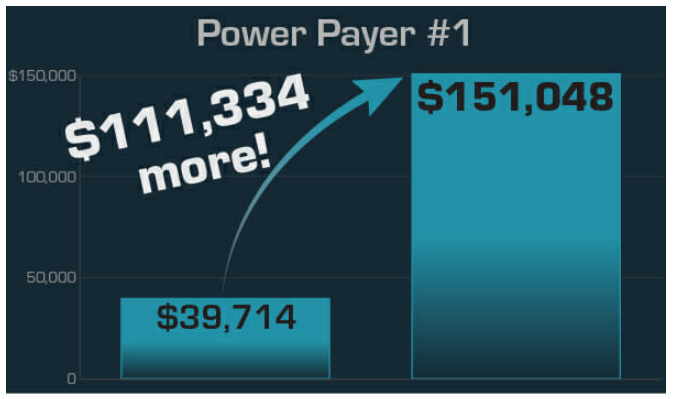 Last, but not least, utility stocks also have a history of maintaining and even growing their dividend payouts during a recession, as some of the "power payers" did during the 2008 crash.
So, what are the so-called "safest stocks in the market?"
Revealing Robert Rapier's "Power Payer" Stocks
Robert reveals a few critical details about each stock in his presentation
Power Payer #1
This we're told is a monster yielder headquartered in Tulsa, OK. Its distributions have increased by 683% since its 2001 IPO.
Pretty sure this one is Magellan Midstream Partners L.P. (NYSE: MMP), which began trading as Williams Energy Partners in February 2001 and whose dividend now yields nearly 8%.
Power Payer #2
The second "Power Payer" is a Dallas, TX-based Fortune 500 company that's generated $40 billion in revenue every quarter, like clockwork for the last five years running.
Given the gargantuan size of this company and its location, Robert is talking about AT&T Inc. (NYSE: T) here. The business is one of the oldest in America and it generates more than $150 billion in annual revenue or more than $40 billion per quarter.
Power Payer #3
The third stock on our list gives us the perfect combination of growth and income. The Atlanta, GA-based firm's dividends are so strong, it's raised them by an insane 1,660%.
This sounds like The Southern Company (NYSE: SO) to me, which has a long history of raising dividends going all the way back to the 90s, and the company is headquartered in Atlanta, GA.
Power Payer #4
The fourth "Power Payer" is one of the most exciting and lucrative stocks Robert has ever come across. It has shown double-digit growth for ten consecutive years.
Definitely not the same quality of info here as in the previous three cases, so this pick eludes us…for now.
Power Payer #5
This fifth "Power Payer" is a wildcard. This Pennsylvania firm's payouts might look tiny, compared to the other stocks on this list, but they're still almost double that of most "regular" dividend stocks.
Utility holding company PPL Corp. (NYSE: PPL) is the logical choice here, whose 3.6% annual dividend yield is double that of the S&P 500 at the moment.
The Safest Stocks in the Market?
Beaten-down value stocks, natural resource stocks, and utility stocks are probably the best places to be in the public market right now.
The last places where the time-honored investing criteria of safety of principal and satisfactory return still exist.
I wouldn't run out and indiscriminately purchase any old utility stock with a dividend history, I would also carefully take into consideration valuation, financial position, etc. But if businesses are going to start failing en masse, then large utilities are going to be some of the last to go, due to their standing as businesses providing truly essential services.
Quick Recap & Conclusion
Robert Rapier is teasing a list of 5 "Power Payer" stocks that he says are the most generous dividend stocks he's ever uncovered.
He's talking about utility stocks, which are basically legal monopolies with a constant, steady stream of income to distribute to shareholders.
The names and ticker symbols of all 5 stocks are revealed in a special report called: Power Payers: 5 Stocks for Incredible Income. Access to it is ours with a $39 subscription to Robert's premium monthly investment advisory – The Utility Forecaster.
Fortunately, we were able to reveal four of Robert's five "power payer" picks right here for free as Magellan Midstream Partners L.P. (NYSE: MMP), AT&T Inc (NYSE: T), The Southern Company (NYSE: SO), and utility holding company PPL Corp (NYSE: PPL).
Utility stocks may be one of the last remaining bastions of both relative safety and satisfactory return, left in the market.
If you know the name of Robert's "power payer" #4, drop it in the comments below for readers.