Planning on retiring well with dividends?
This is exactly what retired Air Force pilot Tim Plaehn has done and he's going to show us how to do it too by collecting one dividend check every day for life, starting with as little as $600.
The Teaser
Out of 4,174 dividend-paying stocks currently trading on U.S. exchanges, there are only 33 we need to buy to collect one dividend check per day on average.
In his younger years, Tim flew F-16 Fighter jets for the U.S. Air Force before getting his degree and becoming a stock broker. Since 2014, he's been the lead investment research analyst for income and dividend investing at Investors Alley. This is my first time reviewing one of Tim's presentations, but I've covered my fair share of dividend picks over the years. Including Brad Thomas' "Fast 500" Stock Pick most recently, and Christian DeHaemer's #1 Play for the Guyana Oil Boom.
Tim admits that it's taken him 18 years to figure out how to collect daily dividend checks. Now he gets about 1.1 per day, which is 70 per quarter!
Indeed, waking up every day with more money in your account than yesterday would be a nice feeling. But it sounds a bit far-fetched, as even the most aggressive dividend payers only pay out once a month. So what gives?
All Dividend Stocks Aren't Created Equal
Tim has gone out, done the leg work, and found that we only need around 33 dividend stocks to get paid a check every single day.
33 isn't that much and you can start out buying just one share of each and growing from there. If you have at least $605 dollars to your name, you can start collecting a check.
Had we already done this, our total returns with all dividends reinvested would have easily outstripped the S&P 500.
To be sure, "Daily Dividends" will not make us rich, unless we're already starting with a large six-figure sum. But they would generate consistent income that we can rely on, which is more than most can claim.
Too many retirees focus on capital gains and try to live off capital gains for life. To Tim, this is a mistake that he likens to "chopping down the most bountiful apple tree in your orchard because you need firewood to stay warm".
He has found a better way that will continue to grow and bear more apples, without pulling the roots out of the ground.
The Pitch
All is revealed in Tim's Monthly Dividend Paycheck Calendar report. Including the names of the stocks, we need to own to start receiving daily dividends.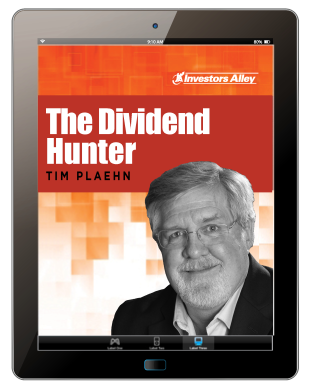 To get access to the Dividend Calendar we will need a subscription to the Dividend Hunter newsletter. This would only set us back $79 and unlocks 12 monthly issues, a model portfolio of 33 high-yield, low-risk stocks, a 12-month money-back policy, and more.
The Secret to Collecting 1 Dividend Check Per Day
With a shaky stock market, high inflation, and rising rates, dividends are the go-to investment right now.
It's true that more than ever before, we need to generate income to live. Capital gains alone just won't cut it. So what do we need to start generating more dividend income?
Tim puts it like this…
We don't need fancy trading software
A proprietary algorithm
Or more technical analysis or indicators
It all comes down to a simple sheet of paper. Er, what!?
It looks like this: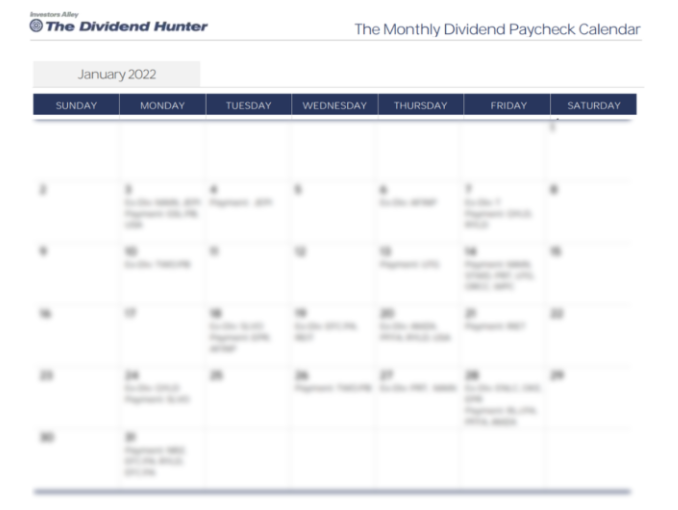 This is the Monthly Dividend Paycheck calendar and there are three important things that it will tell us:
The Ex-Dividend Date
The Dividend Payment Date
Which stock we need to own for each date
Ex-Dividend Date
This is the date by which we must own the stock if we are going to collect its dividend.
So for example, we can't buy the dividend stock the day of to collect. The ex-dividend date will always be 2-3 weeks prior to this date.
The Payment Date
The ex-dividend date and payment date can fluctuate so we'll need to check this weekly.
This data would be at our fingertips with the Monthly Dividend Paycheck Calendar.
The Exact Stock(s) to Own to Collect
Tim says only his "very best stocks go on this calendar." He's not mapping out Disney or Exxon here.
These are only top-notch dividend stocks that are set to return high dividends for a while.
OneMain Holdings Inc. (Nasdaq: OMF) is given as an example. Its dividend increases could've tripled our income over the past couple of years.
But this is just 1 of about 33 stocks we need to own to collect Daily Dividends.
What are some of the others?
Revealing (Some) of Tim Plaehn's Daily Dividend Stocks
In between some of the more repetitive parts of his presentation, Tim peppers in some Daily Dividend Stock clues.
Here are the clues:
Tim's #1 Dividend Play
Tim says he's owned this stock for eight years. The business provides debt and equity capital to small businesses and paid out a grand total of 15 dividends in 2022.
This one took a bit of time to unearth, but I'm pretty sure it's Stellus Capital Investment Corp. (NYSE: SCM). Stellus Capital is a lower mid-market capital provider that paid out 14 dividends in the calendar year 2022.
The Energy Play
The next Daily Dividend Stock is an oil and gas company that just went public in 2018. It has doubled its income over the past 3 years.
Probably the most obvious of the bunch, given that we know the listing year. It is PermRock Royalty Trust (NYSE: PRT). The trust was listed in May 2018 as a carve-out of some of Boaz Energy's oil and natural gas leaseholds in the Permian Basin of West Texas.
A Specialized REIT
This REIT owns amusement parks and ski resorts, among other properties. It has raised its dividend by more than 46% over the past ten years.
The clear-cut choice here is EPR Properties (NYSE:EPR). The REIT invests in amusement parks, movie theaters, ski resorts, and other entertainment properties. It pays a dividend every month that has increased by about 50% over the past decade. Moving on…
Preferred Stock Fund
This fund invests in preferred stocks and is planning to grow its regular monthly dividend by 30% in the near future.
There are literally hundreds of ETFs and CEFs that distribute income monthly, so unfortunately I wasn't able to pin this one down.
These stocks along with OneMain Holdings make up four of Tim's 33 Daily Dividend Stocks. As for the rest, no other clues or tips were dropped.
A Strategy Worth $0.13 Per Day?
This is the princely sum that a subscription to Tim's Dividend Hunter newsletter currently goes for ($79 per year). Is it worth it, even at this low price?
If you value your time more than money at this point, then perhaps it is. On the other hand, if you're a self-directed investor that enjoys "the process" just as much as the proceeds. Then you can easily assemble and track a list of quality, monthly dividend-paying stocks all on your own.
I personally consulted this list to help me uncover some of Tim's picks and an Excel or Google Spreadsheet is all you need to track the ex-dividend and payment dates.
Quick Recap & Conclusion
Tim Plaehn says we can collect one dividend check every day for life, starting with as little as $600.
To accomplish this, he focuses on a narrow set of only 33 dividend-paying stocks out of the 4,174 dividend-payers currently listed on U.S. exchanges.
The names and ticker symbols of these "Daily Dividend Stocks" are revealed in Tim's Monthly Dividend Paycheck Calendar report.
Clues were only provided on five of these 33 names, I was able to reveal four out of the five. They are OneMain Holdings Inc. (Nasdaq: OMF), Stellus Capital Investment Corp. (NYSE: SCM), PermRock Royalty Trust (NYSE: PRT), and EPR Properties (NYSE:EPR), respectively.
With inflation officially at around 7% in the U.S. and unofficially much higher, a basket of quality, monthly dividend-paying stocks isn't a bad idea to protect your capital.
If you have any ideas about the rest of the names on Tim's list, drop them down in the comments below.