Ian King is giving us the inside scoop on a massive convergence, a once-in-a-decade phenomenon when three seemingly unrelated events merge, fueling an economic boom.
He calls this phenomenon the "Fourth Divergence" and there's a microchip stock that is set to soar as a result.
The Teaser
Host John Daly tells us that the last three times a convergence of this sort formed, savvy investors made over 1,000%, 2,500%, and even as much as 5,000%, within five years or less.
Ian King is a former hedge funder with over two decades of market experience. Since 2017 he's been the editor of several Banyan Hill Publishing newsletters, which we have reviewed in depth. See Strategic Fortunes Review and "Digitarium" Stock Exposed.
This Fourth Convergence is setting the stage for one of the greatest innovative leaps…ever.
To what do we owe this momentous occasion?
It's a combination of the U.S. Government going on the offensive to shut down China's ability to produce advanced technology, while at the same time bringing manufacturing of essential microchip technology back home, which will, in turn, spur domestic investment.
This is classic convergence and it's exactly what has happened the last three times such macroeconomic forces have come together.
The Elements of Growth
Take a look at this image:
These are the three convergences that have historically been able to spin off gains of 1,000% to 5,000% within five years.
Alone, these aren't effective. But combined, they can help a product grow faster, produce more fruit, and survive tough climates.
The first element is government support. The U.S. government has already committed some $250 billion to tech advances including microchips via the CHIPS Act.
The second major element is private equity. Basically, billions of dollars pouring into an industry.
And the third major element is innovation. When technology leaps a decade ahead in a matter of months.
The first time these elements all converged was during the Shale Energy boom about 15 years ago.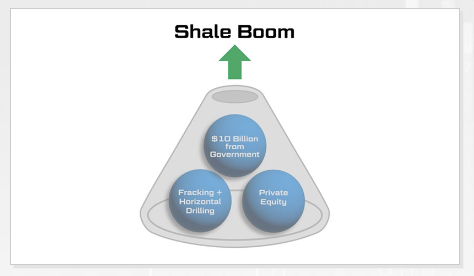 The second time it happened was during the green energy boom of the past decade.
Finally, the third convergence happened at the dawn of the 2020 pandemic which spawned a biotech boom.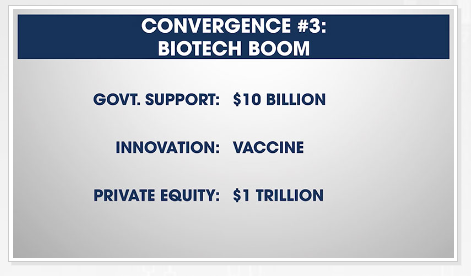 Now Ian believes this Fourth Convergence will be bigger than the previous three combined.
The Pitch
Every pertinent detail about this convergence and the landmark transformation it is bringing to semiconductor technology has been put into a comprehensive special report called The Fourth Convergence: America's Next 1,000% Wave.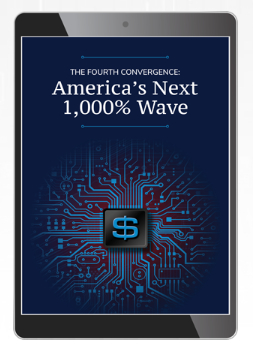 The report includes everything we need to know about this Fourth Convergence and the company leading the charge. It's ours with a subscription to the Extreme Fortunes newsletter, which would set us back $2,995. By becoming members, we would get Ian's top-three recommendations for The Fourth Convergence, immediate access to his open stock positions in a model portfolio, weekly updates, and more.
Why Microchips are The Fourth Convergence
Control the chips, control the world?
This is the thinking when it comes to microchips.
The reason for this is that they're considered "the building block of technology" and absolutely critical to the smooth functioning of the global economy.
These microchips are in everything, from our phones to the watch on our wrists, to computers, cars, and even our refrigerators.
Basically, the entire $94 trillion global economy now relies on our ability to make 36,000 semiconductor chips every single second. The problem?
Government Support
For decades America offshored the manufacturing of microchips. We held onto the innovations, and the designs, but everyone else put them together for us. This has resulted in Taiwan making 90% of advanced chips today.
Now, America wants to bring manufacturing back home. Just like we wanted to become energy independent 20 years ago, we now need to become tech independent. To this end, the federal government isn't just subsidizing domestic manufacturing, but also actively working to keep technology out of China's clutches. Like banning Dutch company ASML from selling its advanced chip-making machines to China.
Innovation
Inside this tiny chip are hundreds of millions, potentially even billions of transistors.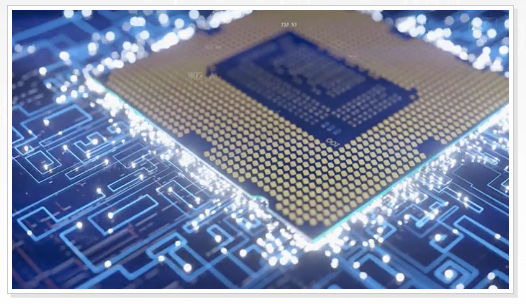 Those transistors are the on/off switch of the energy currents, which allow these tiny devices to power laptops, missiles, cars, etc.
An innovation called Ion implantation is now allowing energy to move through the chip in a more efficient way, improving the performance of the semiconductor itself. This is the key to unlocking some of the biggest technologies of the next century.
Private Equity Capital
Capital makes all this possible and some of the biggest institutional investors are all in on microchips.
BlackRock has launched its own exchange-traded fund to track microchips, Microsoft just injected as much as a rumored $190 million into a related startup, and hedge funds have pumped more than $46 billion into semiconductors.
The Fourth Convergence is here and one small-cap company out of Beverly, Massachusetts, is poised to capitalize on this era.
Revealing Ian King's "Fourth Divergence" Microchip Stock
We have already unveiled the convergences which are the catalysts for this stock, now it's time to reveal the company behind it.
Several clues are given about its identity:
It has launched the first single-wafer implanter, which basically makes it easier for companies like AMD, Nvidia, and others to make more efficient chips.
The company has a team of some of the sharpest minds in the industry. They're former executives from Intel, Raytheon, GE, and even chip giant ASML.
They have some of the biggest investors in the world rallying behind them, from BlackRock to State Street Corp., and billionaire David Booth from Dimensional Fund Advisors.
Based on the information at hand, Axcelis Technologies (Nasdaq: ACLS) is Ian's pick. Here is how the clues stack up:
Axcelis' technology platform designs and manufactures advanced single-wafers that maximize chip productivity.
Its executive team is made up of Eaton Corp., ASML, and GE alumni.
BlackRock owns 16% of outstanding Axcelis shares with Dimensional Fund Advisors and State Street owning 4% and 3%, respectively.
5,000% Gain in 5 Years?
Ian advises us to mentally prepare ourselves to hold this stock for a minimum of five years.
Gains may come sooner, but this is realistic. Question is, can Axcelis rally to produce this kind of return?
Over the past five years, its stock has returned just over 450%. Can this accelerate in the years ahead? Axcelis revenues are expected to exceed $1 billion dollars in fiscal year 2023, with healthy gross margins of 44%.
Assuming supply chain costs don't explode and demand for its chip tech remains on track i.e. everything goes right, the company's top and bottom lines should continue growing by nearly 50%-80% annually. On this sort of trajectory, revenue will be $5 billion in five years' time.
If we use the median revenue multiple for American tech companies of 2.6x. This would make Axcelis a $13 billion stock in five years. A 225% gain from today's $4 billion valuation. Nothing to sneeze at, but also not 5,000%. The only way this changes is if interest rates reverse course and go lower, which would push multiples back up.
Quick Recap & Conclusion
Ian King is teasing a massive convergence of economic factors, which is fueling a once-in-a-decade economic boom. He calls this phenomenon the "Fourth Divergence" and there's a microchip stock leading the charge.
The three elements of the "Fourth Divergence" are government support, innovation, and private equity investment. Such a convergence has previously happened three times before and this boom promises to be bigger than all the rest.
All the info about this convergence and the landmark transformation it is bringing to semiconductor technology has been put into a comprehensive special report called The Fourth Convergence: America's Next 1,000% Wave. Access to it would set us back no less than $2,995.
Fortunately, we were able to reveal Ian's "Fourth Divergence" Microchip stock for free as Axcelis Technologies (Nasdaq: ACLS).
Axcelis is a tangible, growing business with a bright future ahead of it. But Ian's 5,000% return prediction over the next five years may be a little overly optimistic.
What do you think Axcelis stock will return over the next five years? Let us know in the comments below.