Host Paul Ghiringhelli introduces Louis Navellier, who is about to blow the doors off a powerful secret income method.
He calls it the "$50k Cash Comeback" because if we follow the steps outlined in this presentation, they could generate an extra $50,000 in cash flow for us over the next 12 months.
The Teaser
This is all about income generation, which is a welcome sight during a time when the cost of everything is exponentially going up.
Louis Navellier has been at it a long time. His popular Growth Investor advisory service was established in 1998 and his investing career spans more than 35 years. I have reviewed several of his past presentations, including most recently his Solid State Battery Stocks and "Big Bet" 5G Picks.
So, if you feel like you've been running behind because of inflation, suffered investment losses due to the chaotic market, or if you could just really use an extra $50,000, we may want to hear what Louis has to say.
The reality is that we can't look to the next Amazon or Google, hoping to see a big windfall in 10 years' time. People need more cash in hand, right now.
But when there are no safe havens anywhere, you may need to create your own. That's what Louis' team and a hyper-intelligent software program have done.
Consistent Income Payments
Louis says we could start with a modest amount of money and achieve massive, consistent income payments.
Even amid a turbulent stock market, record inflation, and consumer sentiment at all-time lows. A total of FIFTY payouts could have been deposited in our bank accounts over the last year in 2022.
Is it a group of stocks that pays some unbelievable dividends? Apparently, this isn't what the $50k Cash Comeback is all about. So, if not through dividends, bonds, options, or real estate like we've been conditioned to think all these years, what else could possibly give us almost a payout per week?
We're talking about a trading strategy that produces capital gains from a little-known group of stocks that can predictably go up over the short term. The names of five of these stocks are teased in this presentation.
The Pitch
If we want to get started with this system sooner rather than later, we need to get our hands on a special report called Five "Accelerated-Income Generators" that can hand you Five Massive Cash Payments!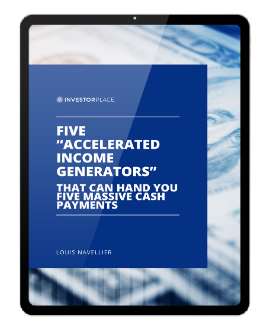 It's ours when we become members of Accelerated Profits, Louis' trading advisory service for a special offer price of $1,799. This price includes three special reports, a model portfolio of stocks that are on the verge of huge breakouts, trade alerts, position updates, and more.
The 8 Accelerated Income Indicators
Louis says the key to finding stocks on the cusp of a major breakout comes down to a set of eight critical factors.
He calls these factors "income indicators."
All eight factors directly affect share-price movement and when a stock meets all eight, it's poised for a huge short-term price explosion, which leads to the extraction of quick, reliable, and safe income from the markets. What are these eight indicators?
Positive earnings revisions
Positive earnings surprises
Increased sales growth
Expanding operating margins
Strong cash flow
Positive earnings growth
Positive earnings momentum
High return on equity
At first glance, none of the things on this list are revolutionary in and of themselves, but it's the combination of all these factors together that makes it a real breakthrough.
Louis admits that "if a stock has only seven, I won't even consider it." But stocks that literally "check all the boxes" and have all eight, have an extremely high likelihood of skyrocketing in the next few months.
The 8 Indicators in Action
Take a company called Baozun (Nasdaq: BZUN) for example.
For months its stock remained flat. But then it went from having just five to hitting all eight so-called "income indicators."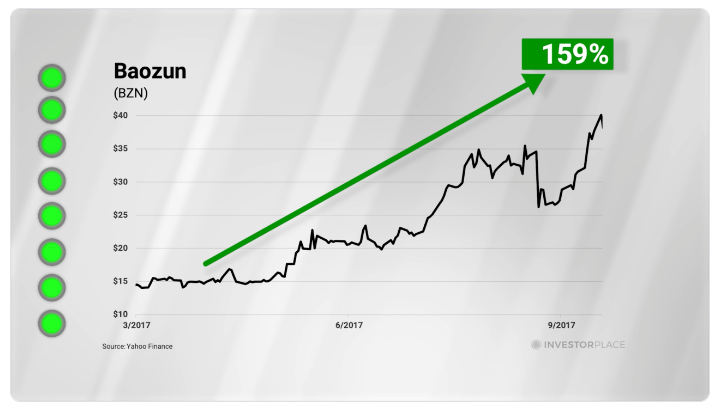 As we can see, the stock soared 159% over the next five months as all indicators became activated.
Even though these eight factors might seem common. Finding a stock with all eight lined up in the correct position is rare and there's also more to it than just this.
See, each of the eight factors must meet an assigned value. For example, the fourth factor – operating margins, must have increased by at least 20% over the course of at least a year. Earnings growth needs to be at least 15% over the past year, and so on.
Only when all eight factors meet their predetermined values, at a single point in time, does a stock begin making its move up.
Thankfully, Louis' system has just identified five of these rapidly moving "accelerated-income generators" that each has the potential to soar over 100% in just a few months.
Revealing Louis Navellier's $50k Cash Comeback Stocks
Luis says there's always a bull market somewhere and The $50k Cash Comeback system will find it.
#1 Recommendation
The first of these five "accelerated-income generators" is revealed as Shoals Technologies Group, Inc. (Nasdaq: SHLS). It hits each of the eight indicators and is perfectly positioned to hand anyone the opportunity at a hefty payout.
As for the rest of the picks that are supposed to give us the chance for at least 20 different payout opportunities of $2,500 over the next 12 months, they're reserved for Accelerated Profits members, and not a single hint is dropped about them.
Thus, the best we can do is take a look at the trading system being promoted here to determine if it really does deliver consistent cash payments with less risk to subscribers.
$50k over the Next 12 Months?
The aforementioned $2,500 payouts are based on a $7,500 initial investment.
In other words, Luis is suggesting folks will see $2,500 in profits for every $7,500 invested into 20 different recommendations.
Each stock would have to go up 33% to achieve this result and they would need to do so within the next 12 months.
Without multi-year backtest results, it's difficult to ascertain the likelihood of this happening. But by looking at the eight factors and without assigning them any weighting, it's clear that this is a momentum trading strategy.
In my opinion, as with any other short-term trading strategy, the odds are firmly against you. More than 80% of proprietary traders lose money, 90% of trades that occur on Wall Street today are executed by high-frequency trading bots, and trading fees and taxes add up quickly when moving in and out of stocks.
Quick Recap & Conclusion
Louis Navellier is promoting a proprietary "$50k Cash Comeback" trading system that could hand us an extra $50,000 in cash flow for us over the next 12 months.
We come to learn that the system is based on eight factors that directly affect share-price movement and their assigned weighting. They're called "income indicators" and there are five stocks we should be buying based on these criteria.
The names of these are revealed in a special report called Five "Accelerated-Income Generators" that can hand you Five Massive Cash Payments! It's ours if we become members of the Accelerated Profits trading advisory service for the not-so-low price of $1,799.
Only one of the five recommendations is revealed to us – Shoals Technologies Group, Inc. (Nasdaq: SHLS). Not a word is said about the remainder.
Momentum trading is not for the faint of heart. More than 80% of proprietary traders lose money and even if you manage to buck the trend, trading costs and taxes quickly add up, eating into your profits.
Has anyone been successful in applying the $50k Cash Comeback system? Let us know in the comment section.