The Motley Fool is a well known private financial and investing advice company based in Virginia that has been in the business since 1993. They also run a successful newsletter program through which people are encouraged to pay an annual fee to receive inside information and insight on which stocks to invest in. Since their beginning, the Motley Fool has predicted the rise of many company's shares, including Netflix, Paypal, and Disney, helping people build a quality  investment portfolio.
Their latest investment pitch is called "One stock for the legalization boom" and is very similar to other pitches dating back from 2018 when the company first started talking about the investment potential of the cannabis market.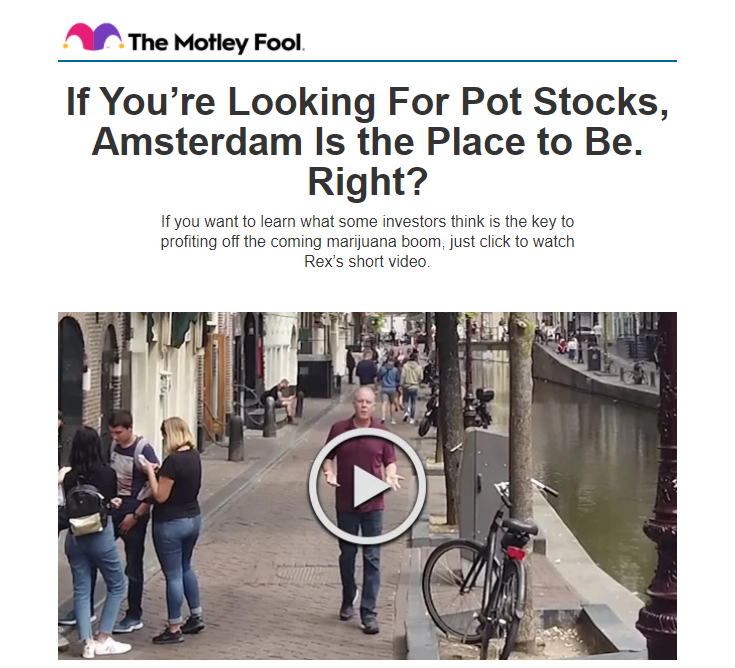 If you want to have access to the yearly newsletter, you can subscribe to the "Motley Fool Stock Advisor" for $99 with a 30-day money-back guarantee. However, there are no bonuses included, extra reports, or other perks, so all you'll get for your money is a monthly newsletter and some investment tips, including what is teased as the "one stock for the legalization boom". 
Investing in the marijuana market has been pitched by several newsletter authors for years now, including one's whose teasers we have reviewed and revealed here in the past, including Charles Mizrahi, Jeff Siegel, Jimmy Mengel, and Teeka Tiwari among others.
Luckily, based on the hints provided throughout The Fool's teaser, we were able to identify the stock they were talking about and we're ready to drop it in this article for free. However, before we dive in, let's take a quick look at what The Motley Fool stands for and why their investment advice is (sometimes) reliable.
The Guys Behind The Motley Fool 
As we already mentioned in the beginning, the Motley Fool was founded all the way back in 1993 by brothers David and Tom Gardner. According to their website, they have helped millions of people attain financial freedom through their website, podcasts, books, radio show, newspaper columns, and premium investing services. 
It is a private financial and investment advice company that heavily relies on subscribers to whom they offer stock research, analysis, investing recommendations, and other online subscription services. The company employs over 300 people worldwide and has been expanding for years. 
One of their latest products is a personal-finance sub-brand named The Ascent. Launched in 2018, The Ascent provides personal finance product reviews, as well as free educational resources for beginner investors and brokers.
If you research stocks and look up financial news online at all, it is likely that you have come across or read a Motley Fool article or two at some point in time.
The Cannabis Market 
The Motley Fool is teasing a company in the marijuana and cannabis markets, which have increased massively in the past couple of years, becoming an oasis for short-term investors and speculative stocks alike. 
With more and more states legalizing the recreational consumption of CBD and marijuana-based products, many companies saw a  modern day gold rush and decided to try their luck in the field as well. Currently, the legal market for marijuana is valued $5.5 billion in the United States alone, with the biggest state in terms of transactions unsurprisingly being California. 
According to official data, the onset of the Coronavirus pandemic made cannabis sales surge even more since March 2020, as marijuana sales increased by over 150% in California alone and by around 100% in Washington state. Combined with the current relaxed legislation, investing in publicly traded companies in the marijuana space is now not only viable, but its plausible that you can earn high returns over the mid/long-term.
Given that we are still talking about a young, volatile market here, you can earn big if you select the right stock and that is what The Motley Fool is hinting at.
Legalization Boom Stock Revealed
The one stock for the legalization boom being teased is similar to another one alluded to almost two years ago, at the beginning of the marijuana market boom. However, there was enough information provided in the newsletter to help lead us to a solid, yet unconventional conclusion. Let's take a closer look at what ties our company has to the cannabis industry.
They mention "a little-known Canadian company that went public and is already making people rich, including one lucky insider who made $1.1 billion with his stake in the company."
The next piece of information we receive is that "the company now has the opportunity to rake in profits from the $7 billion Canadian cannabis industry and potentially the $50 billion US cannabis industry". 
According to The Motley Fool, "the stock is already up 148% over the past year", while the company allegedly has "locked in key partnerships with behemoths like Facebook and Amazon."

Finally, we get the key piece of information that mentions the company is not dependent on marijuana but is excited about the market's potential. 
The above lead us to confirm that the company being teased is none other than Shopify (NYSE: SHOP) Now, let's take a closer look at the information we were able to find about Shopify to support the claims that it is, indeed, the stock advertised in The Fool's newsletter. 
Shopify sells "services and software for e-commerce" and provides the hosting and online shop software for the largest vendors of marijuana in Canada, including the Ontario provincial government. 

The company is already on pace for $1.5 billion in annual sales, its top line revenue growth rate remains at around 50%, which is still incredibly high for a company that has been publicly listed for years now.

And, if you're wondering who the $1.1 billion company insider is? We're talking about the company's CEO, Tobias Lutke, who is also the founder of the company. His net worth is now some $9.3 billion making him one of the wealthiest people in Canada.
Only about 3-5% of Shopify's total revenue currently comes from cannabis products, which means that there is plenty of room for growth.
If Ontario's marijuana e-commerce operation would generate around $500 million in gross merchandise volume per year, Shopify's revenue from this particular business would probably cash in anywhere between $5 and $10 million.
It is worth adding that, currently, Motley Fool's Stock Advisor only recommends investing in two marijuana companies, neither of whom depends on marijuana legalization in the United States. Apart from Shopify, Charlotte's Web (TSX: CWEB) seems to be the second company being touted by The Motley Fool.
Is Shopify A Buy? 
For a company that earns around $1.5 billion yearly from e-commerce transactions and software solutions, increasing its revenues by $10 or even $20 million from marijuana-related sales won't have a material impact on its business over the short-term.
Shopify does have some advantages as they have a proven platform that works for pot retailers, which means there is still an investment opportunity to consider in the future. Currently, only some US states have legalized marijuana consumption, while another market, Canada which legalized marijuana for recreational and medicinal use is on the rise. Should marijuana regulations ease in the EU or other large markets in the following years, Shopify could reasonably become the leading e-commerce platform for marijuana and marijuana by-product retailers on an international basis.
Therefore, it is possible for the pot business to become highly profitable for Shopify over the long-term. Given that we're talking about one of the most volatile markets, investing in Shopify solely for this purpose seems like a stretch. 
According to our analysis, pot won't be a game-changer for Shopify but could increase revenues by about 5-10% per year. Also, Shopify has been a volatile stock for years, with current shares being extremely expensive, which means the company attracts many short-term traders and speculators. 
The stock may be unstable in the short-term but, if you're looking for a long-term investment and decent returns though perhaps not extravagant ones, you can still may money with Shopify depending on the price you pay for its shares. It currently trades at about 30x sales and 380x next year's forecast earnings, which is a bit rich for our taste.
Recap & Conclusion
The Motley Fool pitches its latest pick, "One Stock for the Legalization Boom" by trying to make you subscribe to the company's annual newsletter for $99. For this money, you will receive a monthly report and a stock investment opportunity but no other bonus reports or tips. 

The Motley Fool only recommends one company in the marijuana field, which isn't directly affected by the status of cannabis legalization in the United States. 

Luckily, we have uncovered the stock being teased by The Motley Fool for you for free, and its name is

Shopify (NYSE: SHOP)
Are you considering marijuana stocks for your investment portfolio? Do you think Shopify is a good long-term investment? As always, let us know your thoughts in the comments below.