If we had a dollar for every time we heard a pot stock pitch, we would probably be richer than the promoters of them by now. But this one's a bit different. This time, it's a cannabis compound (cannabinoid) company being teased.
In this pitch Don Yocham, Executive Director of the National Institute for Cannabis Investors (NICI) "interviews" Danny Brody about a $4 cannabis company developing a new rare compound that "could be on the cusp of disrupting a $344 billion industry" and "transforming key sectors of the medical industry".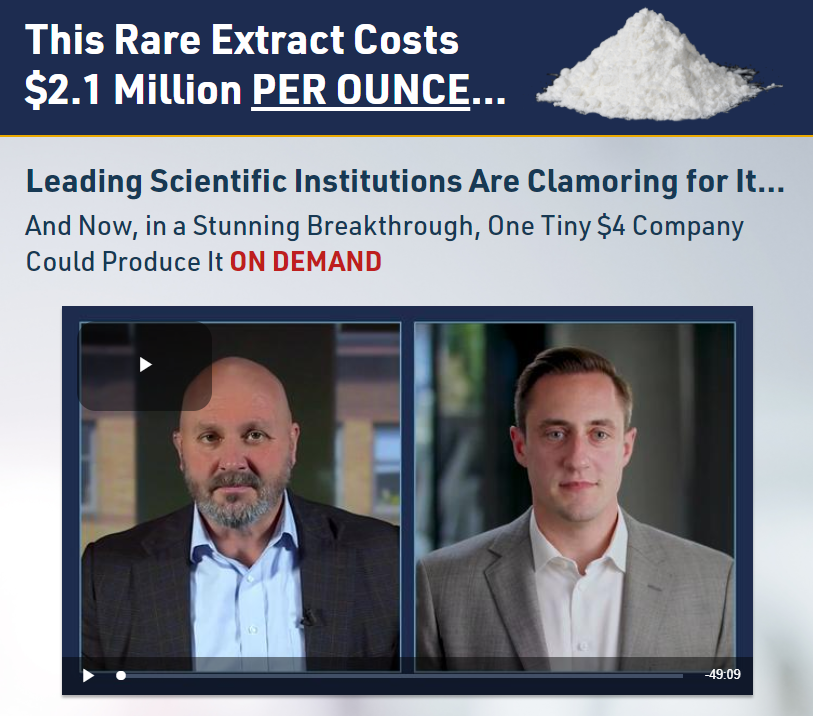 Yocham goes on to say that "leading scientific institutions are already clamoring for this rare compound", he also cites U.S. News & World Report who published a study claiming "these compounds potentially kill liver cancer cells and make chemotherapy more effective".
The kicker – in order to get the name of one tiny company who can now "produce this rare compound almost on demand" you have to fork over an eye watering $1,950 per year for Danny Brody's Cannabis Inner Circle, which promises to give you full access to not only full reports, but also real-time profit alerts, and a closed-door online discussion group where "it's just you and your fellow insiders".
We've heard this all before covering more than our share of USA Cannabis and Marijuana Stocks. Thankfully we here at the Green Bull have extracted the name and ticker of this tiny company and we are going to be revealing it to you right here for free later in this article.
Who is Don Yocham and What is NICI?
Don is the current Executive Director of the NICI, which stands for National Institute for Cannabis Investors.
A rather official sounding name for an investment newsletter publishing service which was started by Mike Ward as a "source of cannabis investing". According to NICI's website "The Institute represents a comprehensive effort to bring together the smartest minds and most credible experts in the cannabis industry on the same team… as a united front".
Danny Brody, who is also in the video teaser with Yocham is an advisory board member of NICI in addition to his day-to-day duties as a partner at RADD Capital, and CEO/COO of several private cannabis companies.
NICI is essentially made up of four separate investment newsletters and has some mighty praise for itself, writing in their About section "NICI is the most powerful cannabis-investing tool available to investors who want to achieve their dreams of financial freedom".
Legitimate Opportunity or Hyperbole?
The video teaser definitely lays on the claims heavily in order to draw in and keep the viewer's attention. 
According to Don, this magic compound can "potentially treat Alzheimer's, diabetes, Parkinson's, kill pain without narcotics", plus it has "proven to be a natural weight loss agent" thus disrupting the $60 billion diet pill industry. Sounds like some pretty unbelievable stuff!
We're told this substance has been around since the 1940's, with only scientists knowing about it and that it can only be found in one place on the planet, and then only in tiny, microscopic amounts. Which is why it costs $2.1 million PER OUNCE…until now that is.
Yocham goes on to tell us that a UC Berkeley chemist has developed a way to produce this substance on demand, "and now, the tiny $4 company he founded is producing this compound for $15 an ounce". Insiders are apparently loading up on this $4 stock and Yocham even calls it "the investment play of the millennium".
At this point in the video, Danny Brody is introduced to us and he reveals that the mystery compound is an extremely rare cannabinoid that hasn't been available for mass consumption until now due to its prohibitive cost.
Our unnamed University of California, Berkeley chemist has developed a way to bio-engineer this cannabinoid using yeast without needing to grow a single cannabis plant. This "stunning breakthrough" has led to patented DNA sequencing technology that takes the genes out of cannabis plants and injects them into the DNA code of yeast, thus making mass production possible for the first time.
If true, this is very interesting development as it would mean that THC and CBD can suddenly be mass-produced without needing to be cultivated in huge football size fields, vastly reducing the cost down to about $15 an ounce from the current $196 an ounce to grow and extract CBD today.
This obviously has major implications for the mainstream cannabis and pharmaceutical markets, Brody states "The company has already made the first shipment of bio-engineered CBD. Plus, they've signed a mega contract to supply bio-engineered CBD to four major global markets, including health, beauty, food & beverage, and pharmaceuticals".
We also learn that the company already has approximately "$152 million in revenue". So what is this company's name?
Tiny Company Extracting the World's Most Valuable Compound Revealed
Let's take a look at some telling clues that will reveal to us the company bio-engineering and mass producing these unique cannabinoids.
It was founded by a renowned biochemist from the University of California, Berkeley.

They've got 871 patents, signed a major deal with a partner, and have already made their first shipment.

They have $152 million in revenue.
From this info we were able to narrow it down to one company in particular.
Posted $152 million in revenue in fiscal year 2019.

Has 633 issued patents and 238 pending – that's 871 in total!

The company has its roots in the work of Jay Keasling at UC Berkeley.
Drum roll please…Amyris Inc. (NASDAQ: AMRS) is the company being teased. They describe themselves as follows: 
"Our technology platform enables us to engineer microbes and use them as catalysts to metabolize renewable, plant-sourced sugars into large volume, high-value ingredients. We apply a technology platform to engineer, manufacture, and sell products for the clean health and beauty, and flavor and fragrance markets".
A pretty close approximation to what Don and Danny described throughout their video teaser. Amyris even trades around the $4 per share range that is mentioned and recently recently also announced a breakthrough in CBD delivery.
Big Breakthrough or Dud?
Amyris has actually been around for quite some time, originally going public back in 2010 with a focus on the bio-fuel space, only recently pivoting to health and beauty ingredients.
It is always a warning sign when you see a young company frequently switch its entire business model up to chase the latest fad or participate in a hot new industry as is the case here. The company even recently announced that it leveraged its technology to develop a safe and clean branded hand sanitizer and that they were in "active discussion with a leader in the pharmaceutical industry to target broad application of Amyris squalene in flu and potential COVID-19 vaccines".
Getting back to the company's primary business of CBD production, Amyris highly touted technology seems to be fully capable of engineering yeast to create and produce differentiated high value products. As per their most recent announcement "The company expects to deliver about one ton of high purity CBG through fermentation as an alternative to the traditional production method of extraction from the Cannabis sativa L. plant. First commercial revenue from the sale of this molecule is anticipated this year as an ingredient in applications that are excluded from Amyris's current collaboration agreements".
If this occurs then some of Amryis' huge potential may start to be realized with revenue, profits, and margins set to surge. But what about the here and now? Well, the company is currently in the red with profitability not expected until 2022 at the earliest and their $70 million annual spend on research & development means that they have to constantly access the debt and equity capital markets in order to fund itself – something which is very dilutive to existing shareholders.
There is also still some regulatory ambiguity surrounding CBD by-products and their ultimate approval by the FDA for large-scale consumer consumption.
While Amyris' underlying technology has lots of uses and its future commercial potential is sky high, the company also possesses large inherent investment risk as an yet to be proven commercially profitable entity, treading lightly with caution is advised here.
Recap & Conclusion
We were teased a small company having something to do with cannabis compounds that has made the

"greatest breakthrough since penicillin."

We would be given the name and ticker of said company, if we subscribe to Danny Brody's Cannabis Inner Circle for the not so small price of $1,950 per year.

Given the clues we were provided in the video teaser, we were able to identify it as none other than Amyris Inc. (NASDAQ: AMRS) for free, saving you the annual subscription cost of Brody's newsletter.
What do you think about Amyris' technology? Will the company become commercially viable and profitable or continue losing money for years to come? Any opinion on CBD products? Tell us in the comments below.