In one of his latest marketing presentations, the man behind the Strategic Tech Investor newsletter, Michael A. Robinson teases the opportunity to invest in no less than 20 different stocks, while only really focusing on the top few. He starts by saying that "investing $1,000 into each of these stocks could make you $250,000 by the end of the year." This would equal an outstanding return of 1,000% in a little under 8 months.
Michael says that his 20 small-cap stock picks have absolutely nothing in common the surface, except for "a single technology that is only now going fully mainstream." Lets get to the bottom of what pitching.
The Teaser
The technology being described here is 5G. But Michael says that "this has NOTHING to do with investing in 5G…Truth is, it's too late to invest directly into it". He continues by predicting "the biggest gains are going to come from a collection of 20 stocks that have absolutely NOTHING to do with the development or implementation of the 5G technology".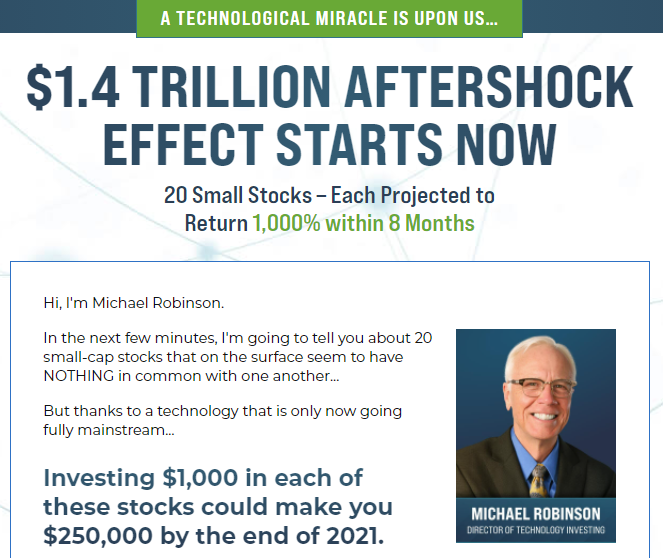 Michael A. Robinson is a 34-year Silicon Valley veteran, he's also a Pulitzer Prize-nominated writer, reporter, and current editor of the monthly tech investing newsletter, Nova-X Report. We have covered several of his writeups here in the past, including The Biggest Tech Rollout In History and his Bitcoin Master Class.
What Michael is pitching this time around are stocks across three different industries, each of them looking to implement 5G technology into their products for practicability and to take the lead in innovation. The first industry mentioned is the Gaming industry. He says that it will be massively influenced by the expansion of 5G and that this can result in billion dollar new revenue streams for certain companies that are early adopters of this new trend. According to Robinson, "5G is going to allow people to play more games than ever before".
He may be on to something here, as approximately 203 million Americans – that's literally two-thirds of the country's entire population – "spend an average of three hours a day playing games on their phones!" While the same statistics suggest that "43% of all smartphone use is devoted to gaming."
Moreover, in 2020 alone, American's spent $77 billion on mobile games, with the biggest spenders being women, which I have to say is a little bit surprising. However, as people of all ages found themselves affected by government pandemic measures, this resulted in more time spent at home with only Internet-connected devices as constant company.
As a result, many who felt anxious and insecure about their future or those who simply felt like they needed a break, resorted to online games as a refuge, which is one major reason why the mobile phone gaming industry is currently booming. Given how things are moving along, the gaming industry looks poised to continue to profit over the short/mid-term.
The big difference now is that while most mobile phones take up a lot of internal space and memory, 5G "allows you to play games WITHOUT having to download them. Instead, you can play them directly from the cloud", in short, this means that an average, a person will be able to play hundreds, if not thousands of mobile games, without ever worrying about not having enough mobile storage space.
The second field that will benefit greatly from thIS 5G development is Telemedicine. He talks about remote patient monitoring as being the future of telemedicine and how many people will be consulted and diagnosed – "that's where remote patient monitoring (or RPM) comes in. We're talking about wearable devices that can measure your temperature levels, heartbeat, blood pressure, blood sugar, respiration, and more – all from the comfort of your own home. These devices can also transmit this data online, straight to your doctor".
Michael Robinson thinks that this technology will "improve, enhance, and transform doctor's visits to a degree we've never seen."
Finally, the third industry playing a prominent part in our discussion is Construction. He mentions the existence of some sort of smart glasses, that are wearable and you will have all your messages, updates, and videocalls appear right in front of you. You never have to reach in your pocket or hold anything in your hands, which in and of itself is "one of the leading causes of construction related accidents." Smart glasses allow you to get real-time navigation instructions…"they can even turn blueprints into 3D images".
The Sales Pitch
What Robinson is selling is his latest investment newsletter, the Nova-X Report for only $39 per year. Included in your subscription are 12 monthly issues of the newsletter, access to all reports, as well as a 60-day money-back guarantee for those who are not full happy with the material they are receiving.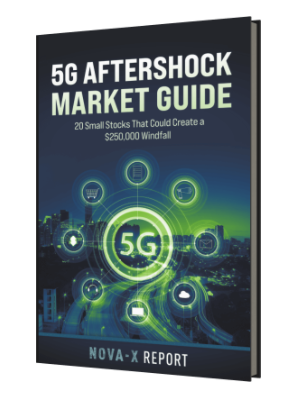 Subscribers will also receive a free copy of the report "5G Aftershock Market Guide: 20 Small Stocks That Could Create a $250,000 Windfall", where you will find the name and ticker symbols of the 20 companies Robinson talks about in this presentation. For those who don't want to pay yet another subscription fee at this time, here is what we were able to find and uncover for you, for free.
What Is The "5G Aftershock Market"?
While the stocks Robinson believes will spike by the end of the year actually have little to do with 5G per se. They all come from different industries and sectors that will largely benefit from 5G technology, once it is fully implemented in the United States and the majority of the population transitions to 5G enabled devices.
Out of all the 20 stocks Michael claims will bring you 1,000% returns in just under 8 months, he hones on three in particular, from three different fields – gaming, telemedicine, and construction. Indeed, proponents of 5G technology and gaming enthusiasts have been clamoring about the possibilities for break-neck speeds and near-zero latency sound for some time now. However, as the 5G roll out has been slower than anticipated, due in part to the pandemic response by state governments. 5G, once rolled out will have a marked impact on on gaming, as well as the other industries mentioned, the full impact of which may not be seen for a couple more years.
From an investment standpoint, this "delay" may actually work in our favor. Since we get more time to identify, analyze, and buy into potential opportunistic stocks. On that note, let's take a closer look at the hints offered about what some of these investment opportunities may be.
Revealing The "5G Aftershock Market" Stocks
When talking about 5G, the author says that many of the big bets have already been placed and cashed in, so it's high time you looked adjacent industries that can benefit from 5G implementation in the United States if you want to identify the next big 5G profit centers.
In his presentation, Michael talks about three stocks that could bring "up to $37,500 in profits if you are willing to invest at least $1,000 into each of them".
In regards to the gaming industry, Robinson says that "what you can do is invest in the small game developers that are destined to benefit as MILLIONS of people flood into the gaming markets thanks to 5G".
He talks about "one gaming stock that he believe will see TREMENDOUS growth because of 5G". This "one company has managed to secure the rights to not one, but THREE of the most profitable franchises in history", which gives them the right to make mobile games based on Game of Thrones, Harry Potter, and Star Wars.

This company launched their first

Game of Thrones

title in May 2019

, and their first

Harry Potter

title this past September. Now, "the company is about to release its first

Star Wars

game".
What baffles the author is that "the stock is still criminally undervalued". Which is why it's one of the 20 companies that could turn a $1,000 investment… into a $250,000 windfall.
The company that Robinson is most likely talking about is Zynga (NASDAQ: ZNGA). Here are a few reasons why its a match:
As for the telemedicine stock, Robinson mentions that "there is one tiny stock that has caught my attention… their platform is specifically built for the 108 million Americans – and 1.1 billion people worldwide – who suffer from diabetes and high blood pressure."
He says that "this company's device can determine a person's blood sugar levels in real-time and transmit this data directly to your doctor".
Moreover, "this company is selling their technology straight to healthcare providers". Current clients include Novis Pharmaceuticals, LMC Healthcare, Glytec, and others.
"They have also signed a deal with Williams Medical Supplies" to break into the UK market, while their tech has also been approved in the European Union, Australia, New Zealand, and Canada.
Finally, "this past October, the company entered into a partnership with Vitality Group". Vitality will be offering the company's products to their customers.
Unfortunately, we were not able to pinpoint this stock, as there are multiple companies which loosely fit this description.
The third and final industry the author talks about is construction and the potential benefit of some "smart glasses".
He pitches this company by saying that "originally, it started as a research and development company for military and display solutions".
Then, "it partnered up with Topcon Positioning Systems, who make the most popular construction management software in the world".
"They've also launched a partnership with Verizon to develop 5G-enabled smart glasses specifically for first responders and public safety agencies".
The company being described here is Vuzix (NASDAQ: VUZI).
Opportunity to Make 1,000% or More in 8 Months?
Taking a quick glance at Zynga stock, we see that it's earnings are currently in the red. If it's cost structure and capital expenditures are so bloated that it cannot make money with gaming licenses for top media franchises, then when will it be able to? Or perhaps it overpaid for these franchises and now needs some time to recoup its upfront investments. Either way, it's an easy pass for us.
Similarly, Vuzix earnings are also currently upside down. But its shares have indeed rocketed from just under $4 per share this past October, to over $20 as of this writing. It seems to have gotten a nice boost from its Verizon deal and the excitement surrounding augmented reality (AR) companies in general. There is definitely long-term potential here, but it is still too early in the AR game to identify its ultimate winners.
Quick Recap & Conclusion
In one of the latest marketing presentations by investment advisor Michael Robinson, we're told about no less than 20 different stocks that are related to 5G and that could potentially bring you $250,000 in profits in less than a year.

Michael hones in one three stocks across three separate industries: gaming, telemedicine, and construction.

In order to get the names of these three stocks and others, he pitches a subscription to his investment newsletter: the

Nova-X Report

, available for $39 per year. Included, apart from the 12 monthly issues of the newsletter, you will also receive access to a special report entitled

"5G Aftershock Market Guide: 20 Small Stocks That Could Create a $250,000 Windfall"

, where you'll find the name and ticker symbols of all 20 stocks he talks about.

We were able to identify two of the three top stocks for free, they are Zynga (NASDAQ: ZNGA) and Vuzix (NASDAQ: VUZI). Two out of three ain't bad right?
Both ZNGA and VUZI currently have earnings in the red and it will be some time before their respective businesses will be able to justify their current market valuations.
Do you currently own any 5G related stocks? Do you think the hype will live up to the ultimate benefits delivered? As always, let us know what you think in the comment section below.