Ever prolific, private tech investor Jeff Brown is back touting "a massive stock market event that is now underway" and how we can get in on it too.
This event has to do with the worlds of technology and finance and "it has previously happened just a few times in human history". But, each time it has happened, "it's generated returns large enough to mint millionaires". Jeff thinks that this time will be no different and is teasing a "small cap company using AI to discover drugs" for massive potential gains. Lets get to the bottom of this.
The Teaser
Right off the bat we are given a quote by a prominent Oxford scholar, which reads "this technology could overhaul our societies and economies – and our bodies and minds too." That's a little dystopian for my liking, but lets see where this goes…we are next told that none other than Bill Gates has pulled out his heft wallet and invested over $300 million of his own money into this tech as well, oh boy.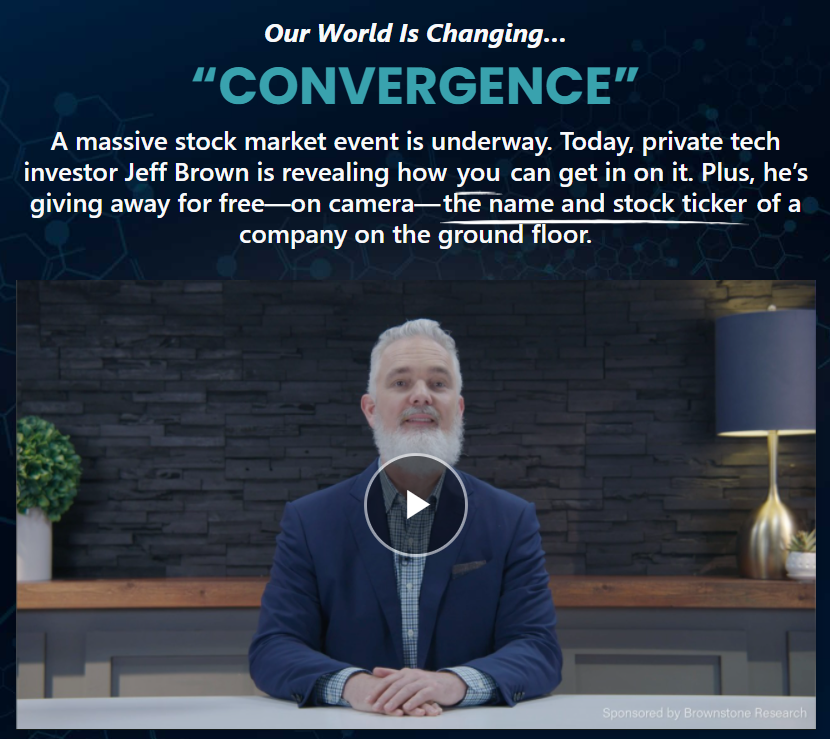 Jeff Brown has a quarter century of technology industry experience, working for the likes of Qualcomm, NXP Semiconductors, and Juniper Networks. Jeff is also an active angel investor in early-stage technology ventures, giving him front line knowledge which he attempts to pass on to his readers. You can be the judge of this, as we have covered a healthy dose of Jeff's teasers here, including his "Digital Leap" Stock and Stock Market "Glitch".
To immediately disqualify some potentials, Jeff tell us that "this isn't about virtual reality or 5G… and this also has nothing to do with Bitcoin or blockchain." It is something entirely different called "Convergence" and it is incredibly rare—but when it does happen, it transforms the world around us. Jeff does his best to tamper down our expectations by saying he "cannot, and will not, promise you'll become a multi-millionaire overnight. But in the past, when this "Convergence" event has occurred…the results have been extraordinary."
Despite the magnitude of this potential event, 99 out of 100 people have no idea "because the "Convergence" is "happening at a small cap biotech company, 1% the size of Johnson & Johnson." Read on to find out what biotech company this could be.
The Sales Pitch
Despite the claim that Jeff is "going to give you, right here on camera… for free…the name and stock ticker of a company on the front lines of this "event." This is nothing more than hype and set up to subscribe to Brownstone Research's Exponential Tech Investor newsletter. A one year subscription will regularly run you $4,000, but through this presentation, you can join Exponential Tech Investor for 50% off, meaning you would only pay $2,000.
As part of the membership to Exponential Tech Investor, Jeff is going to give you access to his "watchlist" of the exact companies he's tracking in the private world right now as well as direct access to a comprehensive list of small cap 5G investments dubbed "The Million-Dollar Portfolio."
What in the World is A "Convergence"?
Over the last century, Jeff proclaims that "human beings have discovered answers to countless diseases once thought incurable." But there is one big problem, in Jeff's words "human drug researchers—the people who discover new medicines—have no idea what they're doing." You will get no argument from me here.
Big Pharma represents one of the single biggest pools of wealth in human history, with FDA approved drugs generating more than $1 trillion each year. It turns out that treating symptoms instead of curing underlying afflictions is incredibly lucrative.
Next, one of the big elephants in the room (or biotech lab) is actually revealed, that is the fact that in order to actually get a drug to market, it can take decades…and billions on billions of dollars…and that's if you get lucky. To drive the point home, consider this: only 1 in 5,000 drugs that are discovered in labs actually make it to market, that's a 0.02% success rate.

Things are apparently so bad, that scientists are publishing studies trying to figure out why their other studies are failing so often.
Jeff has an explanation for this, he thinks that humans plain and simply just aren't cut out for drug discovery and that artificial intelligence (AI) would do away with such inefficiencies. He akins it to "trying to randomly guess a password…Or playing a slot machine…Or, according to one PhD, like throwing a stick at a tree and seeing what happens." This is where the small cap being teased comes in, which apparently has found a "new way" to discover drugs, that will bump up the new drug discovery rate to 1%, 2%, even 3% from the current dismal 0.02%. Lets find out what this company is and who is behind it.
Revealing The "Convergence" Small-Cap Stock
Here are some clues that put us on the right track:
A "Convergence" is the moment AI completely disrupts an industry. This is now happening to the biotech field, just like it has happened already to manufacturing and computing, to name a few.
According to a protected government document, this company's technology can, quote, "evaluate billions of molecules per week." Which is 10.3 billion percent faster than the people who have discovered every cure to date.
This technology is not "under development" its already operational right now "in a lab in New York, at a tiny biotech company."
Hedge Fund Citron Research, has called this AI technology the "most disruptive software platform to ever hit the pharmaceutical industry."
Billionaires Bill Gates, David E. Shaw, and Ron Baron are all shareholders.
Finally, we are told that this "this small-cap is transforming the way therapeutics are discovered."
What is the name of the New York-based company causing a "monumental shift" in the drug discovery process? After some digging, we believe the author is teasing a direct investment in Schrödinger, Inc. (Nasdaq: SDGR) Here are a few things which gave it away:
It is a New York-based company founded in 1990, which invests heavily into research and development (R&D) in order to "transform drug discovery and materials research with advanced molecular modeling." Which is befitting of the "transforming the way therapeutics are discovered label."
While not exactly a traditional small-cap at a current valuation of around $5 billion, it "provides a physics-based software platform that enables discovery of novel molecules for drug development and materials applications." Fitting the "disruptive software platform" tag.
David E. Shaw and Bill Gates are much touted major shareholders.
With that out of the way, there's only one question left to answer…
Can The "Convergence" Stock Really Make Us Millionaires?
With the business being around for the better part of 30 years, its software platform is deployed in fields as diverse as aerospace, energy, semiconductors, and electronics displays, giving it a stable subscription base and cash flow in turn.
While it's compound annual growth rate of 15-25% isn't hypergrowth, they do have a 99% customer retention rate, which bodes well for its future. Our trusty Value Spreadsheet Premium tells us the expected rate of return from its current valuation is below average: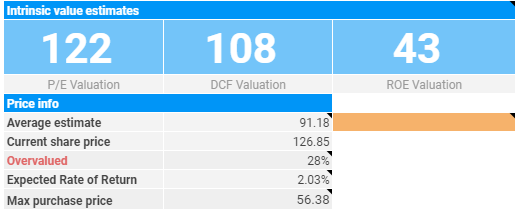 Bottom line: the current valuation of 32x current sales is too rich for our blood, but at a better price we would consider taking a second look.
Quick Recap & Conclusion
Jeff Brown teases us with a company whose "technology could overhaul our societies and economies."
We are promised the name and stock ticker of a company at the center of this "Convergence" event, which could "generate returns large enough to make millionaires out of us."
Predictably, this is just fodder to get us to subscribe to Brownstone Research's Exponential Tech Investor newsletter, at an annual cost of $2,000, which is 50% off the standard price of $4,000 per year.
Thankfully we were able to uncover the name of the small-cap stock being teased for free as: Schrödinger, Inc. (Nasdaq: SDGR), so that another bill doesn't have to come out of your pocket.
The business is fundamentally sound, with a real product, revenue, and cash flow. The current valuation isn't the best entry point however and we would rather wait to be quoted a better price by Mr. Market.
Do you have any experience investing into biotech/life sciences businesses? What are your personal thoughts on the "physics-based software platform" which this small-cap has developed? Let us know in the comments section below.