This week we have Money Map Press contributor and Strategic Tech Investor newsletter founder Michael Robinson talking to us live from his home living room…er office about something that is "on almost no one's radar screen, but should be".
He's not talking about stocks, bonds or options, but Bitcoin and he's about to give us a master class.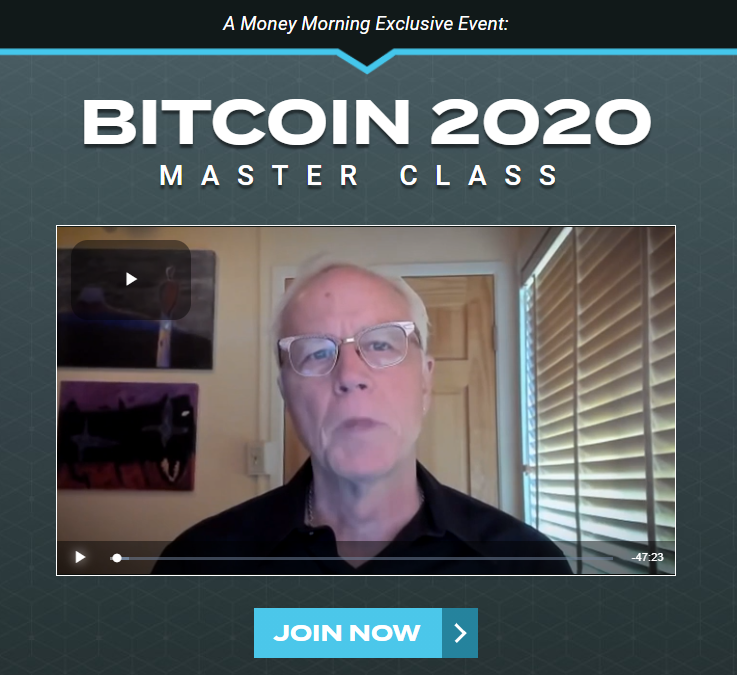 He starts off by telling us that he's identified a pattern that "in the past has handed savvy investors as much 5,439% gains" and that this pattern recently repeated itself again, creating an opportunity for all of us watching his video.
Crypto currencies and Bitcoin in particular has rallied this year, almost tripling in price since March. To better illustrate this pattern, Michael has some charts for us:
This is the first time it occurred in 2013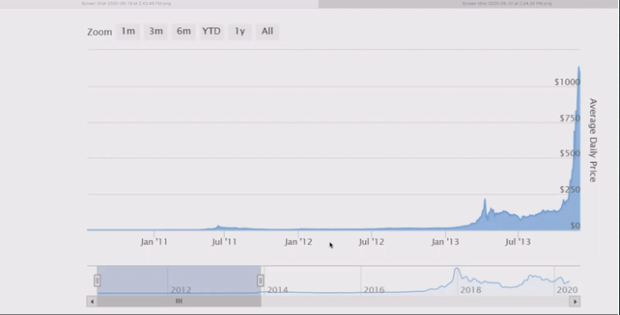 Here is where it happened again in 2017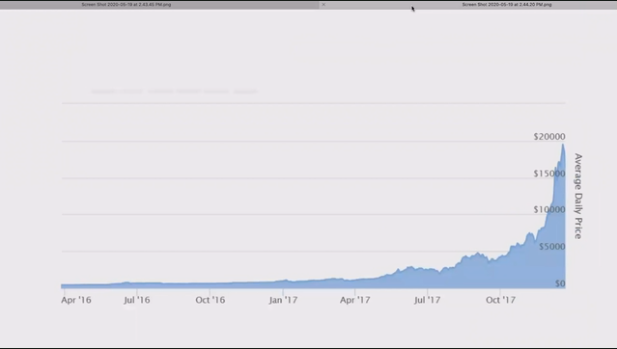 Michael rightly points out that Bitcoin is kind of a bellwether for other crypto currencies – as it goes, so do they and that there are some smaller, lesser known currencies that have surged even higher. In fact, back in 2016 he said "one of these smaller crypto's went up by over 31,849%". That's what gets Michael excited today as he thinks "2020 could be Bitcoin's biggest year yet". Along these same lines, he is going to be giving us the names of 3 crypto currencies which could return just as much, if not more than the ones in the charts we shared.
All we have to do to get access to "Three Specific-Use Coins That Could Explode 87,400%, 143,000%, and 289,250%" is subscribe to something called the Nova-X Report, which is a monthly newsletter, exclusive website, and trade alert service for only $29 for the first year…but only if we act now! As the regular price is $299.
Before we dive into exactly what Michael is teasing, let's take a look at the man behind the video.
Who is Michael Robinson?
Michael is a consultant, financial analyst, and board member of several Silicon Valley venture capital firms. We have covered several of Michael's teasers here in the past- Michael Robinson's "Super Vaccine" Company and Money Morning Review
Michael is a 36 year investment industry veteran, so he's seen and experienced several bull and bear markets in his day which we respect. He has also contributed his analysis to publications such as The New York Times, American Enterprise, and The Wall Street Journal in the past.
More recently, he founded the Bio-Technology Profit Alliance to highlight lucrative biotech investment opportunities and The Nova-X Report to provide analysis on top tech stocks, both of which are published by Money Map Press, the company he works for.
Should You Invest In Cryptocurrencies?
First, we should start off by saying that you shouldn't invest in anything without first doing your own due diligence. Cryptocurrencies of all stripes from Bitcoin down to lesser known names such as Ethereum, Litecoin, and others have soared over the past decade. Can such out-performance be expected to continue? 
According to Michael, thanks to a special set of circumstances which he is going to tell us all about, the answer is yes and he thinks that Bitcoin is just getting started. 
He goes on to say that there are several circumstances in 2020 that have never existed before, the first is the massive inflows of capital into Bitcoin securities such as futures contracts. At the beginning of March, there were around $1.8 billion in Bitcoin futures contracts outstanding, by May this number increased by more than 7x to $12 billion.
The second is the fact that large institutional investors such as hedge funds are also beginning to pile into the alternative asset class. Michael mentions one hedge fund that is heavily invested in Bitcoin returning "more than 46% through the first six months of this year". 
A direct beneficiary of this institutional money flow into cryptocurrencies are something he calls "special-use coins". These are very similar to Bitcoin, just much smaller and most were developed for specific uses such as software development, coin mining operations, etc.
There are literally thousands of these coins and Michael gives us a few examples ranging from Egretia to AgaveCoin, and says that "there is NO other investment giving the returns that special-use coins are". 
While it's true that cryptocurrencies have been one of the hottest asset classes to invest in over the last little while, it has also been one of the most volatile as well. With up and down streaks as dramatic as most casino table games.
Ultimately, a coin's value will come down to three things: It's utility, scarcity, and user-demand. These are the things which will determine its underlying value over the long-term.
The Three Special-Use Coins Being Teased
Earlier in the video teaser, you may remember that Michael hinted that several circumstances currently prevail that previously didn't exist. 
This set of circumstances are what he terms the early-adopter, consolidation, and expansion stages. To elaborate Robinson says that the vast majority of personal wealth…over 99% by his account is created in a market's expansion stage and that "Bitcoin is now going into its expansion stage".
Even though Bitcoin has surged by more than 334% since 2019, he says its run is just beginning and "far from over" as it is just now hitting the mass adoption phase of its expansion curve. Meaning that some of these smaller special-use coins will be benefiting right alongside it.
So what specific coins is Michael teasing? Unfortunately, he doesn't elaborate much or give us any much to work with in terms of hints and with more than 1,600 special-use coins now in circulation as of this writing, guessing would be like throwing darts in the dark.
What we do know is that Bitcoin and other cryptocurrencies do have a few things currently going for them:
Their everyday utility is increasing with some major grocery stores and coffee shop chains

now accepting direct Bitcoin payments

.

As a result of this and due to central banks all across the world printing boatloads of their fiat currencies in ever greater amounts, the user demand for a stable, convenient, alternative method of payment is growing by the day as well.

New coins can only be generated by a competitive and decentralized process called mining and with the reward size for mining new Bitcoins periodically decreasing until all coins are mined, scarcity is a real thing.
The big wild card with cryptocurrencies is their legal status, with almost all currently operating in sort of a gray area. But even this may be about to change with the IRS recently publishing a tax guidance on virtual currencies, so crypto may become somewhat legitimized sooner rather than later. This bodes well not only for Bitcoin, but other coins in heavy circulation as well, such as Litecoin, Ethereum, and Ripple to name but a few.
As long as all three of the things mentioned above continue trending in the right direction for cryptocurrencies, as they are right now. Expect their underlying value to continue increasing. Some credible investors such as renowned venture capitalist Tim Draper are even predicting Bitcoin will eventually reach upwards of $250,000 per coin!
While we would taper such enthusiasm by saying that any such move would likely take years to come to develop rather than weeks or months, even we have to admit that it isn't entirely outside the realm of possibility at this point, given the confluence of events in its favor.
Recap & Conclusion
Here is a quick summary of all the ground we managed to cover in this brief:
Michael Robinson gave us a video master class on Bitcoin while also promoting his Nova-X Report newsletter for a special one-time only price of $29 (regularly $299).

Michael teased three special-use coins that should stand to benefit from Bitcoin's surging value.

While we couldn't individually identify these three special-use coins, we did mention three current Bitcoin alternatives and also took a closer look at the investment opportunity that cryptocurrencies offer.
Are you currently invested in any cryptocurrencies? Any other coins that you know of besides the ones mentioned here that we should take a look at? Interested to hear your thoughts in the comments below.