America's Last "Digital Leap" teaser by Jeff Brown is about an industry that is set to imminently go digital and create wealth for investors in the process.
In one of his latest marketing pitches, the ever prolific Brown mentions a new "digital leap" that could be worth over $11 trillion dollars and claims people can directly benefit from the digitalization of a huge industry. He also claims he has identified one particular "Immune medicine" company in this field that can bring you significant profits, so let's take a closer look at just what he is getting at here.
The Teaser
What Brown teases is a webinar that took place on April 7th that was supposed to talk about a new revolutionary company in one of the fastest-developing industries in the entire world. He mentions an $11.9 trillion industry that is prepared to take a major digital leap, and claims that it involves a Nobel-prize winning technology.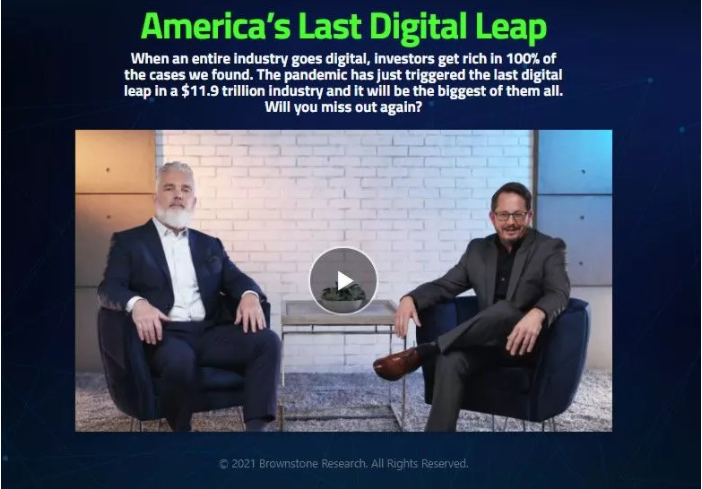 Jeff Brown has had an interesting career over three-decade career in the tech and investment space, that now spans over three decades. During this time, he has amassed nearly 1 million subscribers to his investment newsletters, which mainly focus on emerging investment trends, such as Bitcoin, 5G technology, telemedicine, and more.
Brown starts by saying that "he believes this last digital leap will even be bigger than all the ones we've seen before. The pandemic has thrown this space into overdrive… and the industry is finally being forced to catch up to modern technology". Jeff is certainly no stranger to emerging technology, as evidenced by some of his previous teasers which we have written about here, such as Brown's Genetic Biotech Company and his "Tech Lag" Stocks.
Similar to many of his previous claims, Brown believes that a small $1,000 investment into specific industries at just the right time, can and will provide you with windfalls of $275,000 or more. What he is specifically talking about in this particular instance is the digitalization of medicine, which seems to have taken a huge leap forward thanks to the current coronavirus fiasco. He mentions the digitalization of the movie industry when "in 2007, Netflix changed the game" and mentions the power of digital leaps: "digital leaps – when an entire industry moves from analog to digital – are rare. But, when they occur, the profit potential is enormous".
The second company on his list of companies that went fully digital and made a fortune is Amazon – "by 2003, the retailer was becoming the go-to-place for virtually anything a customer might want to buy. And in doing so, Amazon helped define the e-commerce industry".
We next encounter a similar success story with Square, the app that has reinvented the payment industry and helped it almost reach its full digital potential. Ultimately, what Brown teases is the opportunity to invest in an industry that will go fully digital, pitching a small company that could help you earn a 27,500% return on an initial $1,000 investment.
The Sales Pitch
What Brown is pitching us is a Exponential Tech Investor yearly subscription. The author charges $2,000 for a year, a price that is not the most affordable to say the least. However, for this not-so-low-price, you will receive a series of bonuses, including 12 issues of the report, market and portfolio updates, bonus research reports, and access to a members-only website.
If you are not fully satisfied with the program, you have 90 days to change your mind but the refund will come as a legacy credit that you can use for another subscription within Brown Research. In other words, you won't receive your money back, but just the chance to switch to a different investment subscription delivered by Brown.
People have called out Brown about asking $2,000 for the name of a single company giving that all his other subscription services have the same profile and he could have easily integrated this webinar into one of his existing services rather than creating a brand new one. So, if you find yourself in a similar situation and believe you could better invest that money elsewhere, here is what we were able to uncover for you, for free.
What Is The "Digital Leap"?
Jeff believes the stock market is preparing to make a historic jump. But it will be the last one, so "you won't get a second chance".
With this in mind, he says that digital leaps are "enormous investment opportunities" and claims he has developed a system to maximize profit during such digital leap. By implementing his system during the next digital leap, investors could see huge returns.
As a testament to this, the author mentions that "in the worst-case scenario", previous investors who followed his investment strategy made 11x their money, while others made up to $1.7 million when the retail sector went digital. From what we have gathered from Brown's April webinar, the "digital leap" Brown teases is in medicine and healthcare. He says that the current environment has pushed the development and digitalization of this sector ahead by 20 years, and we are now close to moving to a new digital era.
Telemedicine is a sector that has already seen an increase of 80% over the past year, while the implementation of the 5G technology across the United States has paved the way for drug and biotech companies to perform "genetic editing" and tackle "immune medicine".
Revealing This "Digital Leap" Stock
In his webinar, the author teases an early-stage company revolutionizing medical care that is also related to gene-editing technology. He starts by saying that "they've developed a new technique for genetic editing that allows them to fix typos outside the body".
The company also has an extensive "immune medicine database" and claims it is going to make a key announcement by this summer, which led Brown to think that the stock could skyrocket, clearing the way for 10x potential gains for early investors.
Another clue Brown offers is that this company's database has 58 million cell receptors and that it "has the potential to change the way cancer is treated and bring us one step closer to truly personalized healthcare."
This Nobel prize-winning technology is at the core of the $11.9 trillion healthcare industry, as "it could mint new millionaires in the coming months and years".

Finally, the author mentions that

this company has partnered with Microsoft

specifically to speed up its work, benefitting from Microsoft's cloud computing capabilities and Artificial Intelligence to run the DNA sequences faster.
With the help of these specific clues and long-time subscribers to Brown's model investment newsletters, we were able to identify the company teased as Adaptive Biotechnologies (Nasdaq: ADPT). Here is what lead us to this conclusion:
Opportunity to Make a 27,500% Return?
Adaptive Biotechnologies was founded in Seattle, in 2009 and focuses on immune medicine. It has developed a tool to profile the T-cell immune repertoire at scale and with precision, which had never before been possible. In their own words, they have built "a Hubble Telescope as compared to a pair of binoculars to look at the adaptive immune system".
However, as we have seen from reviewing countless teasers in emerging industries, innovation does not necessarily equate to income. This time is no different with Adaptive squarely in the red and since it is focusing on developing several therapies at the same time, each requiring years of research behind them, it will take time until ADPT stock will skyrocket as Brown believes, if it ever does at all.
Quick Recap & Conclusion
In a webinar that took place in early April, investor and researcher Jeff Brown talked about the latest "digital leap" of an industry worth $11.9 trillion that could lead to a new series of millionaires, should you elect to invest in the opportunity as soon as possible.

He claims that the latest industry to make the switch from analog to digital is medicine, as we have already witnessed surges in the field of telemedicine due to current emergency measures enacted by governments all over the world.

The author believes that medicine in general and immune medicine

in particular is the primary field that will develop in the decade ahead and claims he has found a company that could bring you "10x profits".

Those who want to learn more about this investment opportunity and have access to other similar reports are encouraged join Brown's newsletter, the

Exponential Tech Investor

, for a hefty $2,000 per year price tag.

Fortunately we were able to uncover the company being teased in this particular report for you for free, as

Adaptive Biotechnologies (NASDAQ: ADPT).
While gene editing and associated immune system tools like the kind Adaptive develops are indeed the "hot" new thing in medicine today, their commercialization is not here quite yet and there are still major ethical as well as operational hurdles to overcome.
What do you think about biotech stocks and this particular one? Would you invest in immune medicine stocks?