In a recent presentation investor and financial guru Matt McCall talked about the latest and greatest investment opportunities to earn a 1,000% return in just a few months. The event is titled "Bull Market Confidential" and it teases "five small stocks that I think have the potential to rack up 1,000% gains", in McCall's words. 
The investor also pitches his latest marketing newsletter program, Early Stage Investor, and the special report "Bull Market Confidential", in which he promises to reveal the names and ticker symbols of all five of his top stock picks. Apart from this special report, a yearly subscription also includes three additional bonus reports and early access to special events, all for $1,750. If the price of McCall's newsletter program seems steep, stay here as we were able to find out some things for you for free.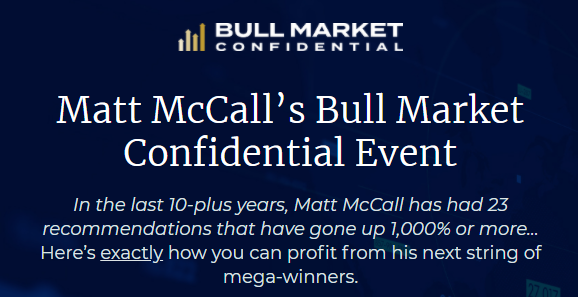 Matt McCall is the founder and president of Penn Financial Group, an investment advisory firm serving both individual and institutional clients. Over the last ten years, he has channeled most of his energy into uncovering undervalued exchange-traded funds (ETFs) and individual stocks for InvestorPlace, becoming one of the few analysts with high expertise in both fields. 
Although still young, McCall has an investing experience of over 17 years and remains a highly-known figure on Wall Street. In the last decade, the author had 23 recommendations that "have gone up 1,000% or more… and countless recommendations that have gone up over 100%."
In 2014, McCall was one of the few investors who saw the potential for cannabis stocks and recommended them to his clients. Companies like Akerna managed to go up 546% in just five months, while Innovative Industries Properties has soared over 200% in less than a year.
The Opportunity
Like many other financial authors who we have covered here previously, including Jeff Brown, and Jason Stutman. McCall talks about investing in biotech companies and microcaps, which have the possibility to soar over 1,000% or more in just a few months time. He calls his five top picks "The Roaring 2020's" and mentions that "these stocks are in an ideal spot to capitalize on the convergence of powerful new technologies like AI, 5G, biotech, and the blockchain."
McCall claims that these stocks could be "the next Microsoft" and that 'it's about combining AI and cutting-edge sensors and the 5G network to produce self-driving cars" or other goods that combine various research fields to deliver innovative solutions in medicine, telecommunications, and even agriculture.  He continues to say that "the stocks that will be the biggest winners of the Roaring 2020's are small, high-growth, innovative stocks".
However, the author admits that small stocks are not for everyone due to their higher degree of inherent risk. To prevent this and increase your chances of success, he has developed a strategy to identify the most promising small companies:
Don't go for opportunities that are too small or in narrow niche markets – pick products and services that cover large areas of the global market and have the real possibility to grow

Look for companies that have a better/cheaper product than the competition, enough to disrupt the clients' buying circle and tempt them to try something new

Identify companies that have a highly scalable business 

Possess an underlying competitive advantage in their business

Finally, ask yourself – "Could the company be worth a lot more in 1-2 years than it is today?"
To reduce your risk of loss and increase your profit potential, McCall also suggests people invest in well rounded stock portfolios rather than individual stocks.
The Five Companies Being Teased
Although Matt McCall talks about five different stocks in sectors that "have been the leaders in every bull market for decades", he doesn't give any specific details about any of them. 
To keep the audience interested, he mentions at an early point in his speech that "this group of stocks has many similarities with past superstars like Dell, EMC, and Microsoft in their glory days in the 80's and 90's".
Another detail that we are given mentions that "these stocks have huge money-making potential because they're on the cutting edge of exciting innovations that could revolutionize how we work, play, live, and learn."
Another general detail that he teases is that "a small company that is part of a long-term growth trend and that meets our criteria tends to soar no matter what the macro economy or general stock market is doing."
McCall continues to tease the company by saying that it "uses artificial intelligence to find block-buster drugs faster and more efficiently."
The author next mentions that it is a biotech company and that the FDA "has granted a Fast Track Designation", meaning its clinical trial testing and approval process will be expedited. 
A company that McCall refers to as ticking all the boxes of his five-step investment strategy and that he mentions in his presentation is: BioXcel Therapeutics (NASDAQ: BTAI) which, "in just two years, it's already up over 300% from its IPO" and he believes that it can revolutionize the market and is quite sure it will perform well in the next few years – something we've also heard before.
Is This Really A Revolutionary Biotech Opportunity?
According to their website, BioXcel Therapeutics pledges to deliver "innovative medicine backed by Artificial Intelligence". It is backed by several large institutional investors and claims to have a shorter development cycle in comparison to other biotech companies. 
We might see McCall's pick melt up over the short-term (along with the rest of the market) but you shouldn't expect the promised 1,000% profits before it receives the FDA's stamp of approval for its drugs…if it ever does.  When it comes to investing in biotech opportunities, you need to take into account several factors. The first and perhaps most important step is to find a company that already has massive funding to finance its research and development. The second step is to check exactly what stage in the FDA approval process it is in, to determine how close it is to producing drugs or therapies that have a chance of actually hitting the market.
An FDA approval usually take years, which means the stock won't likely pop over the short-term. Overall, your best bet is to invest in biotech companies that are close to finishing their Phase 3 trials and are just one step away from mass-producing their drugs within months after getting their final FDA certification. 
Quick Recap & Conclusion
In his latest marketing pitch, "Bull Marker Confidential", author and financial investor Matt McCall talks about "The Roaring 2020's" stocks, which he reveals, together with their ticker symbols, in the report with the same name which is part of his marketing newsletter program, Early Stage Investor. One year subscription costs $1,750 and includes three bonus reports and other privileges but there is no money-back guarantee.

McCall's approach when it comes to stock investment and suggests you would rather look for microcaps and small companies that are often forgotten by investment funds, instead of betting on large companies with small profit margins.

He also mentions that it's not a good idea to keep

all your eggs in one basket

and, instead, says you should have an investment portfolio comprised of both small and big companies to minimize your risk and chance of loss. 

Since we didn't have any information with which to uncover McCall's first four stock picks, we only have the name of one of his five top stock picks. This is a company that uses Artificial Intelligence to deliver next-generation drugs and its name is: BioXcel Therapeutics (NASDAQ: BTAI)

We consider investing in biotech companies to be a long-term endeavor, as long as you don't expect 1,000% gains or more in mere few months, but instead over a good number of years instead, you can do alright if you have the expertise to analyze opportunities in this space.
Are you invested in any biotech stocks? What has been your personal experience investing in this space? Share your thoughts in the comments below.