Dark Lithium is the next big thing according to Mark Skousen.
Money is pouring into it, but 9 out of 10 Americans have no idea it even exists. This is about to change, as one investor has discovered a $6 micro-cap at the forefront of it all.
The Teaser
Some folks are probably thinking "Dark Lithium" has to do with real estate, mining, or even lithium itself. But it's something much different with far more money-making potential.
Mark Skousen is a university professor, economist, and long-time investment newsletter writer. This is the first presentation of Mark's that I'm covering, but as of late, there's been plenty of lithium teasers. Among them is Nick Hodge's $2 Lithium Mining Stock and Keith Kohl's "Infinite Lithium".
It is said that "Dark Lithium" can provide nearly four times more reliable power than wind and solar plants. In fact, each "Dark Lithium" pellet (the size of our fingertip), has as much power as 1 ton of coal, 149 gallons of oil, or 17,000 cubic feet of natural gas.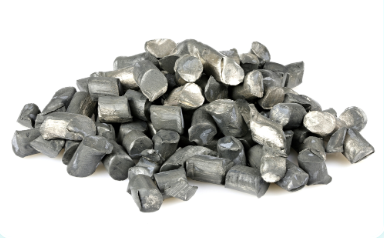 Considering that wind and solar can't keep up with energy demand and oil, coal, and gas are facing unprecedented shortages. "Dark Lithium" could emerge as the energy play. Even Elon Musk has called it "critical."
Up to now, "Dark Lithium" sounds like lithium on steroids with a whole lot more power. The only catch is that no company in America can produce "Dark Lithium", at least not until now.
A Zero-Cost Producer?
Mark says he's been tipped off by a legendary investor acquainted with none other than Warren Buffett, who thinks one tiny company is in a position to start producing it.
It has a revolutionary method to make "Dark Lithium" faster, better, and cheaper.
This is a big reason the Oracle of Omaha has just invested $4 billion into a project in Wyoming where the purest vein of "Dark Lithium" in America can be found. He's also invested up to $100 million and $50 million into two separate projects behind "Dark Lithium." There may have never been such a clear-cut opportunity to stand on the shoulders of Buffett.
So what's the stock that Mark's research shows could soar by as much as 842%?
The Pitch
Inside a special report called Dark Lithium: Collect Gains Up to 842% on the $6 Micro-Cap With a Stranglehold on the Power Source of Tomorrow, we'll find the name and ticker symbol of this $6 stock.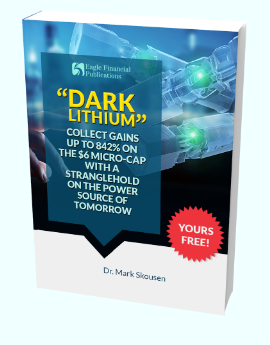 It is ours with a subscription to the TNT Trader investment newsletter. The cost for a full year is $995 for a limited time and comes with a slew of benefits like an archive of all past stock and options trades, alert emails when an opportunity to buy, sell or take profits on stocks or options comes up, and three more special reports, including one on a second, safer way to play the dark lithium boom.
Defining Dark Lithium
"Dark Lithium" is the name Dr. Skousen uses for the chemical element called uranium.
The mainstream media has long emphasized the worst aspects of uranium, namely nuclear weapons and radiation. Yet, the truth is that since 1952 when nuclear power was first employed, only 33 incidents have been recorded. Most of the deaths were from just two events: The Chernobyl disaster in Ukraine and Fukushima in Japan.
Uranium (which powers nuclear energy) is unquestionably the cleanest and most powerful form of energy on earth:
Despite many trying to downplay it, uranium is becoming nearly impossible to deny.
Uranium could transform many industries that are heavily energy-dependent, such as electric vehicles, the $1.7 trillion blockchain industry, and real estate, which currently consumes about 40% of the world's energy supply.
The only problem is that there is literally no uranium production or processing in the United States. Bloomberg has even said: "the current supply of uranium cannot meet demand."
A Serious Supply Crunch
There are two primary reasons for this:
Not only does it take 15 years to start a uranium mining operation
The price of uranium is around $48 today, far below the $65 per pound needed for uranium companies to profitably mine
This is why the supply of uranium is set to fall by a whopping 50% over the next eight years.
The last time a supply crunch happened back in 2007, uranium miners like Canada's Cameco and Kazakhstan's Kazatomprom closed their mines. Causing the stocks of the select few companies that could supply uranium to skyrocket! Deep Yellow Ltd. (ASX: DYL) soared 7,940% and Paladin Energy Ltd. (OTC: PALAF) went up 91,300%.
This time around, gains as high as 842% are on the table within the next few days because of one off-the-radar firm tucked away in Colorado. A lot of its uranium comes from clean-up material that's essentially free for the company, thus enabling it to produce uranium even if it's unprofitable for other miners around the world.
Revealing the $6 "Dark Lithium" Micro-Cap
Here are the facts we do have about the company few in the public are aware of:
This firm is the only conventional producer of uranium in the US.
It has 1,081,000 pounds of total uranium inventory.
Despite this, it is still a micro-cap with a $6 stock.
Based on this info, I would say Mark's pick is Uranium Energy Corp. (NYSE: UEC). Here is what led me to this conclusion:
UEC is the largest, diversified North American-focused uranium company. A pure-play uranium company.
Current inventory holdings of 866,000 lbs as of December 2022, down slightly from the 1,081,000 this past spring.
UEC's stock was priced at just over $6 in April and has halved since.
The Best Way to Play the Uranium Boom?
There is a strong case to be made that the only way to meet most countries' ambitious "clean energy" goals is with uranium.
In addition to being a highly reliable source of electricity, nuclear power is one of the cleanest energy sources based on CO2 emissions and one of the safest energy sources available.
The clean energy transition is picking up steam with zero emission mandates already enshrined into law in many places and UEC is well-positioned to benefit from this. The company has a clean balance sheet with no debt, nearly $100 million of cash on hand, and the majority of its drummed uranium has been purchased at spot prices below most producers' mining costs.
UEC isn't a slam dunk, but if uranium prices appreciate, so will its stock.
Quick Recap & Conclusion
Billions of investment dollars are pouring into "Dark Lithium" and Mark Skousen thinks one $6 micro-cap is at the forefront of it all.
It turns out that "Dark Lithium" is the name Dr. Skousen uses for the chemical element called uranium. There is a global supply crunch for the chemical element, which is only getting worse.
The name and ticker of the $6 micro-cap are revealed inside a special report called Dark Lithium: Collect Gains Up to 842% on the $6 Micro-Cap With a Stranglehold on the Power Source of Tomorrow.
Based on the info we had to work with, Mark's pick is looking like Uranium Energy Corp. (NYSE: UEC).
UEC is a pure uranium play with a solid foundation in place and good prospects. The worse the uranium supply shortage gets, the better they will do.
Is there any producer better positioned to take advantage of uranium's supply/demand imbalance? Let us know your thoughts in the comment section below.