Most presentations we see are strictly in the future tense – will, could, should…but this time really could be different. As Luke Burgess is talking about an unusual, eco-friendly "Super Fuel" that has already
begun soaring.
It's got nothing to do with oil, natural gas, nuclear power, hydrogen, or lithium, but it may soon be powering your neighborhood.
The Teaser
Despite its name, "Super Fuel" is apparently much safer, more efficient, and more powerful than anything on the market today. Which is why it could be the secret to unlocking America's massive $10 trillion clean energy revolution.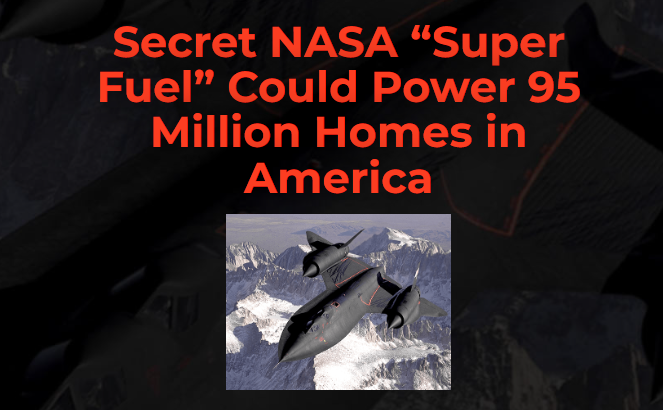 To his credit, Luke Burgess began dabbling in gold and other natural resources back in 2002, when gold was still trading in the $300-$350 an ounce range. Since then he has gone on to write about his experiences with precious metals for the "legendary" financial newsletter Secret Stock Files and now The Outsider Club. We have reviewed some of Luke's previous work here, including his "Miracle Mineral" Company and #1 Gold Stock of the Decade.
One thing most investors won't realize is that this little-known "super fuel" has been used by NASA to turn its grand visions into a reality. For instance, it was used by the space agency to power the world's fastest, highest-flying aircraft – The SR-71 Blackbird. That can reach altitudes of over 85,000 feet and speeds of up to 2,200 miles per hour.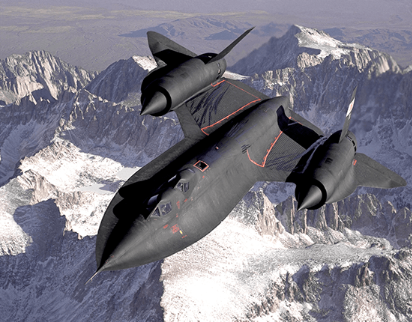 But this "super fuel" also has much bigger and ambitious applications, like powering 95 million existing homes and buildings in America. This is possible because when it comes to generating clean electric power simply, safely, and cheaply, we're told that it's unmatched.
This is a big reason why Luke is so excited about its prospects and says that the last time there was a small supply shortfall of this "super fuel," its price shot up a whopping 1,030%. Now, due to a convergence of several catalysts, which we will detail below, he's convinced it's set for no less than 1,900% gains.
Its a perfect storm for one clean energy "super fuel" company and we still have a chance to get in right now for just a few dollars a share.
The Pitch
All the details on this explosive opportunity can be found inside a dossier called: "The Renewable Energy Storage Breakthrough: How to Make a Fortune on the Vanadium Boom."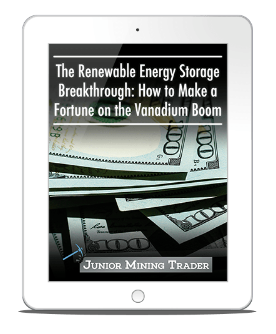 Its ours if we opt into a 90-day, risk-free trial of Junior Mining Trader for $1,999. This is $1,000 off the regular price and includes two bonus reports, a free subscription to the daily e-letter Outsider Club, a member's-only website, and more.
The Super Fuel Behind Infinite Renewable Energy
It appears as though the chemical element known as Vanadium is the "Super Fuel" behind a new generation of ultra-efficient batteries.
Why is it the big winner ahead of lithium, cobalt, and other contenders? After all, lithium has long been the dominant metal in energy storage. One huge problem is that lithium-ion batteries have a very short life span. You've probably experienced this with your own smartphone.
These batteries are also small and their power use is very limited, possibly to just one or two homes. So they can't be scaled up for large-scale grid energy use, as powering neighborhood grids would require millions of lithium-ion batteries, all being managed individually.
Then there's the fact that lithium batteries can also blow up and catch fire! No biggie.
This is why a far superior type of battery called a "redox flow" battery has been invented. Originally they were a NASA project, being explored as a potential energy source for deep space missions, but now these "redox flow" batteries are transforming the energy world.
Luke tells us that these "redox flow" batteries have the potential to be recharged infinitely, with little to no loss in strength or performance and they last four times as long as lithium batteries do! If this weren't enough, they can also be scaled up in size to accommodate large-scale power use and they're non-flammable and non-combustible.
There's literally no other development in energy history that can match its potential according to some observers.
"Redbox flow" batteries are now being deployed rapidly around the world and all of them need…vanadium. See, flow batteries consist of two tanks of liquid. Think storage tanks.
As you can see, this is quite a technical process. But the gist of it is that until recently batteries used two metals to carry electrons back and forth and generate a charge. The problem with this is that cross contamination of the metals would erode the battery's strength and lifespan.
In steps vanadium, which pull the trick off all by itself. As it is able to morph into both charges: cathode (negative) and anode (positive). In simple terms, this means it can store and release energy simultaneously.
Thus, we can see why demand for vanadium is EXPLODING to levels never seen before. With no slowdown in sight, there's one incredibly unique company that's flying under the mainstream's radar for now, that is perfectly positioned to profit.
Revealing the "Super Fuel" Vanadium Company
Some of the clues we have at our fingertips about this company are:
When it comes to mining world-class vanadium deposits and producing storage batteries. It's a true "one stop shop."
This small firm from Canada owns the richest, highest-grade vanadium deposits on the planet.
Not only does this firm have the richest vanadium, but it also has the world's largest supply of it too. So it's able to mine and produce vanadium for some of the lowest costs in the world.
This small company is about one-thirtieth the size of Tesla.
Based on these clues, Largo Inc. (Nasdaq: LGO) fits the description.
Toronto-based Largo owns one of the world's highest-grade vanadium deposits at the Company's Maracás Menchen Mine in Brazil and following the 2020 acquisition of vanadium redox flow battery technology, it is now also a battery producer.
At a market cap of a little over $420 million, it is roughly
Largo also states on its website that it is "one of the lowest-cost primary producers of vanadium in the world."
Does all this add up to a can't miss opportunity?
A Legit Way to Make 1,900%?
Since becoming a publicly traded company over a decade ago, Largo stock is actually down more than 50%, before any splits and such.
Now to be fair, it does take time to firstly bring a mine to production and then scale up operations and even add other components, as Largo has done. A look at the stock's performance over the last five years sees it nearly flat. So is there anything that suggests this will change?
Luke points to the growing demand for renewable energy as a major catalyst, but this a decade long play or longer. I actually don't think Largo is all that bad of a business, as it is a profitable, vertically integrated operation that is trading for less than 18x earnings as we speak. Just be prepared to hold for the long haul to see a significant move up.
Quick Recap & Conclusion
Luke Burgess is touting an unusual, eco-friendly "Super Fuel" that has already begun soaring as his next big bet.
We learn that "Super Fuel" is just a term for Vanadium, which is the stuff behind the next generation of batteries and there's a small Canadian firm that owns the richest, highest-grade vanadium deposits on the planet.
The name, ticker symbol, and full profile of this company can be found inside a dossier called: "The Renewable Energy Storage Breakthrough: How to Make a Fortune on the Vanadium Boom." Its ours if we subscribe to a 90-day, risk-free trial of the Junior Mining Trader for $1,999.
Luckily, we were able to use the info Luke provided us in his presentation to find out the name of the "Super Fuel" Vanadium company. Its Largo Inc. (Nasdaq: LGO).
Largo is the world's largest primary vanadium producer with an established and profitable vanadium business, so we've seen far worse picks. This is for long-term "diamond hands" investors, as the largest moves will be seen in years, not months.
Is Vanadium about to become the no. 1 energy resource for large-scale electricity storage? Let us know what you think in the comment section below.