One of America's "top analysts" Lou Basenese says the federal government is secretly testing the world's first quadrillion-dollar technology inside a 52 mile stretch of the Chicago suburbs dubbed "Area 52" as I write this.
To be sure, this has nothing to do with UFO's and aliens, but rather about a "godlike" quantum microchip super-technology.
The Teaser
If I had a dollar for every time I've heard the term "single greatest investment you'll ever make", well I would have at least a few dollars. This is the epic claim made by Lou, while describing the technology inside of Area 52 as quote "on par with the discoveries of fire, the wheel, the internet, and flight."
Lou Basenese hails himself as (arguably) America's #1 technology analyst over the last 20 years. There isn't much to back this claim up, but he is the Founder and Chief Analyst of Disruptive Tech Research, LLC, an independent equity research and advisory firm that specializes in uncovering disruptive technology companies, so there's that. We have reviewed a pair of Lou's past presentation here – Digital Fortunes and his "Perfect" 5G Stock Exposed!
Part of the reason for the hoopla is because without the technology inside of Area 52, some of the most promising economic drivers of the 2020s, like i.e. artificial intelligence, self-driving cars, advanced robotics, regenerative medicine, augmented reality, million-mile batteries, drone deliveries, unhackable networks, commercial space flight, and Mars missions could become historic flops.
Lou wholeheartedly believes that every innovation listed above needs Area 52's technology to thrive and flourish. Some appear to agree with this, the U.S. Military along with six top media outlets call it a "Holy Grail" technology and U.S. Intelligence officials warning that "America's status as a global superpower depends on it." So what exactly are we talking about here?
Apparently, "Area 52" isn't just a technological revolution, but the very evolution of humankind. We're talking about a "National Quantum Internet" and Area 52 is a codename for the U.S. government's 52-mile test loop of it beneath the suburbs of western Chicago. This is where 52 miles of optical fiber lie, which promises a novel, richer way to process information.
What makes it so compelling is the fact that a rising technology superstar – a small-cap company valued at 0.03% the size of Amazon, could hold the key to Area 52's commercial success.
The Pitch
All signs so far point to quantum technology shaping the 2020s, which is why Lou wants to rush us a copy of his brand-new report called The Quantum Profits Report.
Its ours if we give his Digital Fortunes stock advisory service a 30-day test drive. We'd pay $99 for a one-year membership to Digital Fortunes and this will get us 12 monthly issues, a free bonus report, full access to a model portfolio, and email updates on open portfolio positions.
What in the World is Quantum Technology And Why is it So Powerful?
There's no question that the only way to take intelligent risks is by being informed. To this end, here are a few things that separate quantum technology from every "dumb" technology in use today.
Quantum technology is the end result of a combination of physics and particularly the fundamental quantum mechanics theory with engineering. This has been used to create microchips that are "many millions of times faster" than our existing technology.
At last count, over 80 companies have begun to use quantum technology's uncanny speed and power to perform previously impossible tasks, like breathing life into artificial intelligence, as Google is doing. Mapping and connecting with distant universes, as NASA is doing and ending cybertheft and hacking, as the big telecom companies are attempting to do. There's virtually no limit to quantum technology's commercial applications.
This is where the Quantum Internet comes in, as its an offspring of this technology, just like how automobiles were the offspring of the combustion engine or how smartphones were the offspring of wireless technology. It's the direct result of the National Quantum Initiative Act – passed into law by the Trump administration in 2018, which deploys $1.2 billion toward the development of quantum technologies over the next five years.
By most accounts, the National Quantum Internet is expected to…
Operate faster than light speed
Possess super-intelligence
Be impervious to any eavesdropping, spying, or hacking
This may sound farfetched, but recall that an Advanced Research Projects Agency (ARPA) of the United States Department of Defense (DOE) project dubbed ARPANET, evolved into the Internet as we know it today.
Lou recognizes this and is urging investors to go straight to the source of the Quantum Internet's miraculous power: Quantum Microchips and the little company behind it.
At first Lou had said that we needed to be in this stock before August 3rd:
But he's since changed his tune and now says that we have at least until this company's next earnings announcement on October 27th to make our move: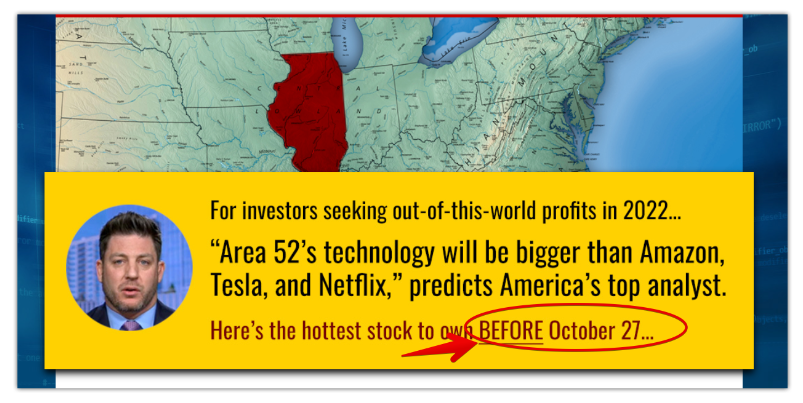 Let's find out the name of the quantum microchip company that Lou thinks is about to strike a major licensing deal, which could be announced any minute on (or before) October 27th.
Revealing the Quantum Microchip Stock
The good news is that we are given plenty of info about Lou's #1 stock pick of the decade:
Only five companies have developed fully operational quantum microchips: Google, IBM, Intel, Rigetti, and IonQ. But none of them are licensing their chips for wide-scale consumer applications. Except for a little Silicon Valley-based company with its proprietary quantum science, that's guarded by 298 patents.
Its trading on the Nasdaq and its only 0.03% the size of Amazon.
Sales could blast from $400,000 in 2021 to as high as $58 million in the days ahead…as it inks its major manufacturing deal.
The bad news is that Lou doesn't reveal his pick or any other info. Fortunately, we were able to discover it anyway. Its Atomera Inc. (Nasdaq: ATOM). This is why we're so sure:
Atomera is a technology licensing company and its number of issued and pending worldwide patents number 318 as of April.
At a market value of $325 million, it is just under 0.03% of Amazon's $1.4 trillion market cap.
A quick glance at Atomera's income statement reveals that it generated $400,000 in its last fiscal year.
Legit Opportunity to Turn $5,000 into $450,000?
Atomera in its own words, has created "a patented, quantum engineered material called Mears Silicon Technology™ (MST) which enhances transistors to deliver significantly better performance in today's electronics."
The process through which it does this is pretty complicated as one might expect. But it claims to enhance transistor better than anyone else on the market right now. This has far ranging applications from longer lasting mobile phone batteries to significantly lower power consumption and increased processor performance for infrastructure.
All this is well and good, except for the fact that commercial adoption of its MST technology has yet to happen. Atomera is still test running its tech, as it posts net losses ($4.5 million last quarter) and burns through cash. Lou's presentation also leans heavily into its next quarterly results, which will be announced on October 27th.
All this makes me think that it would take a long time – a really long time for Atomera to see the kind of gains Lou is describing here. It has to commercialize its MST tech, develop its customer pipeline, and you know, be profitable, at some point.
Quick Recap & Conclusion
Lou Basenese cryptically says the federal government is secretly testing the world's first quadrillion-dollar technology inside a 52 mile stretch of the Chicago suburbs dubbed "Area 52."
Area 52 is Lou's codename for the location of the U.S. government's 52-mile test loop for a "National Quantum Internet." Behind this is a technological super power: Quantum Microchips and there's a small company behind it.
The name and ticker of this company is revealed in a brand-new report called The Quantum Profits Report. We get it for "free" if we buy a subscription to the Digital Fortunes stock advisory service for $99 for the first year.
Thanks to some hints and sleuthing we were able to uncover the company as Atomera Inc. (Nasdaq: ATOM).
Atomera is still an early-stage, pre-commercialization tech licensing company that is still a way's away from its fast growth phase…if it ever gets there.
Is Atomera's patented quantum tech material the future or is there something better out there? Tell us what you think in the comment section below.