Cryptocurrencies have been a dumpster fire this year.
Self-proclaimed "godfather of crypto" Charlie Shrem is here to save us from this wreckage by cracking the "Crypto Burn Code", which can accurately predict what cryptocurrencies will appreciate next by 7,153%, 11,040%, and even a rare 133,233%.
The Teaser
Charlie has spent the past few years back testing this unique opportunity and practically every time he's found a new crypto embedded with a particular line of code, it has soared in value.
Like most in the crypto space, Charlie Shrem has a colorful past. On one hand, he's a successful crypto entrepreneur and Bitcoin advocate. On the other, he's a convicted white collar criminal. You can draw your own conclusion and we have some resources to help you out with this, like A Complete Primer on Shrem's Crypto Investor Network and review of his "Awakening Event" presentation.
The code that Charlie refers to looks a little something like this:

This may not mean anything me and you, just a bunch of random numbers and symbols. But to an old computer hacker like Charlie, this line of code is a dead giveaway that the crypto in question is about to skyrocket in price.
He says it doesn't matter if the markets are currently up, down or sideways. As this is the key to making consistent money in cryptocurrencies, especially for folks who get in early.
Charlie is certain about this because he noticed a very similar line of code embedded in a completely different cryptocurrency called Binance Coin. Since January 3, 2019, when he first recommended Binance Coin – the price has rocketed by an exceptional 11,040%.
Apparently, this scenario has repeated itself many, many times since.
In essence, Charlie has used his background as a computer hacker and the computer languages he's mastered over the years, like C++ and JavaScript to crack the hidden "crypto burn code." The reason he's telling us this, is because "an exciting 8-cent cryptocurrency" has just hit his radar and the code is telling him now is almost the perfect time to get in.
The Pitch
Given the nature of this opportunity, Charlie is only going to share it with a handful of readers – 500 to be exact on a first-come, first-served basis. As distributing it broadly would eliminate the profit potential for just about everybody.
If want to find out about the new crypto that is dedicated to burning coins and limiting supply, we will need to get our hands on a copy of a brand-new briefing called The Crypto Burn Code Report.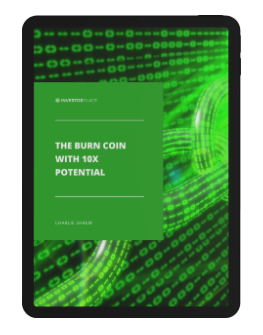 We can get a copy "for free" by signing up to the Ultimate Crypto newsletter. It costs $1,575 per year and for this price we get the report mentioned above, three additional bonus reports, and a minimum of five 100% gains over the next 12 months or we get a second year absolutely free.
What in the World is A "Crypto Burn Code"?
To answer this, Charlie says we need to understand perhaps the most overlooked basic property of cryptocurrencies and what ultimately gives certain cryptos incredible value.
This is their finite supply. Unlike fiat paper currencies which central banks can create out of thin air, there are a number of cryptocurrencies out there that actually do the exact opposite. These cryptos have a portion of their already limited supply reduced or "burned off" on a scheduled date. It happens as part of a process known as a "coin burn."
As an example, in November 2019, 55 billion Stellar coins (valued at $4.7 billion at the time) were burned off in a matter of days. This dramatically reduced the total supply in circulation by over 50%. As a direct result the underlying value of Stellar exploded by 830%.
It all boils down to basic supply and demand.
The creators of certain cryptocurrencies issue these coin burns for the same reason that publicly traded companies issue stock buybacks – to reward existing shareholders and investors. It also adds a level of scarcity that is fundamental to any form of currency.
The most lucrative part about all this is that these coin burns are scheduled events written directly into the underlying code. Thus, if you can read the code, you can be tipped off weeks in advance and position yourself to benefit from the price jumps that potentially occur.
Charlie doesn't disclose how to clearly identify a "hardwired burn code", but mentions that his team has already found a new $0.08 coin with a scheduled burn baked into the code. If history is any guide, this coin could easily double or triple in value as a large percentage of available supply is removed from the equation.
Let's see if we can track this mystery coin down.
The 8-Cent Crypto Set to Rocket
According to Charlie, this coin is a screaming buy based on his established criteria and even better, its dedicated to burning off a huge amount of its overall supply.
Unfortunately, this is where the details abruptly come to an end and we're left with not much of anything to go on. Only thing left to do in such a predicament is to take a wild stab in the dark and hope it hits the mark.
Based on the little info we do have, Charlie could be talking about TRON (TRX), which has traded in a narrow $0.04-$0.12 range so far this year and which has burned more than 125 million coins to date, with the number expected to increase.
Legit Opportunity to Make 10x Your Money?
Although identifying cryptocurrencies with a "hardwired burn code" can be a great way to cash in on the next altcoin set to pop for outsized returns, it's not the only thing that matters.
There are very specific criteria we need to look for when evaluating potential investments in the burgeoning digital currency market.
It must have intrinsic value. In other words, you need to know if it actually solves a problem or moves blockchain technology forward in a meaningful way.
The second thing to look at is the background of the creators of the currency. Watch out for founders with little to no crypto background.
Finally, we need to take a hard look at the underlying blockchain technology. This way we'll know whether a cryptocurrency is operating on a pre-established network or if they're trying to create their own from scratch.
There are there quite a few additional factors, if we're looking to find the next breakout coin. But these are the basic fundamentals when it comes to evaluating a cryptocurrency and giving us the best chance to protect our money and make more with crypto.
Quick Recap & Conclusion
Charlie Shrem says he's cracked the "Crypto Burn Code", which can accurately predict what cryptocurrencies will go up in value next.
We learned that a "crypto burn code" is when the portion of an already limited coin supply is reduced or "burned off" on a scheduled date. It happens as part of a process known as a "coin burn."
There's an "8-cent cryptocurrency" that has just hit Charlie's radar and the burn code is telling him now is almost the perfect time to get in. He reveals the name of it in a brand-new briefing called The Crypto Burn Code Report. We can get a copy "for free" by signing up to the Ultimate Crypto newsletter, which costs $1,575 per year.
A stab in the dark is all we had to go on, as Charlie reveals precious few details about his $0.08 crypto pick. He could be talking about TRON (TRX), but there's no way to be sure.
Making money in the volatile crypto space is no easy feat, in spite of what you may hear. Staying disciplined and following a set of investment criteria makes it that much easier.
What is your crypto investing criteria (if any)? Let readers know in the comment section below.