Earlier this year, the effects of the pandemic along with a price war between Saudi Arabia and Russia caused oil prices to go negative for the very first time in history.
This understandably shook markets, but this also created an opportunity to make a 4,908x return on our money…or more! We're told that we are about to learn about a reclusive millionaire that just invested $3 million dollars into a tiny Texas oil company that could quickly grow into a $3 billion dollar fortune.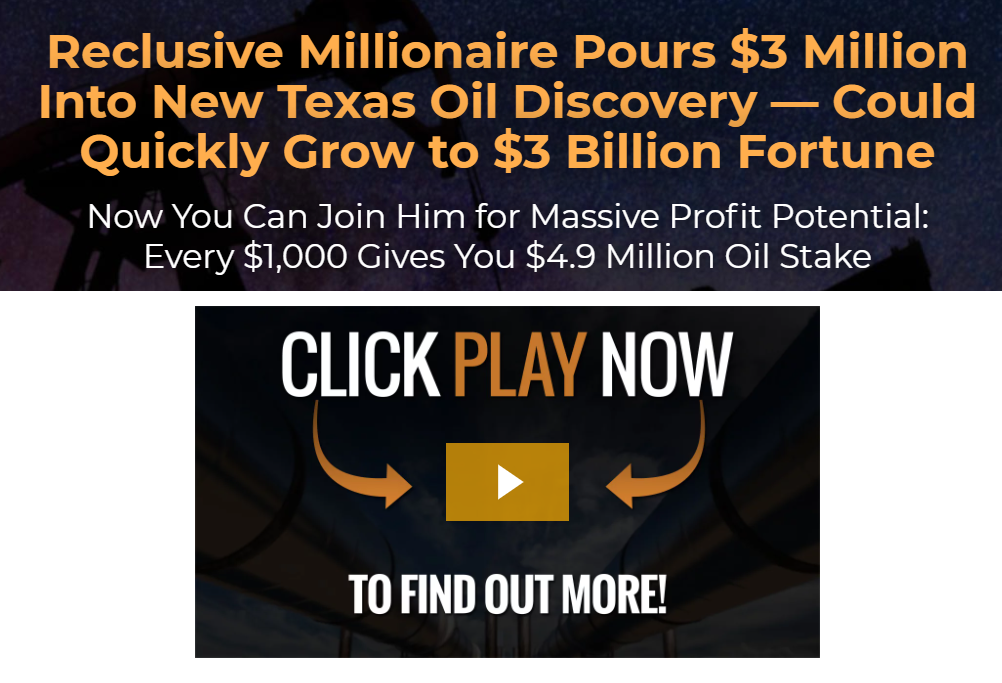 If that isn't enough to get you out of your seat, apparently there is a "secret anomaly" which will allow us to buy crude oil for pennies on the dollar, even after the price moves up to over $40 dollars per barrel! Pretty wild stuff. We have covered energy related pitches in the past such as The No. 1 Stock for America's New Energy Revolution and The Oxford Club's Infinite Energy Stock and can say that the claims made in this teaser are bold to say the least.
The pitch comes to us from Keith Kohl and Angel Financial's Pure Energy Trader advisory which claims that "we will be able to purchase $4.9 million worth of oil, for just $1,000 today". And that the "window will close soon to get in on this opportunity, but that we still have time if we act now". That's a relief.
By Keith's account, this investment opportunity has its origins on a tiny, 32 sq. mile island in the Caribbean – The island of St. Thomas. A long-time enclave of the rich, the island is home to many off-shore trusts and corporations. One of which just poured $3 million dollars into the small Texas oil company mentioned at the start.
Since this investment represented a substantial equity stake in a publicly traded company, it had to be disclosed to regulators which is how the info was obtained by Kohl and the Pure Energy Trader advisory. The reason for this investment? Because this tiny company has allegedly made "the most exciting U.S. oil discovery in a decade or more".
It will cost us just $1,499 per year to subscribe to the Pure Energy Trader and find out the name of this mystery oil driller.
Before we get down to uncovering the name of the company for free, let's take a closer look at Angel Publishing and their Pure Energy Trader advisory service.
What is the Pure Energy Trader?
According to their website, Angel Publishing sources and provides ideas and strategies for its readers on finance, markets, human nature, and obscure financial trends. 
Started back in 2003 by a former employee of Agora Publishing, the independent publisher compiles several investment newsletters, including "Wealth Daily," "Green Chip Stocks," "Energy and Capital" and "Penny Stock Millionaire."
They claim to have "knocked double- and triple-baggers out of the park for years". People are still subscribing so they must be doing something right…right?
The publisher seems to shun most mainstream thinking and ideas, which we can identify with and their Pure Energy Trader newsletter looks for obscure ways to profit from today's volatile energy markets.
Opportunity to make 982x your money or no?
In the video teaser, Keith tells us that this "little known 40 cent stock could be one for the ages" and that "every 40 cent share could be worth $392 dollars".
The Texas oil company being teased, we're told, has an exclusive claim on a piece of land right on the edge of Texas' huge Permian Basin oilfield. Of note is that every share in the company also comes with a stake in over $1,000 worth of crude oil. So we would effectively be paying a penny for each $40 barrel of oil. Why so cheap?
Well, it's because the company is sitting on a massive new oil discovery. But its shares sold off along with other drillers and producers shares in the oil market rout earlier this year. See, what our friends at the Pure Energy Trader are doing here is assuming today's low oil prices are unsustainable (maybe so) and that the minimum median value of a barrel of oil should be $50, which is the figure they use when calculating the value of this oil driller's stake.
This is also attributed to the company's lead geologist claiming on a recent investor conference call that the 100,00 acre claim it has in the Permian Basin, could be holding up to 1 billion barrels of oil – roughly $50 billion dollars worth of oil by Keith's calculations. This is for a company with a current market cap of under $50 million dollars.
Keith goes on to say that the findings have also been backed up by an outside expert who was brought in to analyze the company's data – more on this later on.
Suffice to say, oil drilling can be extremely lucrative. Some of the first giant industrial corporations of the 19th century were spawned as a direct result of petroleum products. But as you can probably imagine, oil drilling and operating rigs is a very capital intensive business with potential for massive windfalls, as well as enormous losses. This risk is heightened for small producers reliant on just a single or a few wells.
Tiny Texas Driller Name Revealed
Let's take a look at the clues Keith offered offered up to us:
Permian Basin oil driller with a current market cap of around $50 million dollars.

100,00 acre claim on the edge of the Permian Basin oilfield in Texas.

Insiders hold nearly 30% of the shares in the company.
Given the fair amount of info we had to work with on this one, we believe the company in question is none other than Torchlight Energy Resources (NASDAQ: TRCH) It's a pretty close match:
Torchlight's shares were 40 cents earlier this year.

The company owns the

Orogrande Basin Project

in the Permian Basin, which is just over 100,000 acres.

Torchlight execs and board members do collectively own just under 30% of outstanding shares.
Torchlight is an exploratory driller and developer of oil and natural gas properties in the United States.
The company is all in on its Orogrande Project, as it recently entered into an option agreement to sell its smaller 9,600 acre Hazel Project to a group of private investors in August. Torchlight's CEO John Brda even stated "We have remained steadfast in our pursuit to sell off our non-core assets and focus on the Orogrande prize". 
The "outside expert" mentioned earlier is apparently Mike Mullen, who has over 44 years of oil field wire-line logging and formation evaluation experience and now operates his own consultancy doing formation evaluations. That said, the finding Mike backed up was simply one optimistic estimate (among several) which were provided to Torchlight. So too much credence should not be given to this estimate in and of itself.
Will this all or nothing Orogrande strategy by Torchlight pay off in the end?
Is Torchlight a buy or bust?
From all the publicly available info we were able to gather, the company is currently embattled on multiple fronts: first, they face a falling share price as crude oil is still getting crushed on demand fears, which in turn makes it more difficult to turn to public markets to raise capital, something which it needs to do in order to meet its debt and drilling obligations.
In fact, the company recently received a letter from the NASDAQ exchange granting it a 180 day extension to meet its minimum bid price requirement, as their falling share price presently falls below the exchange's listing requirements.
Second, it has long been maintained by energy analysts that any crude oil price below $40 a barrel would trigger a wave of brutal cost cutting by producers in the Permian Basin, with many not being able to survive the fallout. WTI crude prices have been well below $40 per barrel for most of the year.
Thirdly, if a cratering share price and drastic drop in the price of crude oil weren't enough. The price of producing crude oil (actually extracting it out of the ground) in the Permian Basin is believed to be between $36-$40 per barrel or about what the current price is as we write this. This means that Torchlight would be losing money for the foreseeable future, even if it is successful in extracting oil from its Orogrande field unless the price of WTI crude takes a big leap upward.
While we can appreciate the excitement and long-term potential of a small-time wildcatter with a credible exploration claim, the current confluence of events is too much for us and indeed maybe even for Torchlight to survive, unless things take a drastic turn for the better for the industry as a whole in a hurry, we just don't see the justification for piling into a small, money-losing, shale oil driller at this time.
Recap & Conclusion
We were teased a tiny texas oil driller which has made

"the most exciting U.S. oil discovery in a decade or more"

In order to find out the name of this company with a large claim in the Permian Basin oilfield, we would have to shell out $1,499 per year to subscribe to the Pure Energy Trader investment newsletter

We revealed the name of the company as Torchlight Energy Resources (NASDAQ: TRCH)

We exposed the opportunity as a long-shot if there ever was one, given the confluence of factors negatively affecting Torchlight.
What are your thoughts about the U.S. oil drilling and production industry? Are we right or wrong about Torchlight? Let us know what you think in the comments below.