In his new marketing teaser "Pandemic Millionaires" Stock Picks, Christian DeHaemer says that "Normal is dead and it's never coming back", which isn't far from the truth in the context of 2020. With more than 40 million people unemployed as a direct cause of the COVID-19 virus spread in the United States alone, the pandemic created a new paradigm and dictated "a new normal" which means social distancing, quarantine, wearing masks, and working from home. 
Thousands of companies starting with giants Amazon, Apple, Microsoft, and Oracle have already invested in "tele-working", which seems to have many financial benefits for its workers, including significant cost reductions on rent and utilities, as well as an increase in productivity.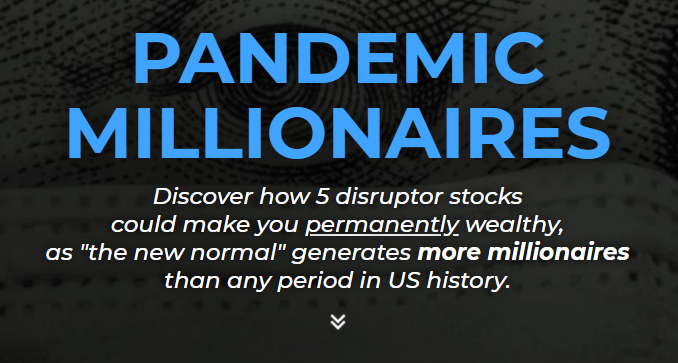 In his latest "Pandemic Millionaires" marketing teaser, DeHaemer pitches us his Bull and Bust Report newsletter subscription for $99 per year. Apart from a monthly newsletter containing important investment tips, portfolio updates, and flash alerts, you'll also receive unlimited access to a members-only website, and two bonus reports, Five Megatrends of America's "New Normal" for making triple and quadruple-digit gains in a post-COVID-19 world and 5G Profit Kings: How to make 1,100% Gains on Cell Tower Titans. 
However, if you don't want to pay for the annual subscription, you can just continue reading this article as we have uncovered some of the stocks teased in his newsletter, for free.
Christian DeHaemer teases companies that, allegedly, "will create many millionaires and even billionaires", giving the examples of Zoom, Slack, and Citrix that "shot up to 262% in mere weeks". Another company whom he mentions "saw gains of 183% practically overnight", and he claims he has insights on which companies you should bet your money on to get a slice of the post-pandemic earnings and earn enough to retire comfortably. We have heard similar pitches before, including most recently from Stephen McBride and his computer vision stock. So the shine of such claims has worn off for us.
However, before we dive deeper to see if such big claims can be backed up, let's see who Christian DeHaemer is and, whether or not, he is worth following.
The Man Behind The Bull and Bust Report 
According to his bio, Christian DeHaemer has been showing readers "the fastest, safest ways to make money and grow their retirement savings" since 1996. He brags about having traveled the world to uncover new ideas and potential investment opportunities in various fields, including green energy, 5G technology, and cryptocurrencies. 
He claims to have helped people realize gains of 117% and 105% in just a few months, bringing forth various testimonials from his clients from all over the country. After settling down, DeHaemer bought oil stocks in Mongolia that returned 759%, as well as stocks in various energy companies in Kenya that brought him returns of 105%, 318%, and even 411%. Moreover, in 2012, he claims to have beat the Dow Jones Industrial Average by 142%, safe to say he knows his way around energy markets and short-term speculations.
The Opportunity 
In his latest marketing teaser called the "Pandemic Millionaires" he talks about a series of investments in key sectors that will become "the new normal". The five trends he's identified are teleconferencing, tele-medicine, touch-less payments, 5G networks for fast deliveries, as well as 3D printing. 
According to DeHaemer, "this crisis has caused wild market volatility that we haven't seen since 1929" but he claims he can "show you how you can double, triple, or even quadruple your money right now if you know how to move fast on the winners of the 'New Normal' ahead." As you can suspect, his pitches rely on the exploitation of this market volatility or "riding the wave", which can bring you high returns in just a matter of months. 
However, companies like Zoom and Slack have already increased their stocks' value by a lot, which means you may have missed the opportunity of buying cheap shares and selling them for a profit after a few months. Luckily, there are thousands of other potentially profitable companies in the areas DeHaemer mentions, especially in 5G, and we strongly believe that some of them will be a significant part of our future.
Already, tele-medicine has been stealing the spotlight from regular doctor appointments in the United States even before the pandemic, as it is a cheaper and more time-efficient manner to get your monthly prescriptions and a quick-check up with a physician without leaving the house or your workplace. In fact, according to GlobalMed, 74% of millennials (people age 20-40) prefer tele-health visits to in-person doctor exams.
A McKinsey report from 2020 shows that the consumer adoption of tele-health services has jumped to 49% from 11% in 2019, which means that people might continue to use this method for quick check-ups instead of in-person doctor visits, even in the future in a post-pandemic world. In other fields like 5G, there have been numerous breakthroughs, with most telecommunication companies (including T-Mobile, Vodafone, and AT&T) who are already offering 5G Internet speeds in selected areas across the United States and Europe. This opens the door to an entirely new generation of products and components that need to support the transmission of fast Internet connection, including micro-conductors. 
As a general note, the fields DeHaemer pitches are in-demand and increasing in popularity by the day, with a high possibility of becoming hot investment sectors in the upcoming year.
The Companies Being Teased
Unlike other similar marketing newsletters that only tease one or a maximum of two companies, Christian DeHaemer talks about various investment opportunities in all these sectors, which he believes, will provide high returns over the short-term. 
He starts his pitch by mentioning three examples of successful "work from home" stocks that have exploded thanks to the boom in video conferencing. As we already mentioned, those are Zoom, Slack, and Citrix, with Zoom rising by 287%. However, Zoom isn't the author's favorite stock at the moment, so let's take a look at some of the clues he offers:
He starts by saying that "the stock I'm going to reveal to you has seen 33% gains, going straight up in just 30 days."

Next, he shows us a chart where you can see that the stock of this particular company has increased from around $120 per share in early April to above $160 at the beginning of May.

Based on this information, we were able to identify a few candidates, including

Atlassian (NASDAQ: TEAM)

, a collaboration software company that has been a huge beneficiary of the work from home boom.
However, the first company being teased by DeHaemer is, in fact, Okta (NASDAQ: OKTA). Okta does integrate with most video conferencing providers, including Zoom and GoToMeeting and its stock chart is strikingly similar to the one shared in the pitch so we consider it as the best choice for what DeHaemer described in his teaser. 
Another stock Christian teases is at the forefront of a "Remote Revolution" in health care". He continues by saying his "No.1 tele-medicine pick is powering this fast-moving breakthrough." Combined with other clues he dropped, we think DeHaemer's second stock is Teladoc Health (NYSE: TDOC) which is considered the best-financed early mover in the field of tele-medicine.
When it comes to Teladoc, their first quarter revenue growth accelerated back up to 40% in March and another 85% in their June second quarter, after having a challenging 2019. TDOC also benefits from the infrastructure already created by services such as Zoom and Skype, as these two companies continue to be the preferred choice of many companies and individuals for virtual meetings, despite other options available like GoToMeeting or the more recent Facebook Messenger Rooms.
Although we don't have enough clues to identify the third company being teased, the author does mention it is part of the 5G network, so it could be an equipment supplier like Ericsson (NASDAQ: ERIC) or Nokia (NYSE: NOK) but also a chipmaker like Qualcomm (NASDAQ: QCOM). We could also go out on a limb and speculate that Crown Castle (NYSE: CGI) could become a major table-turner in the 5G field since they bet on running fiber to supplement the existing tower landscape required for 5G. 
Quality Companies or Short-Term Speculations?
Okta was growing at an annual pace of around 50% in 2019, 60% back in 2018, and has had a stellar two fiscal quarters to off this year. When it comes to profitable companies in the COVID-19 pandemic, OKTA among others, is a quality choice.
The same strategy applies to the second company teased by DeHaemer, Teladoc. Although currently, the stock is extremely expensive at 25x sales. 
As the technology develops and will be broadly accepted and integrated, we can also expect other companies such as American Tower (NYSE: AMT) to have a word and become large players in the tele-conferencing space.
To sum up,  identity management across multiple web services and devices which Okta specializes is indeed growing in popularity. The work from home trend has only hastened its growth and it should continue to deliver robust growth for shareholders for years or even decades to come. That said, as with Teladoc, chances are you're not going to receive sky high returns in the following months, but rather over multiple years as both companies really reach mass scale and profitability in their operations. Something that has yet to happen as we write this.
Recap & Conclusion
In his latest marketing teaser, Christian DeHaemer pitches the

Bull and Bust Report

newsletter subscription for $99 per year. Promising that you will receive various bonuses along with the subscription, including two special reports. 

We saved you the cost of the subscription by revealing the first company he teased for absolutely free as Okta (NASDAQ: OKTA), a company that offers secure remote-login capabilities, placing it in a field DeHaemer considers will explode due to the pandemic. 
After some additional digging, we were also able to uncover the second company being teased as Teladoc Health (NYSE: TDOC), a large player in the field of

tele-medicine

. 
Do you currently own shares in any of the companies mentioned? Which other companies do you think will become highly profitable due to the pandemic? Let us know in the comments section below.