Have you ever wondered how Wall Street traders make their money? How about how some make over "400% in less than a week"? Or how about "$31,000 in 2 days"? Or "$1,900% in just 24 hours" on a single trade? Or…well you get the point.
In a recent InvestorPlace teaser – we have covered others recently as well Matt McCall's 5G Highway and Matt McCall's Foled Stock Exposed! We're told by host Brit Herring that such profits come from a corner of the market few people ever get to see…The Dark Pool.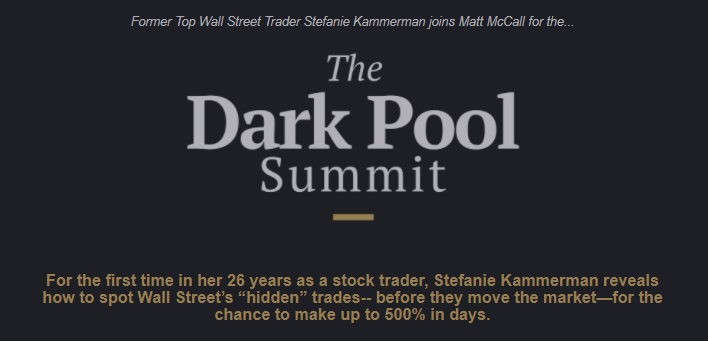 We are told that this is "a place where 500%, 1,000%, even 5,000% gains or more in a matter of days, even hours, are not only possible, but the norm".
Since this is the exclusive stuff of insiders, we are introduced to one next – Stefanie Kammerman. Apparently, "Stefanie rose to prominence on Wall Street, at New York City's largest proprietary trading firm, by mastering Dark Pools". What makes her unique is that she is now "showing ordinary people how to tap into and exploit this rarely seen universe for life changing gains" and building a devoted following doing it.
Brit tells us that "she's agreed to pull back the curtain on one of Wall Street's most sacred inner sanctums". And that "this is like nothing we've ever seen before, a complete game changer".
They even "suggest you turn off all distractions, grab a pen and paper and get ready" This should be good.
Stefanie Kammerman Legendary Dark Pool Trader?
Stefanie is the founder and managing director of The Stock Whisperer Trading Company, where she runs an online educational trading room called "The Java Pit", teaching students how to day and swing trade.
She originally cut her teeth as an assistant trader at Schoenfeld Securities – a well known Wall Street proprietary trading firm in the 90's.
From the third-party info we were able to gather, her "secret sauce" is teaching her students how to trade by reading the tape and spotting where the dark pool prints are, which in turn teaches you how to spot a correction before it happens. So a combination of volume trading and technical analysis in the end.
She is also active on the speaking circuit, presenting at trader's expos and other financial conferences across the US and Canada.
What are Dark Pools?
In their simplest form, we are told that "Dark Pools are private stock exchanges where the "big boys" on Wall Street place their trades".
So while you and I simply use a retailer broker to access public exchanges such as the NYSE, NASDAQ, and AMEX to buy stocks, the likes of giant banking institutions such as JP Morgan and Goldman Sachs do not. "They trade on private exchanges that most regular investors don't know about—known as the Dark Pools".
This is primarily done due to the sheer volume on which institutions trade – think millions or tens of millions of shares on a single bid order. Such a bid would no doubt drive the price of any stock up immediately, so to avoid this large institutional investors "turn to the Dark Pools to get in at the prices they want". 
This is all done with regulators' blessing of course and some of these large Dark Pool trades remain completely confidential, "sometimes for up to 24 hours, avoiding any immediate market impact".
Stefanie says "There's a massive silver lining in all of this". She continues "Imagine if you could peer into these Dark Pools and see these trades for yourself".
This is the gist of what Stefanie does "monitor Wall Street's trading activity going on in the Dark Pools…. This way, she can be in prime position when a massive order from Wall Street's big banks can create a huge move".
In short, Wall Street's big banks and institutions "have access to a secret stock exchange where they can execute large trades". Such trades would immediately send share prices soaring if they were executed on the regular stock exchanges, but not so with Dark Pool trades.
Of course, this is all perfectly legal because "regulators want to allow all buyers – even big institutions — to get in at a fair price". 
While all this Wall Street activity is happening in Dark Pools, out of the public eye, Stefanie says that given her experience she knows how to spot and profit off of them when they do eventually get reported.
Sounds pretty good doesn't it? Lets see if this is possible for the average investor.
How to Profit from Dark Pools
With as many as 40% of all trades in the stock market today taking place on Dark Pools, this is definitely a topic that is worth spending some time to learn more about.
Let's take a look at a typical trading day on the public markets for shares of Hewlett Packard (NASDAQ: HPE)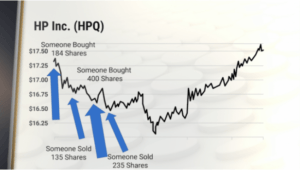 As we can see, some small trades happening here and there, not much action overall.
Now let's look at the second part of this chart to see what caused HP stock to make a move upward.
According to this, if you timed the market just right "you could have locked in 1,900% gains off of a certain investment play as the stock soared on massive Dark Pool buying activity".
Now that we know Dark Pools play a big part in short-term, day to day market movements, just how do we profit from our new-found knowledge and access this data?
According to Stefanie "The key to it all – accessing these hidden markets – is accomplished through a terminal she created and software, normally reserved for high profile trading firms".
This terminal will apparently give you the "prints"; these are the minute-by minute reports of huge trades placed during that confidential period before they show up on the main exchanges. "By looking at these "prints," folks who study the Dark Pools are aware of what massive buying and selling is going on "behind the scenes". Allowing them to place their own trades according to this information.
Brit and Stefanie drive the point home again that "The Dark Pools are the key". If you've been following our newsletter teaser reveals here, this all predictably leads to the announcement by InvestorPlace that they are "launching a brand-new research service called Dark Pool Trader…where Stefanie will be the Chief Investment Analyst". 
We're told that each trade recommendation from The Dark Pool Trader "has the potential to explode 500% or more in mere days". All for the low, low price of $2,249 annually…if we act now.
This begs the question: Is it possible to access dark pool trade data without subscribing to InvestorPlace's latest newsletter offering? In short, yes.
But like most good things in life, this data is not free. Since the whole purpose of dark pools is to make institutional transactions not visible, you will have to purchase some form of direct access software – there are several choices out there and some even link to your retail investor account depending on your broker.
In fact, FINRA even makes Dark Pool data available for free to the investing public, albeit on a two week delayed basis.
Dark Pools themselves are nothing new, their origin dates back to 1979 when a financial regulation changed in the US that allowed securities listed on a given exchange to be actively traded off the exchange in which it was listed. Since then Dark Pools or alternative trading systems (ATS) have been the norm for financial institutions.
Dark Pools were also a topic touched on in Michael Lewis's 2014 book Flash Boys, which investigated the phenomenon of high-frequency trading.
If short-term, day to day trading is what you are into, despite some reports that on average over 80% of day traders lose money over the course of a year, then Dark Pool data is definitely something worth looking into.
Recap & Conclusion
InvestorPlace is back at it with another newsletter teaser with Matt McCall and Brit Herring as our hosts.

We are introduced to Stefanie Kammerman, who we are told has a

"92% success rate making winning trade recommendations"

.

It is revealed that Stefanie utilizes Dark Pool "print" and volume data, which is her secret to making winning trades.

We are pitched a brand new research service called Dark Pool Trader, which we'll

"only pay $2,249 annually"

for…if we sign up now!

We reveal that there are plenty of Dark Pool data subscription services out there for retail investors and as with everything, you should do some thorough research before deciding on the right one for…if any.
Are you familiar with Dark Pools? Do you use any trading service which gives you access to Dark Pool trading data? Let us know in the comment section below