Companies that produce and sell marijuana and pot-based products have not only become extremely popular in the last five years but also gold mines for some investors and entrepreneurs. 
With 36 states and counting where the medical use of cannabis is now legalized with a doctor's recommendation, the United States is on the verge of a revolution that could change the way people use drugs and medicines forever. One company that could drastically benefit from this is referred to as "the Pfizer of Pot" by investor and businessman John Persinos and is at the center of his latest marketing pitch. To find out the company's name and ticker symbol you must subscribe to his investment newsletter, Personal Finance, for $39 per year. But keep it here, as we are going to try and uncover the name of this stock for you for free in this article.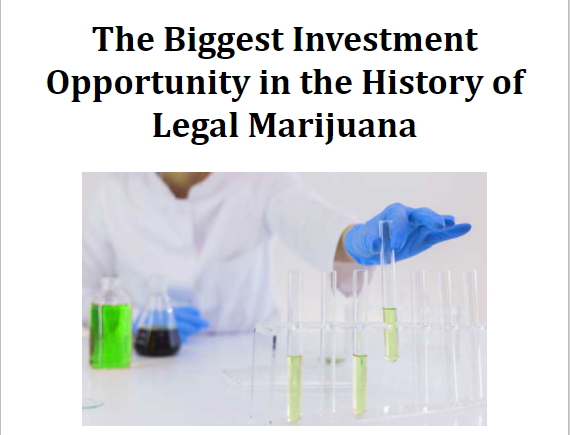 John Persinos is a professional investor and financial analyst with over three decades of experience. He is the managing editor of various investment newsletters, including Personal Finance, Utility Forecaster, and Radical Wealth Alliance.
He has spent most of his career following emerging business and technology developments, which makes him an expert in early-stage investments. The author holds undergraduate and graduate degrees from Boston University and has also completed the Davenport Fellowship in Business and Economics Reporting at the University of Missouri in Columbia.
The Opportunity
In his latest marketing newsletter, the author says this particular company is "the biggest investment opportunity in the history of legal marijuana" and could potentially bring you returns of up to 6,077% in just a few months. Sounds similar to claims we have heard before with regards to marijuana stocks, see: No. 1 Marijuana Stock For 2020 and Cannabinoid Company Uncovered
According to Persinos, the company he teases could potentially hold the patent for a breakthrough technology that would not only allow the mass-production of 100% pure THC and CBD compounds without growing a single leaf of marijuana but could also extract, stabilize, and reproduce other compounds that have even further therapeutic effects, at a fraction of the cost of growing the plants. 
The potential is real and many companies are already benefiting from loose legislative restrictions, which are paving the way forward towards full legalization. With the possession and consumption of cannabis having been decriminalized in most states, the past three to four years have been some of the most profitable for medical cannabis companies in the United States. This trend should continue as more states vote on the legalization of medicinal cannabis while also acknowledging its therapeutic benefits, especially in soothing pain and helping with anxiety, depression, and arthritis among other symptoms.
Among other medical conditions cannabis and its active substances are known to help with, one can include: Alzheimer's, Parkinson's disease, MS (multiple sclerosis), prostate cancer, breast cancer, colon cancer, psychotic disorders, and even obesity and epilepsy, which means that there will be multiple winners in many niche categories of medical marijuana over the near/mid-term. 
Investing in a high-flying marijuana stock may seem like one of the fastest ways to generate quick speculative profits. But like with most things, there is just no replacement for context, research, and due diligence, which must still be performed. That said, the current macro trends, namely the increasing nationwide consumption of recreational and medicinal marijuana and marijuana-based products are on your side and are due to stay that way over the next couple of years or longer.
What Stock is The Pfizer of Pot?
The "Pfizer of Pot" is how Persinos describes his latest stock pick, which is supposed to benefit from a "cutting-edge discovery that will allow it to produce more THC and CBD in a single day than your neighbors 'grow op' can produce in a year." According to the author, this new technology will help produce THC and CBD faster, cheaper, and "as pure and potent as any medicine you'd find a hospital pharmacy." He also claims the following:
That "a Senate vote in the next few weeks could send this company's stock price into the stratosphere", urging you to invest in it as soon as possible.
The discovery "was developed by a team of Ph.D. level scientists at the University of California, Berkeley, just a few months ago." The reason why scientists focused on producing THC and CBD "in a lab, without ever touching a cannabis plant" is because the traditional harvesting method is both inefficient and inexpensive. According to Persinos, the cost of marijuana production consumes 3% of the entire country's electricity use and only one company, the one he teases, could receive the patent to produce these substances in a lab, becoming "the Pfizer of Pot."
Another detail that we receive about the company is that it "is just over 10 years old", an "early-stage" biotech and, unlike others, it "remains laser-focused on medication derived from Cannabis". 
He goes on to say that "in total, the company he's uncovered owns 56 patents and has another 70 applications awaiting approval from the U.S. Patent Office". 
The company bases its future productivity and stock value increase on "the precise method they used to produce 100% pure THC and CBD in a stainless-steel tank". According to Persinos, this "is something that can be granted exclusive protection for 20 years", making this particular company "the gatekeeper of a $50 billion a year industry".
That's a lot of hyperbole, all these clues lead us to believe that there are multiple choices that could potentially be the "Pfizer of weed", as the information provided pointed us in a few different directions.
First we thought it could be Pyxus International (OTC: PYYX) but they are currently in the midst of a financial restructuring, so it's not looking too promising for them. Then we thought it might be Emblem Corp. (OTC: EMMOF), as it engages in the provision of pharmaceutical development related to cannabis products and it was founded just over 10 years ago…but the company is based in Canada. Or it could be any one of a number of early-stage biotech cannabinoid companies working on a synthetic marijuana solution. So truth be told we can't be certain and pick just one stock.
Are Cannabis Based Biotech Stocks A Good Opportunity?
Although there aren't enough significant clues to identify the biotech stock teased by John Persinos, we can tell you that marijuana stocks are still seeing decent growth and returns on their invested capital. Their upward ascent started back in 2018 and will continue as long as more states adopt relaxed legislation or even legalization regarding the recreational and medicinal use of marijuana. 
Investing in a company that can potentially produce THC, CBD, and other active compounds of cannabis in a lab, without requiring the resources and time to grow the plants naturally could prove revolutionary. We suggest keeping an eye on developments in the synthetic marijuana space, as the end uses and potential profits are many.
Quick Recap & Conclusion
In his latest marketing pitch, investor and financial analyst, John Persinos, talks about a biotech stock that has the potential of becoming the "Pfizer of Pot". To find out the company's name and ticker symbol, you must subscribe to his newsletter investment program, Personal Finance

, for $39 per year.

Unlike other similar services that cost a small fortune, this one seems rather accessible and comes with a series of benefits, including three bonus reports, weekly alerts and updates, and other tools that can help you better understand early-stage investment opportunities.

The company Persinos talks about is supposed to already have 56 patents and is dedicated almost exclusively to "medication delivered from Cannabis." 

Also, the same company might patent a revolutionary technology that allows creating synthetic yet 100% pure CBD and THC without growing cannabis plants. 
Are you currently investing in any marijuana related biotech stocks ? Do you think synthetically growing marijuana and other plants using technology is the future? Tell us what you think in the comment section below.