In today's article, we are tackling the latest teaser from the prolific Jeff Brown, who seems to compile a new pitch just as fast as we can review his previous work. In an interview hosted by Chris Hurt, called the Outlier Investments Summits. Jeff is teasing the opportunity to capitalize on an obscure "glitch" in the market, to make big gains regularly.
According to the angel investor, "this is the best chance for regular investors to grow their retirement portfolio. That means you could turn every $10K into $99,100… $186,000… or perhaps even $222,500… based on how this market anomaly works". Are such profit claims even remotely plausible? Let's see what this "stock market glitch" is so you can judge for yourself.
The Teaser
Brown's entire pitch revolves around the fact that there is a "technical glitch" that appears on the NYSE, Dow, and Nasdaq, which allows people to find out about big capital shifts sometimes weeks before such moves are occur, which is ample time to get in and get out with some decent short-term profits. At least that's how it goes in theory.

Jeff Brown is a former technology executive with 25 years of experience and also an angel investor in early-stage tech companies, making him intimately familiar with proprietary tech, patented systems, and cutting-edge inventions. Jason Bodner is the editor of Outlier Investor and spent nearly 20 years on Wall Street prior to joining the Palm Beach Research Group.
Brown mentions that he has figured out a way to outsmart the Wall Street elites at their very own game. Thus giving his readers a HUGE edge. Not just in tech, but across nearly all other sectors as well, be it retail, energy, financials, real estate, utilities, and more. He continues by saying that there is an anomaly that appears on the Nasdaq and Dow and NYSE stock markets that make it possible under certain conditions to detect massive stock moves before they happen, which is why he calls it "a stock market glitch." We have heard Jeff make similar claims in the past, especially in regards to being the first to spot big, upcoming trends, such as with his Pre-IPO Codes teaser and with "once in a lifetime" Blockchain Stocks.
What Brown is selling here is his latest investment newsletter subscription program, created in collaboration with a man named Jason Bodner. According to the video pitch, he is the one who "figured out how this obscure glitch works years ago" and back tested "his system has outperformed some of the world's most successful investors…like Warren Buffett, by more than 50-to-1!"
Brown also mentions that Bodner "came up with a way to interpret data – a system of sorts – that identify this "glitch" for me and tell me precisely what's going on…BEFORE most people have any idea".
The Sales Pitch
The joint research service being pitched here is "Outlier Investor" and, just like most of Brown's other newsletters, it comes with a hefty price tag. It is available for $2,000 for a two-year subscription, an offer that is subjected to a time limit. For this amount of money, you will receive the name and ticker symbols of five of the stocks Brown and Bodner identified that will potentially bring you profits of over 100X, as well as three special bonus reports, including one entitled "Outlier Investments: Five Explosive Stocks Set to Soar up to 1,000% or More This Year".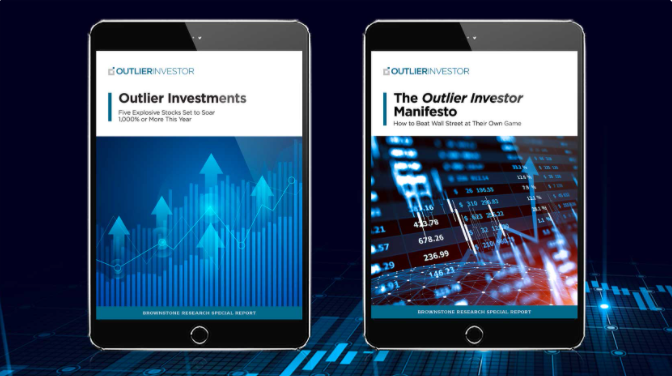 Those who are not fully satisfied with the newsletter can ask for their money back in the first 90 days, but the catch is that you will be refunded in credit, which you can later spend subscribing to another newsletter from the Brownstone Research Group. In other words, you won't get your money back, just a promise that the next newsletter you subscribe to from the same group will deliver more useful information.
Is There Really a Stock Market "Glitch"?
The "glitch" refers to an electronic anomaly observed on some of the biggest stock market indices like the Nasdaq and NYSE.
The man who first identified and exploited this glitch, Jason Bodner, mentions that "the reason why it works in any market is that the glitch is based on a scientific law" – the simple law of supply and demand. He claims that Wall Street bankers and fund managers have invented a complicated system to cover up their stock buys so that regular, small investors are not tipped off about impending market moves in the stocks they own.
In reality, Bodner says that all you need to know is when a stock receives a huge capital inflow, as stock price will usually go up – "when billions flood into a company worth millions… guess what happens? [Chris]: The stock goes up".
However, there is another system perpetuated by Wall Street investors to cover their tracks and prevent outsiders from picking up on investment opportunities at their absolute peaks.
The plan is more or less always the same – big investors who decide to make considerable investments in a particular stock will buy shares over a period of approximately 15 days, so as to build up a meaningful stake as cheaply as possible over as long as possible, as opposed to buying in one or two bulk trades and increasing the price of the stock immediately. This strategy has been seen time after time on Wall Street and it is the main reason why news about a stock skyrocketing won't make the news headlines until after the stock's price has increased significantly.
Moreover, the strategy prevents small investors from knowing anything about market shifts, so once they do decide to invest, they are already buying the stock at a much higher price, reducing their profit potential significantly. Jason Bodner claims that he has found a way to identify this "glitch" by identifying the patterns Wall Street investors are using to buy stocks for cheap – "my proprietary system is able to track these massive stock moves almost instantly and it has uncovered over 17,000 opportunities that could have theoretically made you 10-to-1 or more on your money".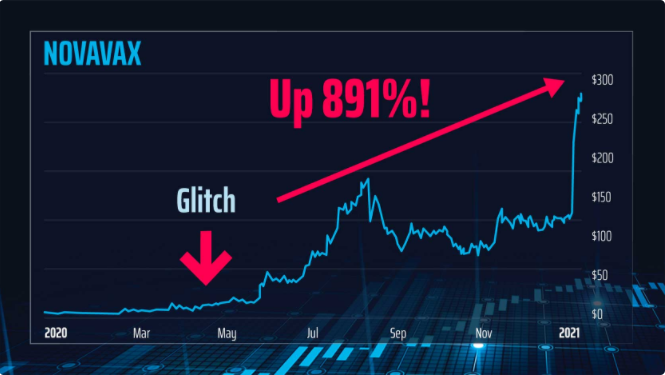 He also says that "every day, my system scans 5,500 stocks out of tens of thousands that are listed on the market, what its looking for are signs of Big Money flows. My system is able to detect such moves within 24 hours of the time they happen".
Unfortunately, we are not given any other details about how the system works, what it looks like, what the technology is or the intricate statistics and analytical processes behind it, other than that it is a system which is able to automatically track large money flows into stocks. Therefore, we cannot prove its claimed success rate apart from what Bodner and Brown are telling us.
Revealing the Stock Market "Glitch" Stocks
Although detailed information about what causes the "glitch" is scarce, Brown does tease us with a list of five stocks he believes you should buy before their prices go up. He then says that "the reason he picked these 5 small caps… is because they have a much bigger potential to become 10… 20…or 30-baggers".
However, he warns that "stock rallies happen swiftly and when big money starts flooding into these companies, you have only a short window of days to get in. For a chance to reap maximum profits".
These five stocks which the system is signaling big money activity behind are:
V

ICI Properties (NYSE: VICI)
GrafTech International (NYSE: EAF)
Tractor Supply Company (NASDAQ: TSCO)
LexinFintech Holdings (NASDAQ: LX)
Southern Copper Corporation (NYSE: SCCO)
One of the reasons the stocks recommended are not necessarily part of the tech field, which Brown usually bets on is to show you that the "glitch" works in every field and has the potential of identifying stocks poised to go up over the short-term, regardless of size, sector or the exchange they are listed on.
Ever the philanthropist, Brown says he is also giving away the names of these five stocks because "he wants to prove that this system works for a fact. And the best proof is evidence". He is right on this last point, so let's see what the evidence has been to date.
Opportunity to Make 30x Your Money?
If you are at all familiar with Jeff Brown's work, then you also know that he loves to make bold claims about the potential profits you could get from investing in certain stocks. This time is no different, except for the fact that this particular pitch is time sensitive and we can see how each of the five stock picks have fared in the 30 odd days since the release of his teaser.
From what we can see LexinFintech Holdings stock is down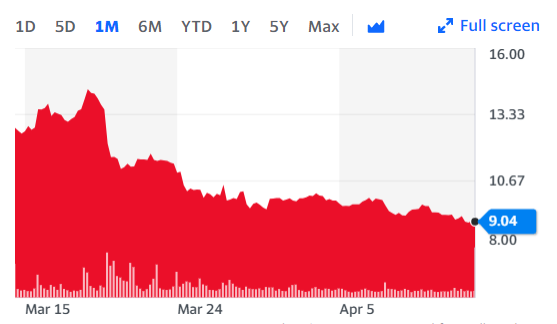 As is Southern Copper Corporation stock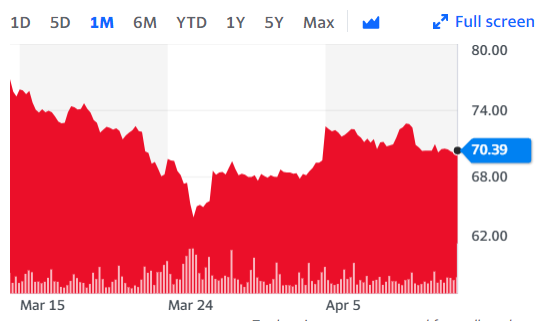 Same goes for Graf'Tech International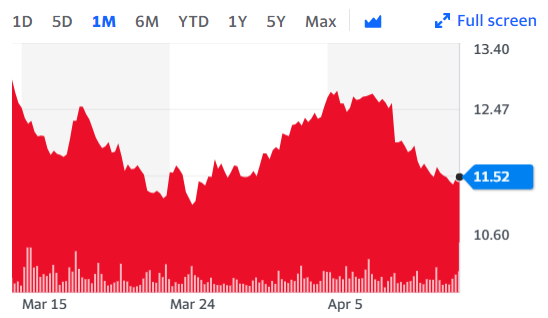 The only exceptions being VICI Properties stock, which is basically flat and Tractor Supply shares, which are indeed up over the past 30 days. One of out five or 20% can hardly be considered proof of anything working. Granted it has only been a month, but if the system is as described, i.e. large institutional investors accumulating positions in favored stocks, the purchases would accelerate after the initial buy "glitch" and the stock would trend higher as the stakes are being accumulated on account of the buying momentum.
Given that his hasn't happened yet with four out of the five stocks they themselves single-handedly picked out makes us skeptical about the merits of such a system to say the least.
Quick Recap & Conclusion:
In a financial summit hosted by Chris Hurt, angel investor Jeff Brown pitches his latest investment newsletter, a partnership with Jason Bodner. The new program is called the

Outlier Investor

and, as a special launch price, it is available for $2,000 for a two-year subscription.

In one of the special reports you'll receive with your subscription, you can read about "five explosive stocks set to soar up to 1,000% or more this year", as part of the "glitch" or anomaly Bodner discovered in the way Wall Street transactions work.
There are scant details provided as to the inner workings of the proprietary "glitch" system, but five stocks are mentioned in the interview, each hand-picked by Brown as the ones you should invest in over the short-term as the system indicates that they are buys.
We followed up with Brown's five stock picks a month after the release of the teaser and four out of five have yet to "soar" as the pitch initially speculated.
What do you think about proprietary stock picking systems? Have you ever tried one that actually worked over the short/medium or long-term? Let us know in the comments section below.